This simple rhubarb cordial makes a refreshing drink when mixed with tonic water, and if you like, a cheeky shot of gin.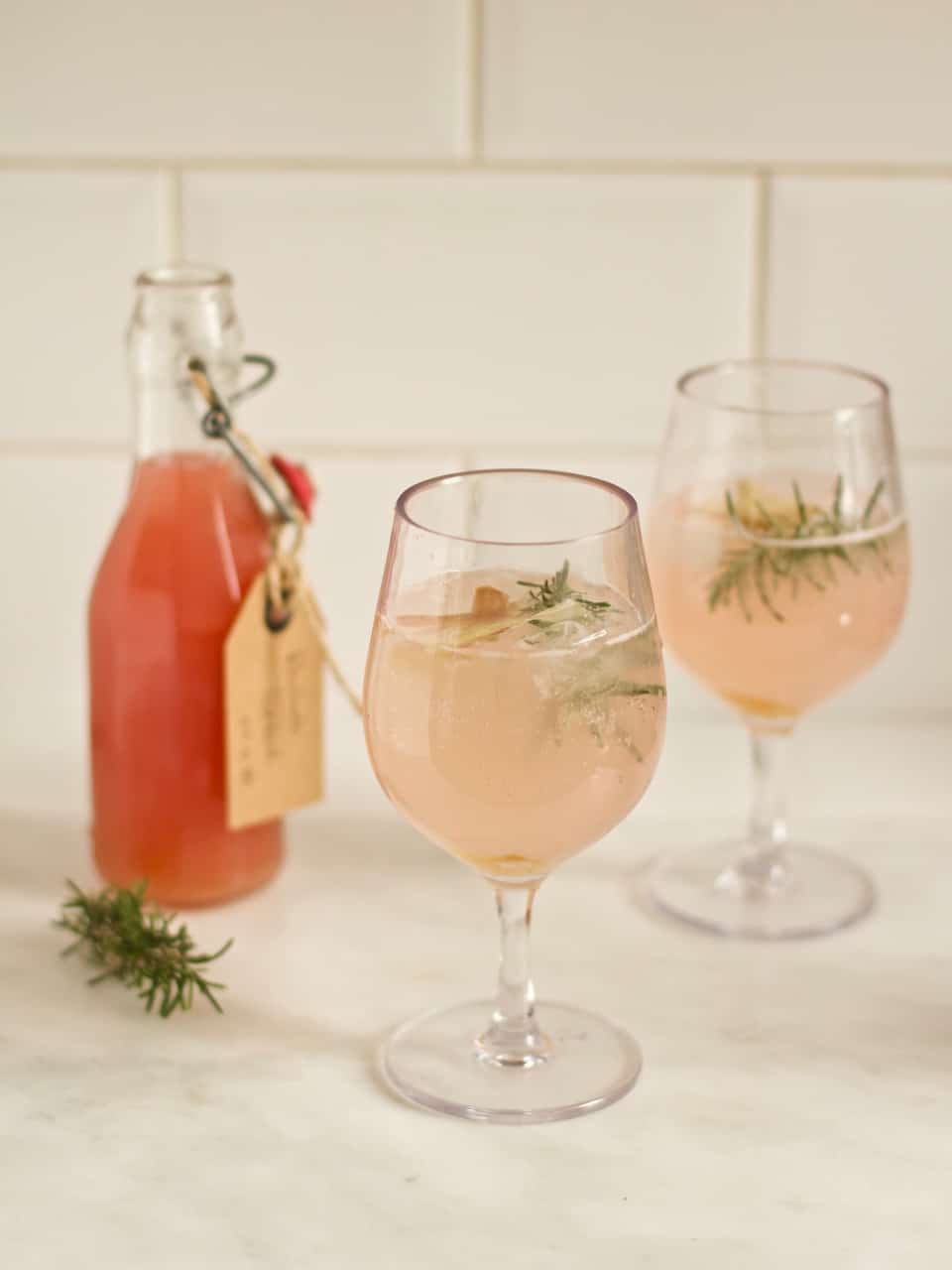 Last weekend, I was meant to make my return to the world of hosting supper clubs. I'd found a great new venue and even had my spring menu all planned, but like many events and special occasions this spring, it simply wasn't meant to be.
I've had to cancel my June cooking class too. So, instead, I've had a bit of a rethink about what I can offer in these times, and have put together an on-line schedule for interactive cooking classes. The great thing about this is that these events are open to anyone around the world, rather than anyone who can travel to London, something to celebrate. I'm going to keep running these for as long as there is interest and we can't meet in person. It would be great to have you join us, and you can find some more info here.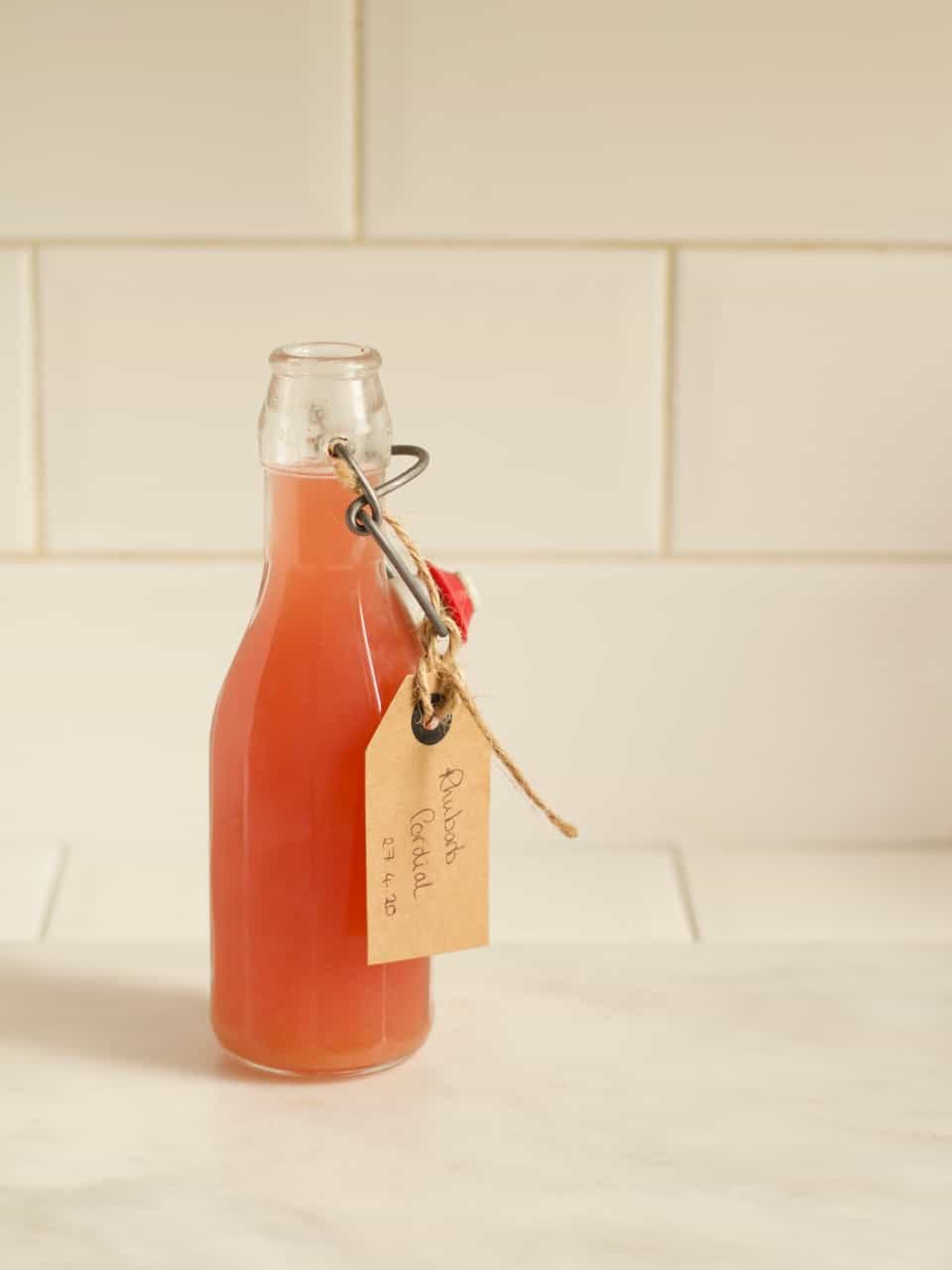 I'd had this rhubarb cordial drink in mind as my welcome drink for the supper club, having enjoyed a glass or too of it this time last year as a retreat welcomer. The cordial is great with tonic as a non alcoholic beverage that balances the perfect amount of fizzy sweetness, with a delicious tartness. It's a drink to be sipped and savoured rather than downed in one. Obviously, if you want to add a shot of gin in there too (I do), then go for it. I enjoy both versions of the drink, and which I go for will very much depend on my mood, as well as the time of day!
Rhubarb is just starting to appear in grocers and I'm sure it will make it's way to the supermarket shelves soon. It's not as pink as the earlier forced rhubarb which I showcased in my last granola post, but with it's tangy flavour and cheaper price point I think I'll forgive it.
I was lucky to receive some locally grown allotment rhubarb through my letterbox as a gift from a colleague who lives nearby. I couldn't think of a better thing to do with it than make up a batch of cordial to enjoy over the next month or so.
I like to serve the rhubarb & tonic over plenty of ice, with a sprig of rosemary (from my front door boxes), a slice of stem ginger and a garnish of thinly shaved rhubarb because they are both excellent flavour partners for rhubarb. Unfortunately I'd chopped all my rhubarb before I remembered I wanted to do this so my rhubarb ribbons are more like shards. Feel free to get inventive with whatever you have at home.
Rhubarb cordial adapted from a recipe originally found on BBC Food

Rhubarb Cordial & Tonic
This simple rhubarb cordial makes a refreshing drink when mixed with tonic water, and if you like, a cheeky shot of gin.
Ingredients
For the rhubarb cordial
125g golden caster sugar
250mls water
250g rhubarb, chopped into 2cm pieces
zest and juice 1 lemon
For the rhubarb and tonic
thin slice of stem ginger in syrup
handful ice
2 tablespoons of rhubarb cordial (30mls)
(35mls gin - optional)
150mls plain tonic water
sprig rosemary
*ribbon of rhubarb, created by running a peeler down the edge of a rhubarb stick
Instructions
Grab a medium sized saucepan and add your sugar, water and chopped rhubarb. Warm over the hob on a medium-high heat and bring to a simmer. Stirring to make sure all the sugar has dissolved.
Turn the heat down and add the lemon zest and juice.
Cook for around 10 minutes, until the rhubarb has completely collapsed. Turn off the heat and allow to cool a little.
Place a sieve over a jug and pour over the rhubarb mixture, the rhubarb juice should drip out. When most of it has, use the back of a wooden spoon, to gently help push as much juice out as possible. You will be left with some fibrous rhubarb in the sieve - you can save this and add to your breakfast granola!
For a clearer cordial pass the liquid through some muslin cloth which should remove a bit more of the bits. Allow to cool fully before storing in a sterilised bottle.
The cordial will keep for a month.
To make up your drink, drop the stem ginger into your glass, then fill it with ice. Add your rhubarb cordial (add gin if drinking) then top up with tonic and garnish your glass with rosemary and a rhubarb ribbon.
Other rhubarb recipes on Ceri Jones Chef; 
Rhubarb khoresh

Lemon cashew cheesecake with ginger roasted rhubarb
Spelt, rhubarb and smoked mackerel
What would you do with a gifted bunch of rhubarb?