A Persian Stew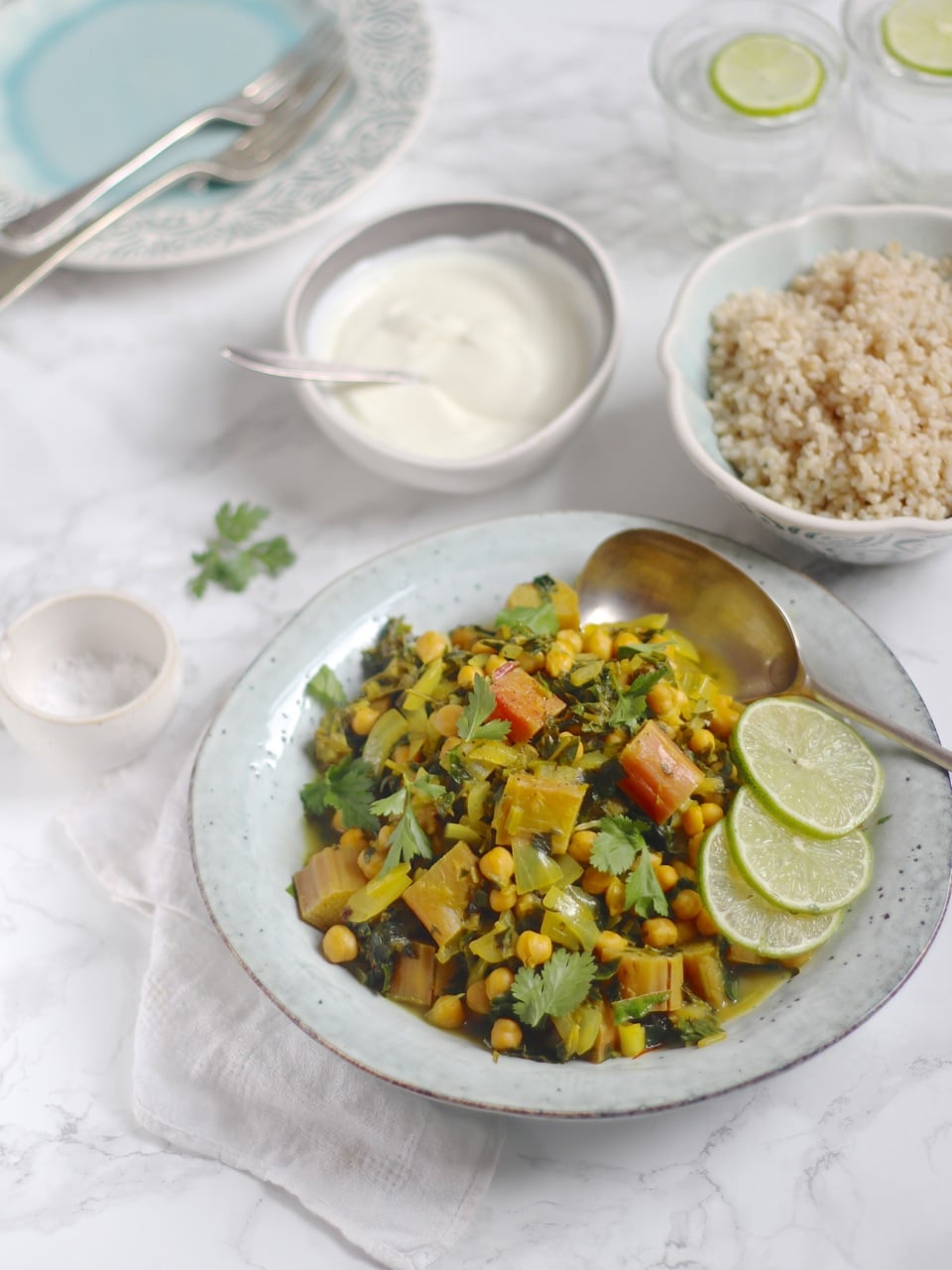 I swear that in the 1980s rhubarb was not the height of the home grown veg trend I feel it has become.  Maybe as a child all I could perceive was that no vegetables were trendy, whereas the truth was and still is, that its something you tend to appreciate or get excited by as you get older – a vegetable for the over 30s?   One such 30-something of the 1980s was my own Dad.   We had a patch of rhubarb in our garden, not huge, but enough for conventional Sunday crumbles to be made (alternating with home grown gooseberries), and less conventional rhubarb wine.  I have no idea what my Dad's rhubarb wine tasted like, but I recall that not many of our family friends or neighbours would dare to taste it, so I am pretty sure that it wasn't particularly tasty, whilst simultaneously being fairly alcoholic.
Back to those crumbles for a sec.  I don't remember liking them much either.  Sour stringy rhubarb was often pushed aside my plate for the more pleasing Delia Smith crumble top and of course the Birds instant custard (It's no surprise we much preferred the apple and foraged blackberry crumbles which came later in the Summer).   So, it was with hesitation that I started to cook rhubarb again a few years ago, mostly in my commitment to work with more local and seasonal fruits which given how few there are is a bit trickier than vegetables.
Rhubarb is technically a vegetable, and so we've received it in our veg bags a few times this Spring.  It sure looks beautiful, but the challenge is making it shine as an ingredient without always having to combine it with sugar.  Other than the fruit only compote with sweet raspberries on my app, I'd not really tried anything adventurous before.  Could we find a savoury recipe instead, working with, rather than against its unrecognisably sour flavour?  A few weeks ago I tried roasting it and adding it to a salad, like in this Yotam Ottolenghi recipe.   It was tasty, and worth developing on, but not quite what I was looking for.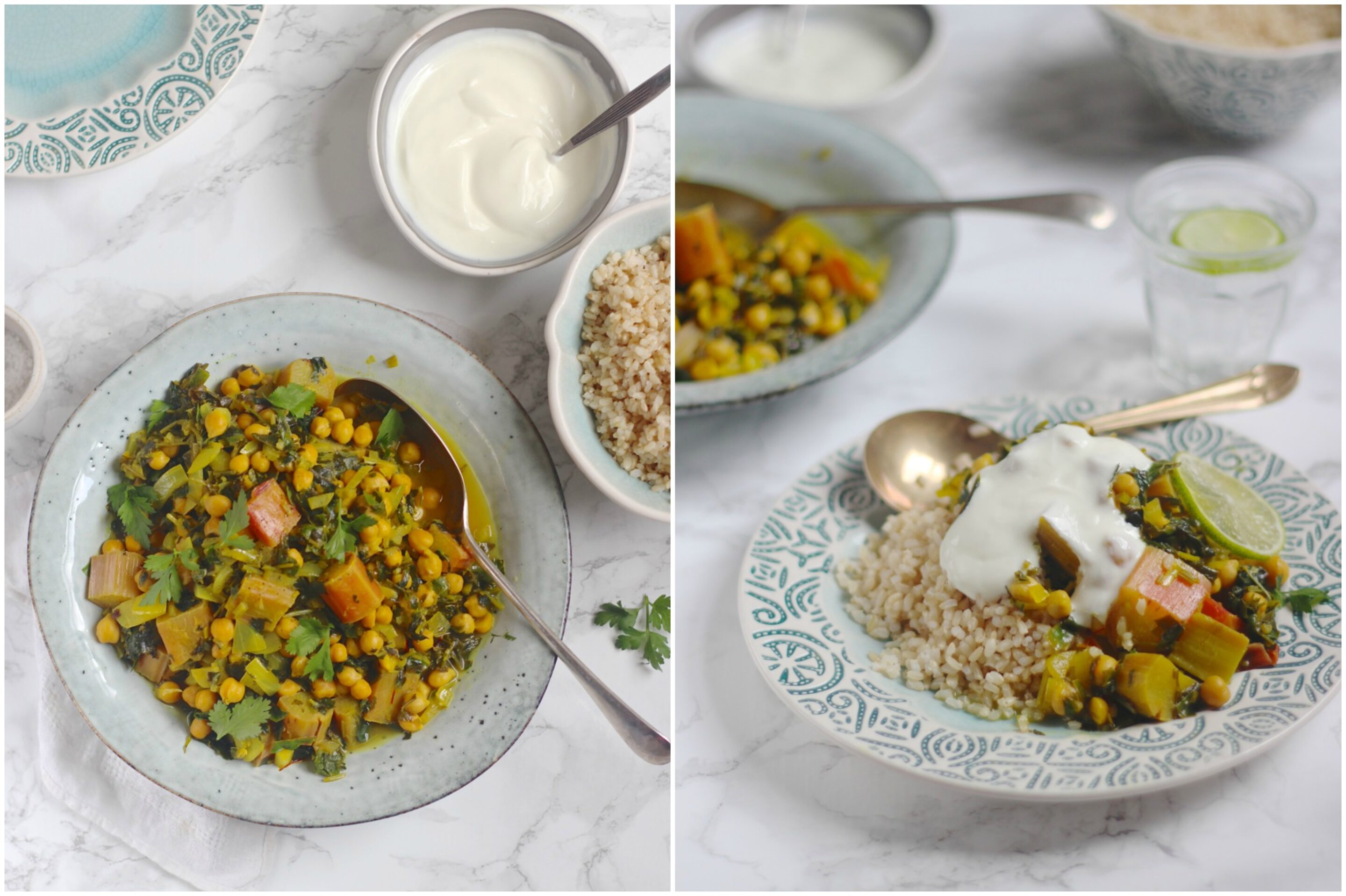 Then I was passing healthy food chain Leon and saw a poster for their new seasonal dish, a lamb and rhubarb khoresh, taken from their new cookbook Fast and Free.  Instantly inspired by this thought, I immediately (while walking down Tottenham Court Road…) googled a khoresh, and discovered it was a Persian stew, where saffron and turmeric where the main and only spices, and fresh herbs were not used just as a garnish but cooked into the stew for quite some time.  Sounded perfect!  I added the dish to my list of things to make, and then at a more reasonable time and place begun some more detailed research. I subsequently found a load of lamb and rhubarb khoresh recipes on the interweb (it must be a favourite combination), and decided I'd rather make a vegetarian dish.  Partly as it would cook quicker and I ain't got time for that slow cooked lamb nonsense, partly because I just don't fancy cooking much meat these days, and thirdly if the recipe was delicious I could add it to my yoga retreat repertoire.
The rhubarb khoresh was utterly delicious.  The rhubarb not too sour at all, balanced with the maple I added in at the end and lifted by the lime juice.  Something quite different!  My version was a combination of Leon's and some other recipes, swapping lamb for chickpeas and adding seasonal chard at the end meant I adapted quite a bit of the ingredients as well as the method so hopefully I can now call this version of the traditional recipe my own.
I wonder if my Dad would have preferred this to his rhubarb wine?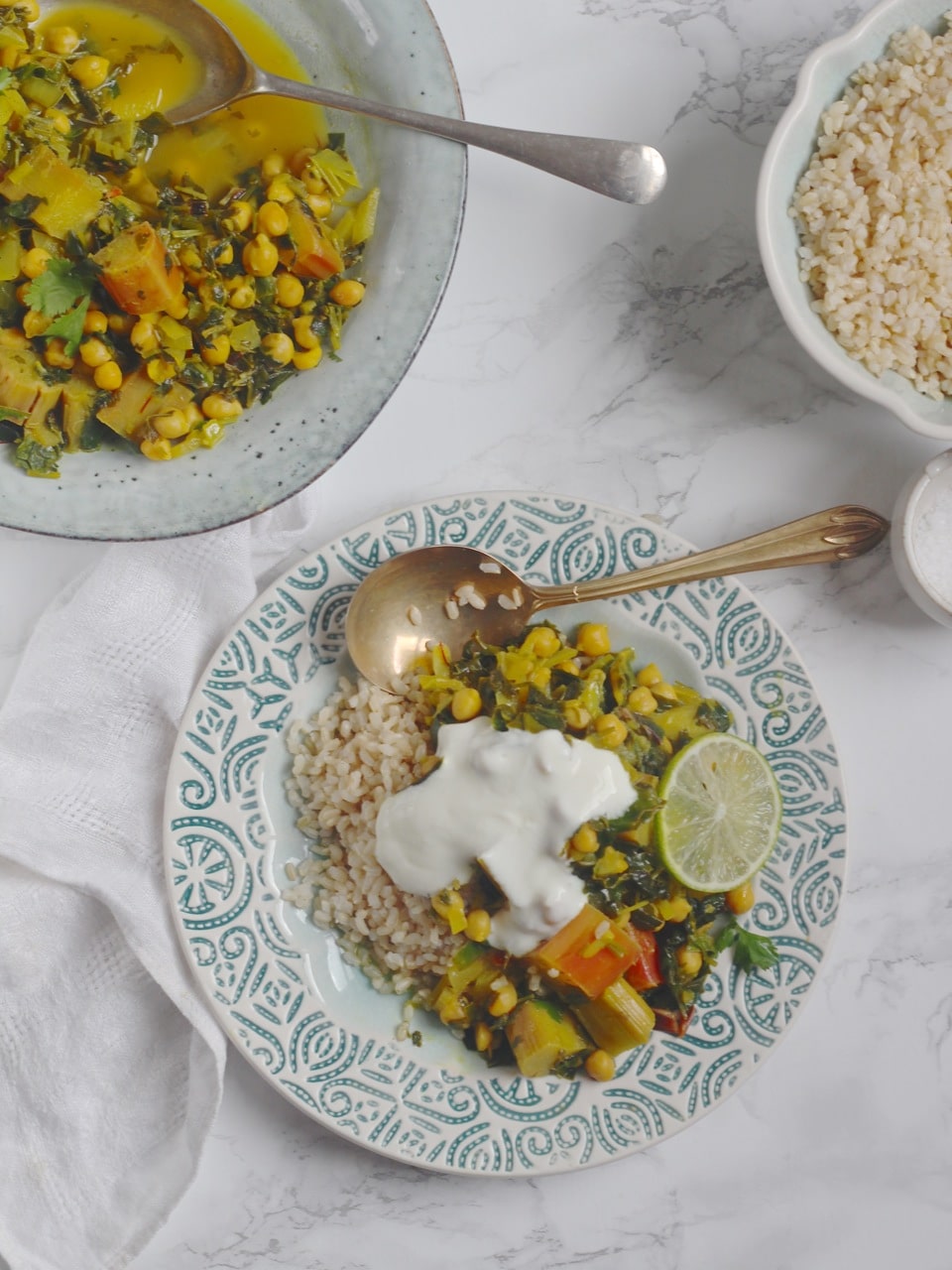 This recipe and post actually marks the 6th anniversary of writing this blog.  I should be making a cake and adoring it with candles really, but for me the real kitchen adventures, those that hang in my head for days beforehand and in my mouth for weeks afterwards happen with recipes like this.  Thank you for your continued reading, cooking, commenting, sharing, and support. To the next 6?

Rhubarb Khoresh with Chickpeas & Chard
Rhubarb Khoresh with Chickpeas & Chard is a Persian style vegan stew using the best of spring's seasonal British produce. Serve with yoghurt, lime and brown rice or a wholegrain flatbread.
Ingredients
olive oil
1 onion, finely diced
1 x 400g carton chickpeas, drained
½ teaspoon ground turmeric
200mls hot vegetable stock
35g parsley, finely shredded, reserving some for decoration
35g coriander finely shredded, reserving some for decoration
small handful of mint (ideally more, my plant isn't doing so well right now)
pinch saffron, soaked in 1 tablespoon hot water
2 limes
200g rhubarb, chopped into 1cm pieces
handful chard leaves, shredded
honey or maple syrup to taste
Salt
Black pepper
Instructions
Heat a medium sized saucepan with 1 tablespoon of olive oil to medium-hot and saute the onions for 5 minutes until softened. Add a pinch of salt, good dose of black pepper, turmeric and stir.
Meanwhile also heat a frying pan to medium heat with a tablespoon of olive oil and pan fry the herbs for 5 minutes. Stir regularly.
To the softened onions add the stock, chickpeas, fried herbs, soaked saffron and bring to the boil. Reduce to a simmer then add the juice of 1 lime and the rhubarb, cover and simmer for 10 minutes. Add the chard and cook for a further 2 minutes.
By now the rhubarb should be softened, yet not mushy or stringy. Taste and if too sour add a teaspoon or two of maple syrup or honey to sweeten. Also add more salt and pepper if required and another juice of half a lime to brighten it, reserving the rest as slices or wedged as a garnish.
Pile up the stew into a serving bowl or take the saucepan straight to the table. Garnish with some extra herbs.
Notes
Serve with brown rice or flatbreads and a dollop of cooling natural or coconut yoghurt.
Looking for other savoury rhubarb dishes?  Try this
Pasta with a rhubarb and basil sauce
from Recipes from a Pantry or this
Raw rhubarb and rosemary tabbouleh
by Farmersgirl Kitchen.
Pin me for later