Cheesecake in the loosest sense of course as there is no cheese in this cake. Soaked cashews do wonderful job along with tonnes of lemon juice to create a fresh take on a classic dish. I served this vegan lemon cashew cheesecake with ginger roasted rhubarb at my first 'Seasonal Suppers' event this May.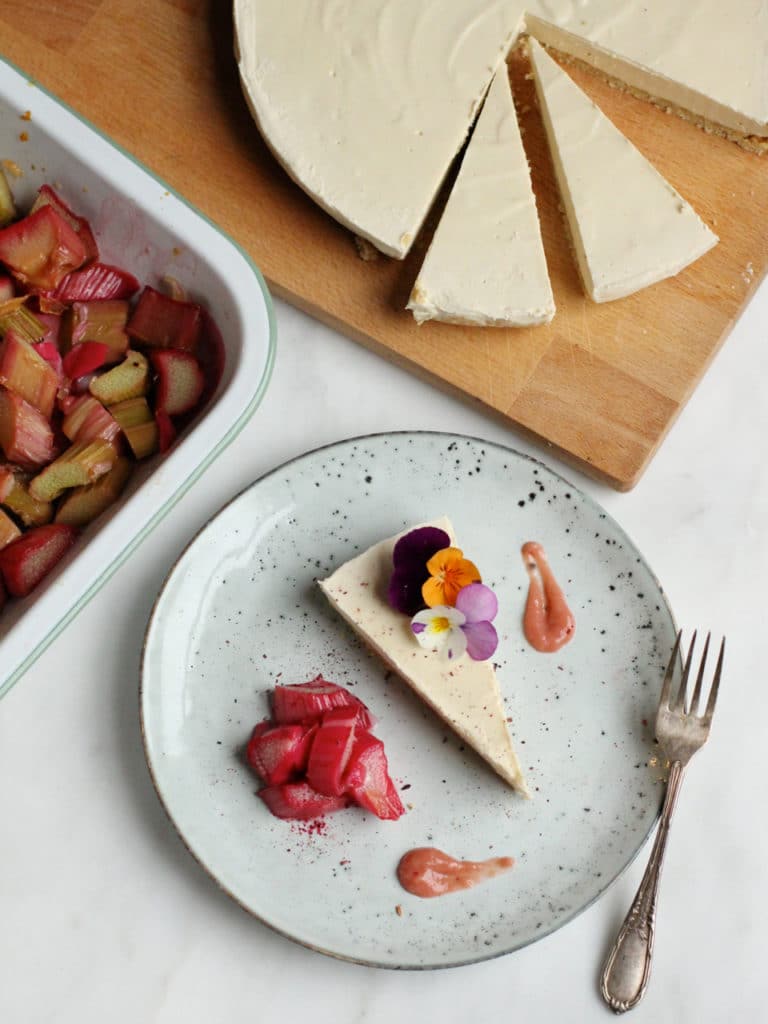 Hey blog, it's been a while. Sorry about that. I've neglected you this past month, but with very good reason. First there was a retreat in Italy to prepare for, carry out and recover from (in recovery mode I locked myself out of my house loosing some more valuable moments), and then there was a undeterminable amount of things to do to prepare for my first large scale Natural Kitchen Adventures supper club 'The Seasonal Suppers'. I also joined a gym, and had a weird 48 hour sickness bug. But, I've only been once to the gym so not ready to use that as an excuse just yet.
It was also my blog's 7th birthday at the start of the month. There has been a lot to reflect on the last few weeks! May always seems to be the month that big things happen, for me, as it was May I resigned from my 10 year job too (5 years ago now!). I think the new year should start in May, not January!
Preparing for the supper club included testing all of my recipes, and practicing the plating too. I thought I might as well take a photo of the dish which would guide my kitchen team on the night and then that would give me the chance to share it on here, for all the people that wanted to come but couldn't make it, or who just like looking at pictures of food, I know how weird the internet is.
I've been making this lemon cashew cheesecake for over a year now, mostly on retreats. The brief for my supper club didn't need to be vegan or dairy free at all (in fact there were only 3 vegan guests and none with a dairy allergy), but it is such a wonderful dessert and serving a vegan dish would enable me to serve the same dish to everyone. It also goes particularly well with rhubarb which is the seasonal fruit (or vegetable to be precise) that I wanted to showcase in the dessert.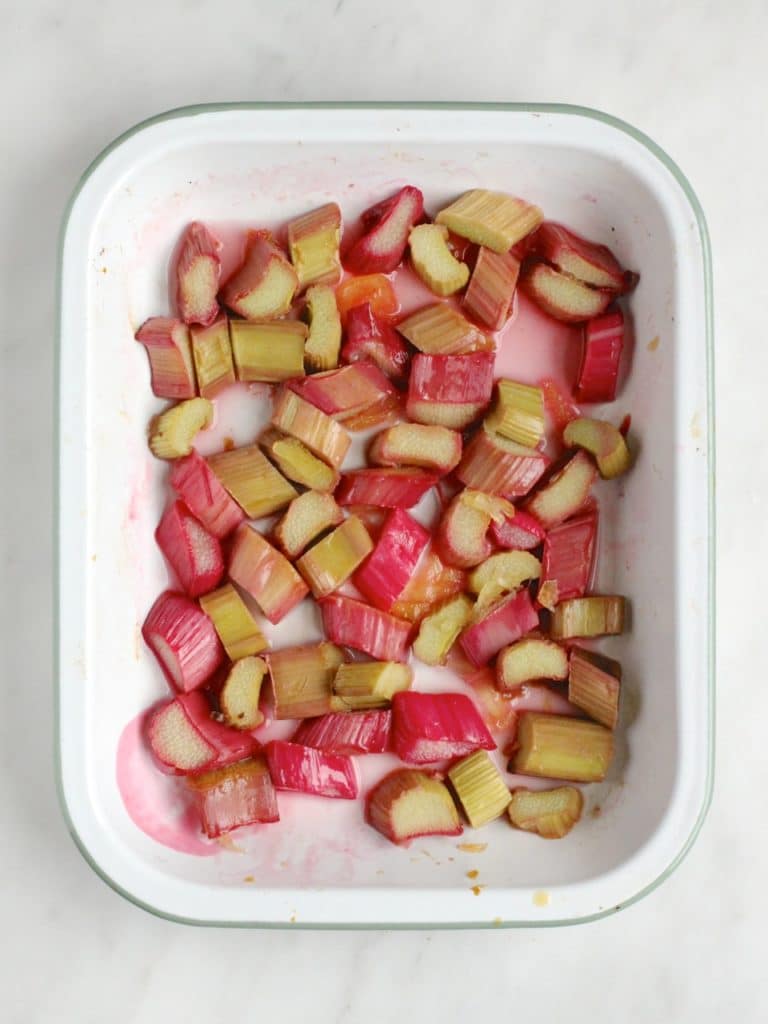 Outdoor rhubarb emerged in the UK this April, and you should expect to see it around for a fair few months yet. I've prepared it much the same way as I did for my spelt salad recipe for which I used forced rhubarb as it was earlier in the spring. I find that roasting rhubarb is the best way to hold its shape. Poaching can work, but in the blink of an eye it will disintegrate into a gooey mess. I don't have room for that margin of error!
Added to the roasted tin was the syrup from a stem ginger jar, as well as some of the stem ginger. Not a lot as not everyone likes ginger as much as me, but enough to give it a tang. You can also use maple syrup with fresh grated ginger if you like. I also made a smooth blended rhubarb puree for some decorative swirls on the plate. To make that I poached some extra rhubarb in water with some golden caster sugar. I'm not including the recipe for that below because somewhere in my recipe book notes the quantities went awry, and I didn't make a note of them when I recreated it (x30) for the event. If I make it again in future I will be sure to update this post. The colour of the puree will depend on how red/green your rhubarbs is. The puree isn't essential to the dish, but it's a great way of bringing it all together and looks good too.
You can mix up the garnish to this lemon cashew cheesecake according to the seasons; earlier in the spring I made a blood orange version, using a carton of blood orange juice I found in the supermarket whilst I was catering in the Alps. I've also served this with passion fruit, strawberries, and raspberries too, but I think the rhubarb combo is my favourite.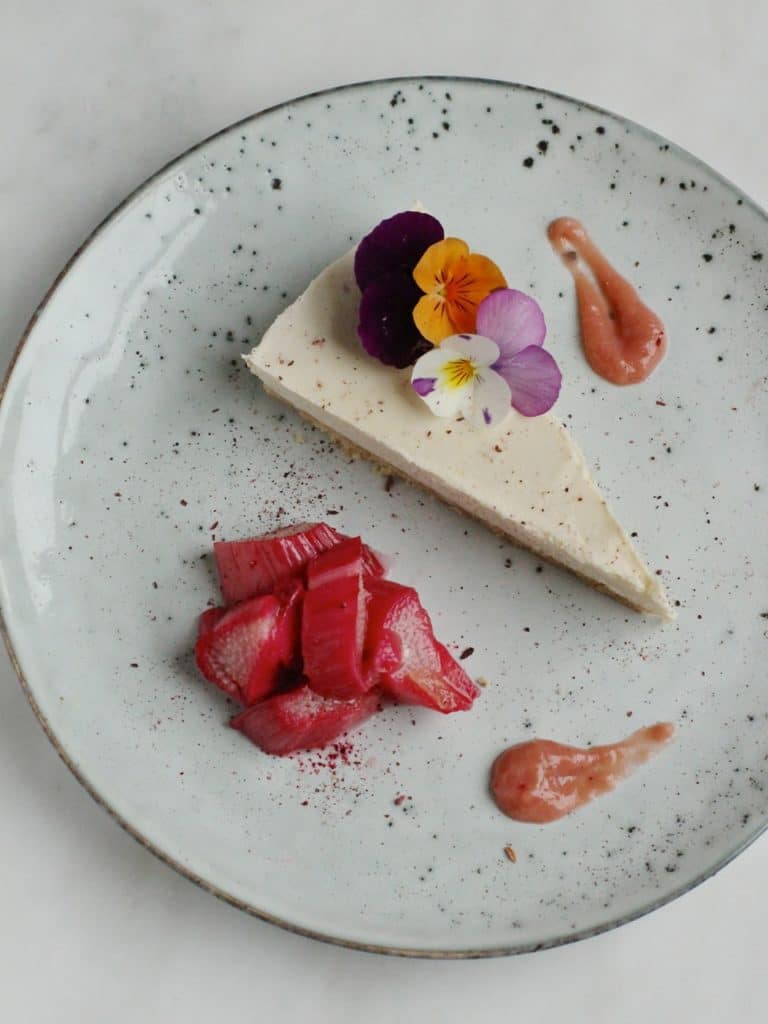 I have adapted my lemon cashew cheesecake recipe from this one I found on the internet, and after making this a few times have discovered quite a few people have shared similar recipes, so I am not sure who to credit as the original writer. I have fiddled with the recipe a little each time I've made it, in terms of prep, ingredients included and flavours. It's taken a year of trials to get to my favourite version, because I'm simply not one of those recipe developers who will make the same recipe 5 times in a day till they get it perfect, I prefer a slow evolve.
You will need a high speed blender for this cashew cheesecake recipe (I love my Froothie Optimum 9400 blender*), although in Italy I did make it with a hand blender. To be honest the texture wasn't anywhere as smooth as I usually make it, but the Sorrento lemons won me over.
As a final flourish I have added some edible violas. Edible flowers is so damn expensive, so if you want to use them, get growing! The RHS have some great advice on this, if you're a novice like me. I don't have a garden but realised growing them in some pots outside my house might just do the trick. It's a sunny spot (SE facing), and the late afternoon sun in the heat waves we have just had have well and truly helped them along to get them ready for the supper club!
I was so thrilled with how the supper club went, with 25 hungry happy eaters (more pics in my Instagram Highlights), and plan to do another in London this summer. Stay tuned!
—
Lemon Cashew Cheesecake with Ginger Roasted Rhubarb
Lemon Cashew Cheesecake with Ginger Roasted Rhubarb
Cheesecake in the loosest sense of course as there is no cheese in this cake. Soaked cashews do wonderful job along with tonnes of lemon juice to create a fresh take on a classic dish. I served this vegan lemon cashew cheesecake with ginger roasted rhubarb at my first 'Seasonal Suppers' event last week.
Ingredients
Base
40g pistachio nuts
160g ground almonds
pinch sea salt
2 tbsp maple syrup
2 tbsp coconut oil
Top
230g cashews, soaked for 4-6 hours in water with a pinch of salt
180mls lemon juice (roughly 6 lemons)
180mls melted coconut oil
145mls maple syrup
pinch salt
3 lemons, zested
Ginger Roasted Rhubarb
400g rhubarb, sliced on an angle into 1 cm pieces
2 tbsp stem ginger syrup
1 stem ginger sliced into thin slithers
To serve
hibiscus leaves, ground into a powder in a coffee grinder
a couple of edible flowers such as violas
Instructions
First prepare your cake tin. I usually use a 22cm spring form cake tin. Line the base with clingfilm before popping it into the rim. Then add enough clingfilm to cover all the sides.
Next make your base. Roughly chop the pistachios in a food processor, but leave some texture. Add in the ground almonds along with the salt, maple syrup and melted coconut oil, and blitz again until it the wet ingredients are well distributed. Transfer the crumbly mix to your cake tin and smooth over with the back of a spoon. Make it as flat as possible and make sure it goes well up to the lined edges. Freeze for 10-15 minutes.
Now make your filling. Drain and rinse well the cashews, then add them into your high speed blender along with the lemon juice, oil, syrup and salt lemon zest and salt. Blend untll completely smooth and there is no trace of cashew pieces. Add the lemon zest and blitz again until just combined. I
Remove the base from the freezer and pour over the filling (f blending your mix has caused it to heat up, wait a few minutes before adding it to your base, or else you might melt it). Using a spoon spread it over so that it is level. A quick tap to release any air bubbles and to gently shake it so that the top is as smooth as possible usually helps. Transfer to the freezer and leave to set. Depending on how good your freezer is, it should take 2 hours to set fully (or perhaps longer).
Remove from the freezer and whilst still solid remove from the cake tin and peel off the clingfilm. The base should be solid enough to transfer the whole thing to a chopping board or suitably sized place. The clingfilm will have left ugly marks in the side of your cheesecake. The way to resolve this is to grab a mug of lukewarm water, wet a finger and run it around the edge smoothing it over. You can now return to the freezer or fridge till serving. I would leave it in the fridge only for 30 mins to an hour or it might get too soft. If not planning to serve imminently return to the freezer.
Now to make your rhubarb. Pre-heat the oven to 180°C (fan), and spread your rhubarb over a large baking tray. Drizzle over the syrup along with the ginger, then roast for 8-10 minutes till fork tender, but still holding its shape. Remove from the oven and cool until ready to eat.
To serve the cheesecake slice the cheesecake into 12 (cut with a dampened serrated knife for ease, and wipe clean between each slice), plate up with around 5-7 pieces of the rhubarb. Sprinkle the hibiscus powder over the rhubarb and add the violas to the cheesecake.
Notes
180mls is a whole lot of lemons (your average lemon has around 30mls of juice, so approx 6). You can use the ones you have also zested and also have the option of adding in any lemon juice from a bottle for this becuase its easier and also more economic (especially when you have to make multiple cheesecakes in one setting)
Pin me for later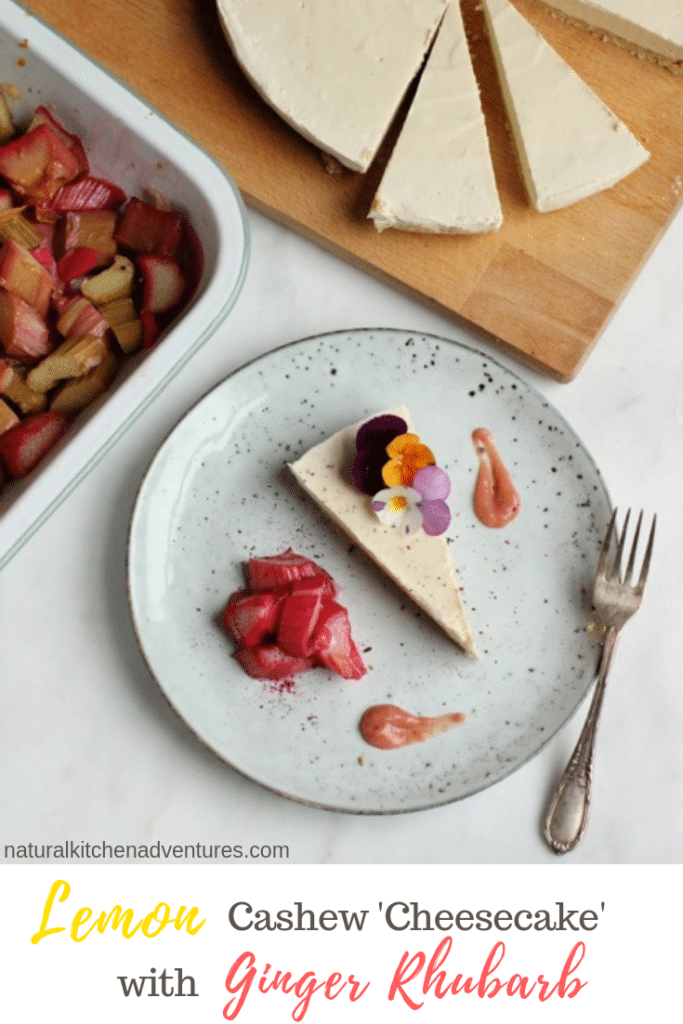 *Disclosure: I am an ambassador for Froothie and some links in this article may be affiliate links. If you'd like to know more about Froothie health products, or this machine in particular, please visit the Froothie Website for more details. Any purchases made through this/these link(s) are at no extra cost to you but give Natural Kitchen Adventures a small commission. Thanks!