A simple granola made from jumbo oats, olive oil and maple syrup. A versatile base recipe allowing you to get creative with your extras.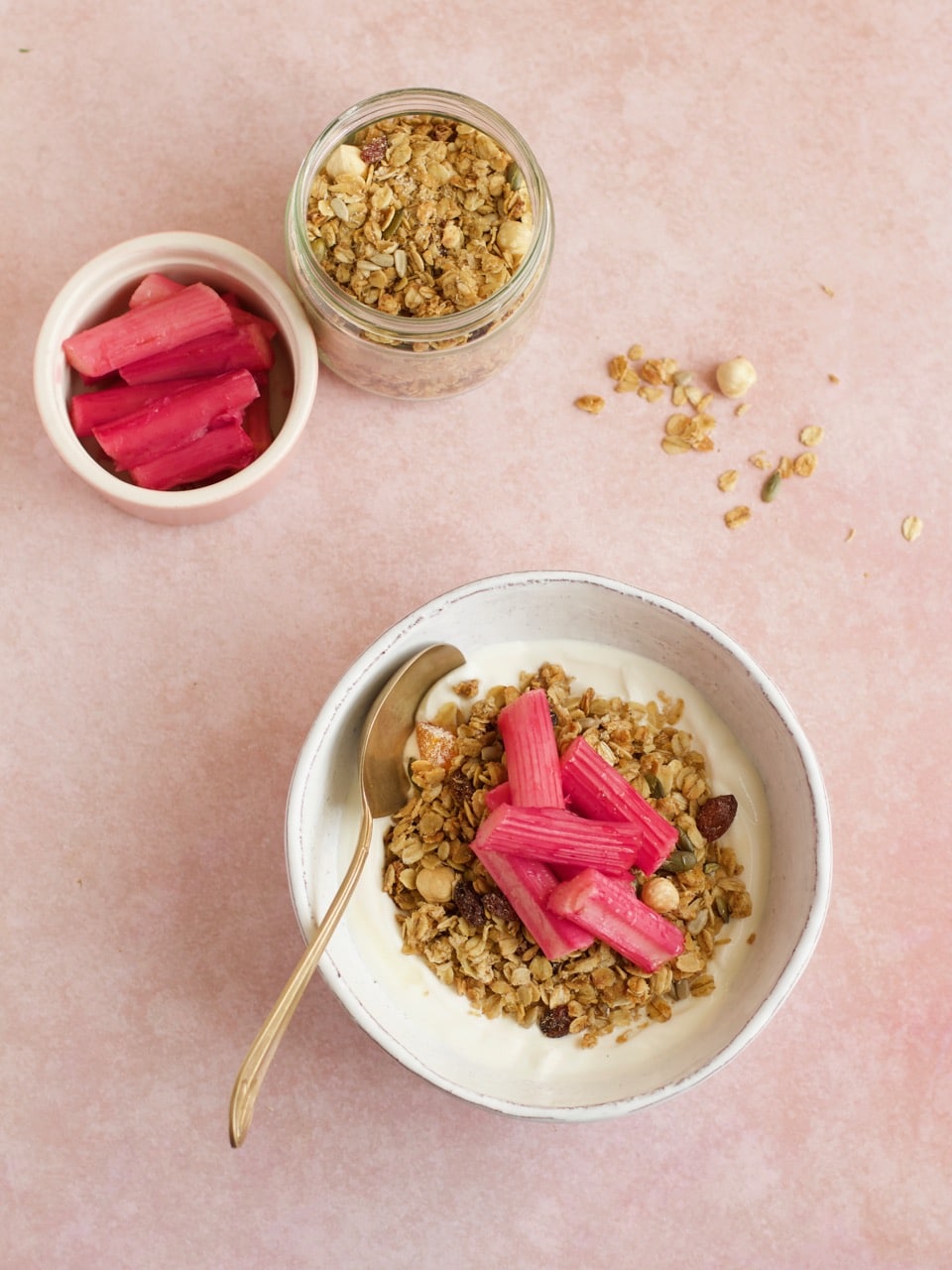 Does the world really need yet another granola recipe?  I mean, I wouldn't be surprised if every single recipe blog in the land had their own version, all equally delicious I'm sure.  So why add mine into the fold?
I've served up this granola on every single retreat I've ever catered, and at each retreat I am always asked for the recipe, so here it is.
I used to make my granola with coconut oil, but in recent years switched to olive oil simply becuase I could't find coconut oil in rural Italy. Olive oil gives a crispier granola, and it's cheaper too. I would never go back. My preference for granola is to use jumbo oats, porridge oats will of course work also, but the texture with jumbo oats is less 'floury'.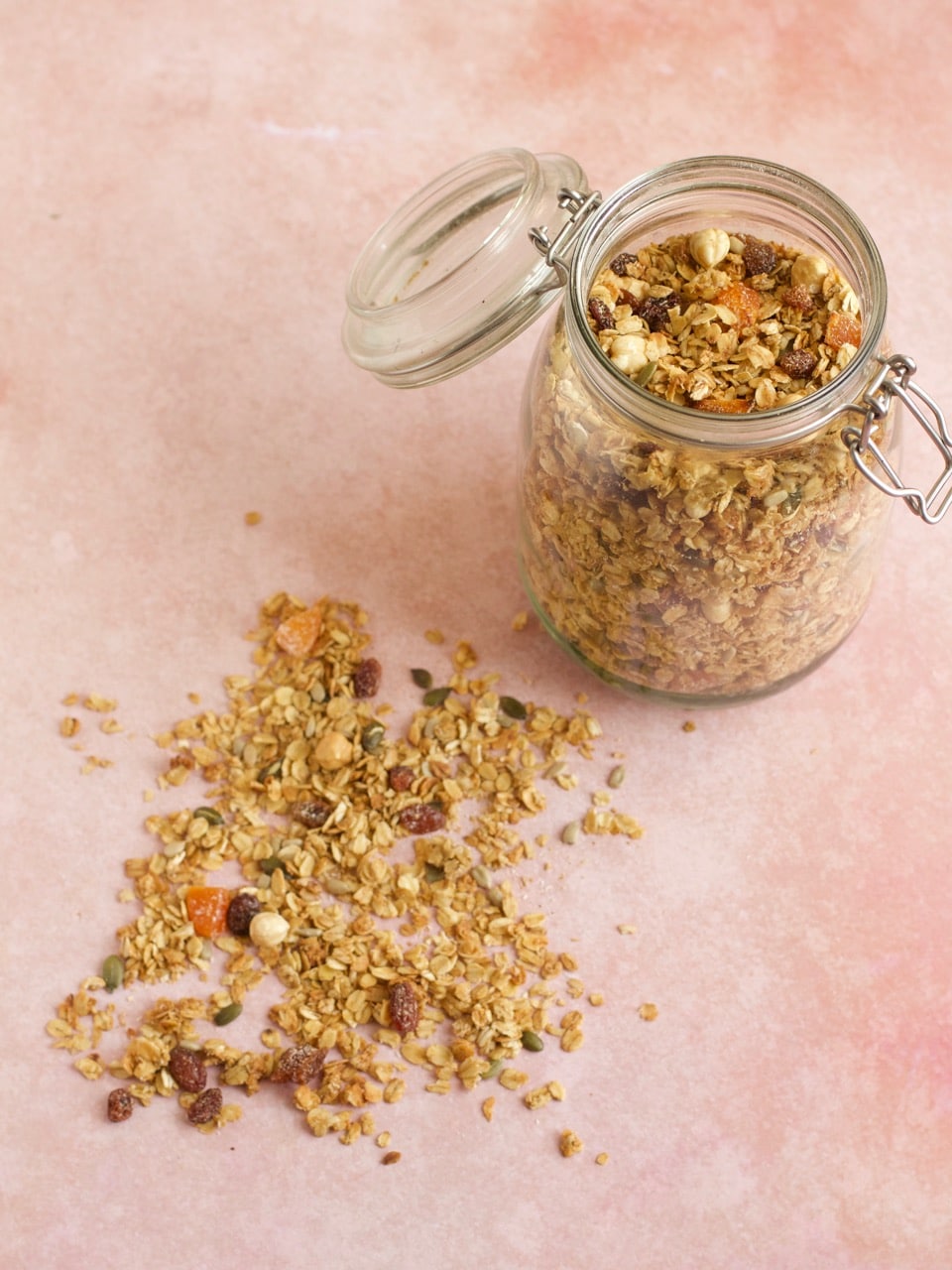 When making granola I personally prefer to toast just the oats in the oven and then add seeds, dried fruit and coconut half way through cooking. I just don't like the way the nuts burn, or the dried fruit over caramelises in the full heat of a hot oven.
This recipe totally allows you complete creative freedom on the end dish; fill it up with what ever you like, then serve it with fresh seasonal fruit, Greek, natural or coconut yoghurt, and perhaps an extra drizzle of milk.  My late winter / early spring seasonal fruit favourite is roasted forced rhubarb.
photos & recipe updated April 2020, and yes I'm still serving this EVERY retreat. 
Recipe now also available as a How to Video on my IGTV HERE

Olive Oil Granola
A simple granola made from jumbo oats, olive oil and maple syrup. A versatile base recipe allowing you to get creative with your extras.
Ingredients
600g jumbo oats
½ teaspoon ground cinnamon
¼ teaspoon sea salt
100g olive oil
100g maple syrup or honey
1 teaspoon vanilla extract
+ Chopped seeds, nuts, dried fruit, coconut - desiccated or chips, your choice.
Instructions
Pre heat the oven to 160ºC (fan)
In a large bowl toss the oats with the cinnamon and salt
Warm the olive oil and maple syrup or honey together in a saucepan until loose, stir until well blended. Add the vanilla extract and pour over the oat mixture, making sure all the oat grains are well coated.
Spread the oiled oats in a thin layer on a lined baking sheet, go onto another sheet if necessary. If the oats aren't in a thin layer they won't crisp up. Transfer to the pre-heated oven.
After 10 minutes, remove and sprinkle over your chopped nuts, seeds, dried fruit and coconut. Stir so everything is evenly spread and return to the oven for a further 10 minutes or so until toasty and browned.
Allow to cool fully before transferring to an airtight glass jar where it will keep for a few weeks.
A serving of granola is approximately 40g.