Introducing my herb baked fish with pea purée & samphire, served with roasted new potatoes; basically a posh version of fish, chips and mushy peas. 
Hey blog, it's been a while. The truth is that in between cooking for multiple retreats, teaching work, redecorating my entire flat leaving my kitchen out of action, and just trying to have some time off, the blog has been a bit neglected the last couple of months. I even missed celebrating 8 years of its existence, at the beginning of the month. EIGHT YEARS!
I cooked a variation on this baked fish and pea purée dish, at a retreat last weekend, and remembered that even though I had it all photographed and ready from May 2018 (I used it at my spring supper club), I'd never actually had the opportunity to share it. Could I rectify that and use it to bring the blog back from it's deafening silence?
Yup.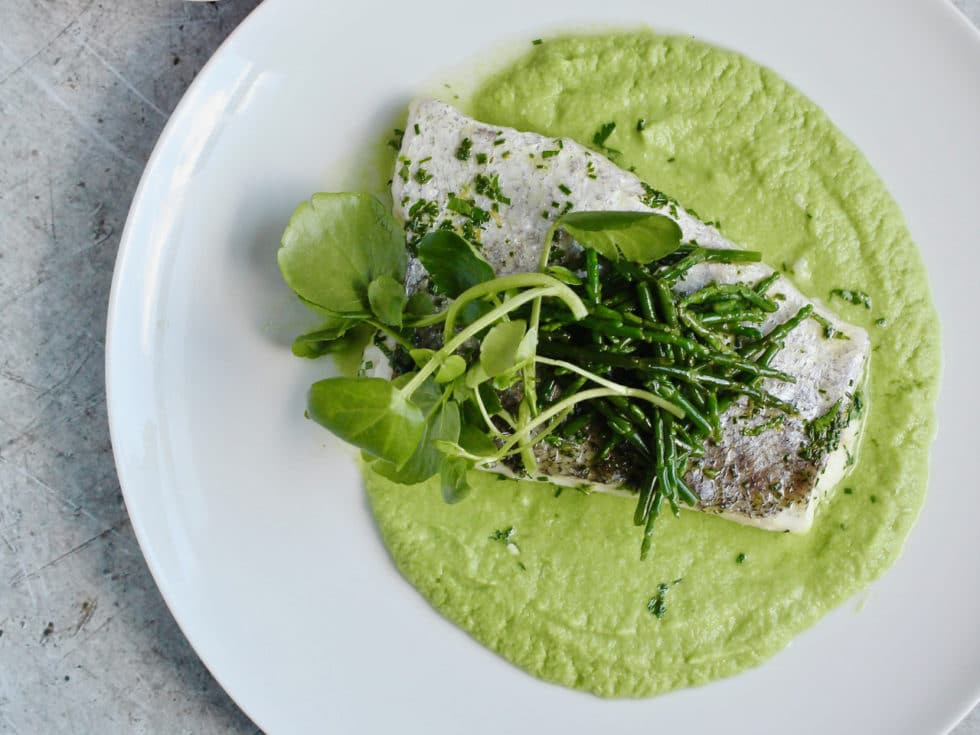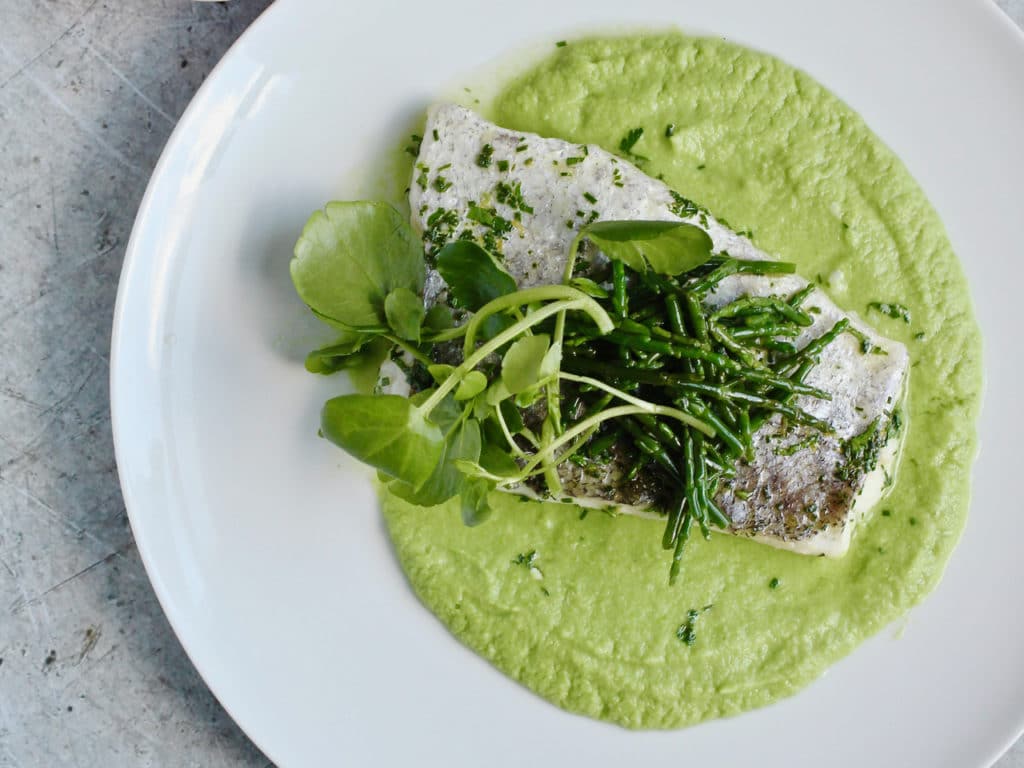 I've made many iterations of this herb baked fish with pea purée over the last year. Serving it with Cornish hake in London, trout and perch in two locations in South west France, and then with salmon in Somerset. Fishy versatile.
Most of the times I have cooked this for a large group I have opted to marinate the fish in a mix of herbs, and then bake, and have included the recipe for that below. This is mostly because it's less risky than pan-frying, when you don't have your favourite pan and a reliable hob for just the right amount of heat.
However, if prefer your fish with a crispy pan-fried skin, it can absolutely be done, even for 16 people. The key is to make sure the pan is nice and hot, oiled a little, the fish is placed skin side down, and not moved an inch it until it is ready to be flipped. The fish should come away easily once a crust has formed on the skin. If you find the skin is getting stuck to the pan when you try and flip it, it's likely it wasn't ready to be moved. The way I do this for a large group is to fry skin side down in in batches, then flip over onto a baking sheet and then put them all in the oven together to finish cooking the flesh through. You can find my method for pan-frying hake here.
I've written about samphire before. I love the salty stuff. The saltiness is muted a little when washed thoroughly and cooked, but even so don't over season the purée or the whole dish could taste a little too much like you've accidentally been knocked over by a strong wave and inhaled a cup of seawater. And no one likes that.
When I created this dish, I had absolutely no intention of creating a posh version of fish, chips and mushy peas, but it appears that is exactly what I've done. It seems my Saturday job in a fish and chop as a teenager has created more of a legacy on my recipe development skills, than one might have expected.
—
Herb Baked Fish with Pea Purée, Samphire & Shoots
Herb Baked Fish with Pea Purée, Samphire & Shoots
Introducing my herb baked fish with pea purée & samphire, served with roasted new potatoes; basically a posh version of fish, chips and mushy peas.
Ingredients
For the fish
2 x fish fillet such as hake, a portion is around 150-200g per person, depending on the fish.
1 tbsp finely chopped chives and parsley
Zest from half a lemon
Pea purée
1 small white onion, minced
1 stick of celery, small dice
250g frozen peas
80mls almond or cows milk + a little more if necessary.
Samphire
60g samphire, rinsed well
General
sea salt, pepper, olive oil and butter
Roasted new or regular potatoes to serve, and a handful of shoots such as pea or watercress
Instructions
Puree
First make your purée. This can be done ahead of time, chilled in the fridge and warmed up when ready to serve. Make sure it is fully cooled and chilled within 2 hours of making for food safety.
Add a glug (around a tablespoon) of olive oil to a medium-sized saucepan over medium heat, and sauté the onion and celery with a pinch of salt until softened, approx. 5 minutes. Add the peas along with the almond milk. Turn up the heat a little and cook for 4-5 minutes until the peas are al dente. Remove from the heat and cool off for a couple of minutes before blending in a high-speed blender, food processor or with a hand blender until silky smooth, you may need to add more milk. If not serving immediately, you can cool off and chill at this point.
Return the purée to the saucepan, and add salt (start with ¼ tsp) and pepper to taste. A large knob of butter or a drizzle of oil to balance the flavours is also good. If it needs brightening add a dash of lemon juice.
Fish
Pre-heat the oven to 175°C (fan).
Mix the chopped herbs with the lemon zest and a couple of teaspoons of olive oil to make a paste, stir in the lemon zest. Rub all over the fish skin and flesh, season with salt and pepper, and transfer to a lined baking tray skin side up. Bake in the oven for 7-10 minutes until the fish is opaque and flakes easily.
Samphire
Meanwhile, warm a frying pan over a medium-high heat and add a knob of butter / drizzle of oil. When hot, add in the samphire and toss in the heat of the pan for 1-2 minutes, until slightly wilted and warm.
To plate up
Start with a pool of pea purée on the base of your plate, a pasta bowl also works well for this dish. Top with the fish, the samphire and then garnish with shoots such as watercress or pea-shoots. Serve with potatoes on the side.
If you like this, you might like my other dish with pea purée,
a riff on Turkish Eggs
.
Pin me for later