This winter warmer dish starts with a base of comforting celeriac butter bean puree, before being topped with some garlicky wild mushrooms and a fillet of pan-fried Cornish hake. Paired with a chilled and refreshing glass of Appletiser* it makes for a delicious comforting winter dinner.
*This post is commissioned by Appletiser.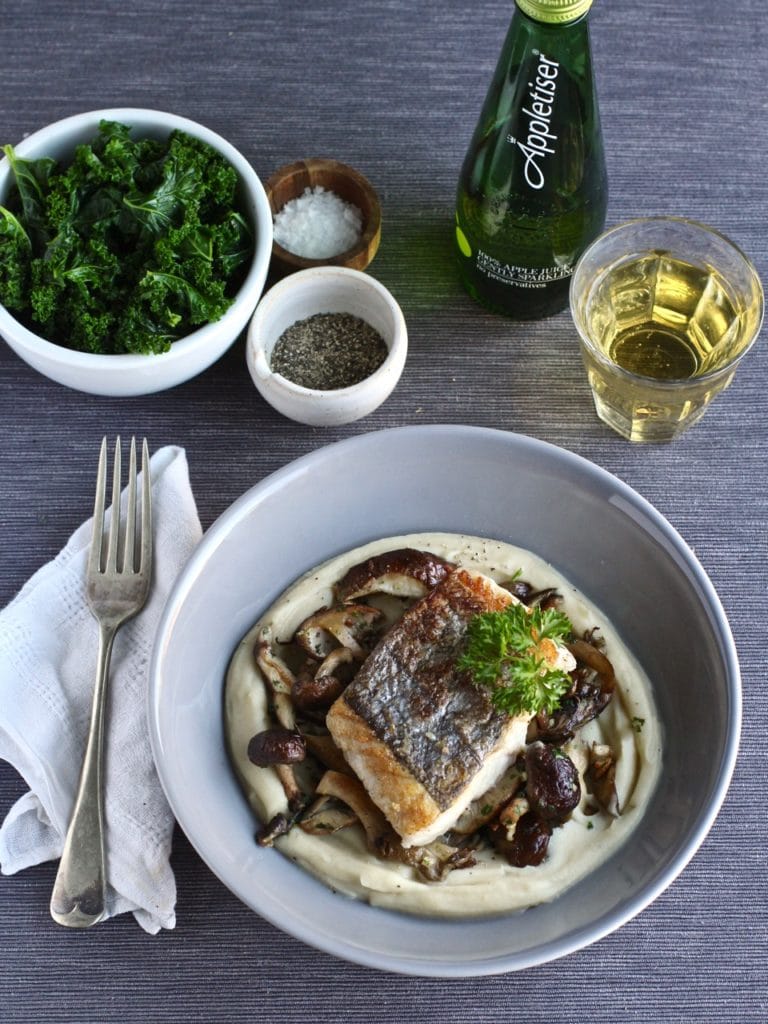 Winter food, for everyone I think, equals pure comfort food. This usually involves something like a warming soup or stew, or piles of rich mashed potato and gravy. I however, am a fan of the celeriac puree; smooth and creamy, with a healthy amount of butter that fills the mouth before settling on the tongue. Delicious.
Celeriac (as discussed in my post from this time last year), is a super flavour partner for apple, so the perfect inspiration for my winter instalment of my Appletiser recipe collection. Appletiser, a crisp sparkling apple drink, will cut through that creamy celeriac puree in no time.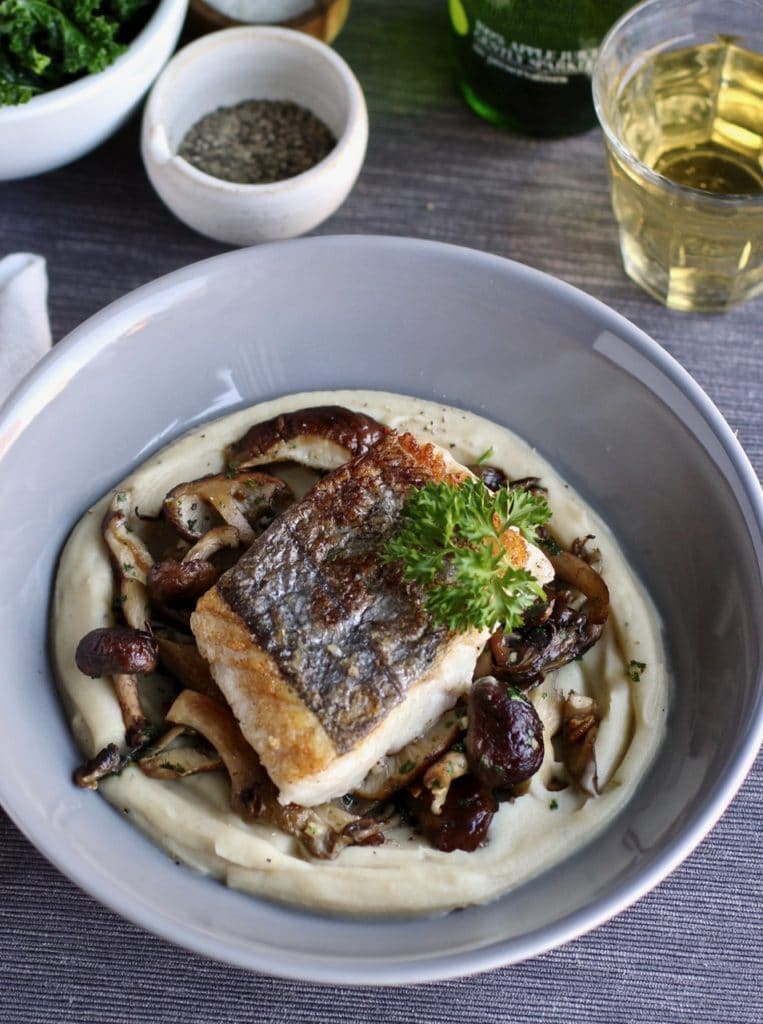 As we approach winter, it's all about the root vegetables, and I love to utilise celeriac. Its nutty celery-like flavour is the perfect base for a puree, which being less starchy than potato, is a lot easier to deal with too. The blender can happily deal with a lot of celeriac puree, but not potatoes (a sticky mess will ensue due to the higher starch content). Particularly useful if cooking for a crowd, with no man power for mashing.
I like to add butter beans to my celeriac puree, they add an extra dimension of butteriness (the clue is in the name), but also add some extra protein and fibre. I often serve this puree under a wild mushroom stew (it made an appearance at all my winter retreats last year), but today I decided to do something a bit different and serve with a beautiful fillet of pan-fried hake, which is a bit quicker for a weeknight feast.
The mushrooms still make an appearance in this dish though! You could of course make them creamy, but since the puree is so rich, I wanted to keep the mushrooms simple and cook with a little garlic and parsley. Wild mushrooms are at their best this time of year, so do look out for all sorts of varieties (in the market rather than foraging unless you're with an expert). Any mushrooms with an interesting shape like oyster or chanterelles are a good bet. I ended up using oyster, shiitake and maiitake. Most larger supermarkets will stock a mixed punnet you can buy. The biggest mistake people make when cooking mushrooms is to stir them repeatedly. All this does is release more water, meaning they get all soggy. Put the oil and a little butter in a pan, put them in, and give a good shake before leaving them cook for a few minutes just where they are. No more soggy mushrooms!
Cornish hake, is a firm white fish, available for most of the year and is a sustainable alternative to cod. I'm pan-frying it because I'm only making two portions and this way I get a beautiful firm and crispy skin. If you're not that confident at pan-frying fish you can always bake it in the oven. I often do this if I'm cooking for a crowd at a supper club, because you can't serve 30 pan-fried hakes at once. It will take around 8 minutes in a 180ºC (fan) oven, don't forget to season the skin and add a drizzle of oil or some herbs too.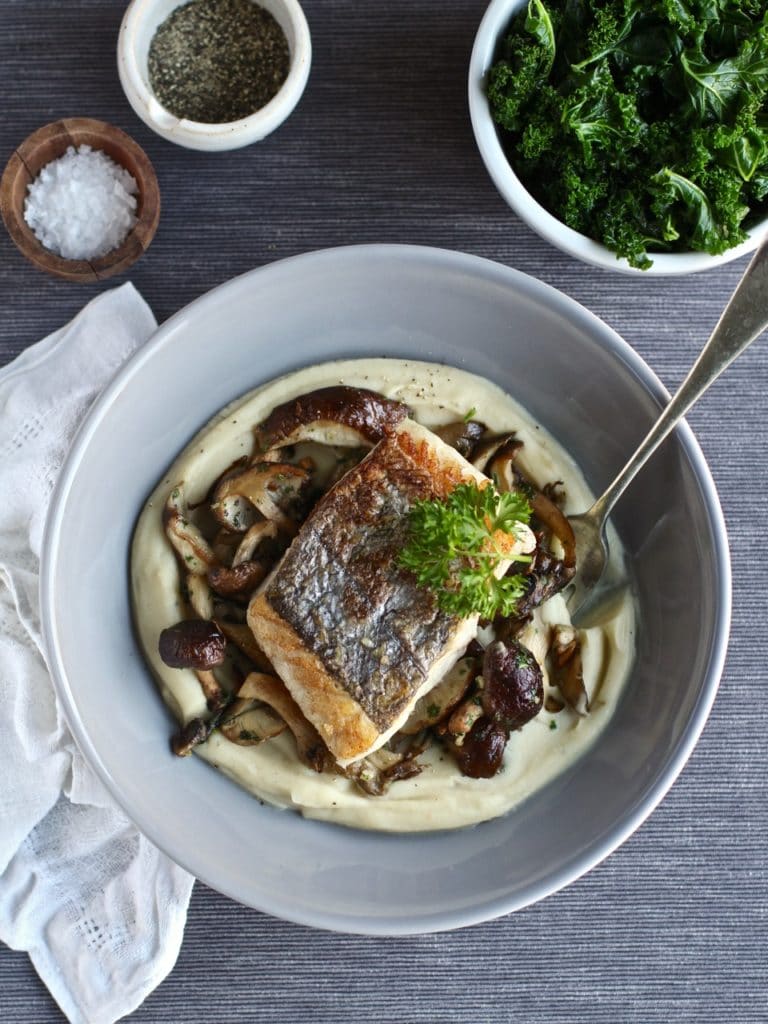 I hope you enjoy all the elements for this wintery dish and don't forget to serve a chilled glass of sparkling Appletiser on the side to wash it down.
—
Celeriac Butter Bean Puree with Wild Mushrooms & Pan-Fried Hake
Celeriac Butter Bean Puree with Wild Mushrooms & Pan-Fried Hake
This winter warmer dish starts with a base of comforting celeriac butter bean puree, before being topped with some garlicky wild mushrooms and a fillet of pan-fried Cornish hake.
Ingredients
For the celeriac and butter bean puree (serves 3-4)
1 small head of celeriac, peeled and chopped approx 500-600g
400g tin butter beans, drained and rinsed
250 mls veg or chicken stock
20g butter
grated nutmeg
For the hake
2 fillets of skin-on hake, approx. 200g per person
For the wild mushrooms
200g oyster or mixed wild mushrooms.
2 cloves of garlic, minced
handful parsley, finely chopped
general
olive oil, a little extra butter, salt and pepper
Instructions
Bring a medium saucepan of water to boil, add the celeriac and cook for 10 minutes. Drain well.
Add to a high powered blender with the butter beans and 250mls vegetable (or chicken) stock. Blitz until velvety smooth. Add in the butter, and season with a salt (don't be shy) and pepper and a little grated nutmeg. Blitz again and taste, transfer to a small saucepan to keep warm while you finish the rest of the dish.
Next cook the fish. Heat a large-non stick pan over a medium heat and add a tablespoon of olive oil and knob of butter. Season the flesh side of the hake with salt and pepper. Place the fish skin-side down in the hot pan and leave cook for 3-4 minutes. When the skin is crisped up, turn the fish over and cook for another minute or so, until all the flesh has cooked through – the colour will now be opaque. Use the fat in the pan to baste the fish.
While the fish is cooking, grab another small pan, add a tsp of olive oil and warm over a medium heat. Sauté the mushrooms for a few minutes, until they start to brown. Add the garlic, a small knob of butter and the parsley, cook for another few moments, add a pinch of salt, and then remove from the heat.
To plate up, a pasta-type bowl is best. Add a generous scoop of the puree, top with the mushrooms and finish with the Hake. If you like, garnish with some more parsley and serve with steamed kale on the side.
Notes
Notes. NB the puree will serve around 3-4 people. I haven't reduced to 2, because then you'd be left with half a celeriac and half a tin of beans which isn't helpful. You're better off storing the spare puree in the freezer till you're ready to eat it again.
For my other Appletiser recipes this year click
HERE
What's your favourite thing to eat in comfort? Would this dish make it on your list?
Pin me for later
Disclaimer:  This post and recipe was commissioned by Appletiser. Thank you for supporting the brands who help make it possible for me to continue developing and sharing recipes on Natural Kitchen Adventures.