A spring riff on Turkish Eggs, this dish comprises a base of sweet pea purée, topped with a poached egg, chilli butter and finished with a handful of delicate pea shoots.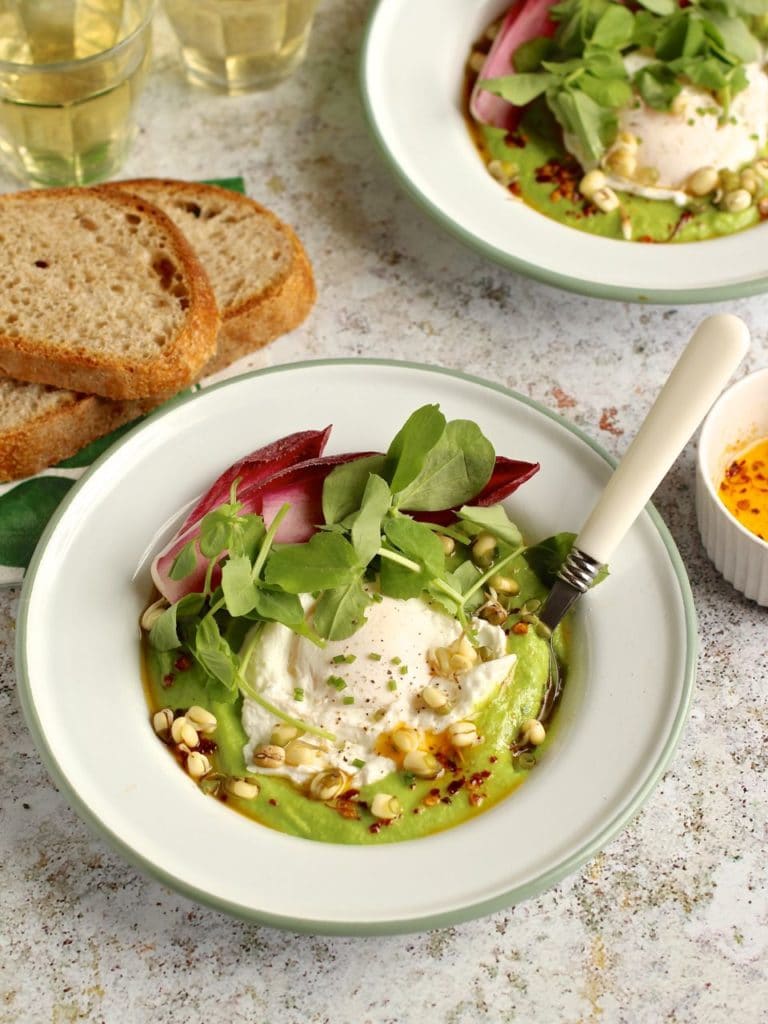 I adore the dish Turkish Eggs, also known as eggs Çilbir. It usually consists of a base of thick creamy garlic yoghurt or labne, topped with a perfectly poached egg and finished with chilli butter. I first sampled this at a restaurant in London a few years ago, where it has been on the menu for quite some time. However, the dish has seemingly gained popularity since Nigella cooked her version on her telly program last year. Twitter went crazy for it.
The only thing missing from the dish, I think, is vegetables. Not that there is anything wrong with a veg-free dish on occasion of course, but I made a commitment last year that everything on this blog would have at least one portion of fruit or veg on it. So I started to think about how that could work.
After serving a delicious pea purée at my supper club a few weeks back, I wondered whether a slightly thicker version would work well as the base to a poached egg, instead of the yoghurt. I would still incorporate the chilli butter, that bit was vital, and how about adding some greens for garnish on top?
Pea shoots are delicate little salad leaves with a light fragrance of pea. I served them last year with my peach and burrata dish. I love the taste of these and especially using them in combination with garden peas. I learned recently that they're really easy to grow, even in a small pot on a balcony, or in my case outside my front door. They harvest in a couple of weeks too; far less time intensive than waiting for a carrot to sprout out of the ground. I might just have a go. I'll keep you posted on my progress.
I always use frozen peas, even when peas are in season, as they are now. For one they are cheaper, and they're actually fresher too as the field to freezer process is very efficient. However, I still like to take time to celebrate them in the spring as this is when it feels naturally right.
To blend the peas, I recommend a Froothie Blender.* I have one and I couldn't live without it, providing professional blending results in a home kitchen. The model I have is no longer available so I've been advised by Froothie to recommend the 9200 2nd generation which best priced model now. If you buy via this link, you will be rewarded with an extra 2 years warranty, and you will be able to use a 0% interest free deal to spread the cost.
Turkish Eggs is often served for brunch, but it's the sort of thing I'd happily put together for a light supper too, especially my version with all the veggies involved. With the sprouted mung beans as a garnish, you're adding more sustenance (and plant protein) too.
—
Pea Purée, Poached Eggs, Chilli Butter & Pea Shoots, a riff on Turkish Eggs
Pea Purée, Poached Eggs, Chilli Butter & Pea Shoots
A spring riff on Turkish Eggs, this dish comprises a base of sweet pea purée, topped with a poached egg, chilli butter and finished with a handful of delicate pea shoots.
Recipe type:
Brunch or Supper
Ingredients
for the pea purée
1 banana shallot, minced
1 sticks of celery, small dice
2 cloves garlic, minced
250g frozen peas
100mls almond or cows milk (I simply prefer the taste of almond)
Sea salt and black pepper
Olive oil
For the chilli butter
25g butter
½ tsp chilli flakes
pinch saffron (optional)
For the poached eggs
2 medium-sized free-range eggs
1 tbsp white wine or cider vinegar
To serve (all optional)
A few snips of chives
6 purple endive leaves
Small handful pea shoots
Small handful sprouted mung beans
2 slices of sourdough bread
Instructions
Get a large saucepan on the heat ready for your eggs, but first make the purée. Add 2 tsps of olive oil to a medium-sized saucepan over medium heat, and sauté the shallot and celery with a pinch of salt until softened, approx. 5 minutes. Add the garlic and cook for a minute before adding the peas along with the almond milk. Turn up the heat a little and cook for 4-5 minutes until the peas are al dente. Remove from the heat and cool off for a couple of minutes before blending in a high-speed blender, food processor or with a hand blender until silky smooth. Return the puree to the saucepan, and add salt (start with ¼ tsp) and pepper to taste. I usually add another drizzle of oil to balance the flavours. Start with a tsp and go from there.
Next, make the chilli butter. Put the butter in a small saucepan along with the chilli flakes. When the butter is melted and starts to sizzle take off the heat. Add the saffron, and keep on a low heat or in a warm place until ready to serve.
Now you're ready to poach your eggs. Everyone has their own way of poaching eggs, and this is mine. Fresh eggs poach the best. Add a tbsp of vinegar to your poached egg pan and keep over medium heat, you don't want too much movement or bubbles. Crack your egg into a ramekin, and tip the egg from the ramekin straight into the water. The egg should take 3-4 minutes to poach. Using a slotted spoon lift the egg out of the water and to check if it is done lightly press down on the yolk. It should feel like the fattiest part of your cheek. Drain onto a piece of kitchen towel and pat dry. Repeat with your second egg (or cook them both in the same pan at the same time if you are confident enough).
To plate up divide the puree between two shallow bowls, top with the egg, pour over the chilli butter, and garnish with the chopped chives, purple endive, pea shoots, sprouted mung beans, and with plenty of sourdough bread/toast for dunking.
Have you tried Turkish Eggs before? What do you think of my version?
Pin me for later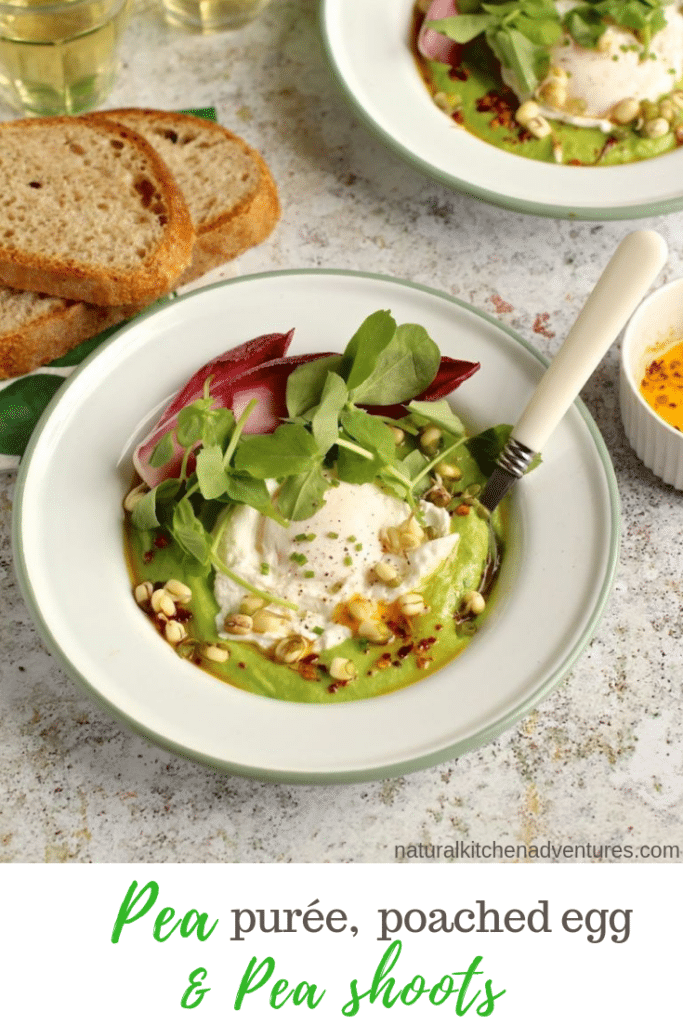 *Disclosure: I am an ambassador for Froothie and some links in this article may be affiliate links. The above product reviews is, as always based on my honest opinion. If you'd like to know more about Froothie products please visit the Froothie Website for more details. Any purchases made through this/these link(s) are at no extra cost to you but give me a small commission.