So very clamorous. Inspired by Italian Frutta di Mare, this recipe using clams – a courgetti dish topped with samphire is a 5 minute healthy supper superstar.
On a beautifully blue, freezing day out with friends on the tail end of last year, I was introduced to the simple beauty of Holkham beach on the North Norfolk coast. Holkham beach is a vast open space of sand dunes, populated with a handful of dog walkers and families of puddle jumping children, and was the starting point for this recipe.
As we walked along the sand dunes, collections of washed ashore seashells provided me with photo opportunities and a niggling reminder that I still hadn't cooked the clams that had been in my freezer for the best part of 2014. I'd bought them on a whim on an on-line supermarket shop and was reserving them for a special recipe. Not necessarily a special occasion, but I wanted to do something good with them – meaning something deserving of a photograph and a blog post.
Spaghetti ai Frutta di Mare (seafood spaghetti) is a dish I love to indulge in when I visit my Uncle and Aunty in Italy, made with them at home in their Italian kitchen. I watch them cook and I offer to help with the vague hope of understanding how to cook this dish like a pro; adding plenty of garlic here, a touch of chilli there, and some good quality oil for a final drizzle is all that's needed to transform simple shellfish and spaghetti into a culinary treat.
This dish, isn't a patch on the real thing (no mussels and prawns for starters) but with the help of plenty of garlic and some pre-cooked clams it invoked some fond Italian memories.
The addition of samphire is not traditional for frutta di mare of course, but it's an ingredient that pairs well with seafood – it tastes of the sea. Samphire grows abundantly on shorelines, in marshy shallows and on salty mudflats. It's a happy coincidence for this recipe that most of the UK's samphire is harvested along the Norfolk coast. You can buy it from fishmongers or at farmers markets and is said to be best in late Spring-Summer. It has a crisp texture and hardly requires any cooking.
A simple, fancy meal for one, easily doubled for two. Now where's my warm summer evening, glass of crisp white wine and view of the sea?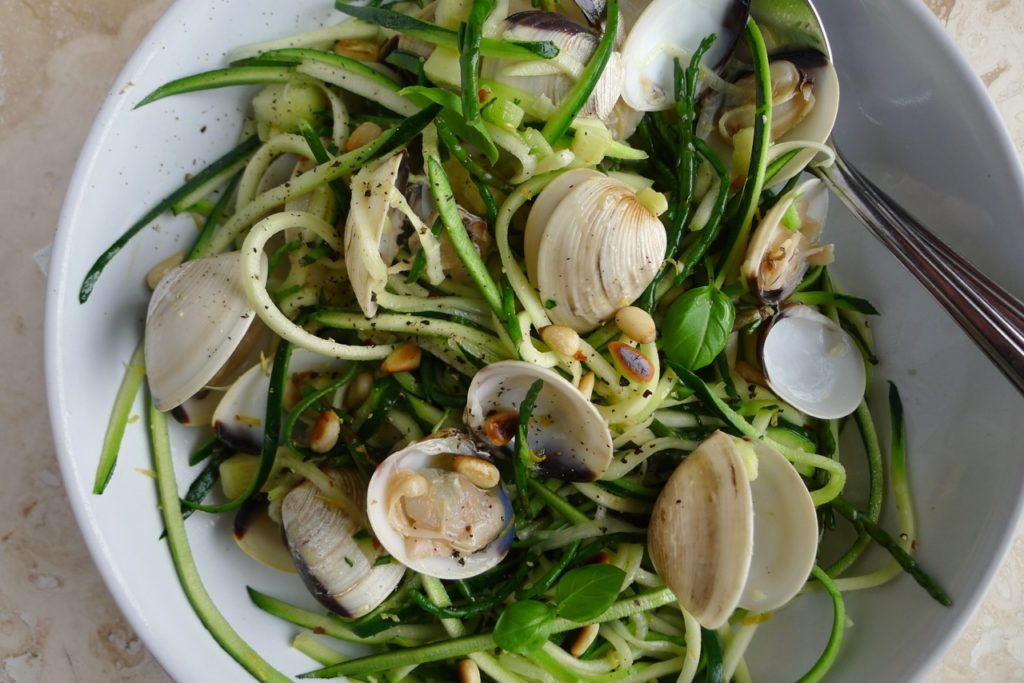 Clams & Samphire with Garlic & Chilli Courgetti
Inspired by Italian Frutta di Mare, this clam paleo style courgetti flavoured with salty samphire is a 5 minute healthy supper superstar.
Ingredients
Olive oil
1 medium courgette, julienned. Reserve the cores and dice them small.
25g marsh samphire
250g pre-cooked vacuum packed clams
2 cloves garlic, thinly sliced
pinch dried chilli flakes
Zest of half a lemon
½ Tbs pine nuts, toasted
fresh basil (optional)
Instructions
Heat a tsp of olive oil in a medium frying pan. Saute the diced cores of the courgettes for 2-3 minutes until softened. Add the garlic to the pan along with the chilli flakes. Cook for another 30 seconds or so to allow the garlic to cook before adding the samphire and the courgette ribbons. Give the pan a good shake to distribute the ingredients evenly and allow the whole thing to warm for a few minutes while the courgette ribbons cook. Finally add the cooked clams and lemon zest.
Plate up and scatter the toasted pine nuts along with a good dose of freshly ground black pepper and some fresh basil leaves if you have them to hand.
Notes
No need to add salt as the samphire has an incredible salty taste – as do the clams.
If you have fresh clams you will need to cook them first – check with your fishmonger for best practice.