This simple turmeric dhal with aubergine and pomegranate is a colourful plant based dish, full of warming spices. It keeps well so is a great dish to batch cook.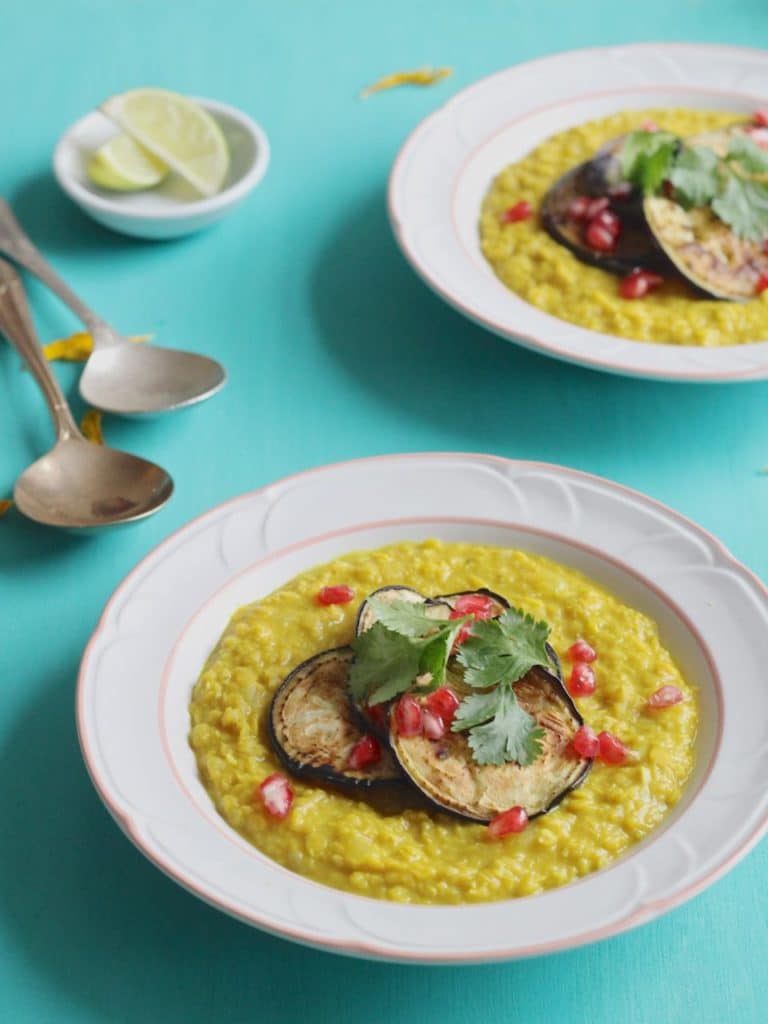 Sometimes I find it impossible to know where to start writing a blog post.  The words don't flow.  Never is this more apparent than when I've found a recipe from my archives to share.  How do you introduce something from the past and make it relevant to how you feel today.  For me blogging isn't just about describing the recipe, its about everything that goes into making it, who I've cooked it for, and how I've found it fits the gap I didn't know I even had in my cooking repertoire.
So.  I cooked a dhal again, and then the ideas for what I would say (including the opening paragraph) flew right out.
After I made and photographed this turmeric dhal for a magazine article, some time ago It got firmly added to my cooking repertoire, mostly making an appearance in my yoga retreat kitchen.  In its original form, and the one I am sharing with you today the turmeric dhal got topped with fried aubergines, coriander oil and pomegranate arils.  In its most recent reincarnation at last weekend's The Retreat Club retreat it got served topped with something a bit more seasonal – cauliflower steak, hibiscus raita and nigella crispy onions. Both equally delicious, and a clever way to fancy up what could be a simple dish.  Though I have to say hats off to Jamie Oliver for planting the seed that dhal is most wonderful topped with a fried egg, something I find myself often doing with any leftovers!
Red lentils are a good source of plant based protein, and I personally find them the easiest lentils to digest.  There are so many pulses that can be used to make a dhal.  I've had an amazing black lentil dhal at Dishoom, and have earmarked a mung bean dhal to have a go at soon.  So many possibilities, from such a cheap ingredient, right?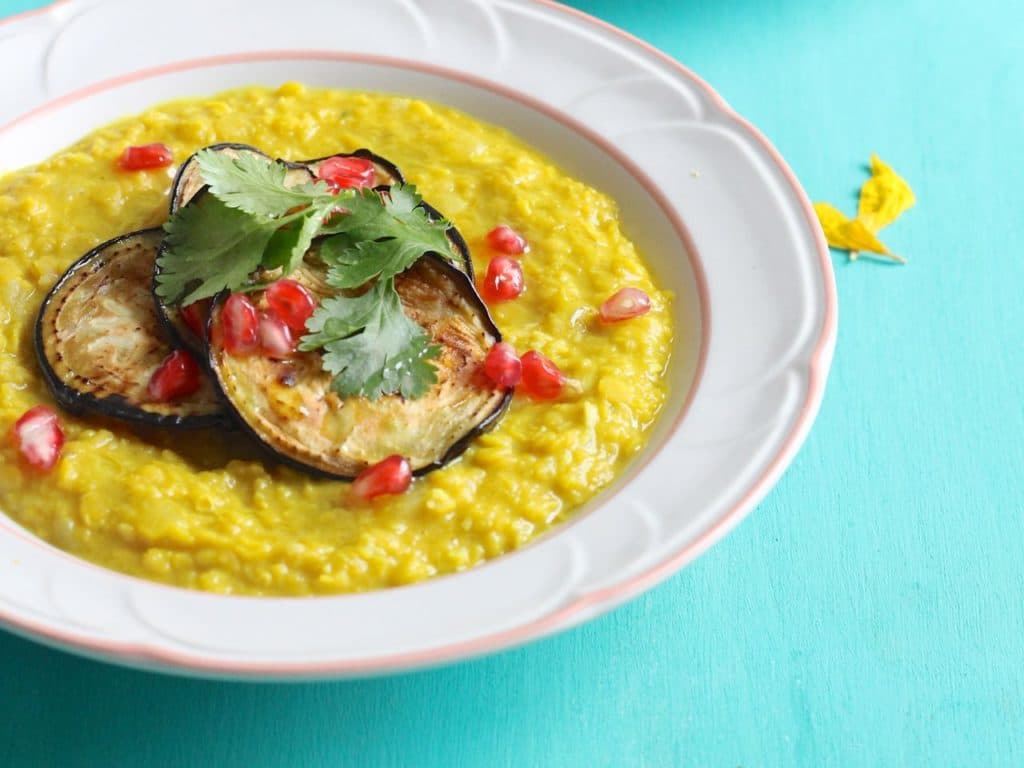 I tend to leave out the desiccated coconut from this turmeric dhal recipe these days, and often up the spices a bit, adding mustard seeds, fennel seeds, and perhaps some fresh toasted spices such as cumin and coriander seeds on top of the dish for some extra oomph too.  Have a play around and come up with your favourite spices.  In my opinion, the more the better.
What would you serve on or in your dhal?

Turmeric Dhal with Aubergine & Pomegranate
This simple turmeric dhal with aubergine and pomegranate is a colourful plant based dish, full of warming spices. It keeps well so is a great dish to batch cook.
Ingredients
Dhal
½ tablespoon coconut oil
1 onion, finely diced
3 cloves garlic, finely diced
1 thumbnail sized piece of ginger, peeled and minced
2 teaspoons ground turmeric
2 teaspoons cumin seeds
2 teaspoons mustard seeds
300g red lentils
400mls coconut milk
600mls vegetable stock or water
2 tablespoon desiccated coconut
1 lime, juiced
salt
Garnish
Handful coriander leaves
2 aubergine, sliced into rounds
½ to 1 tablespoon coconut oil
seeds from half a pomegranate
Instructions
First make the dhal. Warm the coconut oil in a large saucepan, and sauté the onion in a pinch of salt for 3-4 minutes, then add the garlic and ginger and cook for another minute before adding the turmeric, cumin and mustard seeds. Allow the spices to fry for another 30 seconds before adding any liquid to allow them to toast.
Next add the red lentils, coconut milk, vegetable stock, and desiccated coconut and bring to the boil. Reduce to a simmer and cook for 25 minutes, or until the lentils are soft and the dhal is thickened (add more water if it needs it). Add the lime juice, salt to season and chopped coriander.
While the dhal is cooking cook your aubergines. Pre-heat the oven to its lowest setting, ready to keep your cooked aubergines warm. Heat some coconut oil in a large pan, and fry the slices for a few minutes on each side until browned. You will have to cook in batches, and may need to add more oil. As they cook, pile them in an oven dish and then slide them into the warmed oven to keep their heat whilst you finish them (and the dhal).
To serve spoon the dhal into a bowl pile up the aubergine slices, then add a coriander sprig and some pomegranate seeds.
p.s. if you're a fan of dhal you might also like the beetroot version from my
recipe app
Pin me for later