The natural sweetness of roasted Brussels sprouts are combined with spiced sautéed butter beans, crispy onions cooked in chickpea flour and nigella seeds, then finally finished off with a hibiscus raita in this warm winter salad.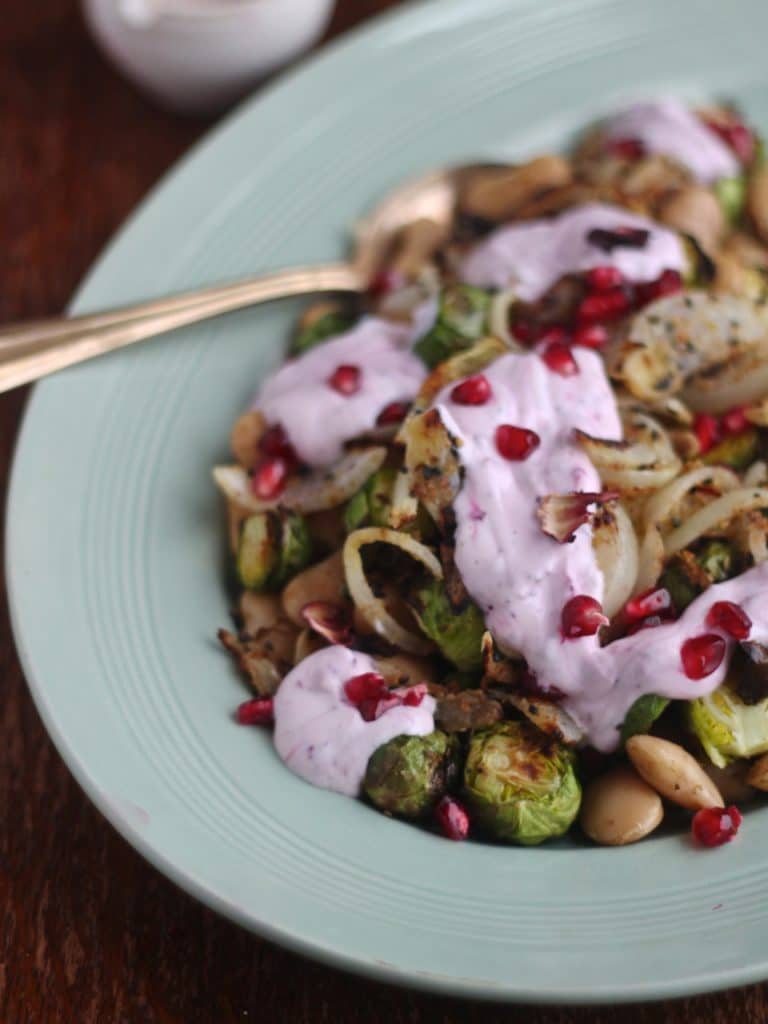 After two weeks of baking I'm glad to be back sharing my favourite sort of recipe with you.  A healthful everyday salad made fancy.  I nearly always follow the same formula to make a warm winter salad.  Roasted veg + grain/legume + killer dressing + fancy garnish.  It works for me every time and makes cooking with seasonal ingredients a doddle, when you've worked out what goes with what.
I'd been sketching ideas for this warm winter salad dish for a few days before I got round to trying it, and where I ended up is not at all where I started.  I went from a flavour base of miso and ginger to something more warming and spicy.  This gave me a perfect excuse to serve it with a complementary flavoured hibiscus raita I'd been longing to try, as well as to add pomegranate jewels – my favourite favourite things.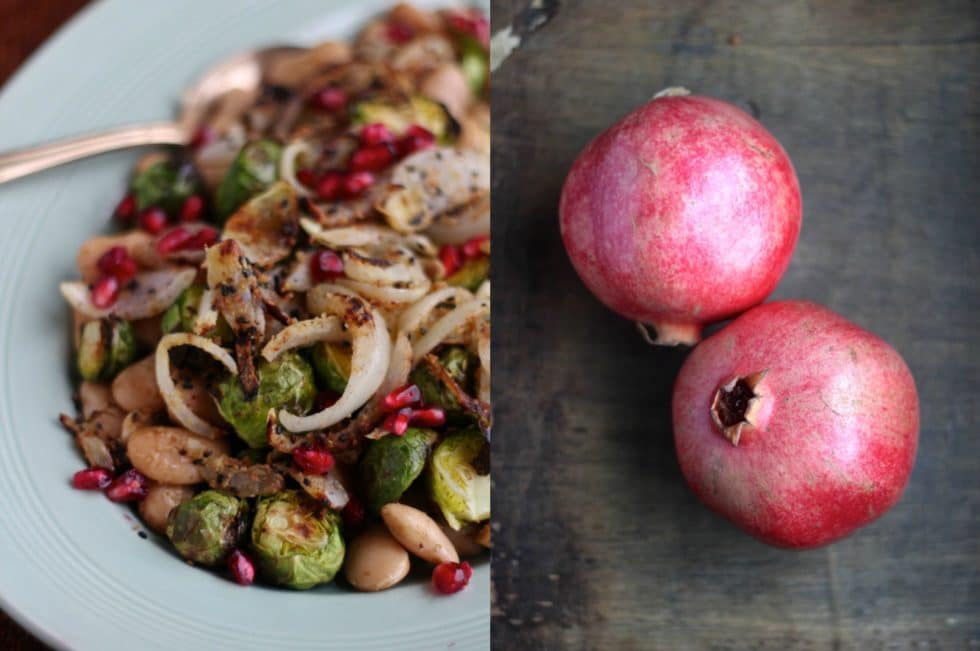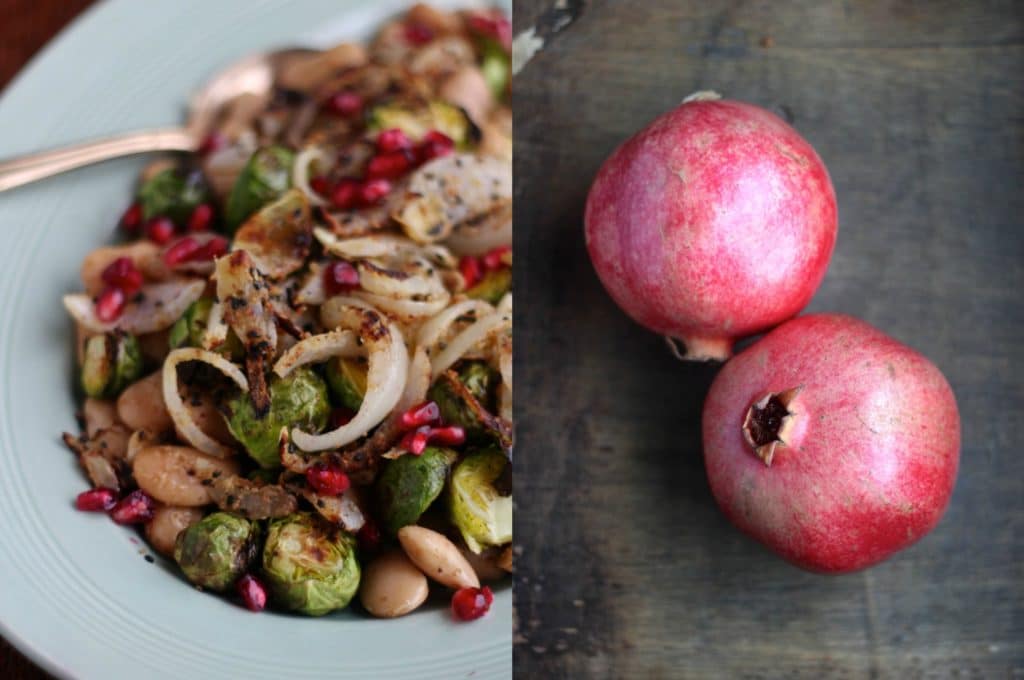 The raita comes from Sumayya Usmani's beautiful debut book released earlier this year called Summers under the Tamarind Tree.  The book is absolutely stunning and is an evocative tale of her homeland of Pakistan and its flavourful cuisine.  I am looking forward to cooking my way through it and understanding more about her cuisine and culture. I actually know Sumayya personally, and before she moved up to Glasgow, we used to meet up for coffee in London from time to time.  I am very grateful for all her advice offered when I picked her brains around becoming a professional cooking teacher, a few year ago.  Since the book was photographed by my first real-life blogging friend Joanna Yee, I happily joined the ladies for the final afternoon of the book shoot to provide my hands for a group shot and toast the completion of the work.  I had totally forgotten this till rereading the book recently that in the group shot my hand is holding a spoon dipped into this very raita.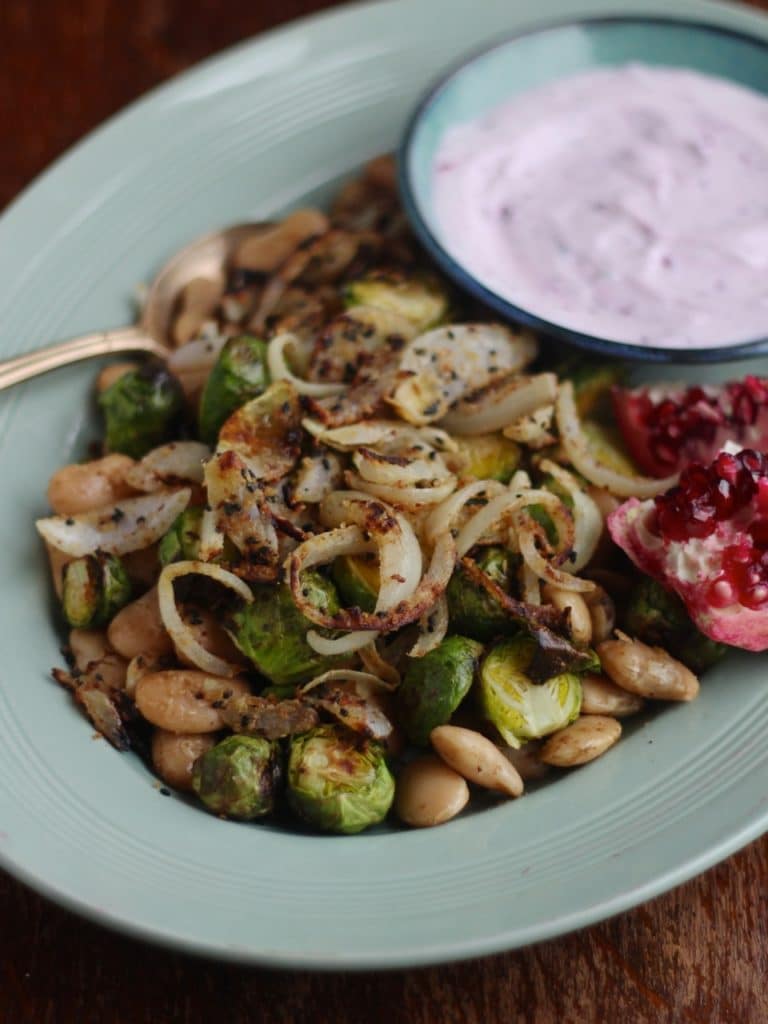 To get your hands on hibiscus flowers you will need to search a little bit, either on line or from a specialist retailer.  I bought mine in my favourite spice shop Spice Mountain in London's Borough Market.  Often used to make a herbal tea infusion the flowers speckle the the yoghurt raita with a lovely tinge of pink, and the green chilli gives it a good dose of heat in an otherwise warming not spicy spiced dish.   If you're not into dairy yoghurt or vegan you could easily use coconut yoghurt instead.
The idea for the onions came from a Christmas sourdough sandwich I had at the weekend.  Whilst deep frying onions was never going to be an option for me, I thought that maybe if I fried them in just a little bit of oil, having coated them in gram flour first I'd get that crispiness I was craving.  Adding the nigella seeds was a last minute spice drawer raid thought.
So this isn't really a Christmassy recipe, other than Christmas' association with Brussels sprouts (and the festive pop of pomegranates) so make sure to enjoy this warm winter salad throughout the long sprouts season which runs from October to March, with them at their best from Dec to Feb.  Sprouts are not just for Christmas!

Warm Brussels & Butter Beans with Nigella Seed Crispy Onions & Hibiscus Raita
A warm winter salad of roasted Brussels sprouts, spiced sautéed butter beans, nigella seed crispy onions and a pink hibiscus raita.
Cuisine:
Pakistani inspired
Ingredients
Brussels Sprouts
~200g Brussels sprouts, halved or left whole if small
tsp coconut oil, melted or mild olive oil
¼ tsp sea salt
Crispy Onions
1 onion, thinly sliced
2 tbsp chickpea (gram) flour
½ tbsp nigella seeds
pinch salt
1 tbsp ghee or coconut oil
Dish
1 tsp ghee or coconut oil
1 clove garlic, minced
1 tsp mustard seeds
1 tsp cumin seeds
1 x 400g can butter beans, drained and rinsed
A handful of pomegranate seeds
Hibiscus and Himalayan Pink Salt Raita (See pg 159 of Summers under the Tamarind Tree)
Instructions
Pre-heat oven to 180°C (fan).
Toss the sprouts in oil and add salt then roast in the oven on a lined baking tray for 15 minutes until tender and crispy round the edge.
Meanwhile, toss the onions in the chickpea flour with the nigella seeds and salt, coating the slices as best as you can. Heat the ghee to a medium-hot heat in a large frying pan, then scatter the onions across the pan. Don't stir continuously as the onions will go mushy as they release water, an occasional stir to make sure all sides of the onions are cooking will be fine. Turn the heat to medium-low and continue to cook until the onions no longer have a raw tang, it should take around 10 minutes in total. Taste to check they are cooked, then tip the onions onto kitchen paper whilst you finish the dish.
You can can continue to use the same pan, so as not to create more washing up, add a touch more ghee then sauté the garlic along with the spices for about a minute so they they release their aroma. Then add the butter beans to the pan, and cook for around 5 minutes until they are warmed through and have absorbed some of the spices. By now the sprouts should be done, you can toss them into the pan with the beans so the flavour hits them too.
Finally transfer the beans and sprouts to a serving dish, top with the onions, a dollop of raita and a sprinkle of pomegranate seeds for a pop of colour.
Love the idea of roasting sprouts for a salad?  You should also try this recipe from Hungry Healthy Happy for Kale and Sprouts Salad with Pomegranate, or my Roasted Brussels Sprouts with Parsnips and Pancetta from my Christmas ebook
Everything but the Turkey.
The text above contains an Amazon affiliate link.