Parmesan Polenta bites are a bite-size canapé perfect for the festive season.  Baked polenta bites are loaded with Parmigiano Reggiano* topped with a slither of cheese, peppery rocket and a sweet red grape. 
*This post is sponsored by Parmesan UK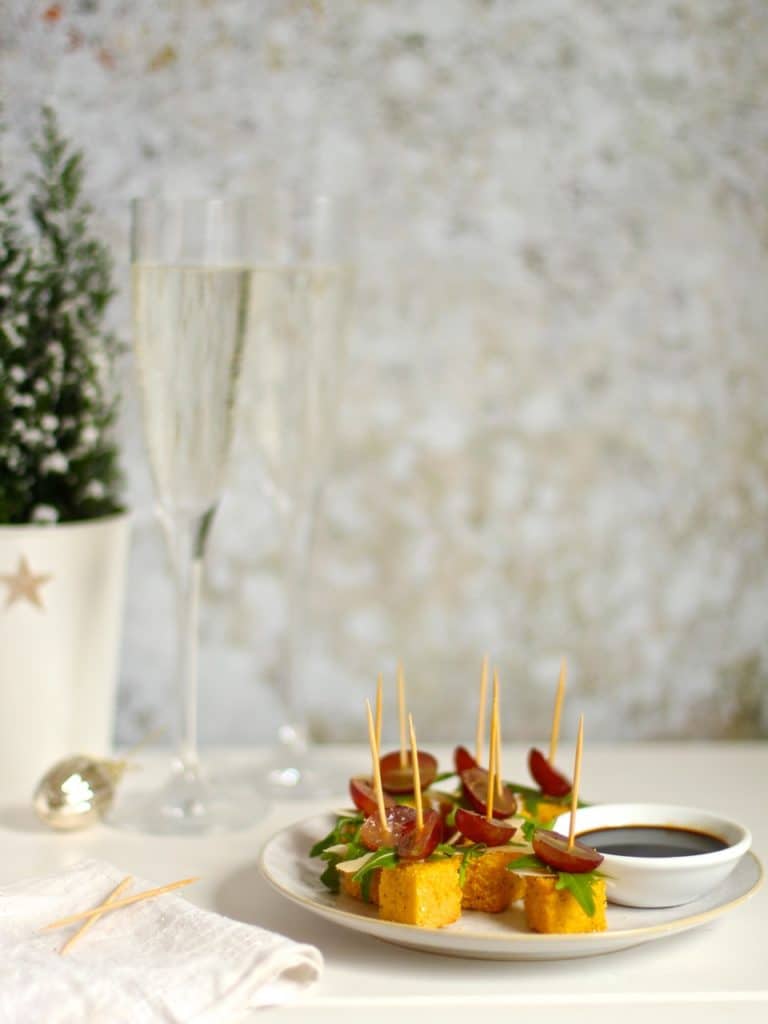 Canapés are one of my favourite things about the festive season. Delicious bite sized nibbles to tide you over until it's time for the main event to arrive, and of course stop the accompanying bubbles from heading straight to your head.
On Christmas day, I'm definitely a fan of the blini, but at other times anything goes. The only necessity with a canapé, is that the entire thing fits in your mouth in one go.  No one wants to be left mid conversation with a messy bite hanging off a cocktail stick, or worse from your lips or dropped on the floor.
I once catered a party for 100+ based entirely of canapés, they're a lot of work when you decide to do 6 varieties, so my best advice to you is that if one canapé is going to be complicated, at least keep some of them simple. Sliced cooked chorizo and cooked prawn on a skewer = jobs a good'un.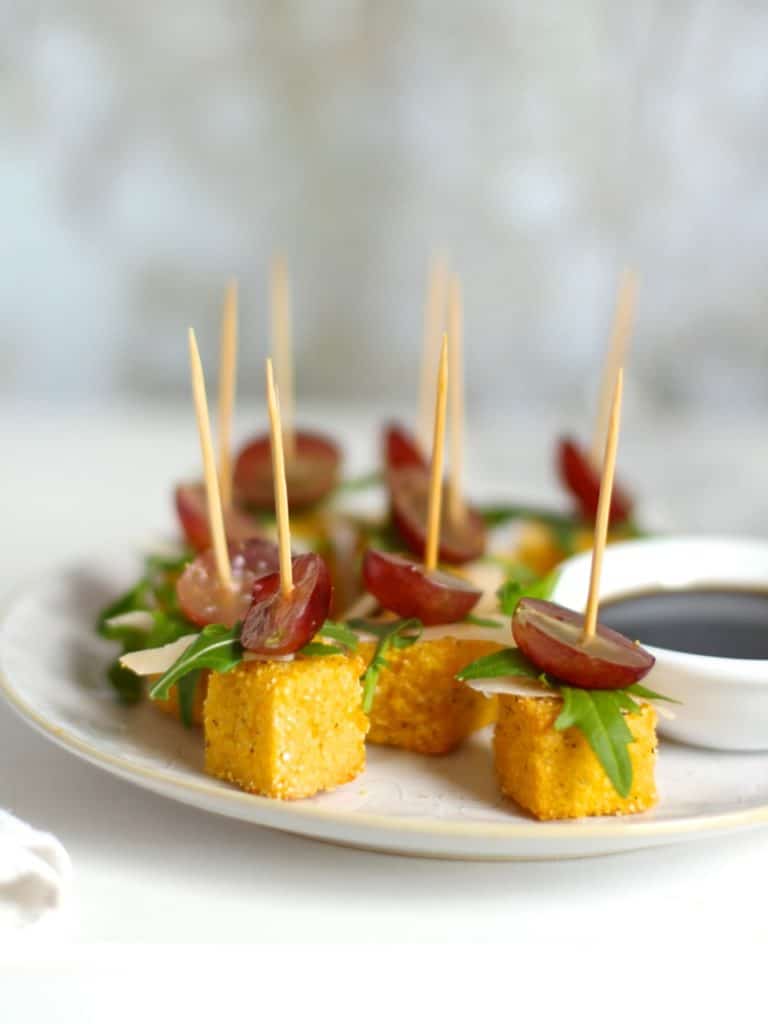 These little Parmesan polenta bites, are simple to make, but they do take some time. Once the polenta is cooked, the batter has to chill for at least an hour, before being cut into shapes and being baked for another 30 minutes.  It is however totally worth the wait, because by making the polenta bites, you can add in whatever flavours you like. Parmesan cheese is obviously a natural addition, as are any spices or herbs.
Parmesan, or to give its proper name 'Parmigiano-Reggiano' is produced exclusively in Northern Italy in the provinces of Parma, Reggio Emilia, Modena and parts of the provinces of Mantua and Bologna.  It's a PDO product (Protected Designation of Origin) so you won't find Parmesan made anywhere else in the world. 
Regular controls are carried out on the milk used in the process to ensure the high quality and the presence of special characteristics, which allow Parmigiano-Reggiano to continue to be a  purely natural product made without additives or preservatives.  Big tick from Natural Kitchen Adventures!
You will find different ages of the cheese available; 18, 24 and 30 months. They all have slightly different tastes and depths of flavour from fruity to more intense (much like aged wine or people). I went to a tasting a while back and the difference between them next to each other was quite incredible. It's hard to believe that an aged cheese can have notes of pineapple! Next time you pop some in your shopping basket, have a look at the age, it might have been something you haven't noticed before.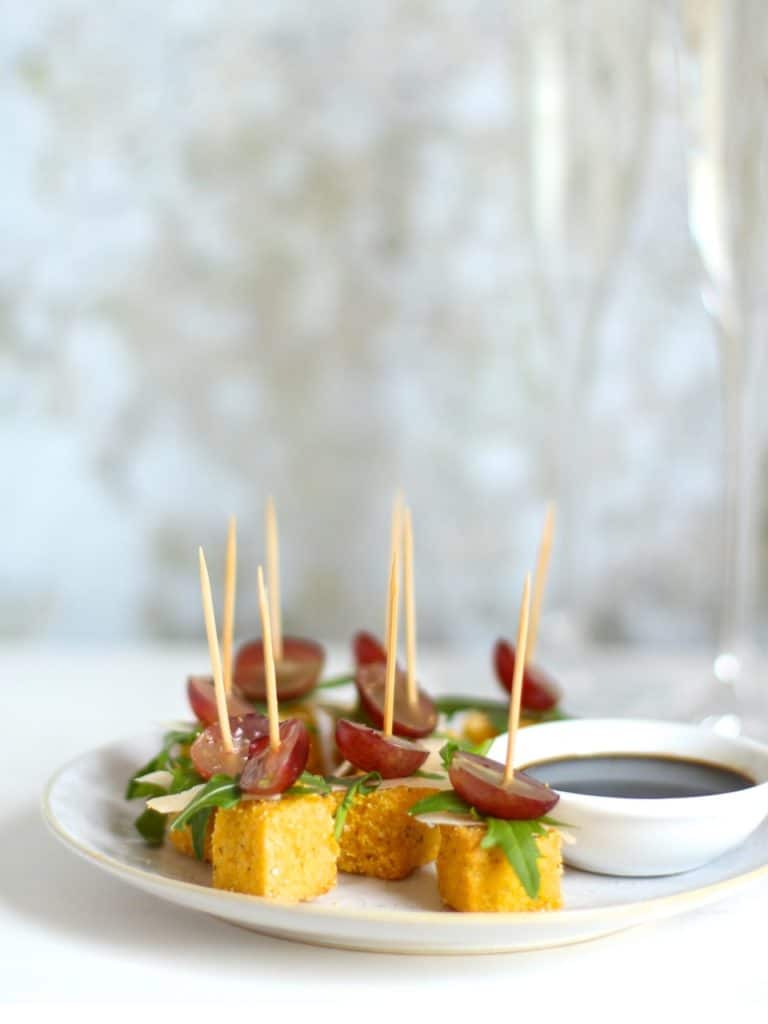 I remember making wet polenta at chef college and getting in trouble for loudly commenting that it looked a bit like baby sick. So, it was a triumph when I realised a short while later that polenta baked into chips, or a canapé base which we did for our final exam, was in fact a much more pleasant way to enjoy this finely ground corn. You can use slow cook or quick cook polenta for this, but Felicity Cloake says there isn't much difference in taste when baking it into chips, so you may as well go with the quick option. I've used Jamie Oliver's polenta chips as the base recipe for these, although I'd bet there are thousands of polenta chip recipes out there.
I've kept the topping to these Parmesan polenta bites really simple and just added a shaving of Parmesan, with rocket and half a grape. I did consider adding pear or fig which go well with the Parmesan also, so if you want that would be an excellent substitution (and perhaps more seasonal than the grapes).  I also thought about making a chutney or adding caramelized onions to the topping too, but figured if you're serving canapés, you've likely got your hands full with a heap of other kitchen prep. Like I said, simple is always best.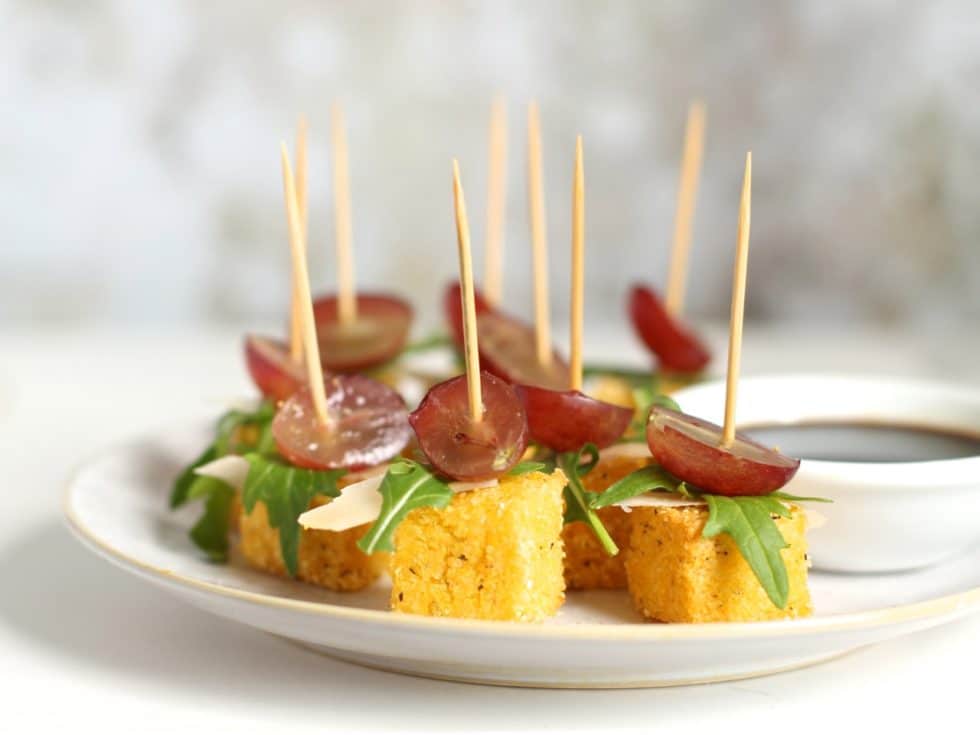 Parmesan Polenta Bites with Rocket & Grape
A bite-size canapé perfect for the festive season.  Baked polenta bites are loaded with Parmigiano Reggiano* topped with a slither of cheese, peppery rocket and a sweet red grape
Ingredients
For the polenta
400mls vegetable stock
150g quick cook polenta + extra for dusting
½ teaspoon dried thyme
40g Parmesan cheese, finely grated
salt and pepper
Olive oil
For the canapés
Shavings of Parmesan cheese
14 red grapes
small handful of rocket
+ balsamic vinegar to serve
You will also need a 2lb loaf tin, baking parchment and cocktail sticks
Instructions
First make the polenta. It helps if you have all the ingredients prepared and weighed out - , i.e cheese grated before you start. Grease and line a 2lb bread loaf tin.
Bring 400mls stock to boil in a medium saucepan, then pour in the polenta and stir vigourously while the polenta cooks out and thickens, which should take around 2 minutes. Add the thyme, grated parmesan, and season with salt and pepper. Taste and adjust seasoning if necessary.
Pour the polenta into the prepared tin so that is around 1.5cm deep. Level off with the back of a spatula, and allow to cool for 5 minutes before chilling in the fridge for around an hour until firm.
Pre-heat oven to 200ºC (fan).
Lift the polenta out of the tin, and cut into even sized cubes. If you divide by 4 on the shorter end, and then by 7 on the longer end you should get 28.
Gently transfer the pieces to a lined baking sheet, and then using a pastry brush, brush with olive oil. Shake over around 2 more tablespoons of polenta, and turn the pieces so they coat in the extra crunch. Bake in the oven for around 30 minutes until firm, crispy and darkened all over.
Allow to cool for 5 minutes, then construct your canapes. Secure a shaving of parmesan and a rocket leaf or too to the top of a polenta cube with a cocktail stick, then slide over a red grape.
Transfer to a serving dish, and serve alongside a ramekin of balsamic vinegar for dipping
What's your favourite canapé for Christmas?
Pin me for later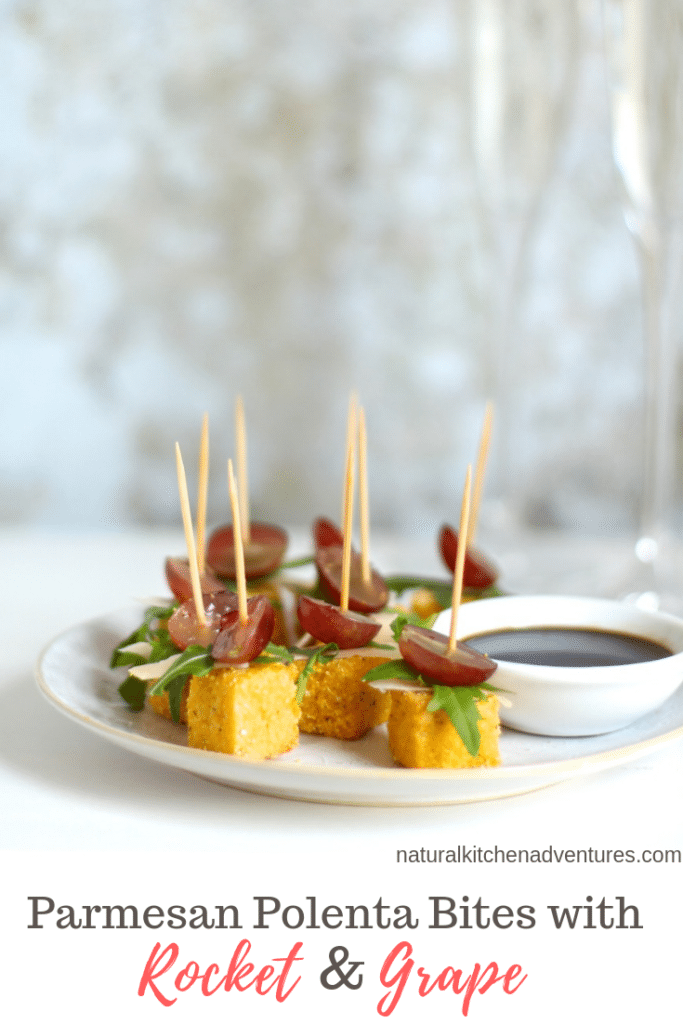 This post and recipe was commissioned by Parmesan UK.  Thank you for supporting the brands who help make it possible for me to continue developing and sharing recipes on Natural Kitchen Adventures.