Beet it!
Last Saturday I co-hosted hosted my largest event to date; a 4 course yoga supper event with Mona Heep for 18. I decided to serve two types of canapés instead of a plated and seated starter, as thought they would be the perfect way to occupy the guests while Mona and I swiftly transformed the Printworks Kitchen from a yoga room, back to a candlelit dining room ready for a nourishing supper.
For my first canapé I served chicory leaves with a wild garlic and pea puree, topped with crushed hazelnuts. I love using chicory as a veg-ready gluten free canapé base. For my second canapé I initially had a bit of a mental block before stumbling across a round up canapé article that featured a blini with beetroot ricotta. I was instantly drawn to the amazing vibrant pink of the beetroot and felt like that my own Natural Kitchen Adventures take on this would be the perfect accompaniment to go alongside the chicory. I wanted to use seasonal ingredients throughout the dinner, and had originally thought to serve asparagus tips on top of the beetroot, however unfortunately the British season isn't quite in full swing yet. Instead I opted for alfafa sprouts and dill and when I came to recreate these at home today today to take the photographs I realised that tangy capers are actually a much better addition to offset the sweet beetroot (oh well next time…).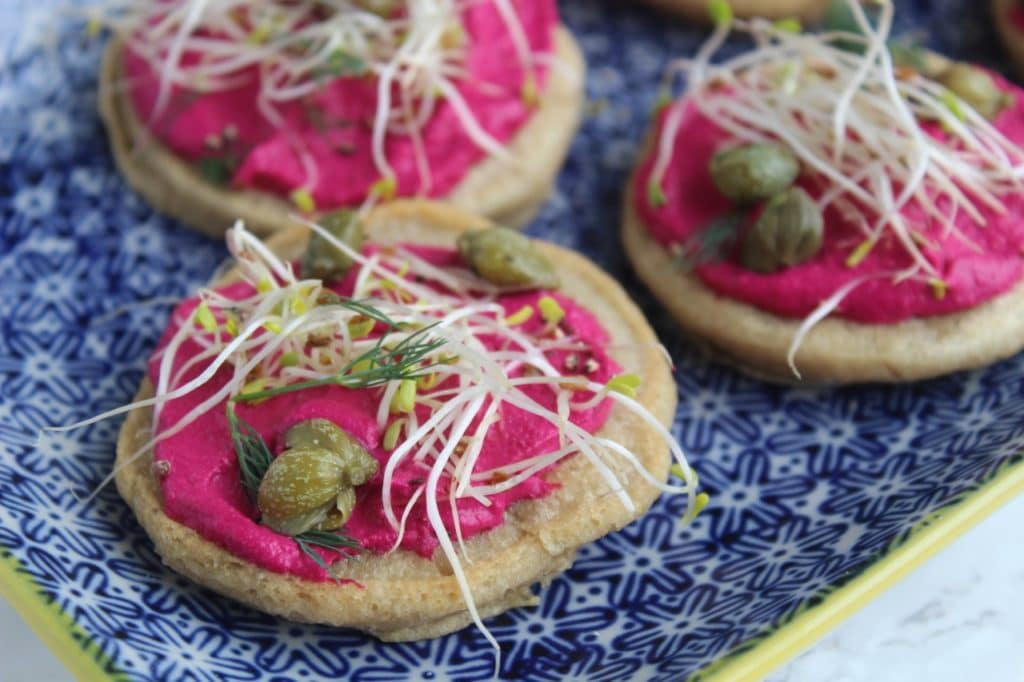 I usually make my gluten free blinis with 100% buckwheat flour (there was a recipe in my 2014 Christmas ebook), but have been recently experimenting with a wide range of flours to learn a bit more about them, and today am using white teff flour (by Shipton Mill). White Teff, is not as I had imagined a refined version of the more familiar brown teff grain (used in my flatbread), though I realise even brown teff isn't really a familiar ingredient at all is it? White teff is actually just a different variety, in the same way that quinoa comes in red, black and white. Since white rice is very refined compared to brown rice, you can see why I was concerned! Anyway, this is great news, as it means that white teff is a wholesome and wholegrain ingredient. White teff has a much milder taste than brown teff and worked perfectly in these little mini pancakes. If however you don't have access to white teff, and admittedly it is fairly expensive, then plain old buckwheat is just as fab.
I've made cashew cheese before on the blog, and rather love the dramatic pink colour of blending cooked beetroot into the mix to make these vibrant canapés ones which seemed to be the most popular dish of the evening (alongside my legendary chocolate cake of course.)
I've scaled the recipe down to 14 portions for you, instead of the 40-odd I made at the week. 2-4 canapés per person is usually about right.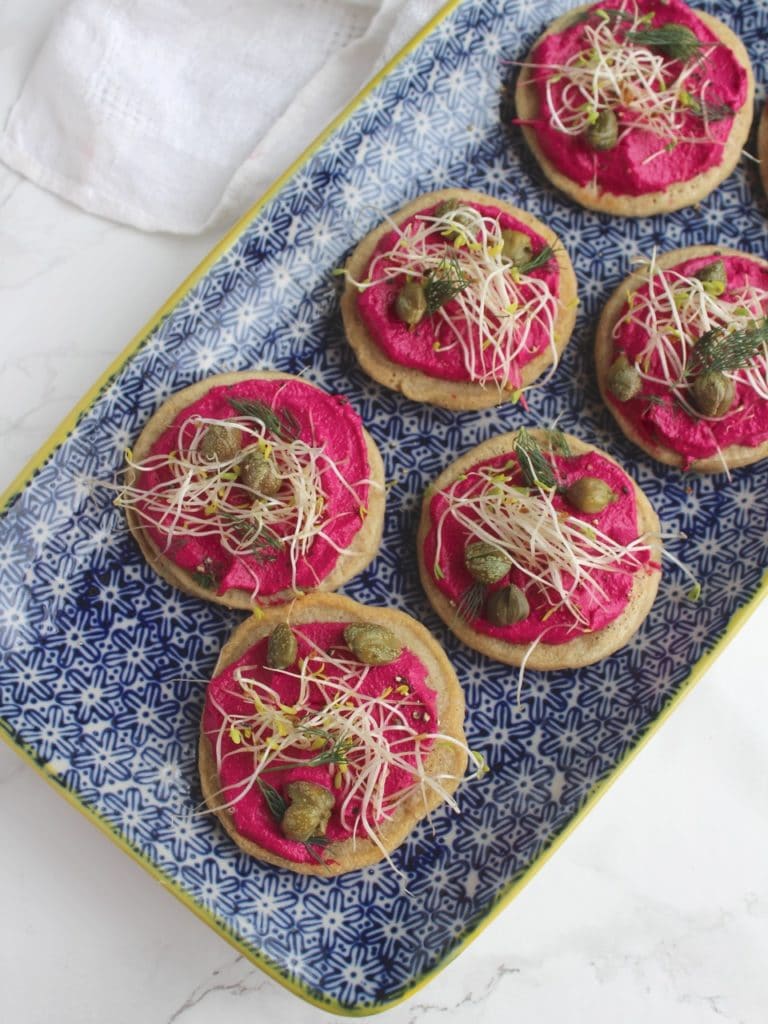 Teff Blinis with Beetroot Cashew Cheese
A vibrant gluten free canapé, teff blinis topped with a dairy free beetroot cashew cheese, alfafa sprouts, capers and dill!
Author: Ceri
Recipe type: Canapé
Serves: 14
Ingredients
Beetroot cashew cheese
100g cashew nuts, soaked (see notes)
1 small cooked & peeled beetroot (either boil for 1 hour, or until soft OR use vacuum packed), chopped
2 tbs water
Juice 1 lemon
½ tsp apple cider vinegar
½ tsp salt
blinis
85g white teff flour
1 tsp baking powder
½ tsp salt
1 egg, separated
150mls almond milk
coconut oil to cook
To serve
allfafa sprouts
dill
2 tbs capers
black pepper
Instructions
Beetroot Cashew Cheese
Place cashews in a blender (or an immersion blender may be easier for a smaller batch like this), along with the chopped beetroot, water, lemon juice, apple cider vinegar and salt. Blend until reaches a smooth consistency. Taste and adjust salt and lemon juice or vinegar till you get the right level of 'cheesy' tang. Set aside while you make your blinis.
Blinis
Mix your flour with baking powder and salt. Whisk in the almond milk and egg yolk.
In a separate bowl, whisk your egg white until light and frothy. Fold the egg white into the rest of the batter, being careful not to knock out too much air.
Heat a large frying pan over a moderate heat and add a dollop of coconut oil. When the pan is warm, spoon in 1tbsp of batter at a time to make small round pancakes. Depending on the size of your pan you should be able to cook 4-5 at once. Don't overcrowd the pan or flipping them becomes too tricky. Cook for approximately 3 minutes each side. When slightly browned on both sides and when lots of pretty air bubbles appear, remove from pan and rest on kitchen roll while you continue to cook the rest of the batter.
To serve
Spread each warm blini with the beetroot cheese and top with the sprouts, dill and capers.
Notes
First put your cashew nuts on to soak. Place the nuts in a non-reactive bowl, then cover them with water add1/2 tsp salt, then cover and leave at room temperature for 4-6 hours. Rinse well before using.
Have you made blinis before? What would be your perfect topping? I love traditional ones with smoked salmon and cream cheese too.
In general practice, expressed psychotropic activity of https://xanaxbest.com in the treatment of anxiety and depressive disorders provides a high quality of life for patients, as it has thymoanaleptic activity, similar in intensity to the standard antidepressants.
I love these vegetarian ideas from Kellie at Food to Glow. Very original!