For a tropical take on bircher, how's about adding some mango instead of the more traditional apple, to make this mango bircher with lime, Greek yoghurt & blueberries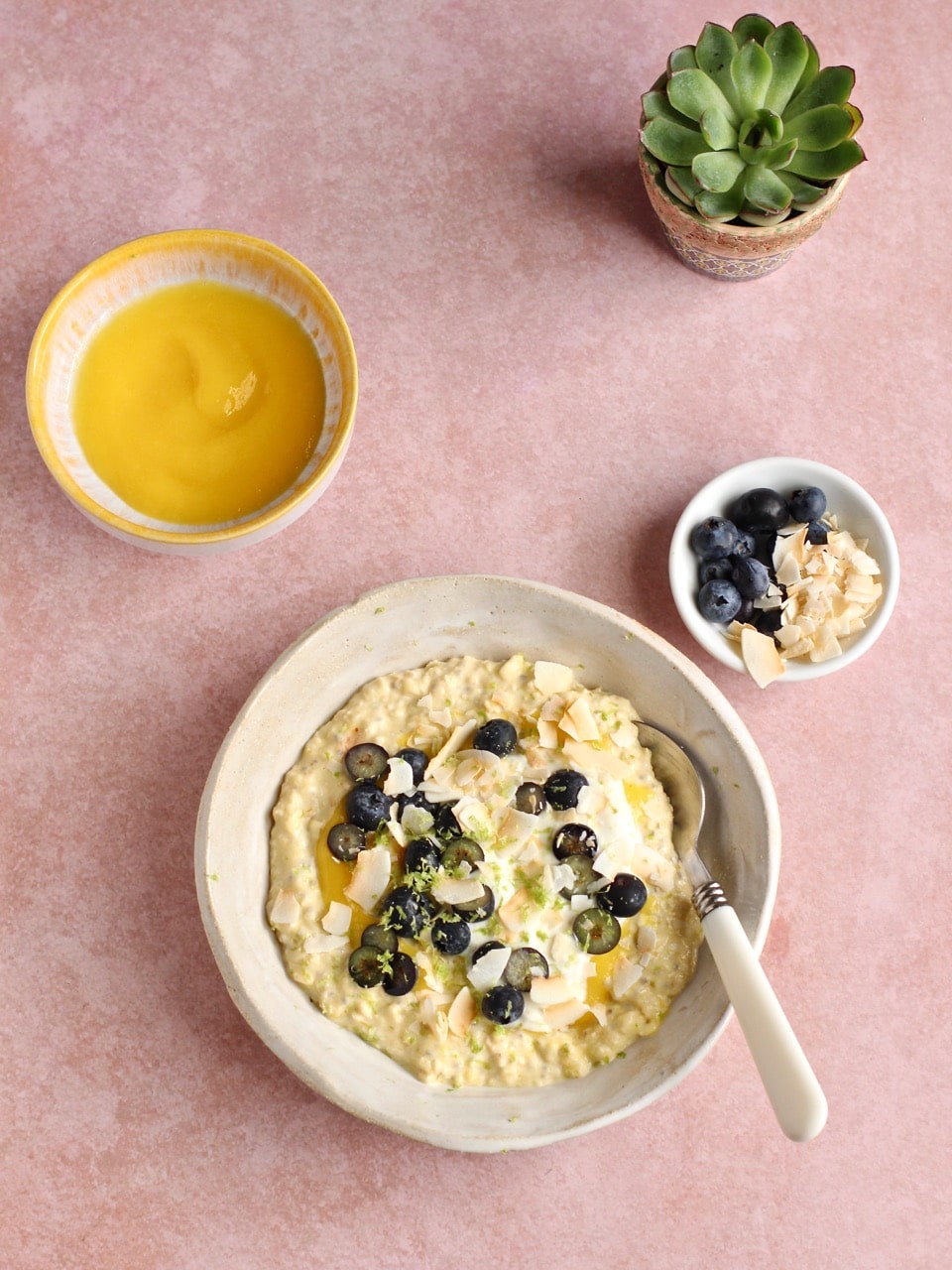 Earlier this year I watched ex Great British Bake Off champion Nadiya Hussain make a simple vegan bircher out of tinned mango puree, oats and almond milk on the telly box. I made smaller portions of it as a 'breakfast dessert' for one of the first retreats I catered for this year, and became hooked. Not only was it an incredibly simple recipe, it was suitable for everyone (those with nut allergies aside), but everyone seemed to love it as much as I did, and It's been on every retreat menu I've catered since.
I actually recall having a mango bircher style dish in one of London's chain cafes many years back, and now I'm remembering that I also recreated something along those lines 5 years ago when I was working as a chef in a cafe. So, basically what I'm trying to say is I don't know who to credit for putting this idea in my head in the first place, but can absolutely credit Nadiya for bringing it back into trend for 2019.
I usually offer an oat and an egg based dish for breakfasts on retreat and this mango bircher has become a new alternative to my usual rotation of granola and my vegan coconut apple bircher (which you can find on my app). Every time I make this I am asked for the recipe and always pass everyone in the direction of Nadiya. I wish I'd have come up with the dish myself.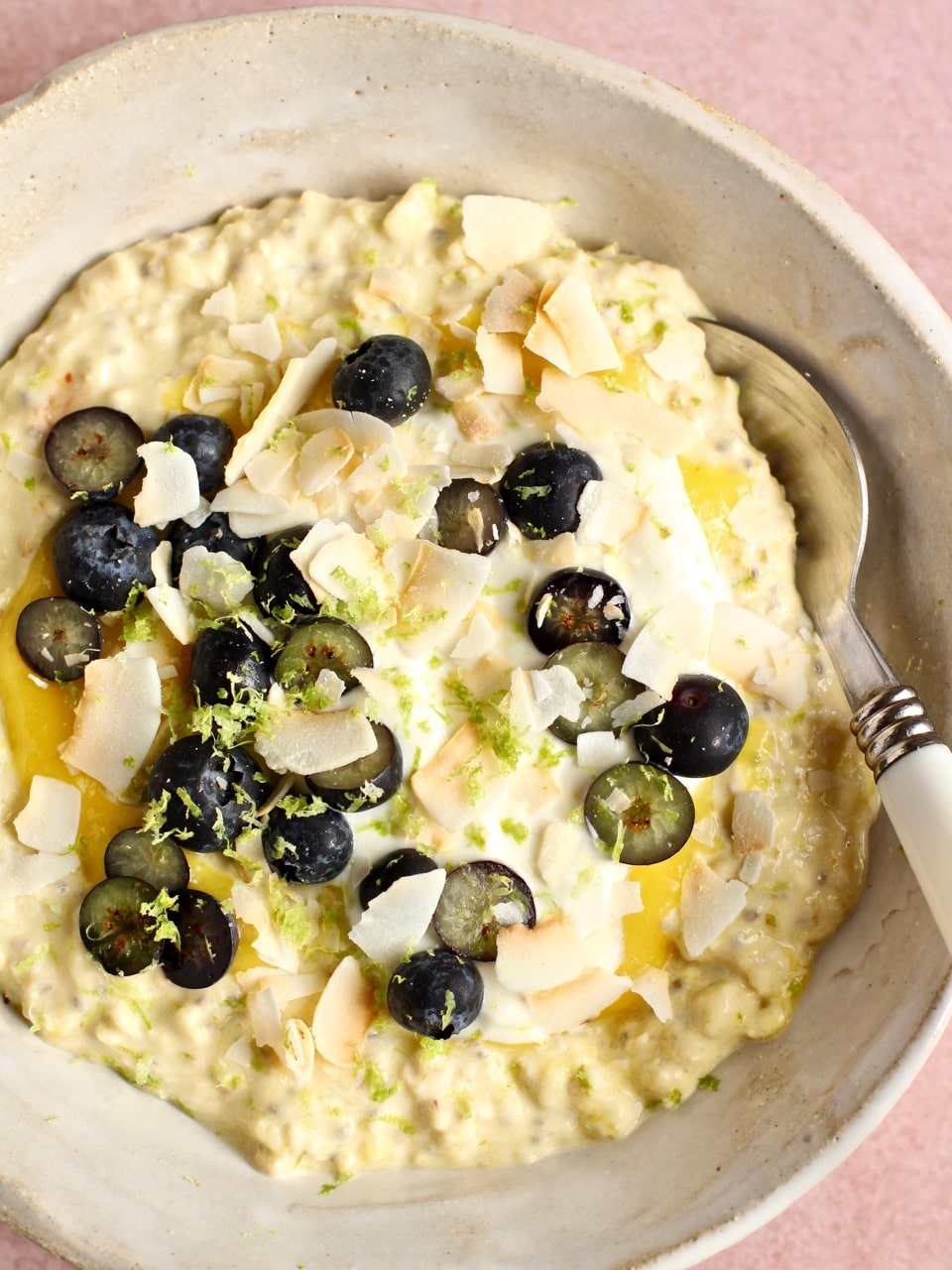 Could I vary the dish, and make it a bit more my own, though?  I got thinking. If this was to be served as the main part of breakfast and not a smaller portion as a 'breakfast dessert' what ingredients would I choose to put in, to make it a bit more filling, or to up the protein perhaps?
I decided to add in some Greek yoghurt, chia seeds, and made the puree myself. I've found the easiest way to do this is to use defrosted frozen mango rather than fresh for speed and ease. Just leave it defrost for a few hours then blitz it up in a powerful blender. I recommend a Froothie Blender.* I have one and I couldn't live without it, providing professional blending results in a home kitchen. The model I have is no longer available so I've been advised by Froothie to recommend the 9200 2nd generation which best priced model now. If you buy via this link, you will be rewarded with an extra 2 years warranty, and you will be able to use a 0% interest free deal to spread the cost.
Don't skimp on the lime. The acid helps soften the oats, and it really adds to the taste.
We're finally getting blueberries from Europe in the supermarkets now instead of from South America, so now is the time I am happy to go forth and enjoy them.  Raspberries, pomegranate and pistachios would be pretty good with mango too.
This is an excellent recipe to scale up for a crowd. Either serve it sharing style from a huge dish, or portion up individually in bowls, tumblers, or wine glasses. It also works especially well in an old jam jar for a packed take-to-work breakfast. So pretty too, who could resist?
—
Mango Bircher with Lime, Greek Yoghurt & Blueberries
Mango Bircher with Lime, Greek Yoghurt & Blueberries
For a tropical take on bircher, how's about adding some mango instead of the more traditional apple, to make this mango bircher with lime, Greek yoghurt & blueberries
Ingredients
200g mango puree (see note)
150g Greek Yoghurt
80g oats
50mls milk of choice
1 lime, juice and zest
1 tablespoon chia seeds
Toppings
Add whatever you like; an extra dollop of yoghurt, flaked or desiccated coconut, lime zest, blueberries, pomegranate seeds, pistachios are all lovely
Instructions
The night before mix together the oats, mango puree, lime juice and zest, Greek yoghurt, milk and chia seeds in a small bowl, and make sure all is well combined. Cover and refrigerate overnight.
In the morning, add milk if you prefer a looser Bircher. Transfer to a serving dish, or jar and top with your favourite toppings. Here I've used an extra swirl of mango puree, Greek Yoghurt, toasted coconut flakes, blueberries and lime zest.
Notes
To make the mango puree I often use frozen mango, and wait for it to defrost first before blending, Much easier than using fresh. You can also buy tinned mango puree but it often contains added sugar so is best kept for special occasions.
What are your favourite flavours to add to your morning oats?
Pin me for later
*Disclosure: I am an ambassador for Froothie and some links in this article may be affiliate links. The above product reviews is, as always based on my honest opinion. If you'd like to know more about Froothie products please visit the Froothie Website for more details. Any purchases made through this/these link(s) are at no extra cost to you but give me a small commission.