Leek and Caerphilly Welsh Rarebit; a traditional Welsh dish with an extra touch of Welshness via the addition of pan-fried leeks and Welsh Caerphilly cheese.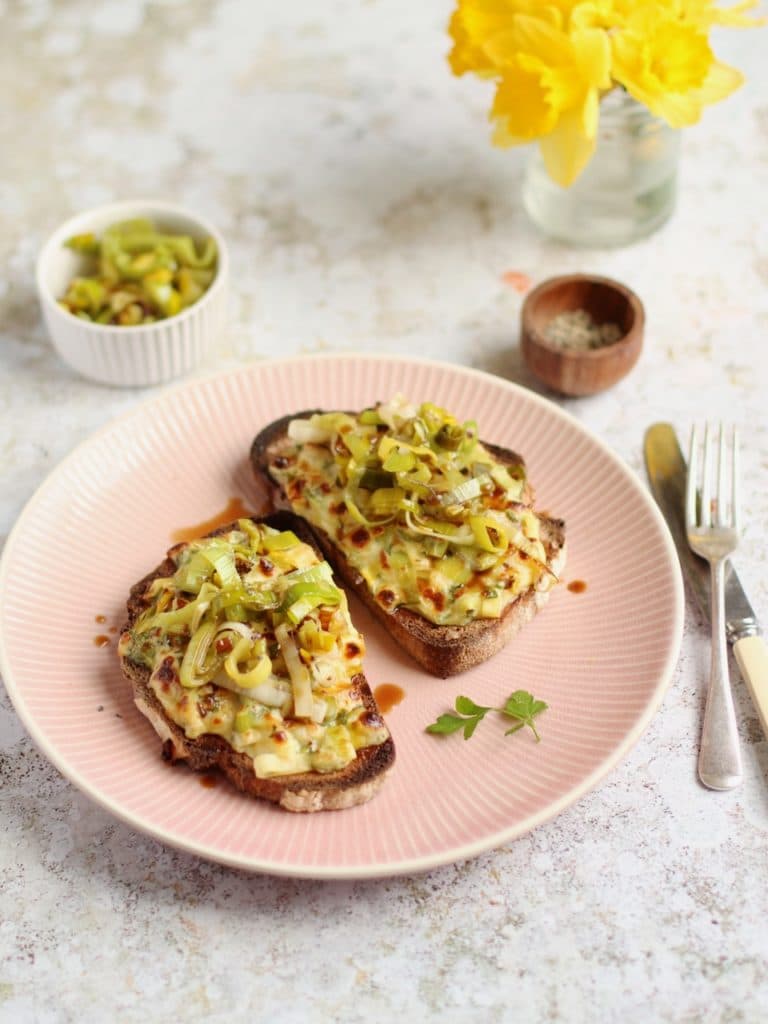 Welsh Rarebit is posh cheese on toast. The bizarre rarebit title comes from an old Welsh folkore reference to rabbit (or lack of it) but there's no rabbit in here. Instead we have a lush (good modern Welsh word) topping of cheese, an egg for richness and a soufflé effect, and a good dash of mustard and Worcestershire sauce.
I'm adding to my Welsh recipe collection this week, what with it being St David's Day tomorrow on the 1st March. With Welsh blood it just feels like it's what I should do, and I've already cooked most of the classics like Welsh cakes, Bara Brith, Cawl, Lavercakes.
I don't recall having a lot of Welsh rarebits growing up, but we certainly nailed the regular classic 'cheese on toast'. There would usually be some Caerphilly cheese hanging about the fridge, ready for topping said toast or ending up in a good old Sunday evening toastie. I really love the flavour of it, mild and creamy, and whilst it doesn't have anywhere near a strong tang like cheddar, I don't believe it matters in a rarebit when you pile on the Worcestershire sauce (or brown sauce if it's the 1990s).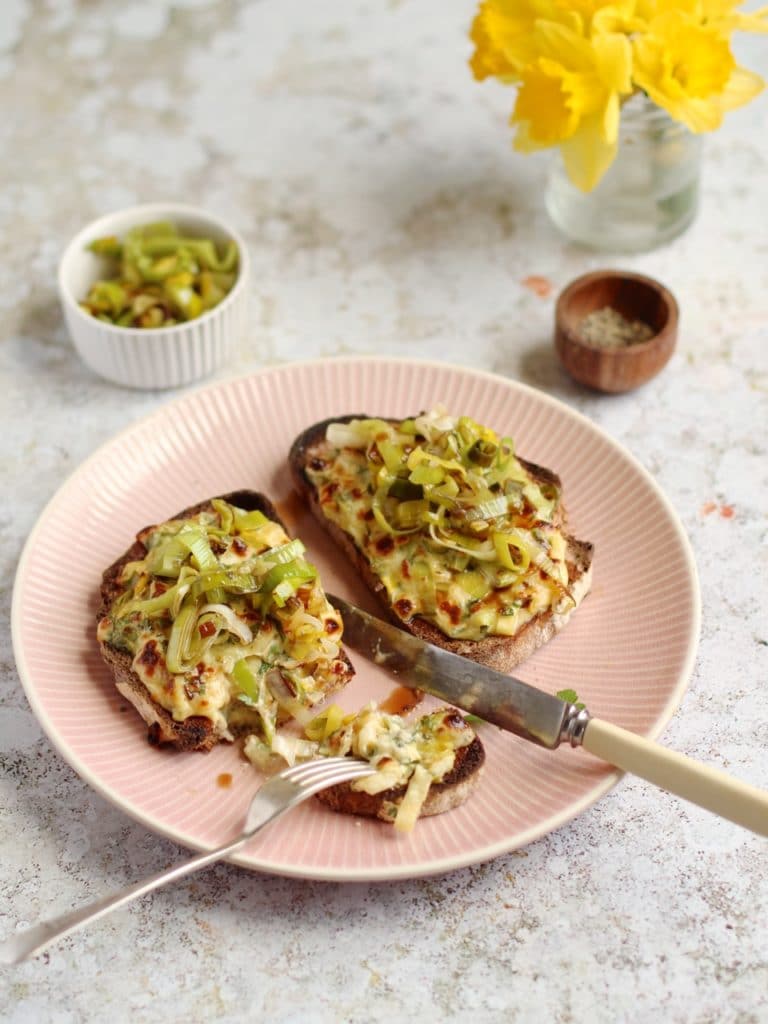 Leeks are the national emblem for Wales, and have been hanging around my veg bag for most of the winter, fortuitous then, that I had one ready for this rarebit recipe I'd been thinking about for a wee while. Leeks are a member of the allium family. They have a milder taste than onions, and while they are excellent as the base of any soup or stew, it's worthwhile enjoying them in their own right like on top of a rarebit. My favourite way to cook them is to sauté in oil or butter like I have done here, but they are also delicious roasted, braised, or stuffed if you can go to the extra effort.
There is no one way to make a Welsh rarebit, so after having an idea to serve mine with my seasonal leeks incorporated I panicked about whether I'd be faffing with tradition if I did or didn't make mine a certain way. Did I really want to add stout to my topping? Then I realised it probably didn't matter and I should just go ahead and fix the recipe the way I wanted to make and eat it. Didn't that feel liberating.
Whether you add a whole egg, just egg yolks, cream, crème fraîche, or cream, the topping needs to be rich, with enough tangy flavour from mustard or Worcestershire to cut through. So many recipes have an absolute tonne of cheese in, which whilst absolutely delicious sounds a little too much even for me. I cut mine with some thick yoghurt and I still love the way the flavour and texture turns out.
I also think it seems a bit of a waste just to add the egg yolk and leave the white so I lobbed the whole thing in. I never end up making meringue from the leftover whites like they tell you to, so I decided to avoid food waste it was best to let my rarebit benefit from the extra egg white nutrients and protein instead. Though, on a serious note if you do want a more sensible everyday use of leftover egg whites, just add them to tomorrow's scrambled eggs instead.
What would you put in you Welsh rarebit?  Go with tradition or be brave and stray?
Leek and Caerphilly Welsh Rarebit
Leek and Caerphilly Welsh Rarebit
Leek and Caerphilly Welsh Rarebit; a traditional Welsh dish with an extra touch of Welshness via the addition of pan-fried leeks and Welsh Caerphilly cheese.
Ingredients
1 medium sized leek, topped and tailed and sliced into thin rounds
olive oil
2 medium egg, lightly whisked
1 teaspoon Dijon mustard
80g Caerphillly Cheese, grated
4 tablespoons natural yoghurt
1 tablespoon minced parsley
Worcestershire sauce
4 slices of wholemeal sourdough
butter to spread on the toast
sea salt (use Welsh salt if you like!) and black pepper
Instructions
Place a frying pan over a medium heat and add 1 tablespoon of olive oil. Add the sliced leeks, breaking them up into their papery layers with the back of your wooden spoon. Add a pinch of salt. When the leeks start to catch and brown, turn down the heat, and let them cook out till nice and soft, around 10 minutes.
Pre-heat your grill.
Meanwhile prepare your rarebit topping. Mix the eggs with the mustard, then stir in the cheese, natural yoghurt, half of the cooked leeks, and the minced parsley. Add a dash of Worcestershire sauce. Season with salt and pepper.
Lightly toast your bread on both sides, then spread one side with a knob of butter. Heap the topping over the toast, then place back under the grill for another 2-3 minutes until bubbling and brown. Remove from the oven and serve as is, or top with more of the leeks and another dash of Worcestershire sauce.
Pin me for later