Make the most of fresh sweetcorn in this quick to make pasta dish for two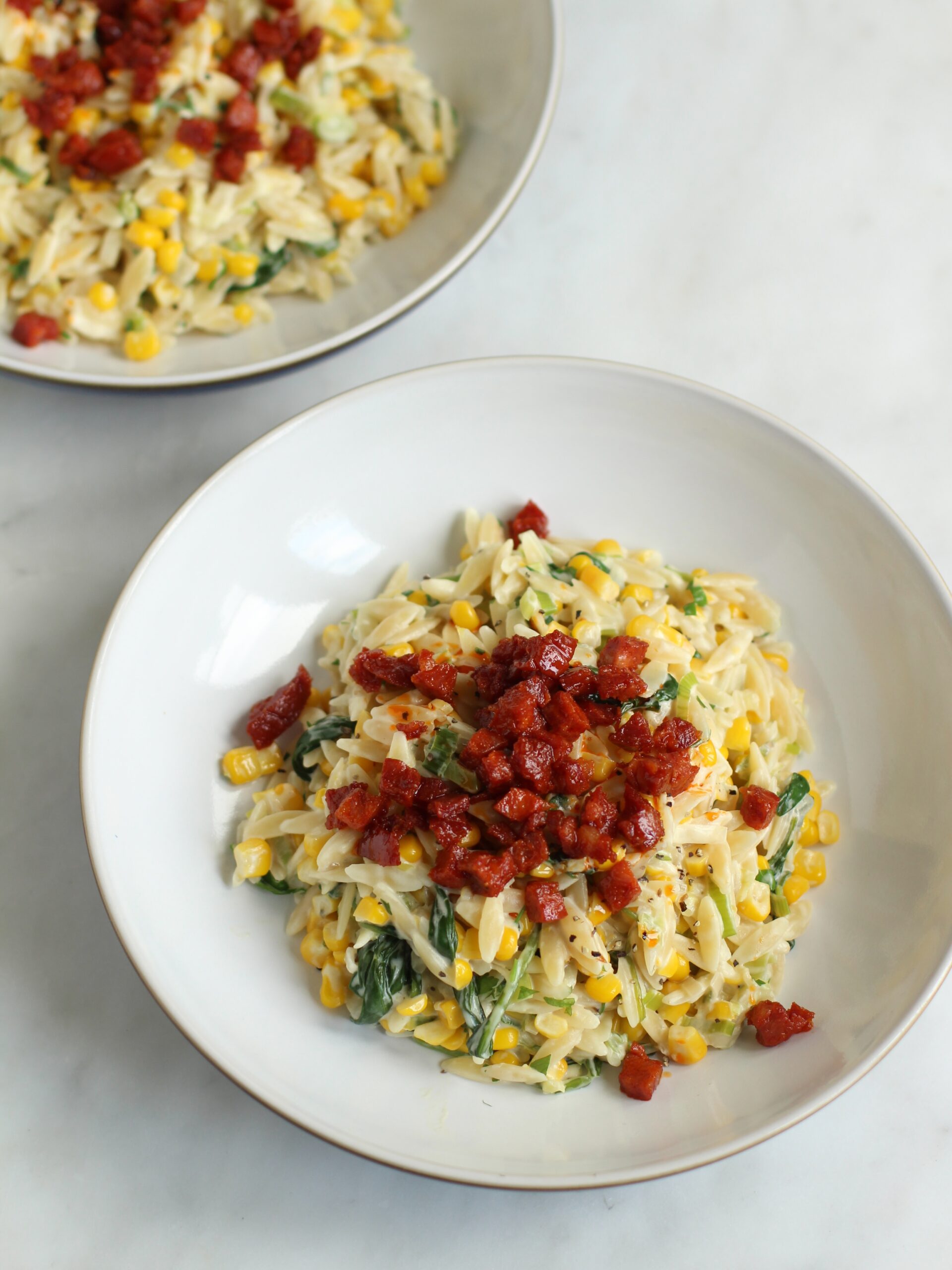 A tasty and quick dish to make the most of corn on the cob season, or a can of sweetcorn you may have lingering at the back of your cupboard. I actually came up with this dish when I came home from a no-cook cooking demo with a number of spare tins of sweetcorn, half a bunch of spring onions, and had the dregs of a pot of crème fraîche in my fridge. I've since tested it with fresh sweetcorn too, and recommend that when sweetcorn is in season in late summer early autumn in the UK. 
Sweetcorn and cream are really good mates – classically used together in creamed corn. But, if like me you find the idea of creamed corn as a concept too claggy, then adding cooked orzo pasta, a handful of spinach for colour and vibrant crispy chorizo turns it into a dish I want to make time and again. The fried crispy diced chorizo isn't essential to this dish, but I love the added flavour and texture it gives. For a vegetarian alternative leave out the chorizo and make a sort of pangrattato with breadcrumbs and add a pinch of paprika.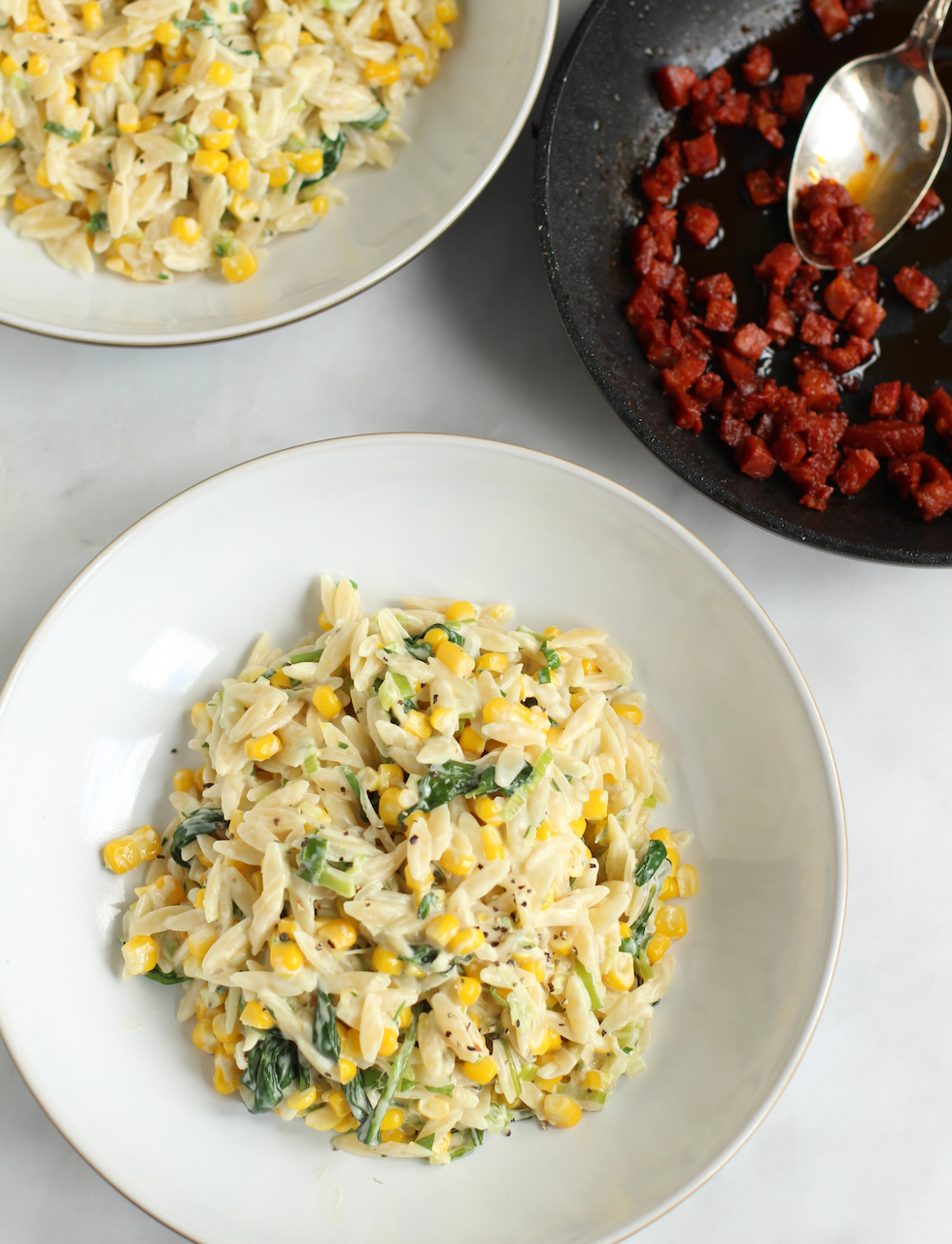 Creamy Sweetcorn and Spinach Orzo with Crispy Chorizo
Make the most of fresh sweetcorn in this quick to make pasta dish for two
Ingredients
2 corn on the cob, or 1 small can sweetcorn, drained (around 250g kernels)
150-180g orzo
1 large or 2 small banana shallots, finely chopped
4 spring onions, finely sliced
Large handful, about 40g baby spinach, baby chard or other quick to wilt green leaves
4 tbsp crème fraîche
1 tbsp finely chopped parsley
Juice and zest of 1 lemon, to taste
Salt and pepper
for the crispy chorizo
Instructions
Prepare your corn, by standing a cob up on its end and slicing off the kernels, separate using your fingers if they've stuck together.
Put a pan of salted water on to boil for the orzo then put your orzo on to boil. Cook for 6-7 minutes (or according to packet instructions), till al dente, then drain, reserving some cooking water.
Meanwhile, heat 1 tablespoon of olive oil in a frying pan big enough to take the whole dish, over a medium heat. Saute the shallot and spring onions with a pinch of salt for 3-4 minutes until starting to soften. Add the sweetcorn and cook through for another couple of minutes before adding the spinach leaves to wilt. Dollop in the crème fraîche, and add a couple of tablespoons of reserved pasta water to loosen into a creamy sauce. Add the drained orzo and stir to combine. Add the parsley, and season to taste, adding some lemon juice and zest start with half, to lift the flavours.
In another small pan fry the chorizo (no oil needed) for a few minutes until the chorizo is starting to go golden and cooked through.
Serve the orzo in deep bowls, with the crispy chorizo and any red pan juices scattered across the top.