Asparagus pappardelle with pistachio pangrattato for a simple seasonal supper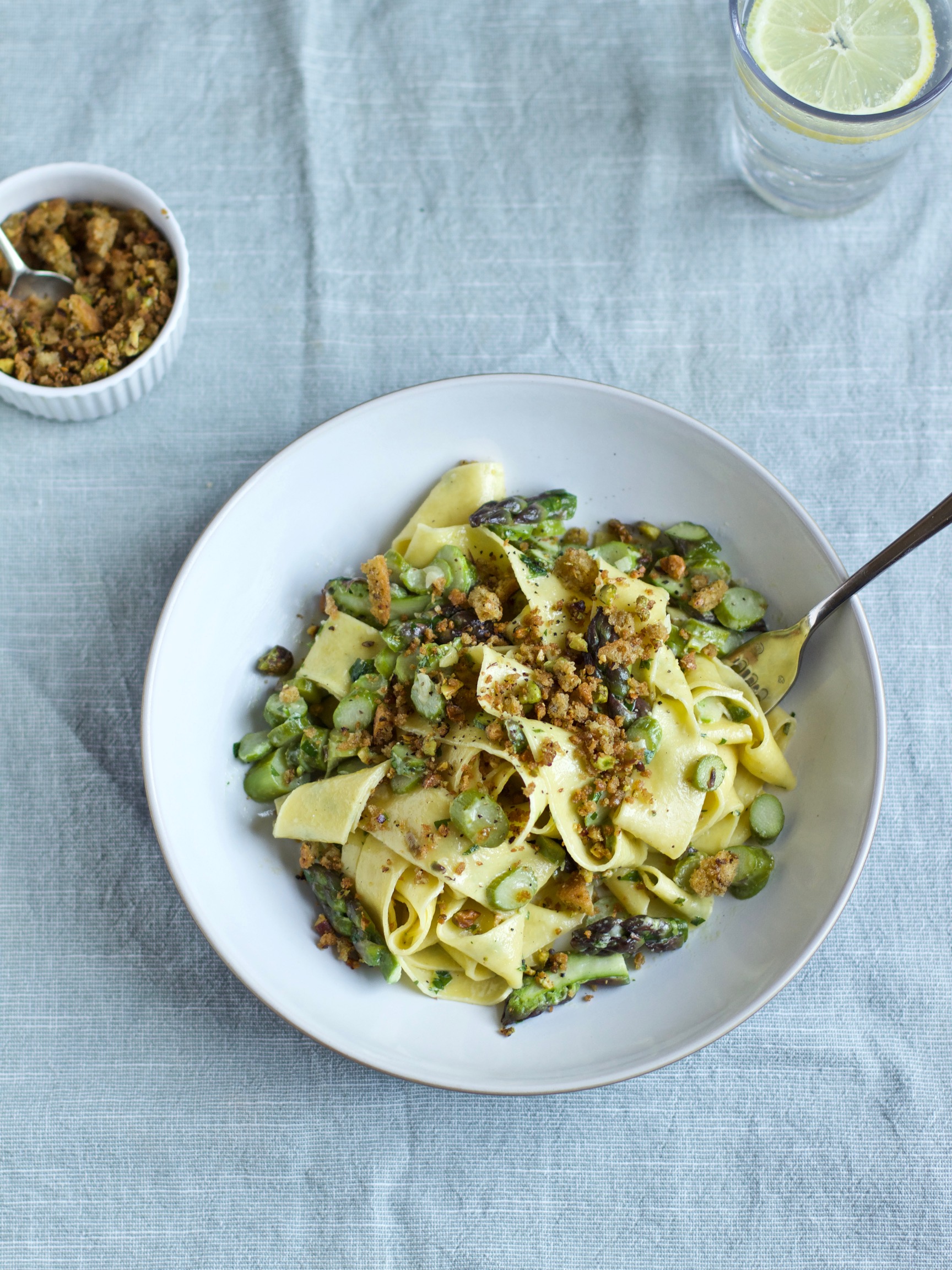 April and May means it's time for Asparagus in the UK and I look forward to this each and every year. The exact date it will appear depends largely on the weather and its impact on the growing season so its always rather exciting guessing when that will be.
I don't like to be fussy with my asparagus recipes, you don't want the ingredients or flavour lost in a sea of other veg. Griddled or steamed then dunked in a dippy egg will mostly do just fine, but there are other simple recipes to seek out too – like this pasta dish. With not much else added asparagus' flavour really shines through. You can use fresh or dried pasta for this dish. I love the long wide ribbons of pappardelle.
Pangrattato, a breadcrumb, often used instead of Parmesan as a cheaper alternative in some southern Italian cuisines, adds a lovely crunchy, salty finish, and I've jazzed mine up with some not so cheap pistachios.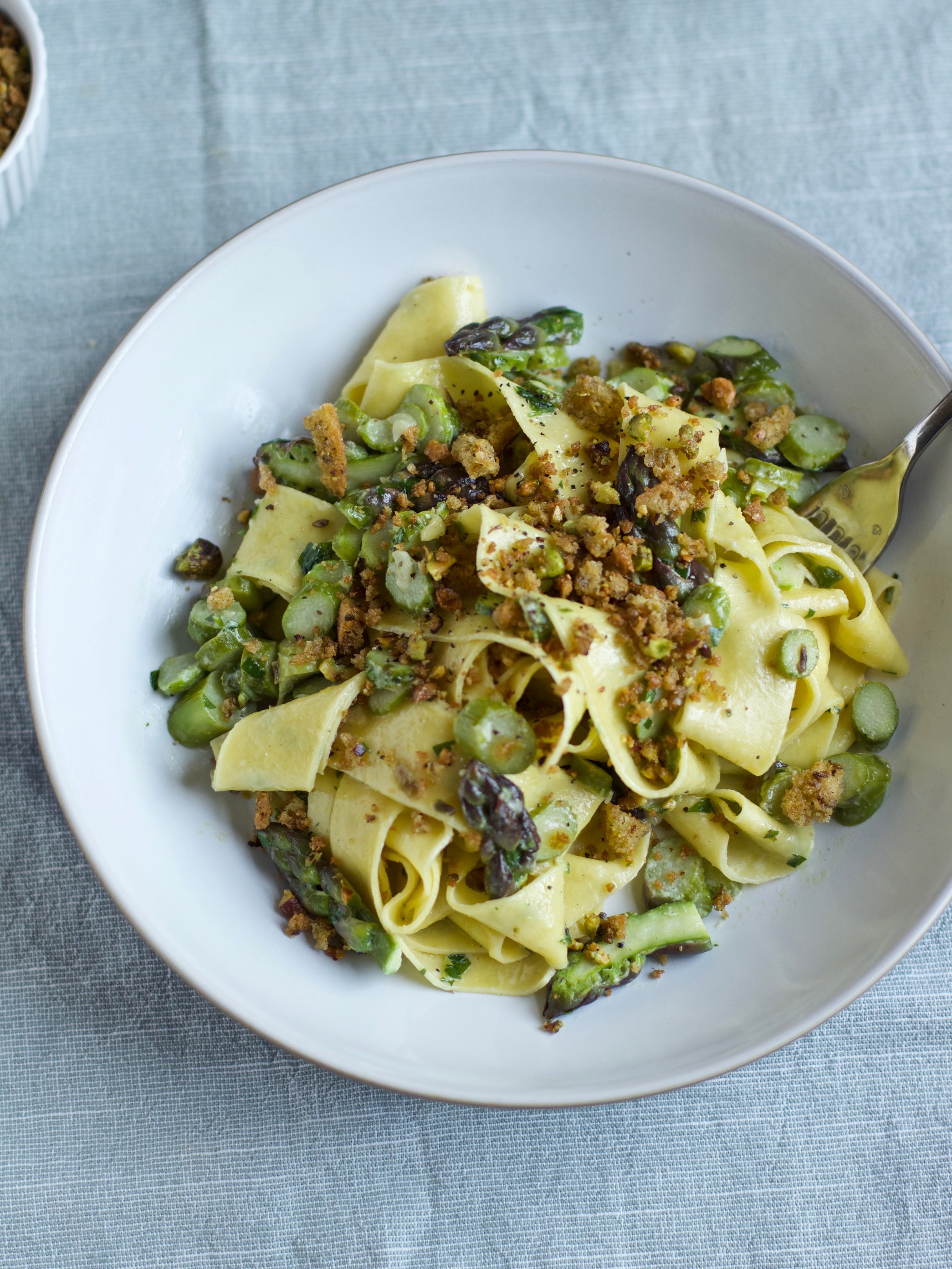 Asparagus Pappardelle with Pistachio Pangrattato
With not much else added asparagus' flavour really shines through. You can use fresh or dried pasta for this dish. I love the long wide ribbons of pappardelle.
Ingredients
Pangrattato
2 tablespoons extra-virgin olive oil
50g day old bread, whizzed into breadcrumbs using a food processor
20g pistachios, roughly chopped or blitzed in a food processor
pinch chilli flakes
a few gratings of lemon zest
For the pasta
250g fresh egg pappardelle (or 180g dried)
250g asparagus spears
2 cloves garlic, minced
2 heaped tablespoons crème fraîche (use full fat or it will split)
2 heaped tablespoons grated Parmesan cheese
a few gratings of lemon zest
extra-virgin olive oil
sea salt & black pepper
Instructions
First make the pangrattato. Heat the olive oil in a frying pan, then add the breadcrumbs and toast for 2-3 minutes, continually stirring to make sure they don't burn. Add the pistachios and cook for a further 2 mins, add the chilli and lemon zest stir well, then tip out onto kitchen towel to cool and soak up any excess oil. Wipe out the frying pan to use for your sauce.
Put a medium-sized saucepan on to boil with salted water for the pasta.
Snap the woody ends off your asparagus, remove the tips, then thinly slice the stalks into rounds. If your tips are large, split them in half.
Heat a tablespoon of olive oil in a frying pan, and add the asparagus rounds with a pinch of salt (don't add the tips yet), cook for 2-3 minutes, then add the garlic along with the tips. Keep on a low heat.
Meanwhile cook your pasta, if using fresh undercook it slightly (around 3 minutes), so it doesn't overcook when you add it to the sauce.
When the pasta is almost done, add a ladleful of the starchy pasta water to the asparagus along with the crème fraîche, Parmesan and lemon zest (use as much as you like), it should come together into a loose creamy sauce. Using tongs add your pappardelle to the asparagus pan and give it a good shake so that the pasta is coated in the sauce. Add black pepper, taste and add a little extra salt if necessary.
Plate up using tongs for the pasta, spoon over the asparagus, and scatter the pangrattato over the top.
Any leftover pangrattato will keep in an air-tight container for a few days.
What do you plan to do with your first Asparagus of 2021?