I served this chocolate and pear almond tart with chocolate soil and crème fraîche at my recent autumn supper club  'The Seasonal Suppers', and I'm sharing the recipe due to popular request of guests at the event, enjoy!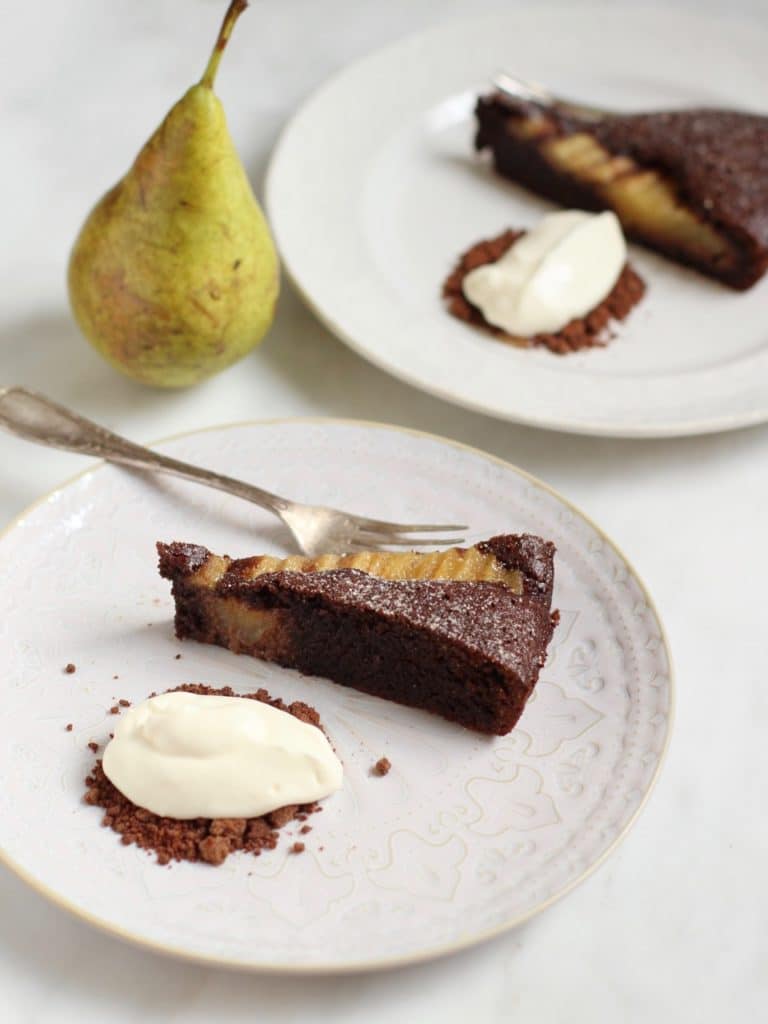 In blogging, and in real life it seems, the money moment always seems to lie with the dessert. So, since it's been a while since I shared a dessert on the blog, here is a super seasonal chocolate and pear almond tart for you.
I baked this tart for my recent supper club, and in amongst requests for me to recreate it on demand, I was asked for the recipe. I was also asked for the recipe for my cavolo nero crisp garnish too, so maybe my insistence that vegetables are in fact just as exciting as desserts is starting to be heard!
I have a confession to make. I don't really enjoy the development process that goes into creating new cake or bakes recipes. Recipes nearly always need multiple tweaks, and baking is such a precise science I don't have the patience for it.  It's so very different from the process involved in tweaking a savoury recipe and well, having multiple chicken legs left in your fridge with various marinades, is easier on my waistline than multiple cakes (that said I am learning the art of giving them away).
So, when the call to create something for a special ocassion – my supper club – arises, I tend to work with recipes already in my repertoire, or I seek out a recipe from an expert and make a few tweaks to fit my own brief. Sometimes that might mean playing around with the ingredients, changing the flour or type of sugar, the styling or the accompaniments.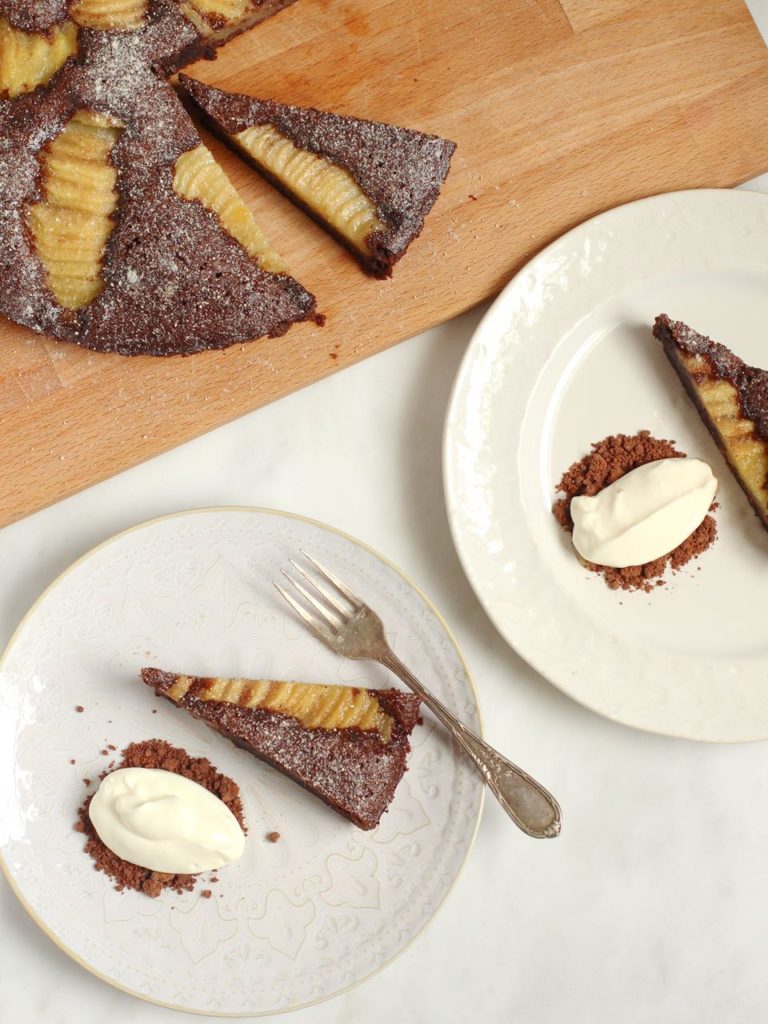 For my autumn supper I decided that pear would be the best fruit for the dessert (sorry apple), and what goes better with pear than chocolate (remember my mousse?).  I knew I wanted an almond based tart too – something like a frangipane flavour that was in last years almond and plum torte, so could we make a chocolate frangipane? No pastry though please, again, zero patience.
With this chocolate and pear almond tart I've ended up with something not quite like a frangipane at all, because after testing the dish with a dose of almond extract, I decided the flavour was better with just a hint of vanilla. The recipe is based on one by Martha Stewart. It contains butter, and the full amount of sugar suggested, because if you can't make a decadent dessert for your own supper club then when can you?
From the original recipe by Martha I have changed a few of the method processes, but also changed the way the pears are laid into the cake. I wanted to make the pear part of the tart flavour, rather than a mere garnish. When I tested the dish (and took the above photos), I cut the cake into 12.  At the event itself I cut the tart into 9 and used more pears (you might see a slight difference in the photos). I also skipped the icing sugar topping you see in the photos because it really wasn't necessary, but it's up to you how you want to do this.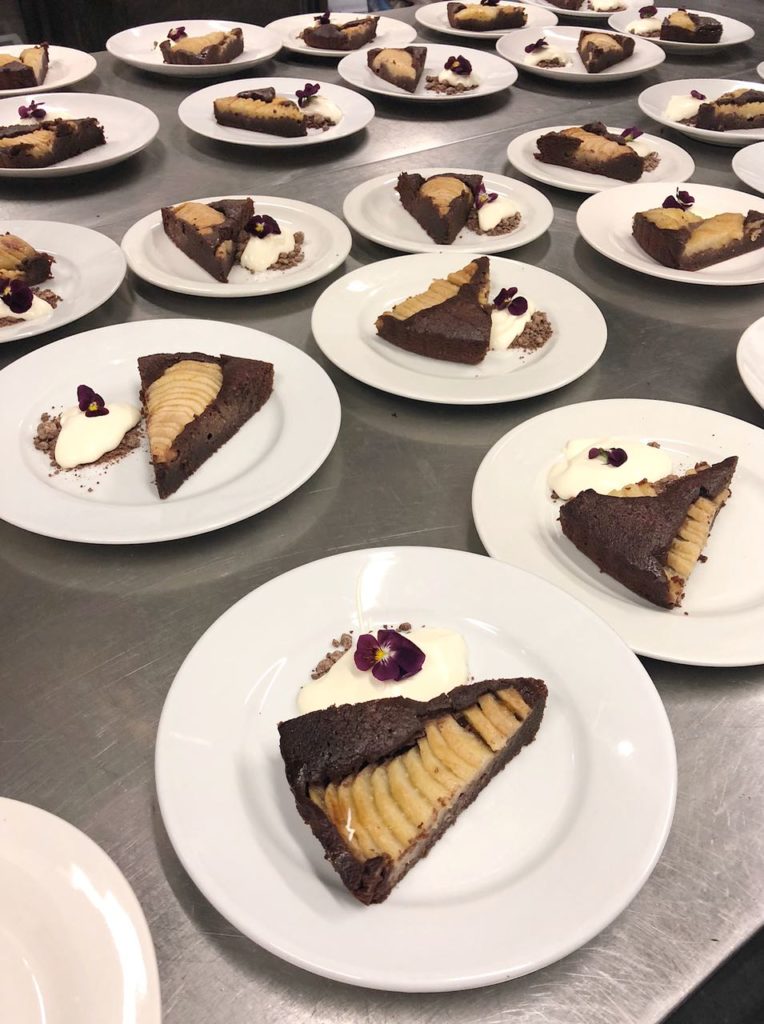 Top tip: If you want to cut a cake into 9 which is an awkward number print out a small circle split into 9 and use this to guide where your knife cuts go.  It makes light work what can be tricky for the human eye and there's no need for a protractor or working out any fractions.
I've also included below a recipe for chocolate soil (also full sugar).  It's quite tricky but really fun to make if you want to wow your friends and family.  It's not a necessary accompaniment to this tart, but great for when you want to impress your mates. Having sampled the leftovers sprinkled over yoghurt I can tell you that's pretty delicious too.
—
Chocolate and Pear Almond Tart with Chocolate Soil and Creme Fraiche
Chocolate and Pear Almond Tart with Chocolate Soil and Crème Fraîche
I served this chocolate and pear almond tart with chocolate soil and crème fraîche at my recent autumn supper club 'The Seasonal suppers'. I'm sharing the recipe due to popular request of guests at the event, enjoy!
Ingredients
Tart
115g unsalted butter, room temperature, plus more to line tin.
140g ground almonds
150g golden caster sugar
35g unsweetened cocoa powder
½ teaspoon salt
3 medium eggs
1 teaspoon vanilla extract
4 ripe yet firm pears, I used conference
2 tablespoons apricot jam (I like St Dalfour fruit spread)
Soil
70g 70% chocolate, cut into very small pieces with a sharp knife
100g golden caster sugar
2 tablespoons water
To serve, crème fraîche and edible flowers
Instructions
First make the tart.
Pre-heat oven to 175ºC (fan).
Butter a 9-inch tart tin and line the bottom with parchment paper. You can use one with a removable bottom, but I like using a glass slim flan dish. The tart has always come out easy after cooking.
Put the butter into a small saucepan and warm over a medium heat until all melted. Remove and leave to cool for a few minutes.
Meanwhile mix together your ground almonds, sugar, cocoa powder and salt, by hand or with a food processor. Add in the eggs, vanilla extract and butter and blitz again until al combined (you could easily do this by hand).
Pour the tart batter into the tin ensuring it is evenly spread, and place in the fridge for around 15 minutes to firm up a little, this stops the pears sinking when you add them.
Next prepare your pears. Peel, halve and remove the core with a teaspoon as well as removing the stalk. Slice each half thinly from core to stalk but keep the pear together in its shape. Using a palette or wide chefs knife lift the pears into the cake, with the tip facing the centre. Allow the slices to fan out a little if you like.
Bake in the oven for 35-40 minutes until the top feels slightly firm. Remove and cool before removing from the tin.
Add 2 tablespoons of warm water to 2 tablespoons of jam and using a pastry brush glide over the pears till they sheen.
Can be served warm, at room temperature or from the fridge.
Chocolate soil
You can make your chocolate soil while the tart is in the oven. Put the sugar with the water in a small saucepan - ideally a heavy bottomed one. Put on a high heat and heat until the sugar is dissolved and turning a darker brown. If you have a thermometer you can check if it has reached 130ºC. Remove from the heat (be very careful its so hot!), and working quickly add the chocolate and grab a whisk. Keep whisking and once the chocolate has dissolved into the sugar it will start to go lumpy and soil like. Turn out onto a plate or baking tray to cool. Once cool, if your soil is too lumpy you could stick it in a food processor to break it down a bit. Keep in an airtight container.
to serve
When ready to serve your dessert, slice up the tart, and try to get a good portion of the pear in each slice, put the tart off-middle on the plate, then add a pile of chocolate soil next to it and top with crème fraîche. For something extra fancy add an edible flower - I used purple violas.