Poire au chocolat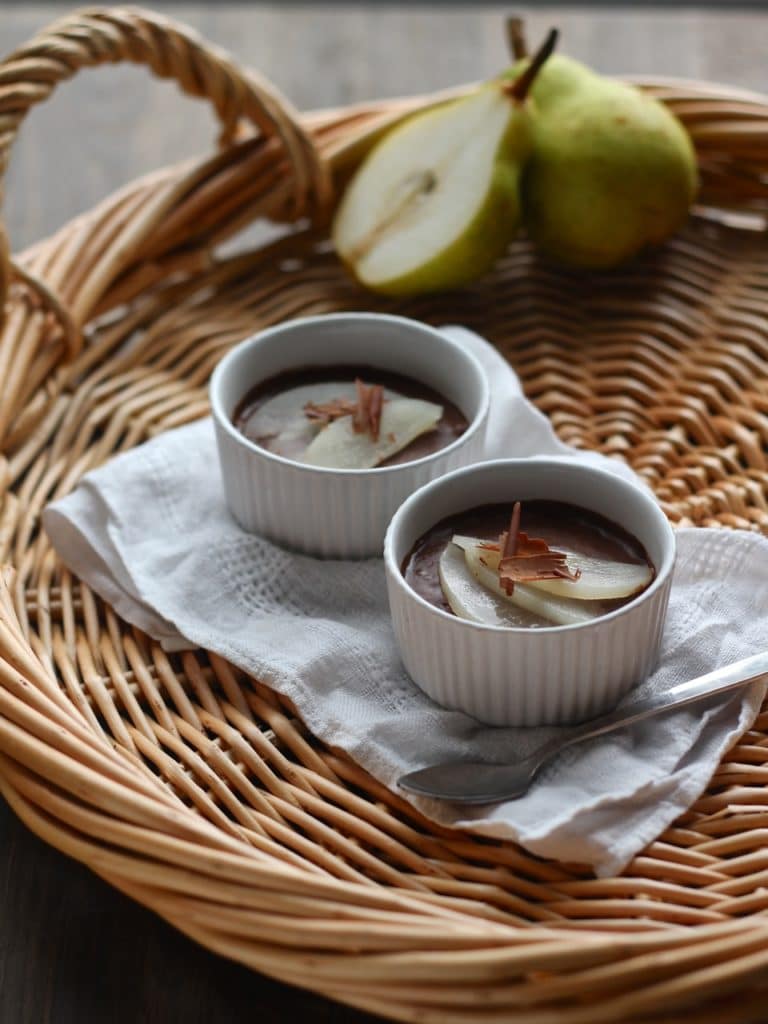 I first published this Dairy Free Chocolate Mousse back in October 2012 and it's good to see it's still serving me well 4 years later.  Since it is chocolate week this week in the UK, I decided my photos and images from 2012 needed updating with some pzazz suitable for 2016.
Sometimes recipes are born to be classics, this chocolate mousse is one of them.  Its incredibly useful to have these classic recipes up our sleeves at all times.  I have been using this simple dairy free recipe in my catering events a lot over the last few years, however have found there are many clever ways to switch it up to avoid the mundane.
Like chilli chocolate? Use a good chilli chocolate bar and decorate sparingly with chilli flakes.
Like Turkish delight? Use a bit of rosewater and top with figs and pistachios.
Like chocolate and ginger?  Add some fresh ginger juice to the mousse base and decorate with crystallised or stem ginger pieces.
Love a bit of eastern spice?  Cardamom is your friend.
Want to add some seasonal fruit? Add whatever goes with chocolate and is seasonal; raspberries, cherries, orange segments, pears, passion fruit, strawberries or figs.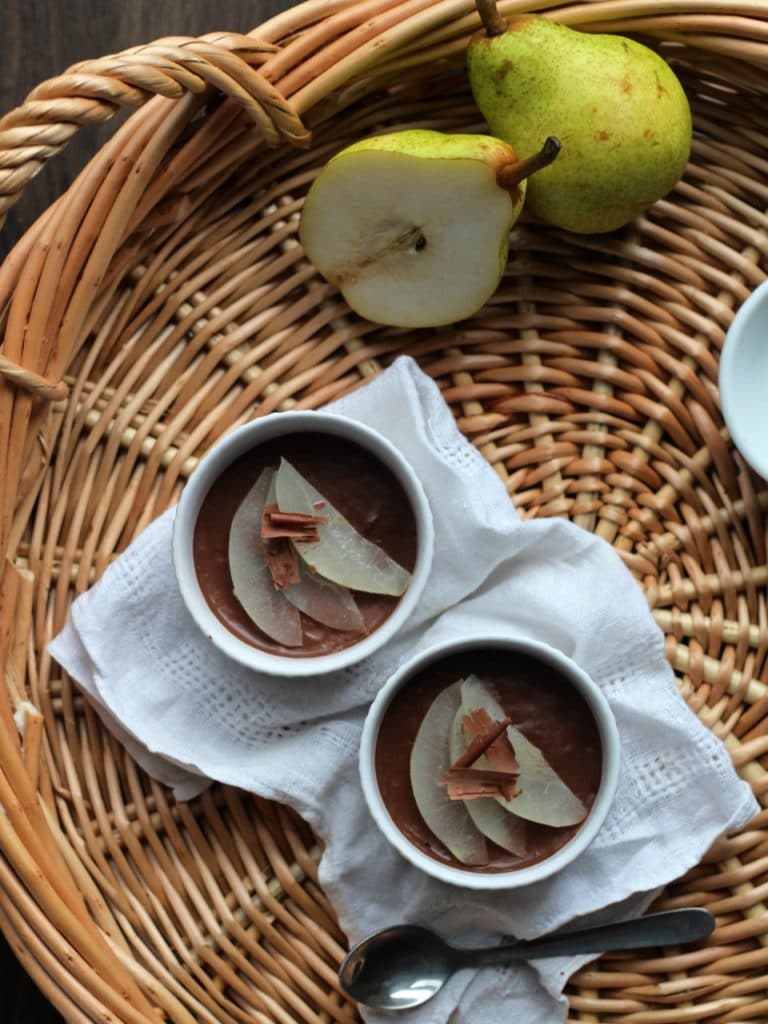 Since it is Autumn right now for my updated post I am choosing poached pear slices as a garnish, though I have in the past served the chocolate mousse as the garnish to a whole poached pear (slightly more virtuous right?). Poaching pears softens them up nicely, adding just a touch of texture and sweetness to the top of this dark rich dairy free mousse.  I find lots of poached pear recipes involve poaching the pears in a very sweet sugar syrup, though am certain that this is just not necessary if you choose pears that are sweet enough to start with.  A tiny drizzle of honey or maple syrup is, I find all I need.  Try it and please let me know whether that 200g of caster sugar is necessary??
Whatever you choose to go with this classic dairy free chocolate mousse, a must is starting with a top dollar dark chocolate bar.  You can choose a bar anywhere between 70-90% cocoa and bear this in mind when deciding how much sugar to add to the mousse.  There are so many chocolate companies nowadays choosing to support ethical and environmental causes, so now I always try to look for the fair-trade and or organic symbol on the packaging; for example I was recently introduced to Chocolate and Love by the fairtrade foundation, and there are many many more.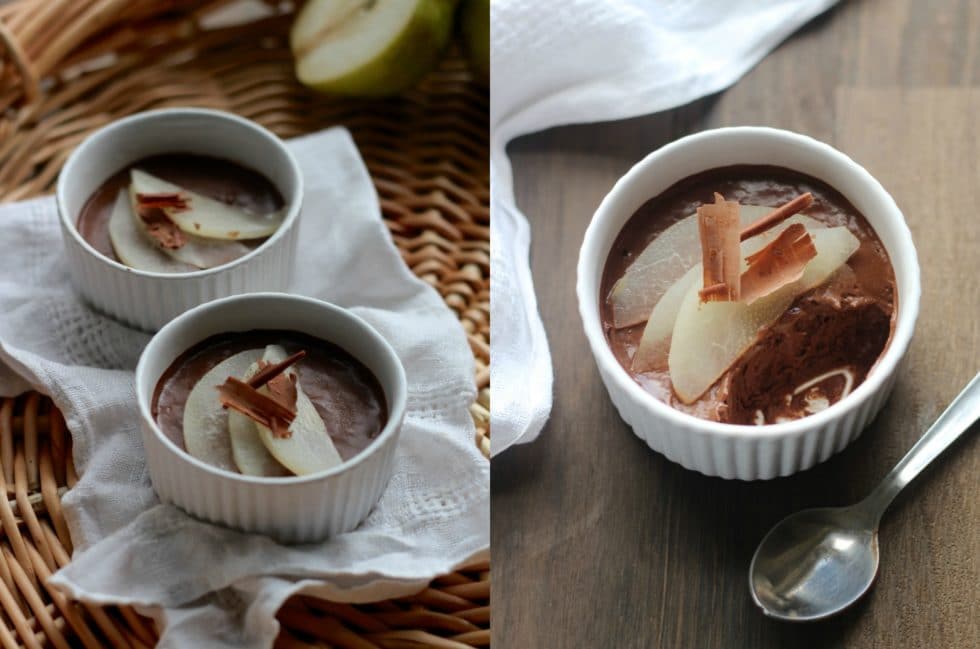 This chocolate mousse may have a dairy free halo (though you know I will also always love a bit of organic dairy), but this is a decadent mousse.  Small portions and mindfulness over each delicious spoonful are therefore most definitely key.  I often choose to serve them in small espresso cups or ramekins to help keep the serving size in check.
It is chocolate week till the 16th October, but best enjoyed whenever the bubbly chocolate cravings hit.

Dairy Free Chocolate Mousse with Poached Pear
A simple, light yet indulgent dairy free chocolate mousse using coconut cream. Topped for Autumn with poached pear slices.
Ingredients
Mousse
100mls Coconut cream
100g dark organic chocolate (at least 70%)
2 medium free-range organic eggs
tsp vanilla extract
1-2 Tbs sugar (depending on your sweet palate and the % of your chocolate)
Pear garnish
1 sweet pear (such as Williams), peeled, cored and thinly sliced
1 tsp honey
Extra chocolate shavings.
Instructions
Heat the coconut cream in a heavy bottomed saucepan* over a very low and heat through for a few mins. Break up the chocolate and add to the coconut cream. Stir a few times and then leave for a few mins whilst the chocolate melts into the cream. Keep the heat on low since you don't want the cream or the chocolate to burn.
Meanwhile, separate the eggs and whisk up the whites till soft peaks form.
When the chocolate has completely melted into the cream stir a few times to ensure a smooth brown consistency and remove from the heat, stir through the sugar and the vanilla extract.
When the creamy chocolate has cooled sufficiently pour a little into a clean bowl with the yolks and stir well. It is important to add a little at a time to bring up the temperature of the yolks or else they will scramble. Gradually pour the rest into the yolks and combine well. Finally gently fold in the egg whites till there is no trace of white.
Spoon the mixtures into espresso cups or ramekins and place in the fridge for around an hour to set.
To make your pear garnish, bring a small saucepan of water to a simmer (around 2cm deep). Stir through the honey, then add the pear slices. Cook for 5 minutes, until tender then drain and pat dry on some kitchen towel before using them to top the mousse with some extra chocolate shavings. The pear can be poached ahead of time and chilled.
Notes
*If you are using an electric hob and don't have a heavy bottomed saucepan you may wish to melt the cream and chocolate over a bain marie to avoid the chocolate getting too near the heat source and burning.
Many thanks to the Fairtrade Foundation for the gift of the chocolate and introducing me to Chocolate and Love.  I was not paid or asked to create this post, I have chosen to include a mention of it in my updated recipe as I choose to support fair-trade and organic farming where possible.