This light winter starter combining scallops with celeriac apple remoulade, is the perfect dish to add to any Christmas menu.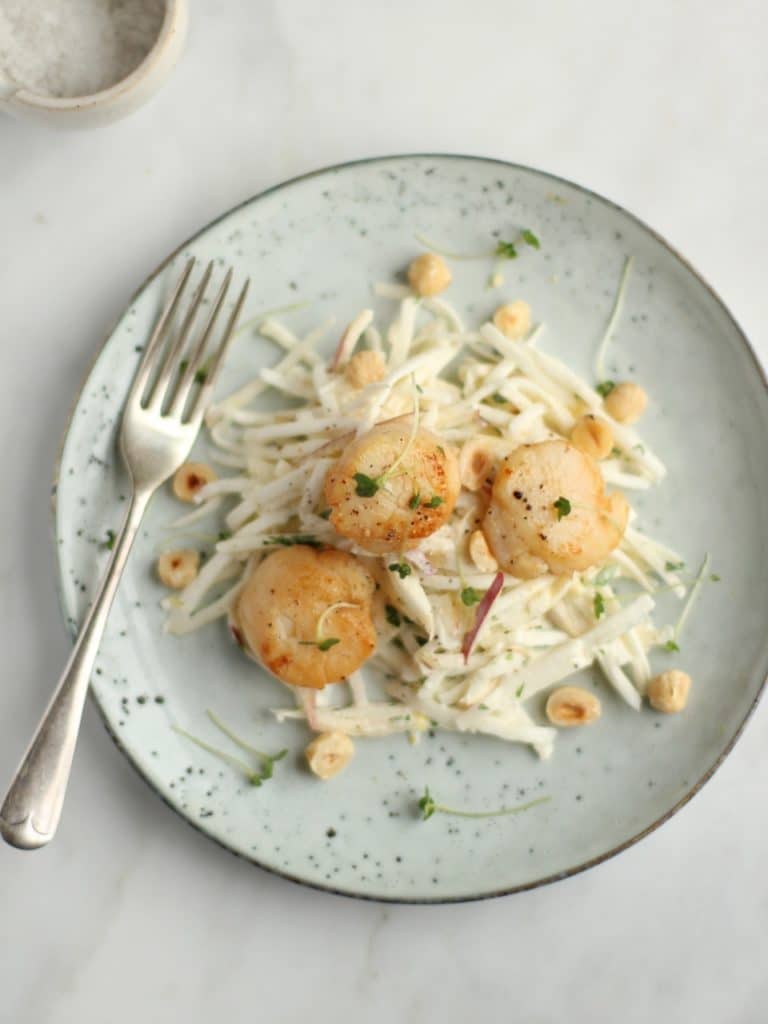 I don't often talk about the seasonality of meat and fish on the blog, as it's usually about the vegetables, but of course they have seasons too.  Take scallops for example, the star ingredient in this dish.  They're usually best from December to February and June to August according to Eat the Seasons. Plus, it's easy when they're in season to source ones fished off the UK coast line.  Try and look for sustainable MSC certified ones if you can.
Scallops for me are such a special treat, and thus perfect for the treat-iest time of year which we're about to (or already have) hit.  I adore them, I suspect this is because I usually opt to cook them in butter, but also because when cooked properly the flesh is tender and sweet and utterly delicious.  A treat also, becuase they can be expensive to buy.  I paid around £1 a scallop, which seems dear until you compare it to my daily £2 coffee buying habit.  Time to realign my food and drinks budget priorities?
Celeriac remoulade is a pretty typical use of celeriac. A posher named coleslaw is probably its best description. Celeriac is grated or cut into julienne strips and held together with any combination of mayo, creme fraiche, mustard, yoghurt, lemon etc.  Feel free to riff on the recipe I have included, I'm not sure there is a holy definitive.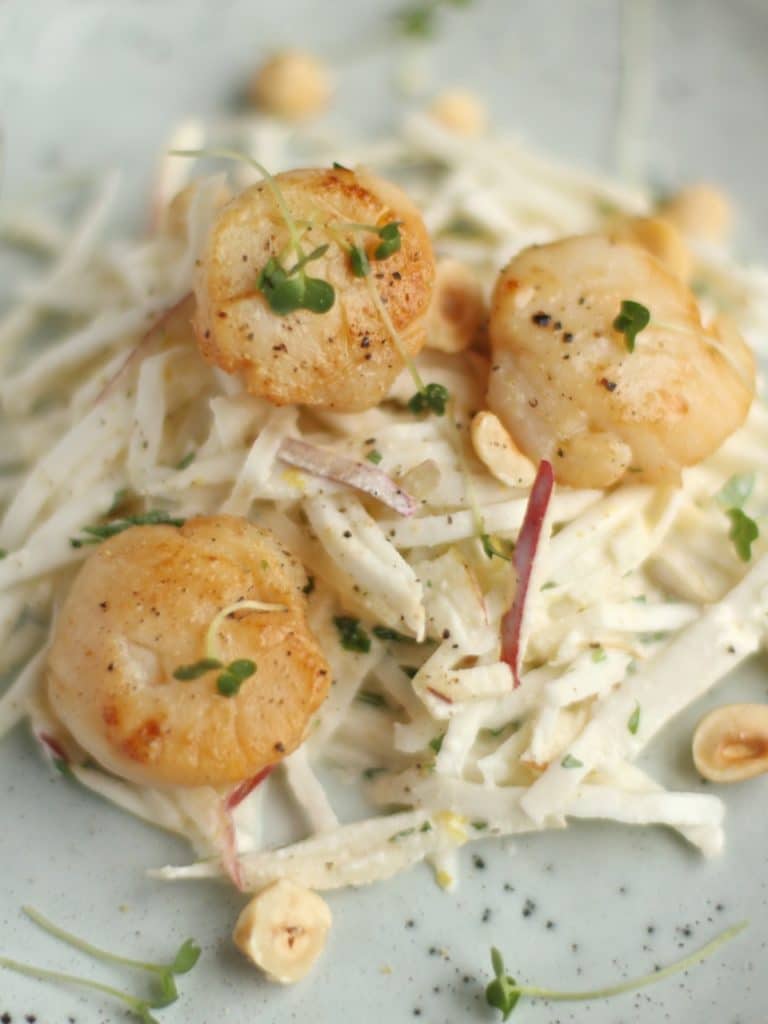 To finish the dish off, roasted hazelnuts (lazily bought pre roasted or you can do it yourself) give the all important crunch factor, and the humblest cress gives a pop of green. I do love a good cheffy micro herb garnish, but when you can buy a pot of cress for 30p (or ever better grow it yourself), why not make the most of it's bargain basement status and splash your cash on the scallops instead. Now all you need is some tweezers to adorn them on your dish.

Scallops with Celeriac & Apple Remoulade
This light winter starter combining scallops with celeriac apple remoulade, is the perfect dish to add to any Christmas menu.
Ingredients
Remoulade
40g celeriac, peeled, grated or cut with a julienne peeler
½ sweet red apple, like Braeburn, peel on, and grated or julienned
2 tablespoons mayonnaise, ideally handmade but, ya know...
2 tablespoons Greek Yoghurt
Juice & zest of half a lemon
1 tablespoon minced parsley
salt and pepper to taste
Scallops
6 scallops, roe removed if you prefer
2 tablespoons butter
salt and pepper
To serve
Small handful of roasted hazelnuts, skin removed and roughly chopped
a few snips of cress
Instructions
First make up your remoulade. Mix the chopped celeriac and apple in a small bowl along with the mayo, yoghurt, lemon zest and juice. Stir well so the celeriac and apple are well coated. Add a pinch or salt and a good twist of pepper. Taste and adjust as necessary. It should taste quite lemony, but that's a personal preference.
Season your scallops with a pinch of salt and pepper on both sides.
Put the butter in a medium sized frying pan over a medium heat. When melted and starting to brown add your scallops into the pan, one of the flat sides down. Turn after a minute when the underside should have brown, and cook for a further minute until they have cooked through (the centre will no longer be opaque), before transferring to some kitchen towel.
Plate up by piling the celeriac high on a side plate, scattering over the hazelnut and cress and then topping with the warm scallops. Serve immediately.
The remoulade will keep for a few days in an air tight container if you don't use it all.
Notes
The recipe easily scales up to feed a crowd. You may need slightly less per person.
Have you had scallops before?  What would you pair them with?