Bejewelled. A dish from my Middle Eastern Feast cooking class. Twice baked sweet potatoes stuffed with spiced chickpeas and eye-candy pomegranates.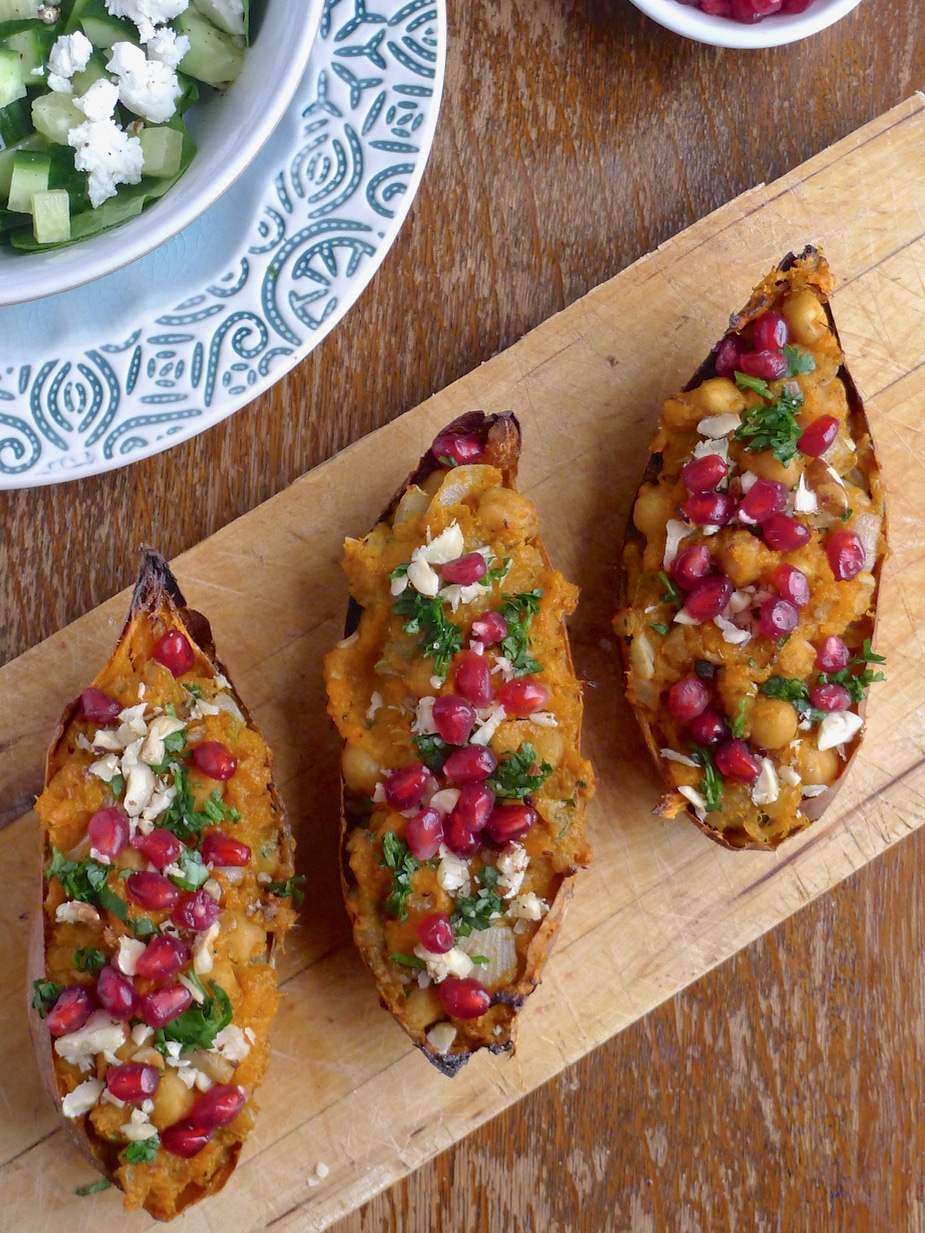 I sprinkled the remaining pomegranate seeds over the fragrant crispy potatoes, grabbed my camera and burst into Pharell's "I'm Happy"!
I'd had an idea, tested it, and it had turned out better than I could have hoped for – not just because everything in this dish ranks close to the top of my favourite foods list, but because it is just so absolutely beautiful. I hope you'll agree, and thanks once again to pomegranate seeds for their eye-candy ruby red glory.
I absolutely adore coming up with cuisine inspired classes. It's a chance for me to get creative and show how different cuisines are so healthful. This dish was part of a Middle Eastern feast I cooked up at Blackheath Cooks.
So how do I put a meal together? For a cooking class, it's much like putting together a dinner party. Eight people cook a nutritionally balanced, three course meal from scratch in three hours. The recipes need to be challenging and enticing, include as much seasonal produce as possible and fit to a certain budget per head. The evening's plan is to allow as much hands-on activity as possible, teach some new skills, and spark great conversation.
I start with the main, developed from a basic recipe I've been cooking at home for a while, then add a cauliflower tabbouleh as a second main dish – I love teaching people that recipe.
For this meal, the starter has to be mezze. I had ploughed through The Jewelled Kitchen (Bethany Kehdy) and Jerusalem for something other than falafel and hummus. In the event, we made a gluten free adaptation of Bethany's Courgette and Sumac Fritters, my own Butternut squash hummus, and a cooling yoghurt dip. For dessert we whipped up a glorious chocolate mousse with a touch of rosewater.
Before the evening's lesson even starts, I've spent a great amount of effort putting things together. Menu planning, shopping and on-site prep takes time! New recipes are tested and photographed. Some dishes are ones I've cooked so many times they don't need double testing!
I've taught this Middle Eastern Feast class twice. Each evening had a different group of people, with different goals, experiences, and expectations. The evenings fly by – almost too fast. We enjoy the chat and the banter, I talk with great vigour and enthusiasm for what I do, why I do it, and even what I used to do (which for the attendees is almost as fascinating!). I stop and watch people enjoying something I have put together with care and thought. I love what I do. I realise this is a rareity and I feel blessed.
Cooking classes aren't just about the food, or whether you go home and bake these sweet potatoes tomorrow, the next day, or in a year's time when you finally get around to it. The classes are about enjoying an evening in good company. Humans are driven by social interaction, and I love doing this.

Twice baked sweet potatoes stuffed with spiced chickpeas
Pomegranates add the perfect vibrant finishing touch to this warming comforting potato dish. Cumin, coriander and allspice are typical for this region – and all add an anti-inflammatory hit. Chickpeas are a great source of protein in this vegetarian supper.
Cuisine:
Inspired by Middle Eastern
Ingredients
2 sweet potatoes, rugby-ball shaped- roughly 300g each, scrubbed clean
1 tsp olive oil
1 onion, finely diced
3 cloves garlic, minced
½ tsp cumin
½ tsp coriander
¼ tsp allspice
380g carton of chickpeas (230g drained)
Juice of half a lemon.
Tbs coriander leaf, finely chopped
Salt & Pepper
To serve: Tbs toasted chopped hazelnuts, a few pomegranate seeds, fresh coriander leaf
Instructions
Pre-heat the oven to 200 C
Slice the sweet potatoes in half lengthwise. Place the potato flesh side down on a lined baking tray, and roast in the oven till soft, about 40 minutes.
Meanwhile prepare the filling. Warm the olive oil in a large frying pan and sauté the onion with a pinch of salt over a low heat until softened, 3-4 minutes. Add the garlic, cook for a minute, then add the spices. Allow them to toast for 30 seconds or so before adding the chickpeas. Stir well cook for a further couple of minutes then add the lemon and coriander leaf and remove from the heat.
When the potatoes are ready, remove them from the oven, and allow to cool for 5 minutes or so, then scoop the flesh into a bowl, reserving the skins in one piece – you'll need them in a minute! Mash the potato flesh then stir in the spiced chickpeas. Add black pepper, taste, and add ½ tsp salt if required.
Spoon the mixture back into the potato skins, heaping it up, and place back in the oven for 10 minutes to warm through and get slightly crisp.
Sprinkle the hazelnuts, pomegranate seeds and coriander on top to serve.