How to make sweetcorn ribs – the latest food trend.  I serve mine with miso butter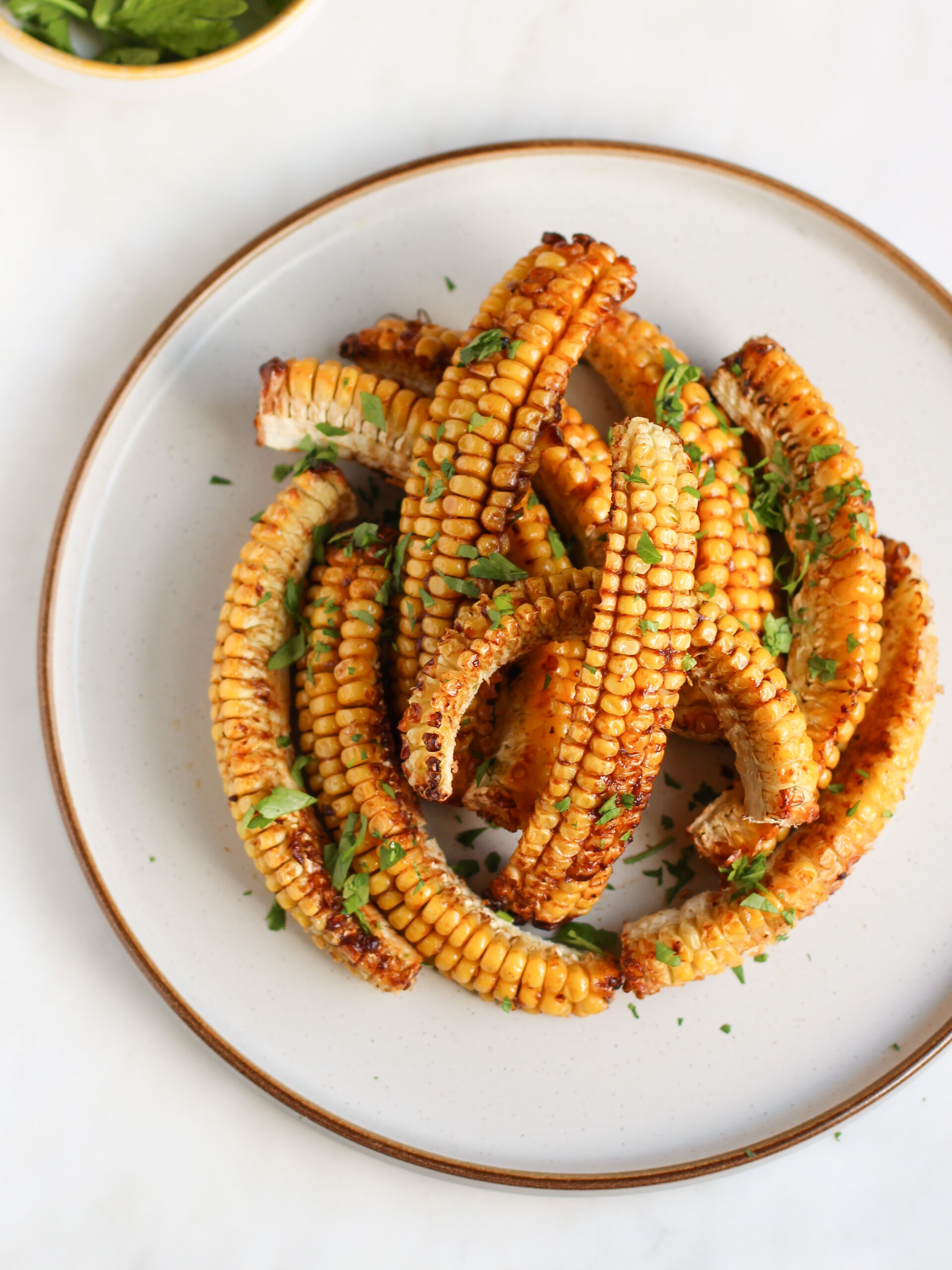 Sweetcorn ribs, as a concept have been around for a while now, although I'm not sure who is to credit for this amazing idea. In season sweetcorn is fantastic at the best of times, so what's better about these ribs? Well? Not a whole lot I'm afraid to report, they taste the same as a whole corn on the cob – but they are easier to eat – less butter rolling off the corns and dribbling down your chin. They also look so impressive curled up on a plate.
How do you make sweetcorn ribs?  You simply divide a corn on the cob lengthways into 4 quarters, which then curl up into ribs in heat of the oven. The centre of the corn is really tough, so you'll need a very sharp knife – a larger chef's style knife is best – and a lot of strength and patience to chop them up. But, there is no reason why you shouldn't be able to.  I've explained how to chop the corn in my recipe below but, for a visual aid, check out my latest instagram reel.
Have you ever tried making sweetcorn ribs before?

Sweetcorn Ribs with Miso Butter
Here's how to make sweetcorn ribs. Jump on the latest trend for sweetcorn ribs, I serve mind with a salty sweet miso butter
Ingredients
4 corn on the cob, husk removed (if present)
Olive oil
sea salt
1 tablespoon unsalted room temperature butter
1 tablespoon brown miso paste
1 teaspoon honey
Handful parsley, finely chopped
Instructions
Pre-heat the oven to 180C (fan).
Stand the corn up on its end, and using a sharp knife split it down the middle into two pieces. Then split each of the halves into a further 2 pieces, so that you have 4 'ribs'.
Place the ribs on a baking tray and drizzle over olive oil and a pinch of sea salt.
Bake in the oven for 20 minutes.
Meanwhile, make the miso butter, by smooshing together the butter, miso paste and honey - either in a bowl or using a pestle and mortar.
After 20 minutes when the sweetcorn is lightly browned and curled up, brush the miso butter over the corn side of the 'ribs'. Transfer to a serving dish and scatter over the parsley.
Notes
Miso butter is just one idea, a chilli lime butter, or anything with spices like chipotle or smoked paprika would also be fantastic.