A tasty late summer supper dish, these sweetcorn fritters are delicious served with sweet potato wedges spiked with cayenne pepper and a zingy radish, tomato and lime salsa. 
Summer to autumn, sandals to boots, vest tops to t-shirts to light jackets.
An easy way to mark the change of seasons is with our clothing choice. This is mostly out of necessity rather than choice of course; because who wants to wear sandals when it's 14 degrees. However there will always be those warm September days encouraging us to bring out the sandals again, and we can also echo this back and forth between the seasons on our dinner plates.
Fresh sweetcorn is one of the vegetables, that straddles August and September, so the way we eat and enjoy it can slide into either season. We've been getting fresh sweetcorn in my veg bag for the last few weeks, and I really wanted to find something more fun to do with it than boil and smother with butter (even though, I can't deny I do absolutely love eating it just so *licks fingers*).
This is amazingly the first recipe using sweetcorn I have shared on here, I love to make them for a weekend brunch.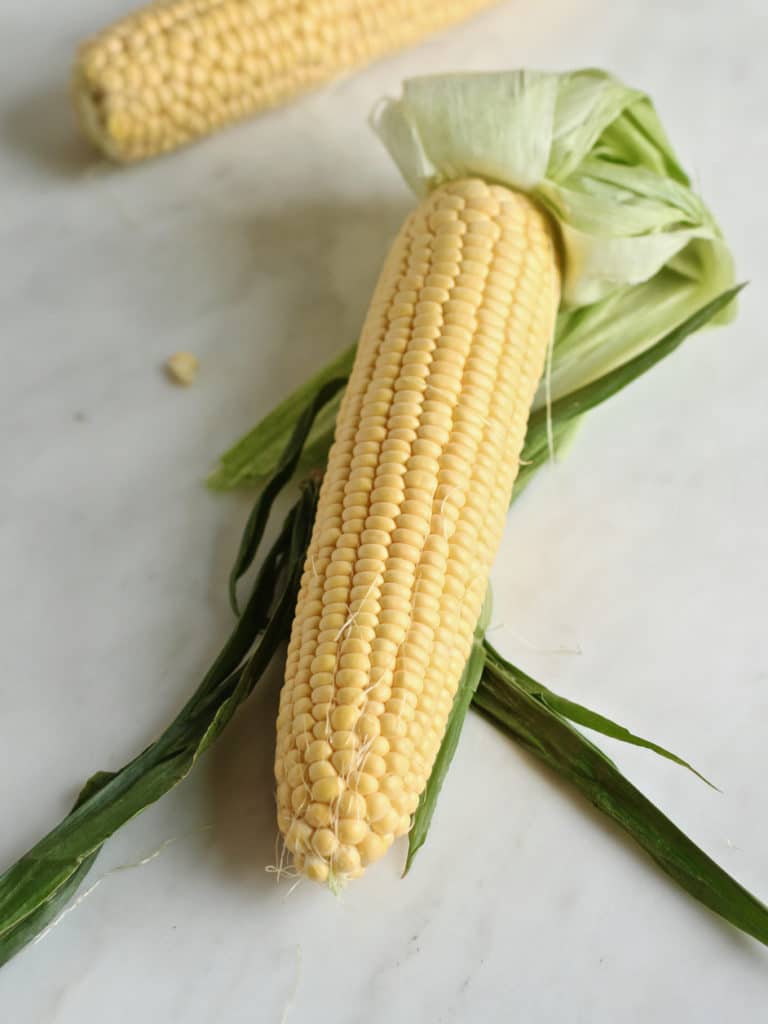 So, I decided to use the fresh corn in some sweetcorn fritters, something I often make with tinned or frozen sweetcorn but have yet to share on here and see what the taste difference was. Is fresh best?
Yes.
The fresh sweetcorn does edge into first place in the taste race, so if you do get your hands on some go forth and make fritters with it. If not, then tinned or frozen will work just as well, and you can enjoy them all year round too.
I made my fritters with yellow pea flour, which I bought from UK brand Hodmedods. The yellow peas make a beautiful flour and in flour form behave pretty similarly to gram, besan or chick pea flour. This means the fritters are naturally gluten free. High in fibre and protein the flour glues the fritters together really well and while these are a little denser than using cornflour or plain flour which are often used in fritters. If you can't find this regular gram flour is perfect.
What would you do with fresh corn?  Eat straight from the cob or try something a bit more fancy?

Sweetcorn Fritters, with Sweet Potato Wedges & Radish, Tomato and Lime Salsa
These sweetcorn and yellow pea flour fritters are delicious served with spicy sweet potato wedges and a zingy radish, tomato and lime salsa.
Ingredients
Fritters
1 sweetcorn cob (or approximately 150g of tinned or frozen sweetcorn)
1 spring onion, trimmed and finely sliced
Handful coriander, finely chopped
½ tsp smoked paprika
½ tsp ground cumin
pinch sea salt
1 egg, lightly whisked
50g yellow pea or gram flour
½ tsp baking powder
olive oil to fry.
Sweet potato wedges
2 medium sized potatoes, skin on scrubbed clean and sliced into wedged
1 tbs light olive oil
pinch cayenne pepper
pinch sea salt
Radish, tomato and lime salsa
10 cherry tomatoes, chopped into quarters
5 radishes, topped and tailed and thinly sliced
1 spring onion, thinly sliced
pinch salt
Juice of half a lime
1 tsp olive oil
To serve
Dollop of Greek or natural yoghurt and cress or micro coriander
Instructions
Pre-heat your oven to 180C (fan) and put a large saucepan of water on to boil.
Prep the potato wedges and coat in oil, with salt and cayenne pepper. Roast in the oven for 30 minutes until crispy and fork tender.
Meanwhile remove the husk from your sweetcorn, and cut the sweetcorn in half. I do this by scoring then snapping with my hands, as a knife won't get through the inner core. Place in the pan and cook for 4-5 minutes, then drain and rinse under cool water. To remove the corn from the cob, place one of the flat ends on your chopping board and shave down the sides with your sharp knife.
Transfer the corn (or now add your tinned corn), to a small mixing bowl and add your spring onion, coriander and spices. Then whisk in the egg, and add the yellow pea flour and baking powder. Mix well, the mix should be fairy stiff. Add water a tablespoon at a time till you get a spoonable consistency (you may not need any water at all, it depends on how much water is on your sweetcorn).
Put a non-stick pan on a hob over a medium heat to warm up and add a tablespoon of olive oil. When sufficiently warm, add around 2 tablespoons of mix to make up a fritter, then move on to the next one, making sure not to cook too closely together or to overcrowd the pan. Cook for 2-3 minutes on each side until lightly golden and transfer to a baking tray to keep in a warm oven while you cook the rest. This mix should make 4 large fritters, to serve 2 people.
Finally make up your salsa by mixing all the ingredients together, and tasting before adjusting the seasoning.
Serve with a dollop of yoghurt and some fresh herbs to garnish
Pin me for later