Squash gratin with herby breadcrumbs
A warming, creamy autumnal dish that can be made with butternut or any other variety of squash.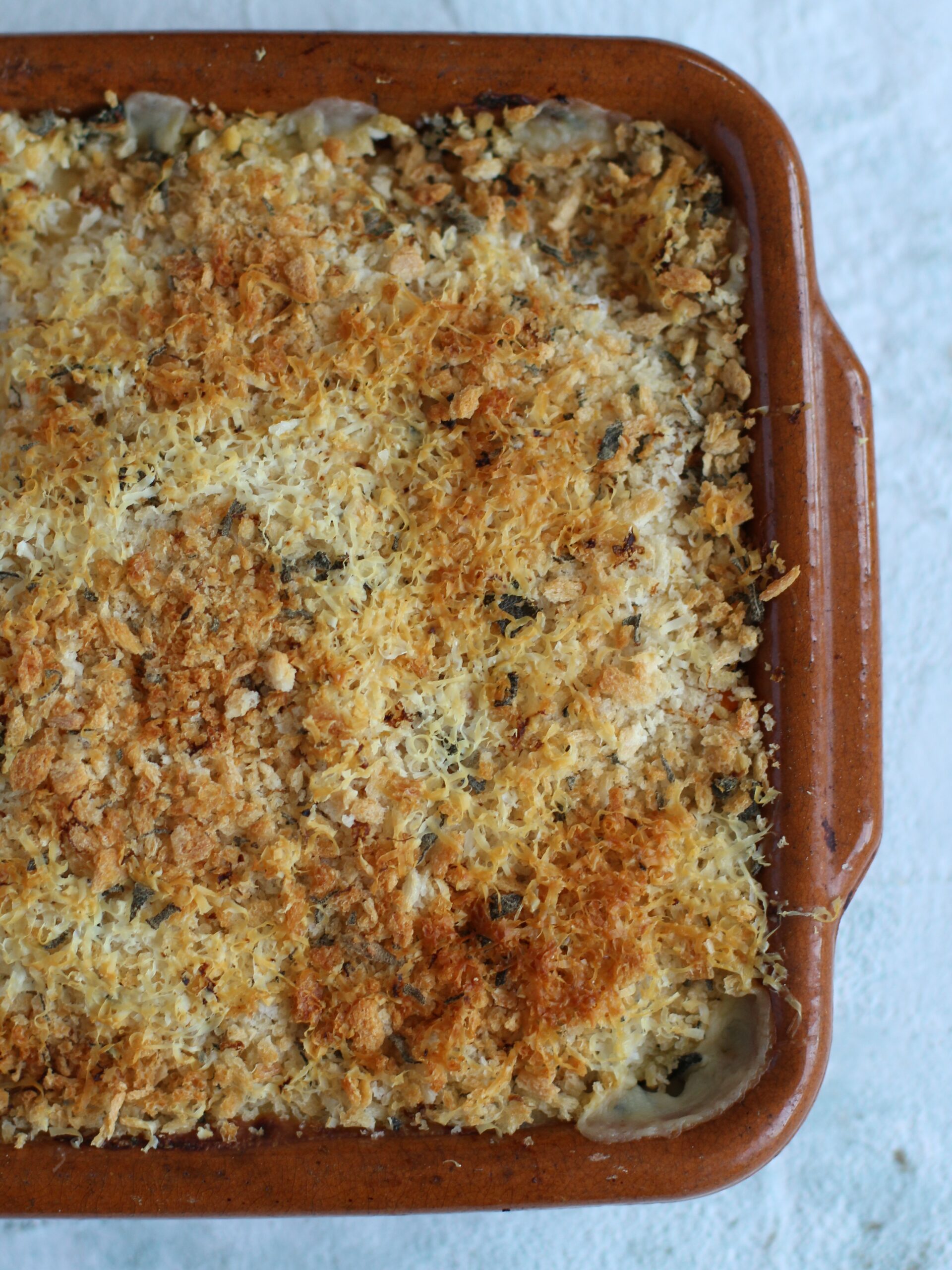 Sage + squash = autumn. Is there a better combo this time of year?
Peeling the squash is optional but for butternut I prefer this dish with out it. If you're using anything other than butternut squash, choose a variety with a skin thin enough to eat, because any other squash is a nightmare to peel. I really love red kuri / onion squash. Simply slice into crescent moons and make up the dish as below. It will be less of a layered dish but just as delicious.
Making your own béchamel sauce isn't as much of a faff as people will lead you to believe, and my gosh it is delicious. Lasagna or mac and cheese aside it isn't use that much these days in modern cuisine, but definitely one to get into your repertoire so you can rustle up dishes like this gratin or variations without too much drama. It was one of the first sauces we learnt to perfect at chef school and I've been raving about it ever since.
This squash gratin is great as a main dish with a few salad leaves on the side, or as a side dish to accompany any autumnal feast (a pan of sizzling sausages springs to mind). If serving with dressed salad leaves choose those that are bitter or even a little spicy – such as radicchio or rocket. This will counteract the creaminess of the gratin for a well balanced plate.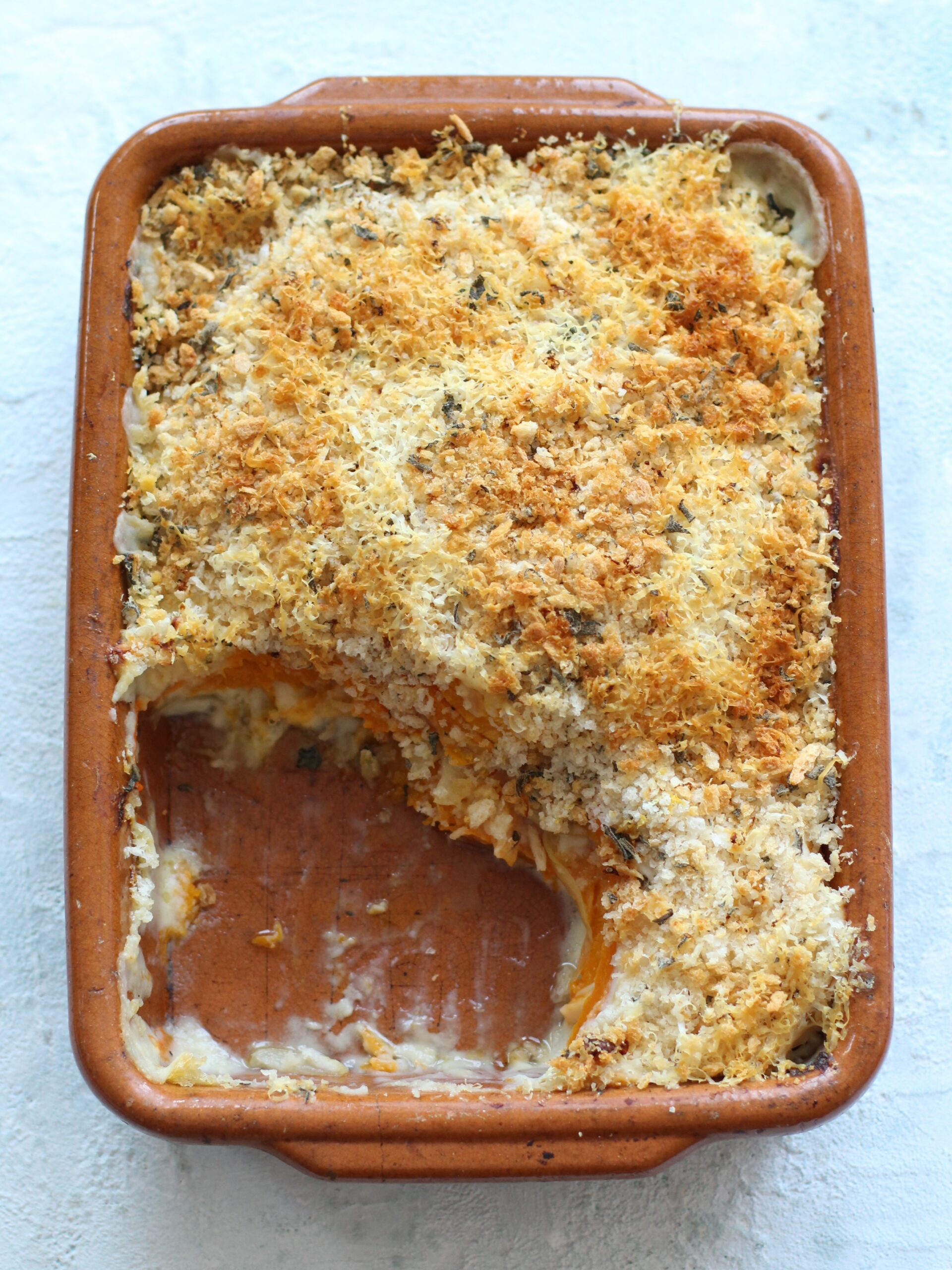 Butternut Squash Gratin with Herby Breadcrumbs
A warming, creamy autumnal dish that can be made with butternut or any other variety of squash. You will need a baking dish approx 18-24cm for this.
Ingredients
Gratin
1 butternut squash, approx 1kg
1 onion, thinly sliced
1 clove garlic, finely chopped
Olive oil
Sea salt and black pepper
Topping
50g breadcrumbs
10g sage or thyme leaves, finely chopped
25g Parmesan cheese, finely grated
1 lemon, zested
For the bechamel
50g butter
50g plain flour
500mls whole milk
Nutmeg, finely grated
Instructions
Pre-heat your oven to 220 / 200°C (fan).
Peel your squash, chop it in half, and remove the seeds. Cut the squash into half moons or semi- circles approximately 5mm thick. Place the squash slices on a baking tray and drizzle over a little olive oil and add a pinch of salt. Bake in the oven for 20 minutes, or until they are just soft enough for a knife to go through easily. Remove from the oven and rest for few minutes until cool enough to handle. Leave the oven on for the gratin.
Meanwhile sauté your onion slices in a little oil with a pinch of salt in a frying pan for around 8-10 minutes until completely softened but not coloured. Add the garlic for a final minute. Set aside.
Make your béchamel sauce. Melt the butter in a saucepan over a low heat. Add the flour and stir constantly for 2 minutes as it thickens to a doughy paste – this is your roux. Slowly add the milk, stirring constantly with a wooden spoon, so that the roux loosens into a thick sauce. Bring to a simmer and cook whilst stirring regularly on a low heat for 5-10 minutes, or until thickened – it should coat the back of a spoon. Season to taste and add a little grating of nutmeg.
Prepare your topping by mixing together your breadcrumbs with the sage, cheese, and lemon zest.
Now you're ready to put together your gratin. You should get 2 layers out of this quantity of ingredients. Start with half of the onions, then add a layer or butternut squash, followed by ½ of the béchamel. Top with the rest of the onions, and then add a final layer of butternut squash slices. Pour over the remainder of the béchamel, and then scatter over the breadcrumb mix.
Bake in the oven for 25-30 minutes until the breadcrumbs are lightly browned. If browning too quickly you can cover with foil. Serve immediately.
Notes
Serves 3, generously as a main, and 4 as a side
Peeling the squash is optional but for butternut I prefer this dish with out it.
You could also add or substitute sweet potato