As we head into summer, it's time to grab your BBQ or grill and make these salmon and courgette skewers. For super seasonality accompany the skewers with a broad bean dip, fresh leafy salad and mop it all up with some grilled wholemeal flatbread. This summery dish is a perfect pairing for a chilled and refreshing glass of sparkling *Appletiser.
*This post is commissioned by Appletiser
It's time to wheel out the recipes that provide just a bit more interest then bangers and burgers.
As I mentioned in my pomegranate chicken post, I am working with Appletiser this year to create recipes that pair well with their sparkling apple drink. As we sail past midsummer's eve, BBQ season is definitely upon us. These salmon and courgette skewers definitely need to be enjoyed over a lazy summer evening, paired with something chilled and refreshing – a glass of sparkling Appletiser!
Salmon is great for BBQs because it cooks quickly, and after a quick marinade of herbs and chilli, can take on a lot of flavour. Apple has a cooling function so appletiser lends itself extremely well as flavour partner to cool down a hot BBQ dish; especially one spiced with a touch of chilli!
I decided to add courgettes to my skewers, to break up the colour and add some veggies. I've made veggie skewers before with courgette chunks, and have found that they take ages to cook if you don't pre-roast them a little first. I then had an idea to cut them into wafer thin ribbons and weave them onto the skewers with the salmon. They had cooked perfectly by the time the salmon was ready.
Though, as we all know, not everyone has access to a BBQ or even outside space (welcome to London life). No need to panic, you can make use of the grill and griddle pan to create that delicious charred effect.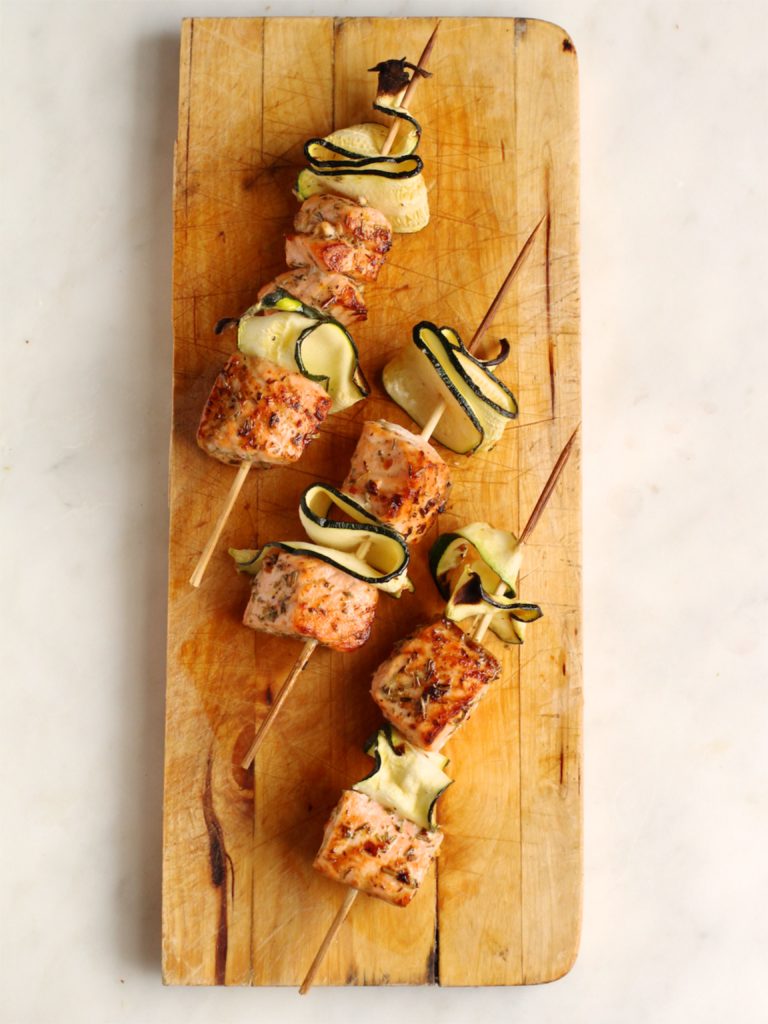 The marinade is really simple; a touch of heat from some chilli flakes, plus a herby lemon zing. If you buy good quality salmon it really doesn't need much to make it sing. I buy fresh fish so rarely these days, but when I do I like to visit and chat to my local fishmongers, and ask their advice for what will work best in the recipe I have dreamt up. On this occasion I needed a piece of fish that works well in chunks, and take well to marinating, salmon is great for this if you use the fleshier part of the cut.
With fish the trick is to make the marinating time right. Thirty minutes will be plenty – as much more than that, it will start to fall apart due to the acid from the lemon juice (fresh ginger is another culprit for breaking down fish).
To make this dish even more special it needed something to go with, and what dish isn't improved by something creamy in texture? I've made broad bean dip before, but it was many years ago, and since there are coming into season now I decided to revisit the idea. It may look like pea hummus, but the flavour is quite different. More texture, a little more fibre and protein per serving, and definitely more patience required for slipping the beans from their pods and then their skins. You can use fresh or frozen broad beans for this recipe, whatever works best for you.
Dig in whichever way you like: Spread a flatbread with dip, pile in the fish and roll up and eat with your fingers. Or if you're being more refined eat the fish with a knife and fork, and use the flatbread to mop up the sauce on the side.
Serve with a side salad (hello first home grown nasturtium of the year!), and if you're really hungry, some seasonal new potatoes would be a wonderful addition.
Hope you enjoy recreating these salmon and courgette skewers, broad bean dip and grilled flatbread at home. Don't forget to serve it with a glass of chilled Appletiser.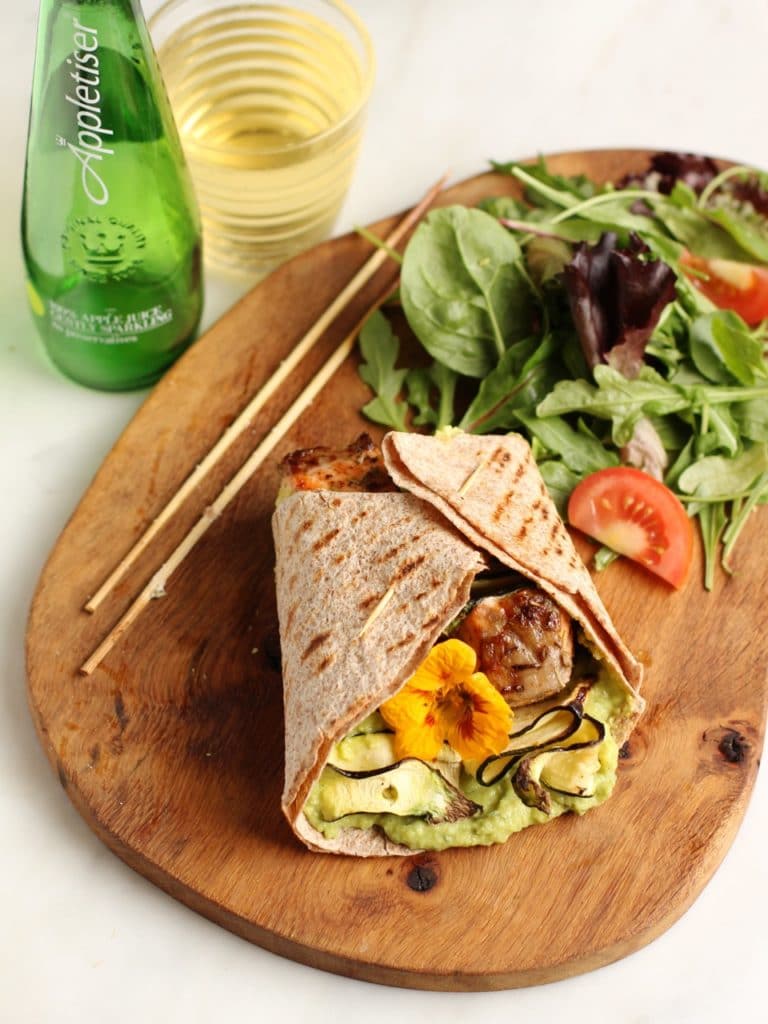 —–
Salmon and Courgette Skewers with Broad Bean Dip & Grilled Flatbread
Salmon and Courgette Skewers with Broad Bean Dip and Grilled Flatbread
As we head into summer, it's time to grab your BBQ or grill and make these salmon and courgette skewers. For super seasonality accompany the skewers with a broad bean dip, fresh leafy salad and mop it all up with some grilled wholemeal flatbread.
Ingredients
Salmon
400g salmon fillet, cut into 2cm chunks
1 courgette, peeled into ribbons using a mandolin, peeler or knife
1 tbsp olive oil
juice and zest of half a lemon
1 tsp dried oregano
½ tsp chilli flakes
pinch of sea salt and black pepper
Broad bean dip
175g podded broad beans (with their skins on), around 90g once cooked and skins slipped off
3 tbsp extra virgin olive oil
Juice of half a lemon
1 clove of garlic, minced
handful fresh mint leaves
pinch sea salt and black pepper
To serve
2 x wholemeal tortilla, flatbread or pitta bread
side salad
Instructions
First marinade your fish. Put the fish chunks into a shallow bowl of dish, and add the marinade ingredients; oil, lemon zest and juice, oregano, chilli flakes, salt and pepper. Rub the marinade into the fish, then cover and chill for 30 minutes.
Meanwhile make the broad bean dip. Blanch the beans in a saucepan of boiling water for 4-5 minutes, drain, cool under cold water and then slip off the skins. This requires patience! Put the beans into a food processor then add the oil, lemon juice, garlic, mint, salt and pepper and blend until smooth. Taste and adjust seasoning. Add more oil or lemon if you want a smoother texture.
Pre-heat grill (or BBQ) to a medium heat.
Now make your skewers. Add a chunk of salmon, and then wave on a courgette ribbon so it is folded over itself. Repeat with another piece of salmon and courgette. More if your skewers are longer.
Put the skewers under the grill, and cook for 5-6 minutes on each side on a medium-high grill until browned and the salmon flesh is cooked through.
Meanwhile warm the flatbread on a hot griddle pan or warm in the oven, this will make it more pliable.
Take to the table in a platter along with a fresh leafy salad and let your guests serve themselves.
Notes
You will need 6 wooden skewers, soaked in water for 30 minutes prior to cooking.
Pin me for later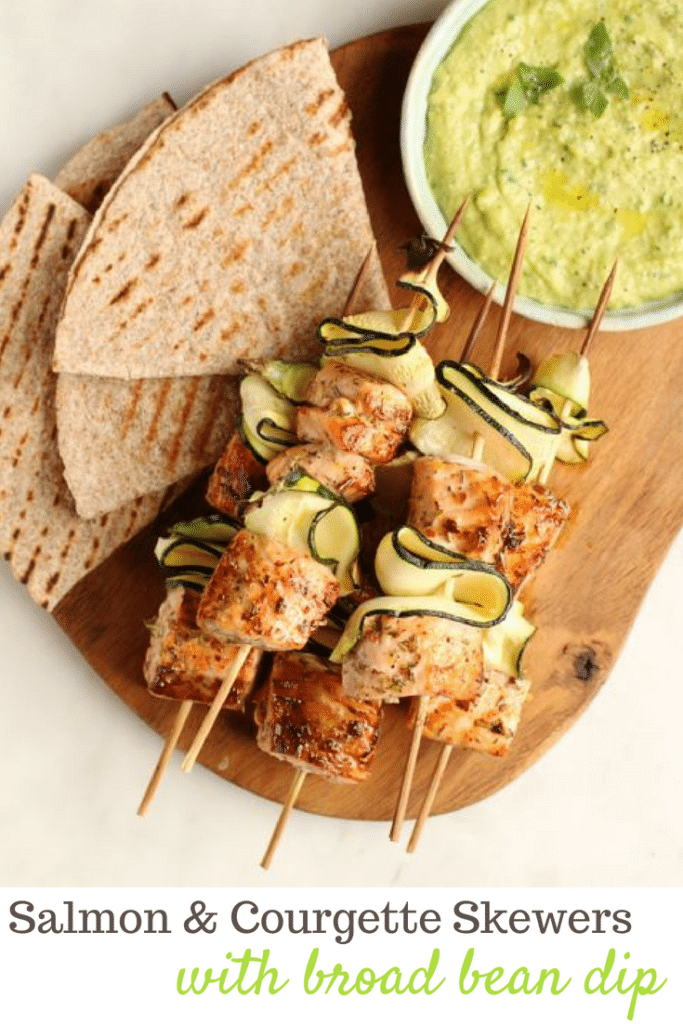 Disclaimer:  This post and recipe was commissioned by Appletiser. Thank you for supporting the brands who help make it possible for me to continue developing and sharing recipes on Natural Kitchen Adventures.