A simple and seasonal idea for the beautifully unique romanesco involving a can of tomatoes and chunks of warm feta.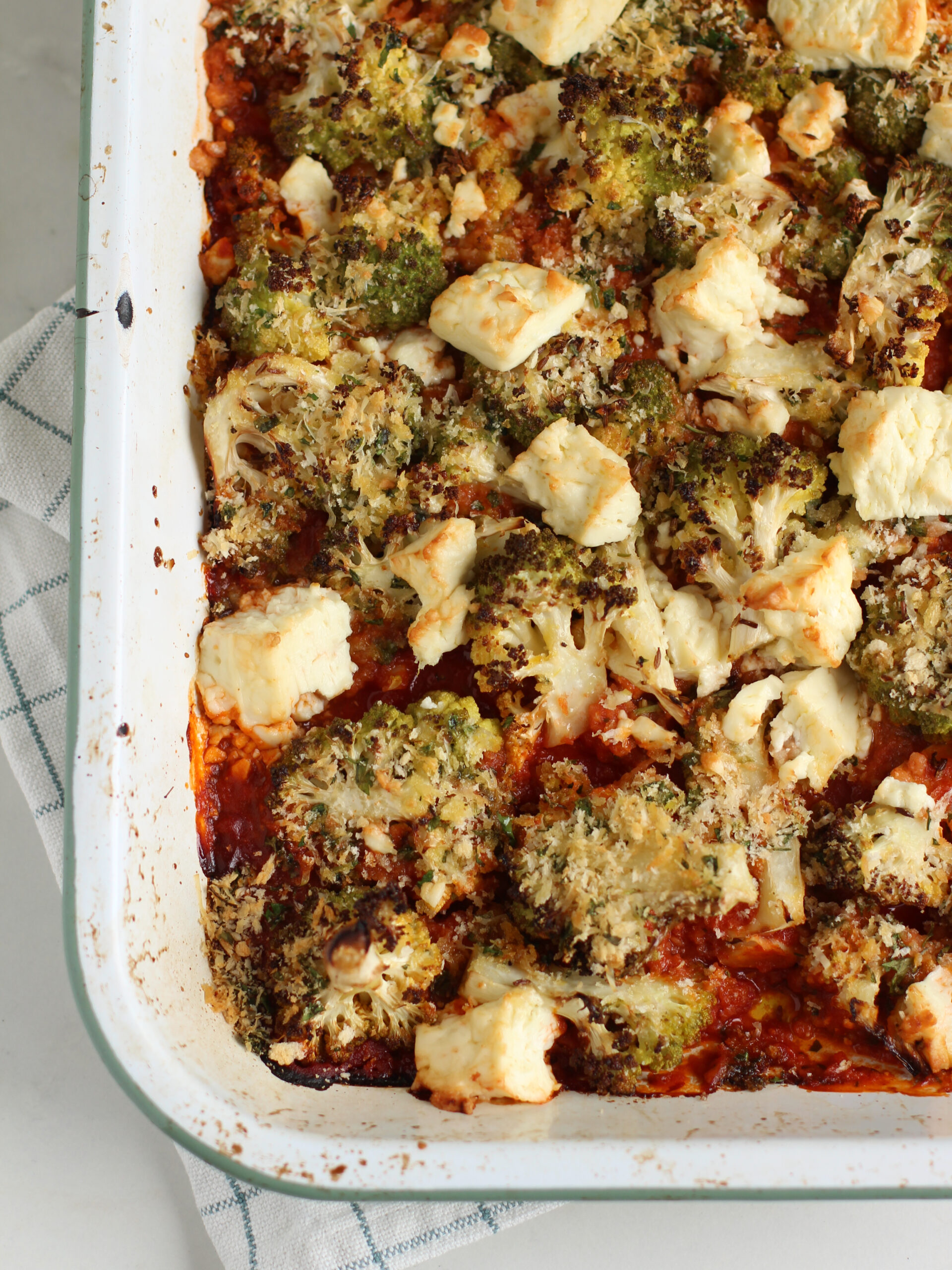 Romanesco is an unusual looking vegetable, but behind those vidid green fractal patterns, and conical florets it's really just a brassica that is half way between a cauliflower and broccoli. In the kitchen I like to treat it like a cauliflower, which means that I'm more inclined to roast it than anything else. It's slightly nutty and so lovely with chilli and lemon zest. Great added to a warm grain or pulse based salad, or you can enjoy it in this Mediterranean inspired tomatoey feta bake.
You might occasionally find a romanesco in a larger supermarket (more likely via an online order), but you should find one more easily at a good greengrocers or farmers market. Unusual can so often translate to expensive so check the price before buying. A bit of shame, because when I've bought these in supermarkets in France whilst catering they are no more expensive than regular cauliflowers.
I first made a version of this bake back in the summer for a kids class at the Garden Museum, where we were learning about vegetable DNA. I've since adapted the recipe including adding cumin and lemon to complement the romanesco and chunks of feta onto the top; warm chunks of molten feta are a recent obsession of mine.
If you can't get hold of a romanesco, try making this with regular cauliflower or broccoli. Although broccoli will cook quicker, so reduce the timings of the pre-bake before the toppings to 15 minutes. I encourage you to use this recipes as a template and play around with the herbs and spices to your tasting.
Romanesco & Tomato Feta Bake
A simple and seasonal idea for the beautifully unique romanesco involving a can of tomatoes and chunks of warm feta.
Ingredients
Extra-virgin olive oil
2 garlic cloves, finely chopped
pinch chilli flakes
1 x 4-500g carton/ bottle passata
1 medium sized romanesco cauliflower, broken into small chunks/florets
1 lemon, zested
1 tsp cumin seeds
4 tbsp panko breadcrumbs
4 tbsp finely grated parmesan cheese
2 tbsp finely chopped parsley
125g feta, broken into large chunks (add more if you're stretching this to serve 4!)
Salt and pepper
Instructions
Preheat your oven to 180°C(fan)/200°C/400°F/Gas mark 6.
First make your tomato sauce. Heat 1 tbsp extra-virgin olive oil to a medium-high heat in a small saucepan. Saute the chopped garlic and chilli for a minute or so, then add in the passata. Season with salt and pepper. Bring to a light bubble and simmer for around 10 minutes for the garlic to infuse, and the passata to thicken and reduce slightly. Taste and adjust seasoning.
Spread the tomato sauce across the bottom of a baking dish around 25x30cm so that it just covers.
Toss the romanesco florets with 2-3 tbsps of olive oil so lightly coated, along with the cumin seeds, salt and half of the lemon zest. Spread the florets over the top of the tomato sauce, in one single layer, not too tightly packed. Bake for 20 minutes or until the romanesco is starting to catch and is just tender (stick a knife into the stalk to check, it should glide right in).
While it bakes mix together the breadcrumbs with the parmesan, parsley and the rest of the lemon zest. After 20 minutes, pull the bake out of the oven and scatter over the breadcrumb mix, and finally the chunks of feta. Drizzle a drizzle of olive oil over the top, then return to the oven for around 15 minutes till the feta is oozy and the breadcrumbs and parmesan browned.
Eat straight away, while the feta is still soft and molten.
Notes
Serves 2 as a main or 3-4 as a side

If using broccoli instead of romanesco, reduce the pre-bake to 15 minutes