A bright and colourful romanesco salad with beluga lentil and rainbow carrots, is just what I need to start off 2019 with a vegetable loaded bang.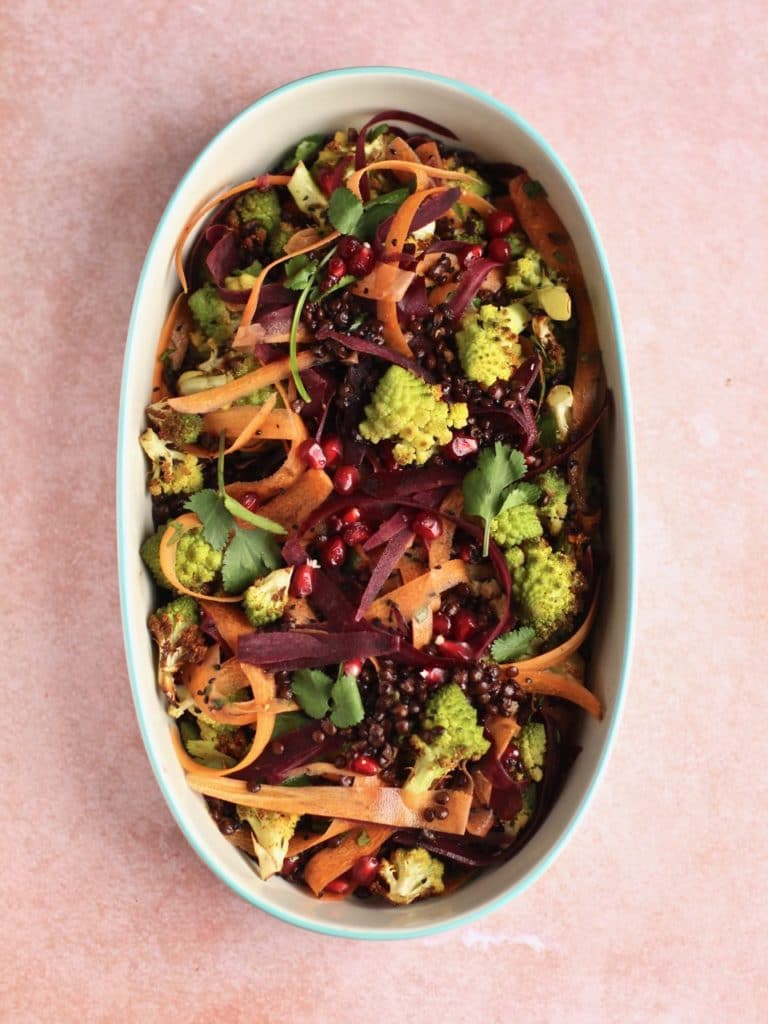 Happy new year one and all.  I thought I'd start off 2019 like I mean to go on and fill it with fruit and vegetables. Not as many of them as usual were eaten over the Christmas period you see (a chocolate orange doesn't count), and so, now that life and work is back to normal it's time for normal service to resume.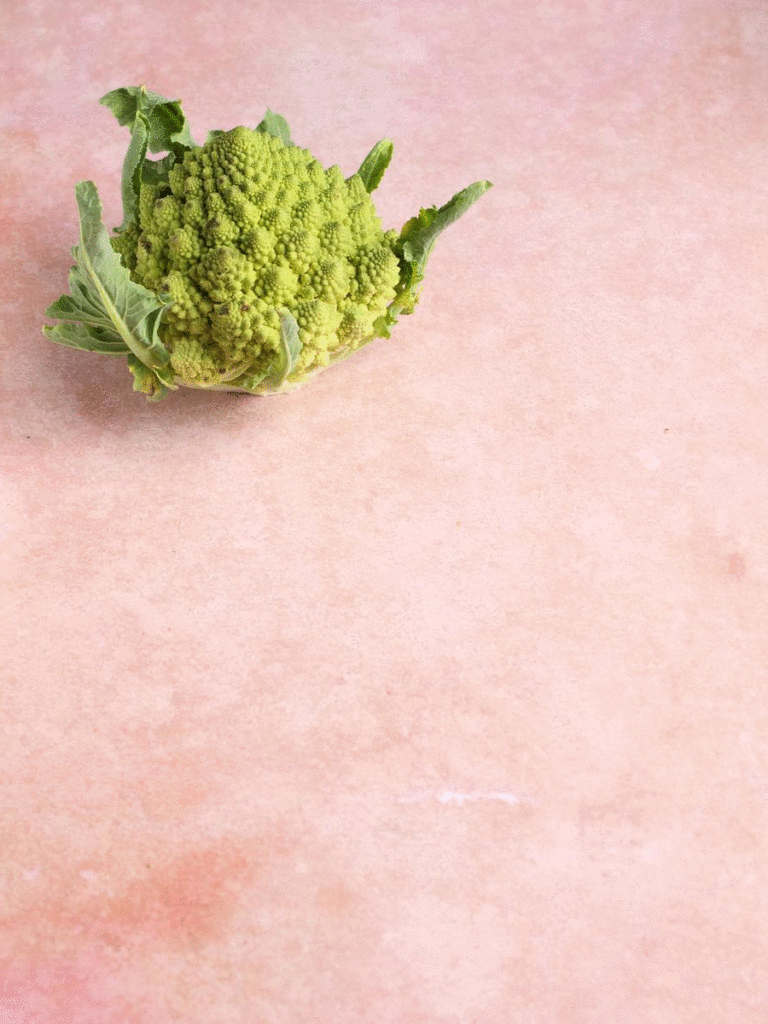 I hardly cooked at all for the last few weeks, and it's taken me a few days into the new year to feel like I want to. The more I cook, the more I enjoy it it, so when I don't do it (professionally and personally), I forget what I'm missing. I guess I have the same relationship to many things in life, reading, running, yoga, etc. Is this just me?
Today, I headed into the kitchen with the desire to cook something veg-loaded and fairly simple, combined with a must to use up the beautiful vegetables I already had in the fridge.  Luckily my veg bag scheme (Lee Greens) resumed service last week, and we were spoilt at the start of the new year with the weird and wonderful looking romanesco as well as some rainbow carrots. I had a pomegranate left over from Christmas (bought them to add to prosecco), so all I needed to buy was some coriander. When I say needed, I mean wanted.
I've not shared a romanesco recipe on the blog before.  It amazes me that almost seven years after I started blogging I can still find new things to share on here. Romanesco is from the cruciferous family, and is somewhere between a cauliflower and a broccoli. They're not that common to be honest, but if you get the chance do seek them out.  A romanesco is so beautifully interesting to look at, and has a milder taste – less sulphurous perhaps – to the cauliflower.  Once broken up the florets tend to be smaller than those on a cauli, but I usually prepare it in the same way. As with most vegetables, I like to roast.
As for seasonality depending on where you live, you should be able to get a romanesco for much of the year (as you can,  cauliflower). I've also found them in Italian supermarkets in April and French supermarkets in June.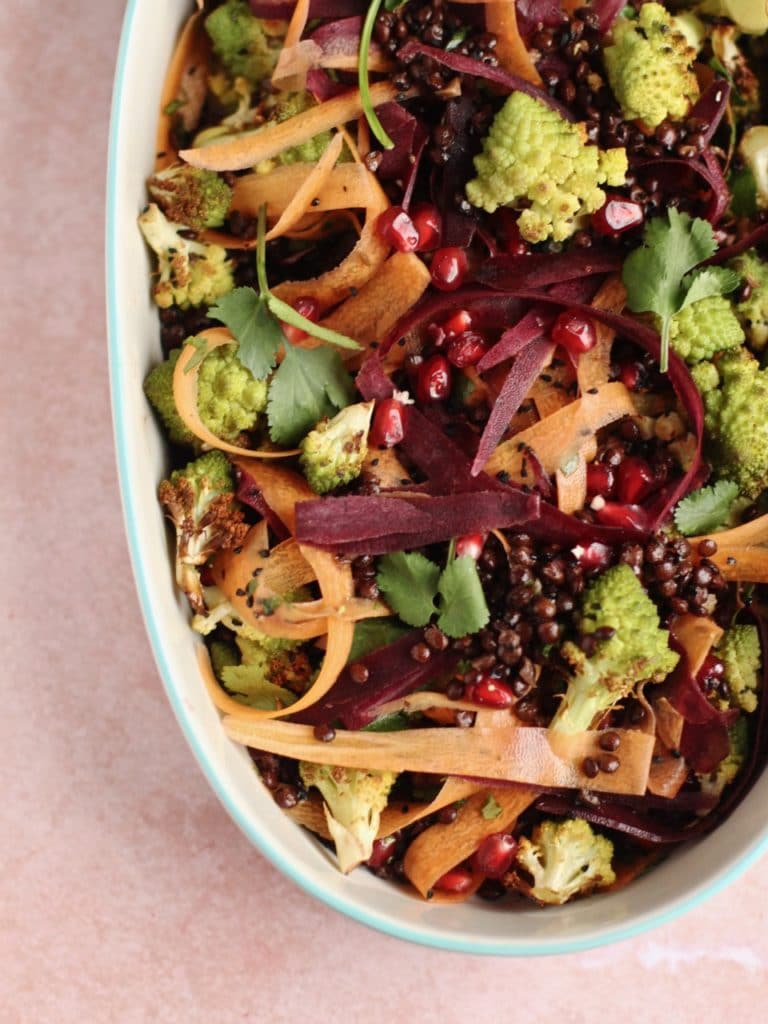 This salad is incredibly quick to make, and if you use pre-cooked lentils like I did (again, they were in my cupboard) then the only cooking involved is the romanesco, and that only takes 15 minutes.  If you prefer a warmer, heartier salad then you could also roast the carrots in small pieces.  These generally take 30-40 minutes in the oven to fully caramelise so if you have the time go ahead!  I've actually made something similar in the past using buckwheat or quinoa instead of the lentils, so as always you can mix it up.
The key to the flavour of this salad is the nigella seeds (also known as black onion seeds or kalonji), adding both texture and flavour to the dish, don't skip them. The seeds pair so well with both cauliflower and carrots, and I'm loving sprinkling them on many dishes at the moment. 
You can serve this alongside all manner of main dishes – fish, slice of frittata, falafel, or just eat a pile of it on its own as I did. The salad is indeed vegan (as most salads are), and I'm only mentioning it if that helps you with your vegan January menu planning rather than telling you to eat it 'cos its vegan. We don't do dietary labels at Natural Kitchen Adventures (any more at least), we just like to eat what we fancy and tastes good.
—–
Romanesco, Beluga Lentil and Rainbow Carrot Salad
Romanesco, Beluga Lentil and Rainbow Carrot Salad
A bright and colourful romanesco salad with beluga lentil and rainbow carrots, is just what I need to start off 2019 with a vegetable loaded bang. Serves 2 as a main, 4 as a side
Ingredients
Salad
1 Romanesco, broken into small florets
1 tablespoon olive oil
1 clove garlic, minced
1 teaspoon cumin seeds
pinch chilli flakes
pinch sea salt
250g cooked beluga lentils
4 rainbow carrots (use a variety of carrots if you can), peeled into ribbons using a peeler
handful of coriander, some leaves left whole, some roughly chopped
handful of pomegranate seeds
1 tablespoon Nigella seeds
dressing
1 tablespoon olive oil
1 teaspoon pomegranate molasses
½ teaspoon apple cider vinegar
Salt and pepper, to taste
Instructions
Pre-heat the oven 10 180ºC
Toss the chopped romanesco in the olive oil and add the minced garlic, cumin seeds, pinch of chilli flakes, and sea salt. Roast in the oven for 15 mins or until tender and slightly charred.
Make up the dressing by combining the olive oil, pomegranate molasses, vinegar and season with salt and pepper.
Meanwhile tip the cooked beluga lentils into a large mixing bowl and stir through the dressing. Add the carrot ribbons, pomegranate seeds, coriander and nigella seeds (reserve some of all of these for garnish).
When the romanesco is cooked add that in warm and combine well.
Transfer to a serving dish and top with the reserved carrot ribbons, pomegranate seeds, nigella seeds and coriander.
Will keep in an airtight container in the fridge for 3 days.
Notes
If you don't have pomegranate molasses you can replace with balsamic vinegar
If this has inspired you to get cooking with romanesco, here are some other recipe ideas
Pin me for later