Roasted vegetable & chickpea salad with a smokey paprika dressing. A colourful salad with sweet potato, pepper and cauliflower to feed a crowd.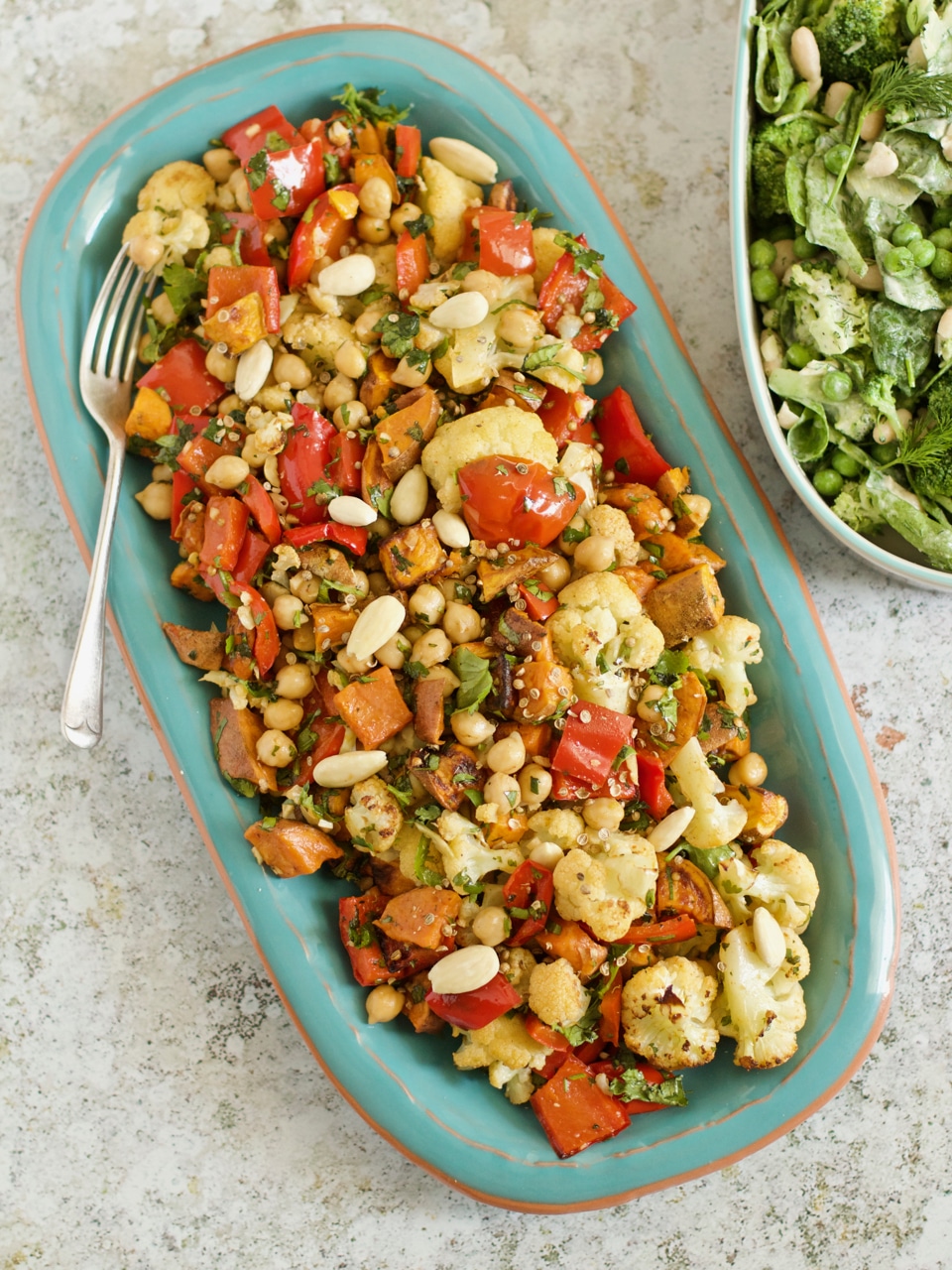 I originally shared a version of this recipe in April 2014. I have made it many many times since, but only just had the idea to refresh the photos.
This is the kind of salad dish I absolutely love to make for lunchtimes when I'm catering on retreats. I mostly don't even follow a recipe as it's a great way to make the most of whatever ingredients I have in the fridge. By the final day of a retreat things can have deviated quite a way from my original plan. You never know how hungry people are going to be and what's going to be leftover (or whether I've changed my mind about a dish having had a flash of inspiration for something better).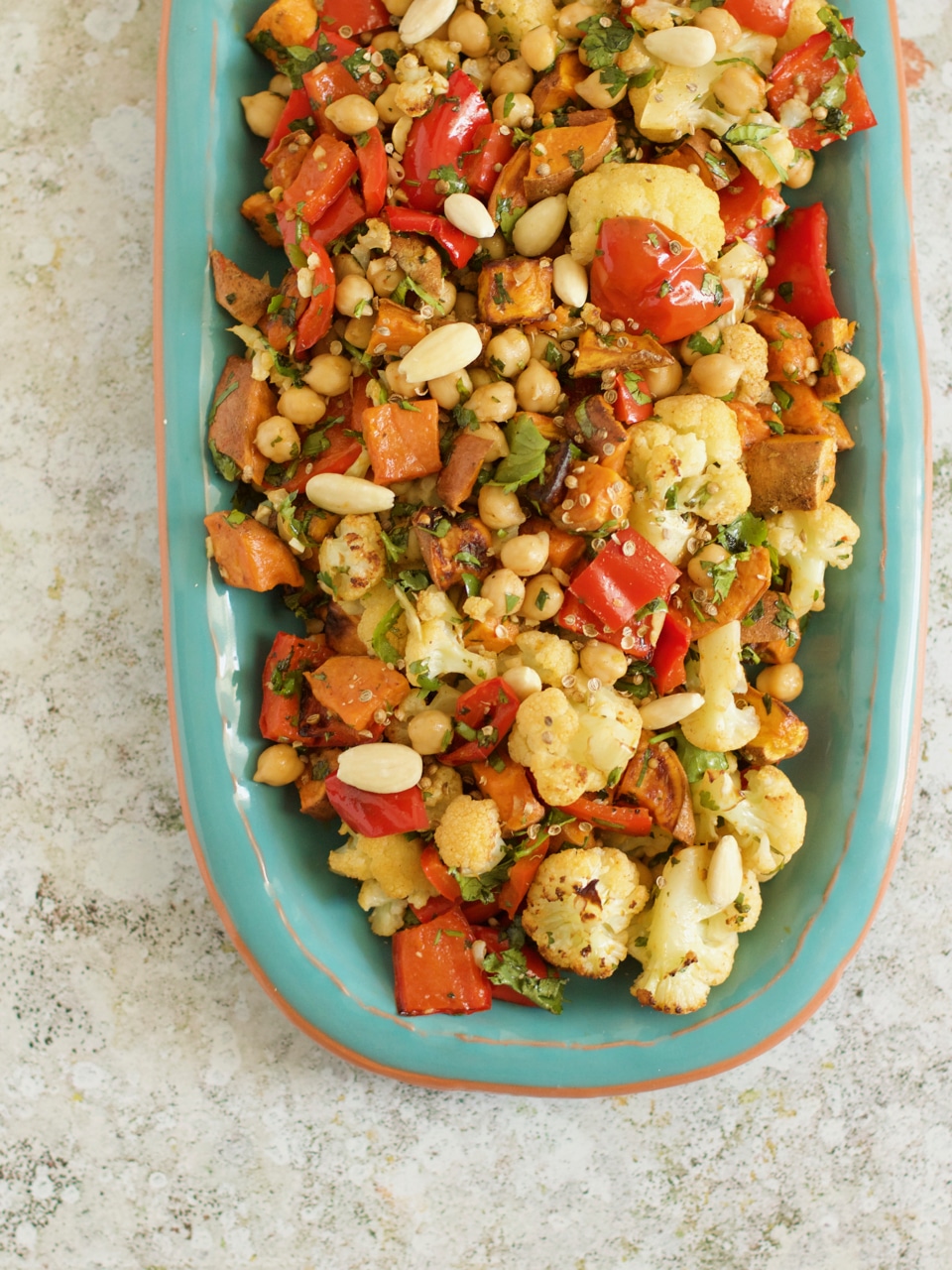 This dish follows a simple formula. 2-3 types of roasted veggies + tin of beans + flavourful dressing + herbs + garnish.
Feel free to top with grilled halloumi, a sprinkle of feta or replace the coriander seeds and almonds with a sprinkle of Egyptian Dukkah.

Roasted Vegetable Salad with a Smokey Paprika Dressing
Roasted Vegetable Salad with a Smoky Paprika Dressing, a colourful salad with sweet potato, pepper and cauliflower to feed a crowd.
Ingredients
Salad
Sweet potato, approx 500g, large dice.
1 small cauliflower, diced into bite-sized pieces
2 red bell peppers, small dice
1 x 400g can of chickpeas, drained
large handful fresh coriander, chopped
2 tsp coriander seeds, toasted and lightly crushed
2 tbsp toasted flaked Almonds (or whole almonds, I like the blanched ones)
Extra-virgin olive oil
Sea salt
Dressing
3 tbsp extra-virgin olive oil
1 lime – use all the zest and 1 tbsp of juice (or lemon)
1 clove of garlic, minced
½ tsp smoked paprika
½ tsp cumin
pinch salt & coarsely ground black pepper
Instructions
Pre-heat oven to 220ºC / 200ºC (fan)
Toss the potato in ½ tbsp or so of olive oil and a pinch of salt. Lay on a lined baking tray and cook in the oven for 10 mins, then toss the cauliflower & peppers in ½ tbsp or so olive oil and a pinch of salt and place on a second lined baking tray and place in the oven. Cook everything for a further 20 minutes.
Whilst the veg are in the oven prepare the dressing. Whisk together the olive oil with the lime juice, zest, garlic, spices and season.
When all the veg are done and still warm combine in a bowl with the chickpeas half of the toasted coriander seeds and pour over the dressing. I like to do this warm so the heat of the vegetables takes the edge of the warm garlic and warms the chickpeas. Allow the salad to cool off a little before tossing with fresh coriander and topping with the almonds and more coriander seeds. Season to taste
Notes
Replace the sweet potato with butternut squash in the early autumn.
Recipe and photographs updated June 2020.