Sweet roasted carrots with dill & tahini yoghurt. A simple side made from humble carrots using roll cut knife technique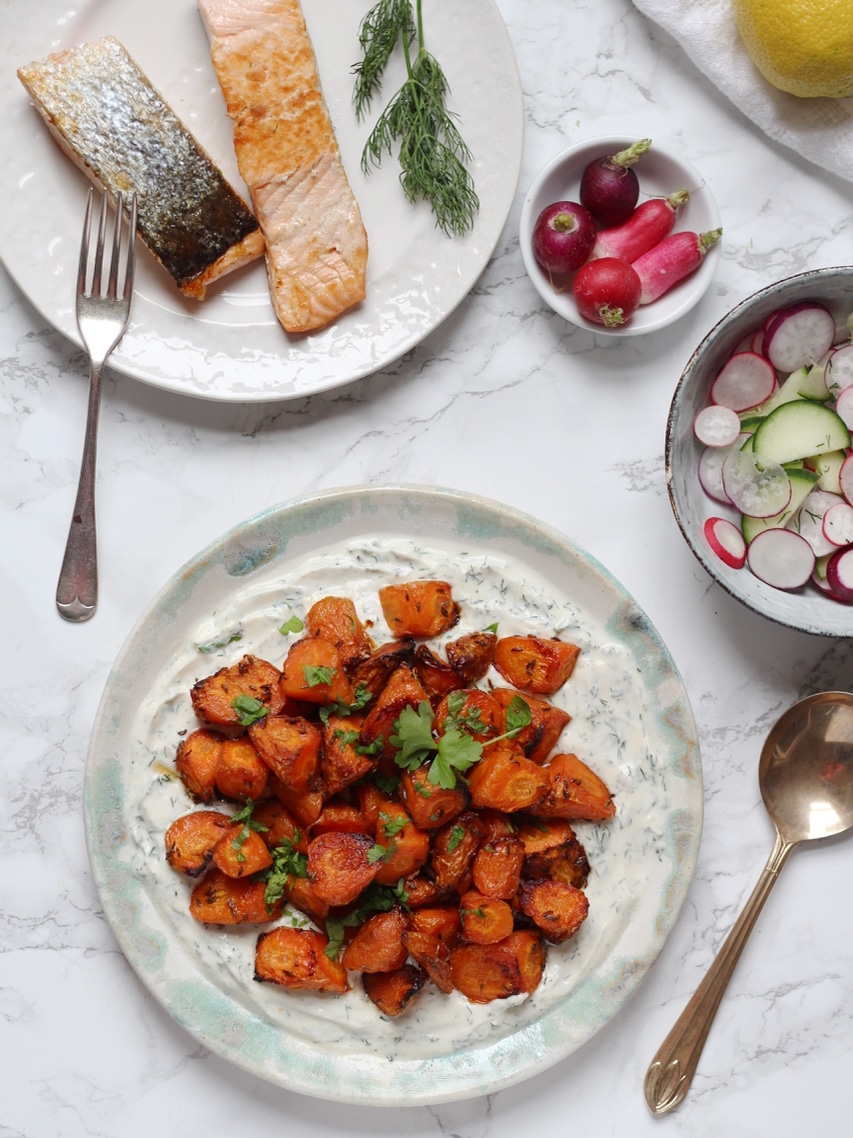 On my last yoga retreat I cooked my usual array of vegetarian goodies; from granola to roasted tomatoes and eggs for breakfast, an experimental asparagus and feta tart for lunch and miso aubergines and chocolate cake for dinner.  But it was this simple side dish carrot recipe that I was asked for. Not one to disappoint I promised to get it up on the blog as soon as I could!
I have always loved carrots, perhaps because they have such a sweet flavour or maybe because they make an excellent crudité that has helped me through many an afternoon snack without a truck load of calories.  It was a nice surprise when my logo was designed a few years ago and incorporated this favoured vegetable, with no prompting from me.  I look at carrots in a different way now, especially with their fronds still attached (pic below from a bunch at Brockley Farmers Market last weekend!)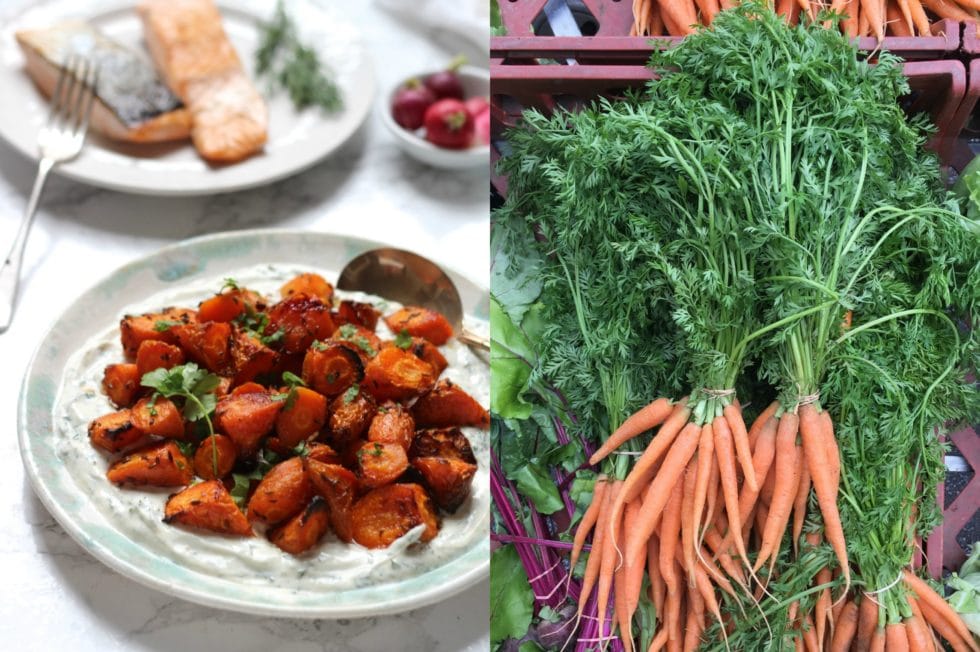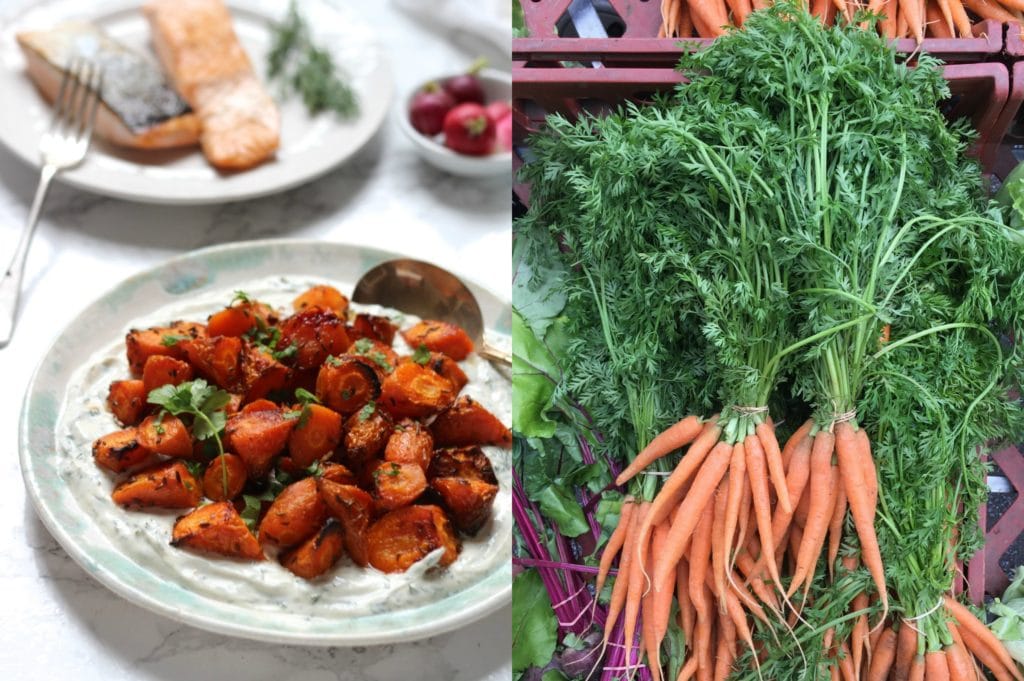 Carrots are pretty much around in the UK all year, and because of this, I think we rather overlook them. When was the last time anyone got excited by a carrot? (in comparison to asparagus for example – which everyone is currently going nuts for).  The carrot season officially starts in June and runs through to May, and the flavour of them will differ throughout the year.  I'm particularly fond of the heritage rainbow carrots, that come in purple and yellow especially the ones that reveal an orange glow when you cut into them; these however tend to be harvested later in the year.
I learnt to roll cut vegetables during my chef training, and this type of cut is perfect for this dish.  The aim is to cut the carrots so that they have roughy the same volume; it helps them all to finish cooking at the same time.  It's also a quick way of chopping (once you get the hand of it), and I believe dreamt up so that veg for soups and stocks could be chopped quickly and thrown into the pot.  I'm using it for this dish as I rather like the shape of the carrots; much more pleasing to the eye than roughly chopped chunks.
Instead of explaining how to do this cut you can see for yourselves in my quick video . Top tip – don't let your knife tip leave the board!
On the retreat I served the carrots alongside twice baked sweet potatoes, and a quinoa (or buckwheat or cauliflower – I've done all 3) tabbouleh.  At home today I added a simple radish and cucumber salad and a piece of crispy skin pan-fried salmon.
Sweet Roasted Carrots with Dill & Tahini Yoghurt
Sweet roasted carrots with dill & tahini yoghurt. A simple side made from humble carrots using roll cut knife technique
Ingredients
Carrots
650g carrots, scrubbed peel left on and roll cut (see video)
1 tbsp olive oil
½ tsp maple syrup (or honey)
1 tsp caraway seeds
zest of half a lemon
Yoghurt
200g organic natural yoghurt
1 tbsp tahini
1 lemon, juiced
7g dill, finely chopped
Salt and pepper to taste
Instructions
Pre-heat oven to 180C.
Toss the carrots with the oil, lemon zest, caraway, maple syrup and salt. Spread out on a lined baking sheet and roast in the oven for 45-50 minutes, checking regularly to avoid burning.
Meanwhile make the yoghurt by combining all of the ingredients in a small bowl, and seasoning to taste. Set aside.
When the carrots are fork tender remove from the oven and let cool for 5-10 minutes, if you add them to the yoghurt too soon it will split.
Spoon the yogurt over your serving plate/platter and when the carrots have sufficiently cooled, pile them on top and scatter over some parsley. Alternatively you can serve the yoghurt as a separate dressing on the side.
What's your favourite way of enjoying carrots?  Here are some side dish ideas from fellow bloggers;