These no bake brownies are my favourite way to enjoy a hit of cacao.  An old favourite recipe of mine, these have been modernised for 2018 with a drop of coffee extract and some new photos!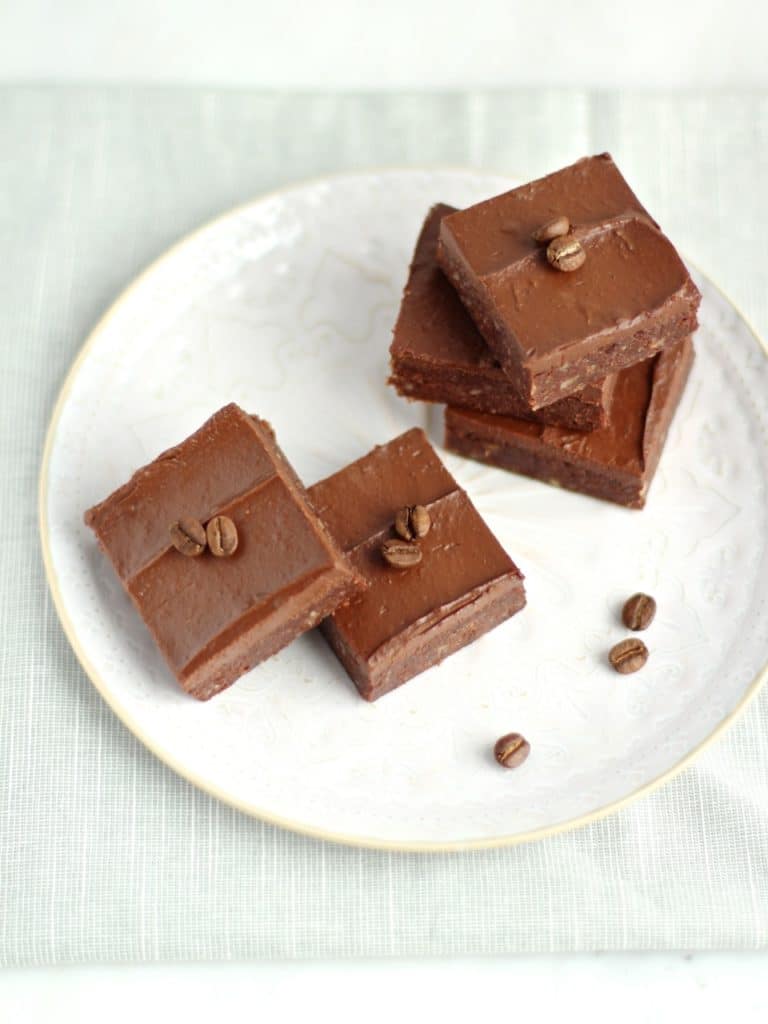 Chocolate brownies are a contentious subject for me.  Over the last few years I gradually came to the conclusion that if they weren't made with proper sugar and butter they just didn't hit the spot.
So, I stopped trying to make 'healthier' versions (there are a few attempts on here from way back when), and generally decided to eat the real thing whenever the craving hit.  I nearly always discovered that on eating said brownie I didn't want to eat one again for a wee while.  Brownies should be rich, sweet, fudgy and a bit OTT (over the top). Plus a must for me is that they should be absolutely cold from the fridge rather than warm and crumbly from the oven; warm sponge is the texture I detest most in the whole world.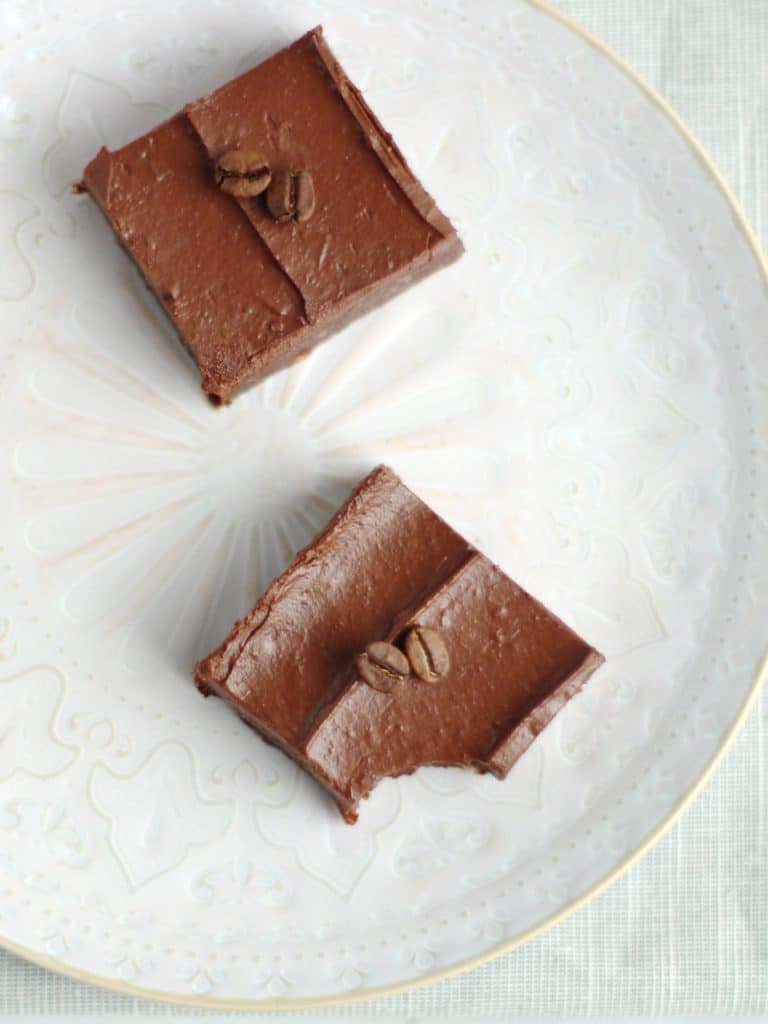 Perhaps it's because I'm not that fond of warm cake crumbs (yeah, weird I know!) that I absolutely love these no bake brownies, which controversially, don't contain butter and proper granulated sugar.   I've been making these since way back when my blog was invented, and I decided for 2018 the recipe (tasty addition of coffee extract!) and photographs could do with a re-vamp.  They contain crumbly walnuts, gooey medjool dates, and rich chocolately raw cacao, plus an all important pinch of salt which totally brings the whole thing together.  They are sweet, chocolatey and gooey enough to ensure they deliver on my brownie non-negotiables.  I find them consistently easier to make than traditional brownies, and that's never a bad thing. 
You can use raw cacao or cocoa powder in these, whichever you prefer the taste of.  Cacao does deliver a different taste.  I find it hard to explain, but it's less of a roasted flavour, yet more chocolately.  Whether it contains all those extra antioxidants every wellness guru makes a claim about (maybe even I did once – sorry about that) is still a mystery to me but I do love the taste.  Try eating a cacao or cocoa version side by side and you'll see what I mean.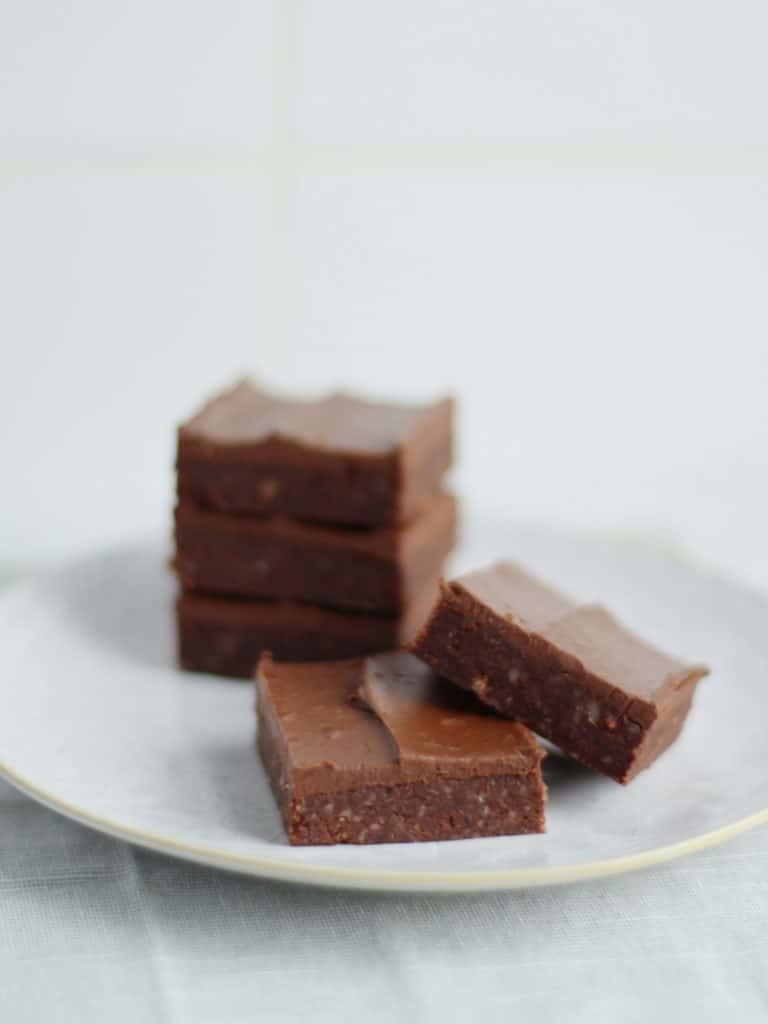 But, and here's a good point for discussion; are these really brownies at all?  I mean they look like a brownie, but maybe that's where the similarity ends.  Should I have chosen a slightly different name for them?  One that didn't try and fool you into thinking I intend these as an alternative to the real thing, but actually just another recipe to try at some point?
I am learning more and more that the language we use around food is SO powerful, and I'll be the first to admit I haven't always got that right.  The way we label our diets, or food choices, the emotions and morals that are attached to our choices, using the word healthy or vegan in front of everything just becuase it helps with SEO?  Is it all necessary?  I've often lamented that some recipe writers will happily tell you what's not in a dish, before they tell you what IS in it.  Can we just go back to food and recipes being described, chosen, cooked and celebrated for their flavour?  Maybe that could be a trend for 2018. 
In which case, perhaps you can help me come up with another name for these cacao espresso no bake brownies?  Answers on a postcard (or in the comments section) please.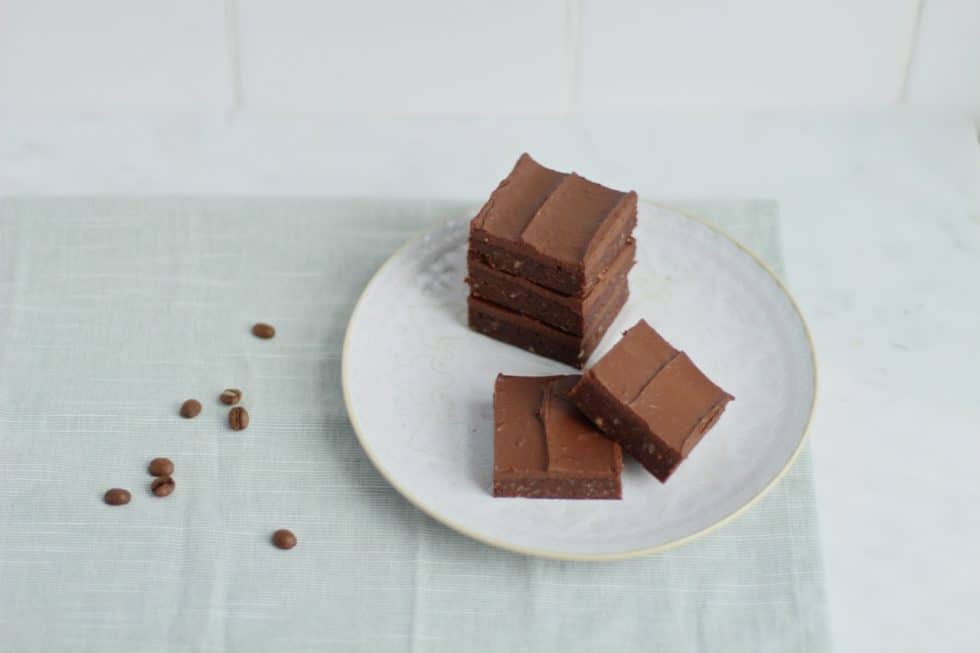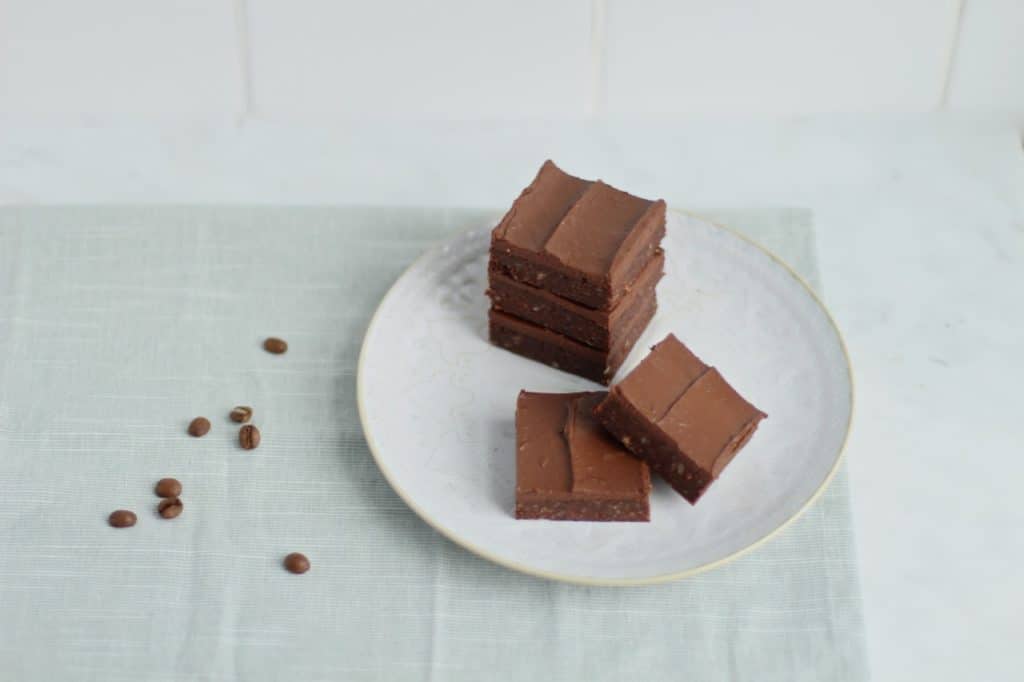 Cacao Espresso No Bake Brownies
These no bake brownies are my favourite way to enjoy a hit of cacao. An old favourite recipe of mine, these have been revived with a drop of coffee extract!
Ingredients
Base:
180g walnuts
200g soft medjool dates, pitted (bring to room temperature for best results)
50g cacao powder
1 tsp vanilla extract or pinch vanilla powder + tsp water
pinch flaked sea salt
Frosting:
1 large ripe avocado, stone removed and flesh scooped out
60mls / 4 tbsp melted coconut oil
50g cacao powder
2-4 tbsp maple syrup (depending on desired level of sweetness)
2 tsp coffee extract
pinch flaked sea salt
+ 24 coffee beans for garnish
Instructions
First make the base. Put the walnuts in a food processor and pulse until they resemble fine crumbs. Remove, then add in the dates along with the vanilla, blend until they come together into a large sticky ball. Add the walnuts back in along with the cacao and salt. Blitz again, the mixture will first turn into soil-like crumbs, and then it will start to stick together; you may need to scrape down the sides in-between blitzing. Pinch a bit of the mix together between your fingers and if it sticks, then you're good to go. If not, you may need to add a teaspoon or two of water.
Push the mix flat into the baking dish covering the base evenly, to around 1cm deep. If you use baking parchment in-between your hand and the mix it will be easier to get a smooth and even finish. Place in the fridge to set for at least 30 minutes (or overnight) while you make the topping.
Place all of the topping ingredients into a jug or the beaker that belongs to a small hand blender, and using a hand blender blend until completely silky smooth. Taste and add more coffee extract if you like for a stronger flavour. Smooth the topping over the firm brownie base using a spatula, and then transfer to the fridge to set again. When the top has firmed up, you can remove the brownie from its tray and cut into 12 or 16 squares. Top each brownie with one or two coffee beans.
Notes
You will need access to a food processor, hand blender and a 7 inch square baking dish lined with parchment paper. They're lovely with or without the frosting, and you could also roll them into balls.

These are best kept in the fridge (for 2 weeks) or freezer (for up to 3 months).
Pin me for later