A summer salad with peaches, mozzarella, croutons and a pesto made from home grown nasturtium leaves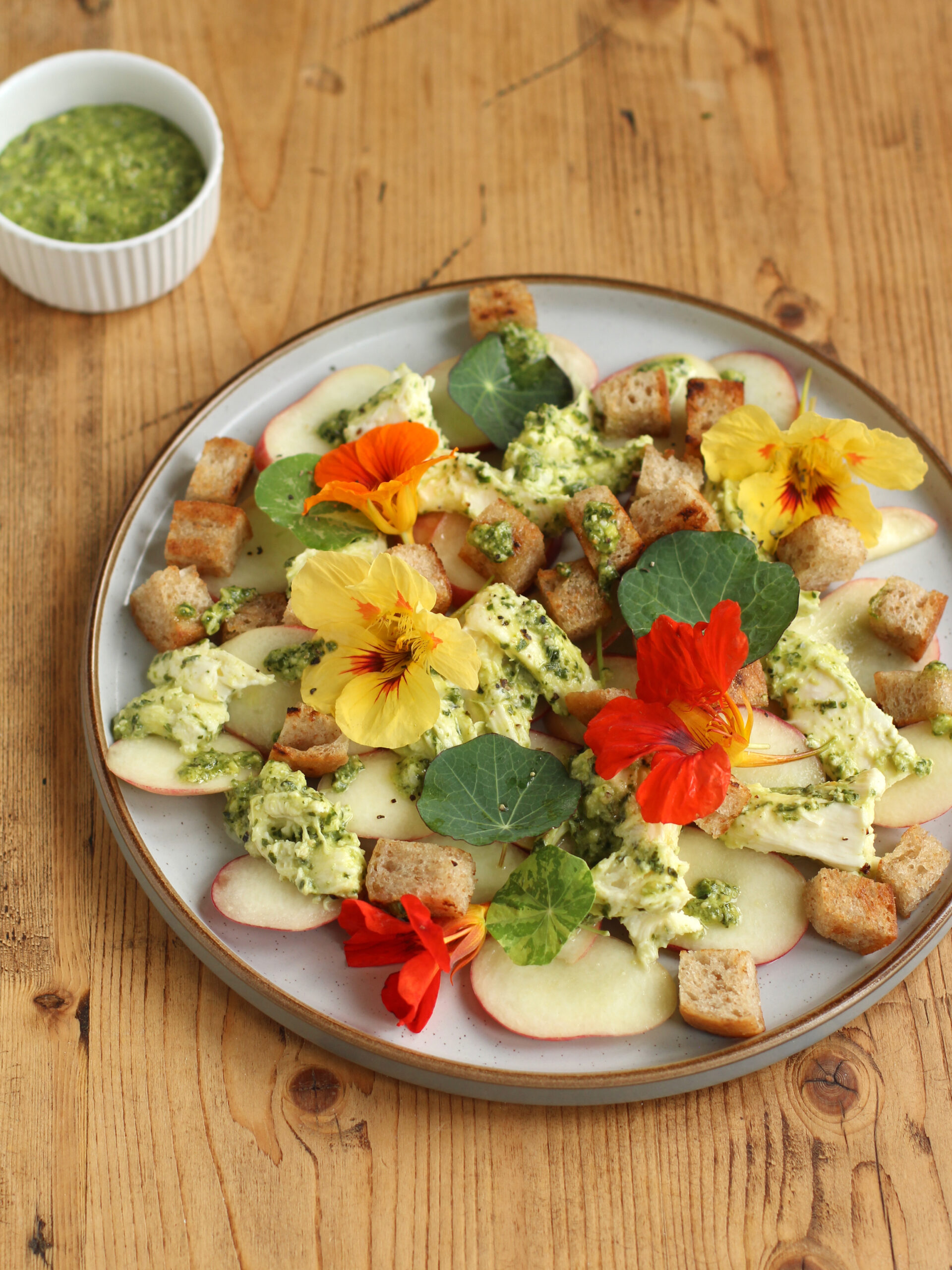 I've spent most of my adult life living in flats in London with no outside space, not by choice of course. In the pandemic I decided I'd had enough and went on an almost 18 month journey of swapping one flat for another, with two upgrades on the list of requirements. Firstly, an open plan kitchen living space so I no longer needed to feel like I was cooking in a corridor, and secondly some outside space. I didn't end up with the garden I'd dreamed of but instead a small north east facing balcony. Not quite big enough for the swing chair I'd dreamt of napping on, but big enough for a table and chairs and some plant pots.
This is my second summer in the new place, but my first at growing things. Last summer was so so hot, and I just didn't get round to it. Nasturtiums were on the must grow list for this year because; they're not something you can buy anywhere, I love the peppery flavour of the leaves and edible flowers, and they turn every dish into a work of art. They also thrive in poor soils which is handy for pot and balcony gardening.
Pesto is the perfect use for nasturtium's peppery leaves. I used to think they were too much, and combine them with milder parsley in a pesto. I've since changed my mind – and not just because my parsley plant died on me.
Anything peppery likes anything sweet, or creamy. Peaches and mozzarella do exactly what they need to do here. A simple, but beautiful recipe for lazy summer cooking.

Flat Peach, Mozzarella and Nasturtium Pesto Salad
Nasturtium Pesto Marinated Mozzarella with Flat Peach & Croutons
Ingredients
for the nasturtium pesto
25g pine nuts
1 clove garlic, finely chopped
25g nasturtium leaves
Juice of ½ a lemon (keep the rest for the salad)
5 tbsp extra-virgin olive oil
For the dish
1 ball mozzarella
1 tbsp nasturtium pesto
1-2 slices day old sourdough, sliced or torn into small cubes
3 flat peaches, thinly sliced
Handful small nasturtium leaves and flowers
Extra-virgin olive oil
Sea salt and black pepper
Instructions
For the pesto
Toast the nuts in a hot dry frying pan until lightly browned all over. Place into a food processor with the garlic, until roughly broken down. Add the nasturtium leaves and blitz briefly, then with the motor still running pour in the olive oil, lemon juice and add a big pinch of salt. Blitz until creamy but with some texture. Taste and adjust seasoning.
For the salad
Tear the mozzarella into bite-sized pieces and place in a small bowl with 1 tablespoon of the pesto. Leave to marinate while you prepare the rest of the salad.
Heat 1 tablespoon of oil in a frying pan to medium high and toss in the bread. Cook for 3-4 minutes until toasted and browned all over. Transfer to a plate to cool.
Thinly slice the peach and mix with a squeeze of lemon juice, a drizzle of olive oil and a pinch of salt. Spread out across a serving plate, then top with the mozzarella, croutons, nasturtium leaves and flowers. Season the top of the salad with black pepper and add an extra few drizzles of pesto if you like. Eat straightaway.
Notes
Any leftover pesto can be kept in a jar in the fridge for a few days. Stir the remainder through a bowl of pasta.