A cream cheese tart topped with asparagus spears. These individual tarts make the perfect portion. You can use muffin or cupcake trays to bake them.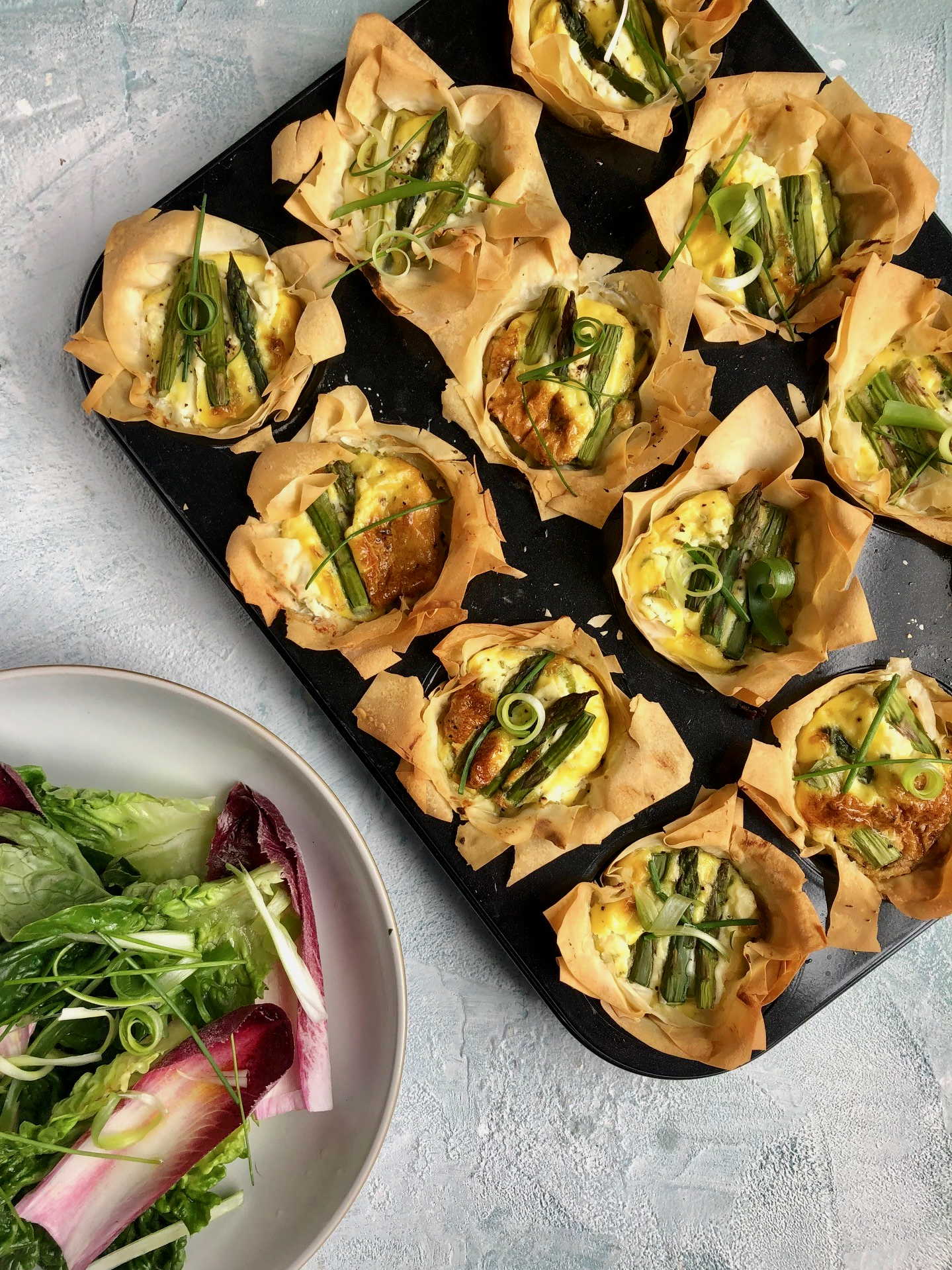 I'm fairly obsessed with the crispiness of olive oil brushed and baked filo pastry. These lovely little tarts with asparagus, leek, spring onions and chive (all the alliums) are really easy to make and look impressive. They're best served not too long after baking or else the pastry looses its crispiness. If you can't eat them all on the same day, give them a warm through in the oven before reserving, it will revitalise the crispiness.
Serve with a side salad and whatever else you fancy.

Mini Asparagus Quiche Style Filo Pastry Tarts
Ingredients
250g bunch asparagus
1 leek, thinly sliced
6 sheets filo pastry
200g soft cream cheese (such as Philadelphia or own brand)
2 spring onions, thinly sliced
A handful of chives (or parsley), chopped
6 medium sized free-range eggs
Olive oil
Instructions
Preheat oven to 180ºC (fan). Lightly grease a muffin tray using olive oil.
Heat 1 tbsp olive oil in a frying pan over medium-high heat. Cook the leek, stirring, for 5 minutes or until softened. Allow to cool.
Snap the woody ends off the asparagus and trim the asparagus spears into 3 sections so that they fit in the muffin trays. If the spears are very thick, split them in half lengthways. Bring a saucepan of water to boil, and boil the asparagus for 1 minute, before refreshing under cold water. Allow them to cool.
Mix the soft cheese together with the chopped spring onions and chives. Whisk the eggs with salt and pepper. Remove your filo pastry from the packet - gently it is very fragile. Take 3 stacked sheets and cut them into 4 smaller squares approx. 10-12cm big. The squares should be slightly bigger than the diameter of the muffin mould.
Take 3 squares at a time, and very lightly brush 2 of them on one side with olive oil.  Place 1 oiled square into a tart tin, and then top with the next oiled one, before finishing with the non-oiled one, adding each one slightly turned from the previous.
Divide the cooked leek between the tarts. Top with a heaped teaspoon of the cream cheese mix and then pour into the egg mixture till ⅔ full - don't overfill as the eggs will expand as they cook. Top each tart with 2-3 pieces of asparagus. Brush over any exposed pastry edges with olive oil.
Bake the tarts in the oven for 15-18 minutes or until golden and the egg is just set. Allow to cool for a few minutes before taking out of the tin to eat.