This is a thirty minute dinner dish, from simple home cooked ingredients. Warm lentils with roasted beetroot and fresh figs provide the base of the dish and crispy pan-fried mackerel brings one of your portions of oily fish to the menu. Paired with a chilled and refreshing glass of Appletiser* it makes for a delicious autumnal dinner.
*This post is commissioned by Appletiser.
I'm mad for figs this time every year. I don't know what it is about them I love so much.  Maybe the fact they're just at home topping one of my breakfast concoctions as they are in a salad or garnishing a dessert? The ultimate in versatility as you can fit them into any (and admittedly every) meal.
For my autumnal instalment of my paired Appletiser collection of recipes, I wanted to create a healthy dinner, and really play on some of my favourite autumn flavours.  Casting squash aside (for now), figs definitely had to be part of it.  The glass of sparkling Appletiser on the side, compliments all the flavours in the dish too, and provides a chilled and refreshing accompaniment.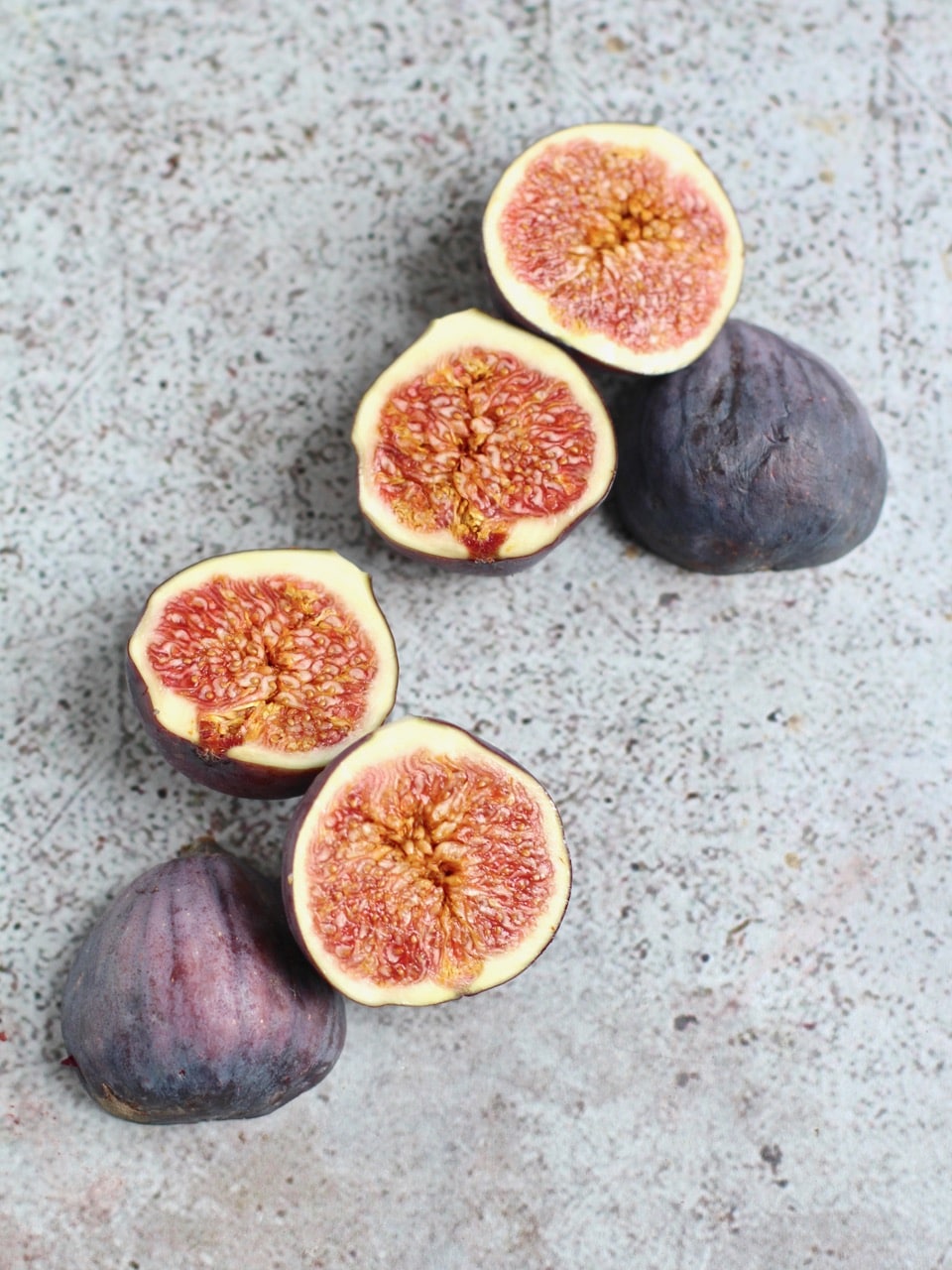 I've cooked with  locally grown figs of a different variety on a number of occasions, but the Bursa from Turkey are most definitely my favourite with their dark purple skin, and beautiful seeded blushing flesh. These figs are sweet and juicy, and are often paired with beetroot; I assume because they both carry sweet notes.
Figs, like avocados are annoying in that you never know if they're going to be good until you cut them open. I learnt recently that if they're not ripe when picked, then they will never ripen. It's a true joy to cut one open and reveal a perfect interior. Much less so, when it's all brown and mushy. My best advice to get round this is just to buy a few extra, especially when you're relying on them for a photo. I always try my hardest to select the best ones of the shelf by look and feel. A winning exterior does not always reveal a winning exterior. Gosh that could be a motto for life eh?
Mackerel is incredibly good for you and I haven't cooked it for ages, which is partly why it made its way into this dish. It's one of the oily fish the doctors tell us we need for our brains and our hearts, and we would all be worthy of a gold star if we could manage to eat at least one portion of oily fish a week. I can often be lazy and just reach for the salmon, or a tin of sardines, but I haven't even been doing that recently!
I usually buy my fish from a local fishmonger and ask them to fillet the whole fish into two perfect fillets for me. I do know how to do it myself, but to be honest I find the whole process rather time consuming and messy in my small kitchen, so there is definitely no shame in asking a pro to do it for me in a quarter of the time!
If you can only buy whole (it's not always sold as separate fillets), then there are a plethora of recipes you can use for whole stuffed mackerel.
Or, cheat even further and just serve this entire dish with smoked mackerel. Still worthy of that oily fish gold star, still excellent with a refreshing glass of sparkling Appletiser on the side.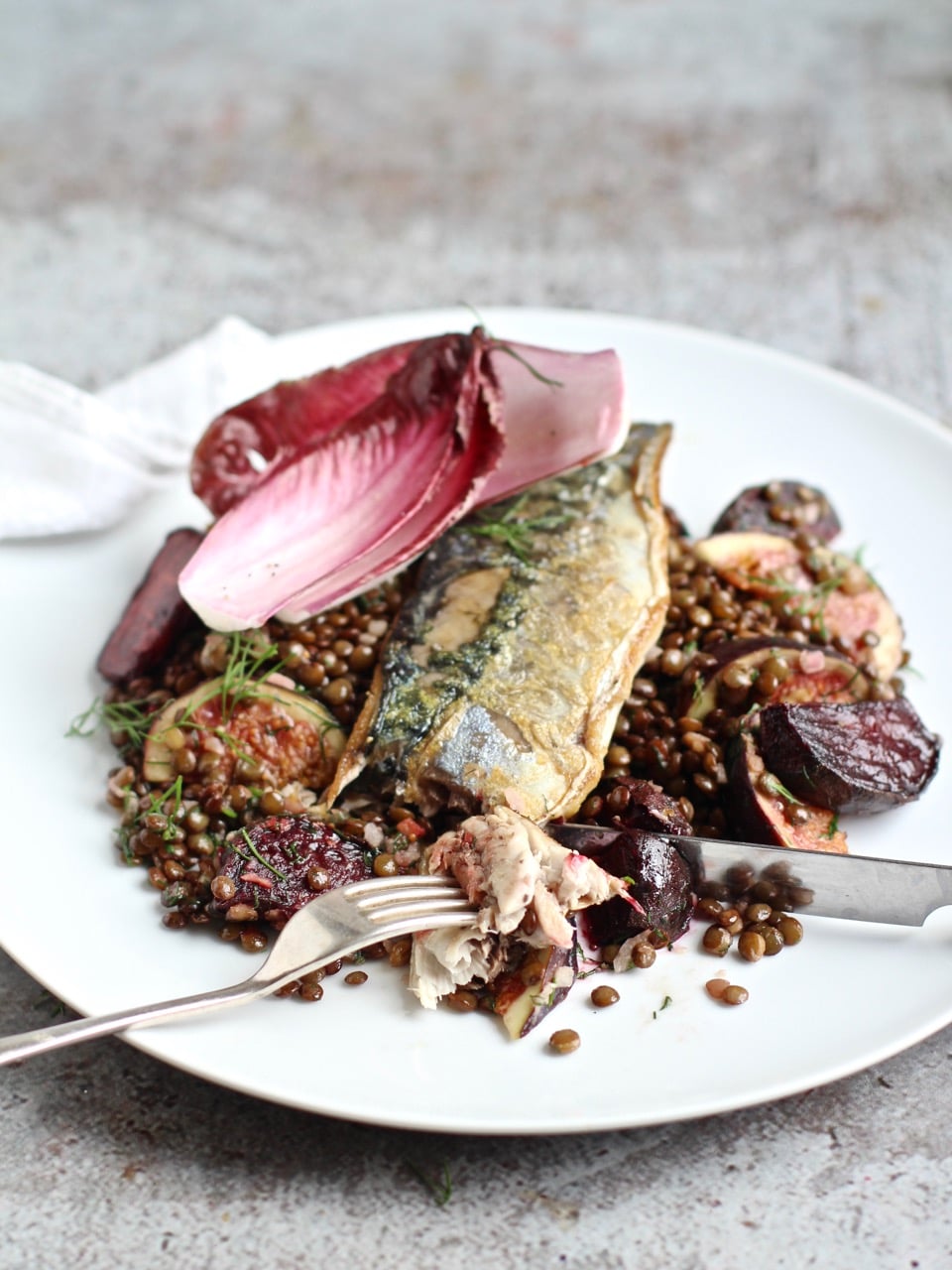 —
Pan-fried Mackerel with Warm Lentil, Beetroot and Figs
Pan-fried Mackerel with Warm Lentil, Beetroot and Figs
Warm lentils with roasted beetroot and fresh figs provide the base of the dish and crispy pan-fried mackerel brings a portion of oily fish to the menu.
Ingredients
2 medium beetroot bulbs, scrubbed clean, topped and tailed and sliced into wedges
140g puy or green lentils, rinsed well
bay leaf
2 figs, each sliced into 8 wedges
Handful dill, minced + reserving some for garnish
2 fillets of mackerel, trimmed and any bones removed. I buy a whole mackerel, but get my fishmonger to fillet for me.
A few red chicory leaves
Olive oil
A knob of butter
Salt and pepper
Dressing
1 small shallot, roughly chopped
2 tablespoon extra virgin olive oil
Half a lemon, juiced
½ teaspoon Dijon or grainy mustard
½ teaspoon maple syrup or honey
salt and pepper
Instructions
Pre-heat your oven to 180ºC (fan) and put a half full medium pan of water on to boil. Get a frying pan ready to cook the fish, but don't put on yet
Toss your beetroot in a little olive oil and add a pinch of salt, and roast in the oven for 25-30 minutes until fork tender, don't let them get too dark.
When the water is boiling, add the lentils, and a bay leaf and simmer for 25 minutes until cooked through.
Meanwhile make your dressing, you can make by hand (in which case finely mince the shallot) or alternatively put all the ingredients into a blender and blitz until smooth. Taste and adjust seasoning.
When the lentils are cooked, drain and return to the pan along with the dressing. I like to put the dressing in while the lentils are still hot as it dulls the tang of the shallot! Add in the cooked beetroot, chopped figs and dill, taste. Cover and put to the side while you cook your mackerel.
Heat up the frying pan with 1-2 tablespoons of oil and season the flesh side of your mackerel with salt and pepper. When the pan is hot put your mackerel in, skin-side down and then hold it down with a spatula to stop it from curling up. Add a knob of butter and as it melts, baste the flesh side of the fish. After 2 minutes you can turn the fish over, the skin should be nice and crispy, and cook for a further 1-2 minutes till the flesh has gone opaque and is cooked through.
To plate up add the lentils to the bottom of the plate. Top with the mackerel and add a few chicory slices for colour and a few extra sprigs of dill and some cracked black pepper.
What would you do with figs this autumn?
Do let me know if you try out this combination of ingredients, especially with that glass of Appletiser to wash it down!
Pin me for later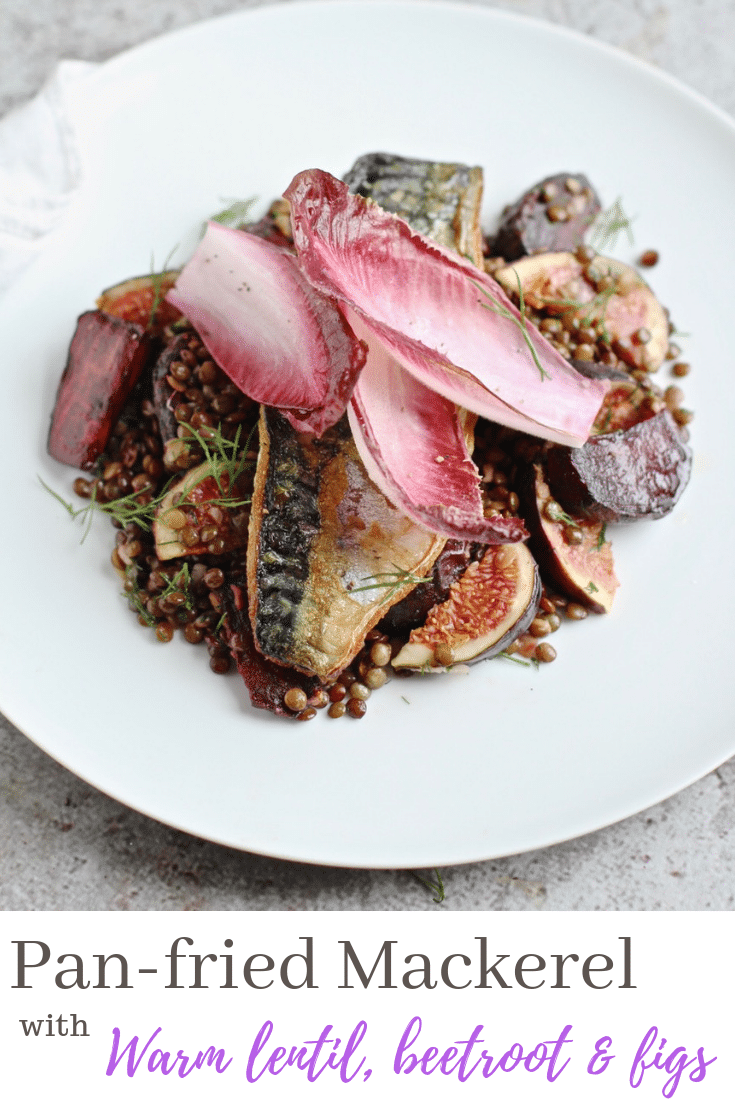 Disclaimer:  This post and recipe was commissioned by Appletiser. Thank you for supporting the brands who help make it possible for me to continue developing and sharing recipes on Natural Kitchen Adventures.