Waffling on 
Leek waffles with Parmesan are perfect for a luxurious breakfast or brunch. Top with avocado smashed with lemon juice, flaked salt, chilli or fennel seeds.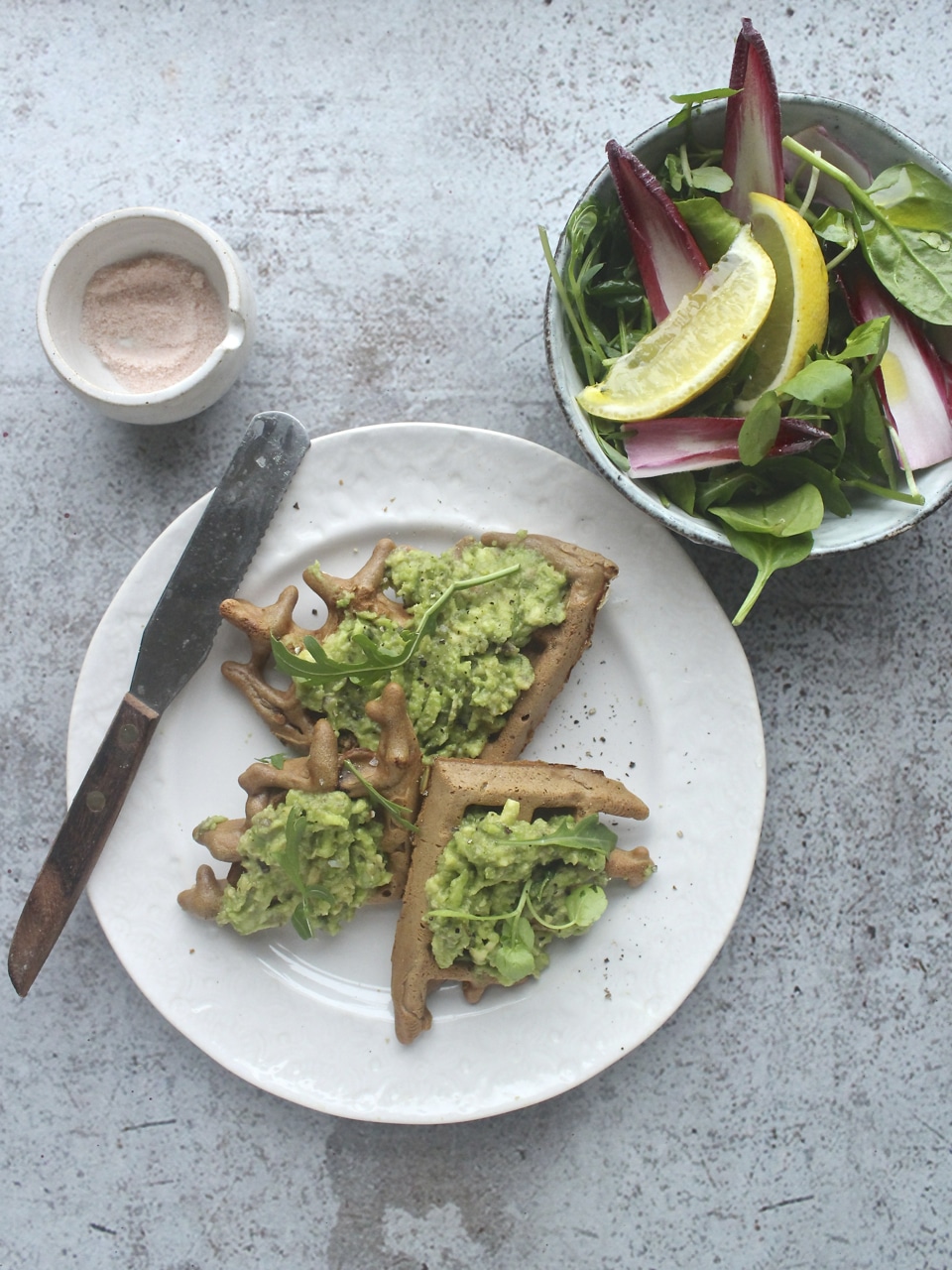 My camera is in the camera hospital this week, so in order not to miss out on this week's blog I've decided to share something from the development kitchen archives.  I made and shot these leek waffles earlier in the year in preparation for a cooking class and a retreat, and now I'm really glad I used my proper camera to take a photo of them before I scoffed the lot!
Ever since I bought a waffle maker at the beginning of last year I've been trying out various combinations of ingredients to get the perfect waffle.  I've tried sweet and savoury ones, but somehow the savoury ones are my favourite, not least because you can stick a portion of vegetables in them (sweetcorn, leek, parsnip recent faves), as well as smashing avocado or a poached egg on top.
In my recipe app you will find a sweetcorn waffle version, and this leek waffle recipe is based on that one.  I've switched out the sweetcorn, coriander and chilli flakes for softened leeks and tangy Parmesan cheese.  For the vegans amongst you this recipe is actually already egg free, so just swap out the Parmesan for nutritional yeast, I've trialled that a few times and it works well.
I love buckwheat flour in these waffles as it has a strong grainy nutty taste and lends itself to a hearty savoury recipe. The more I play around with buckwheat flour in sweet recipes I realise it just doesn't work at all, especially not with chocolate.  If you don't like the strong taste of buckwheat, then sorghum or brown rice flour would be perfect wholegrain gluten-free alternatives, or any other wholegrain flour with gluten like spelt, kamut or rye.
Speaking of gluten containing flours I've been thinking about gluten a lot over the last year or so, and now seems to be as good a time as any to write about that.  Cutting it out – did I get it wrong?  Like many people I was advised by a nutritional therapist (back in 2010) to take out gluten to help with digestive issues (which I now think were mostly caused by stress not food, but that's another story).  So I did, very diligently. I didn't find it a challenge and loved the creativity it inspired in me in the kitchen initially using all the nut flours, and then later working my way through all the grains.  During my chef training I built on this further as well as learning to cook with some of the healthy glutenous grains like barley, forms of wheat like spelt, and rye, though sadly I didn't take so much interest in them back then.
It's been a gradual process of re-introducing bits of gluten to my kitchen.  First came sourdough bread, homemade spelt bread (and flour – see my hot cross buns) and more recently just eating what I fancy when I'm out and about regardless and seeing how that makes me feel (recently holiday a case in point). I do tend to choose the 'healthier' glutenous foods though (sourdough is fermented and spelt and rye are lower in gluten) because that's how I roll.  Truth?  I don't feel any different at all.  Except I do feel different because my attitude has changed.
So where did this change of thinking initiate?  I'm not sure where it was sparked to be honest as it's been so gradual, but I do know that I resisted for so long because I had started to become an expert in free-from cooking; I now teach specialist classes, develop recipes for clients, and I even won an award for my blog based on it last year.  Plus just when I thought that maybe a moderate amount of gluten was OK for me, I read another article condemning it to hell.  But, most of all I worried what people would think of me.  Being a blogger and the way that social media is so personally invasive these days its really hard to make the distinction from what I put out there for my work and what I do for me.  I'm slowly coming round to the fact that I can't be all things to all people.  I have to be who I am!
So, should you give up or eat gluten?  I'm afraid that's not for me to say.  A personal anecdote from me is not nutritional science and if you do think you have a problem with gluten I suggest you consult a qualified Nutritional Therapist or Registered Dietician to work out the best path for you.  I am merely here to create recipes that taste awesome, and I'm excited to see where my next kitchen adventure takes me.
Gluten or no gluten, these leek waffles rock, and enjoy buckwheat for the fantastic ingredient that it is!

Leek Waffles with Parmesan
Leek waffles with Parmesan are perfect for a luxurious breakfast or brunch. Top with avocado smashed with lemon juice, flaked salt, chilli or fennel seeds.
Ingredients
For the leeks:
2 large leeks, thinly sliced
2 teaspoons olive oil
salt
For the batter:
200 mls almond Milk
1 teaspoon apple cider vinegar
2 tablespoons olive oil
180 g buckwheat flour
40 g tapioca flour
2 tablespoons grated parmesan or nutritional yeast
1 teaspoon bicarb of soda
¼ teaspoon salt
black pepper
Instructions
Heat the oil in a frying pan, and cook the leeks in a pinch of salt for about 10 minutes, until completely soft.
Add the apple cider vinegar to the almond milk and leave sit for 5 minutes, while it curdles. Then add the olive oil and stir till combined.
Combine the dry ingredients (flours and salts) together in a separate bowl, then pour in the milk and stir
Add the cooked leeks to the batter along with the Parmesan (or nut. yeast) and stir. If the batter is too stiff add a little water (this will depend on the flour you are using, some absorb more than others)
Cook according to waffle maker instructions. Mine takes around 6 minutes in total.