Inspired by one my recent retreat chef trips to Southern Portugal I've recreated one of my favourite recent recipes; Kumquat Salsa with Baked Whole Red Mullet.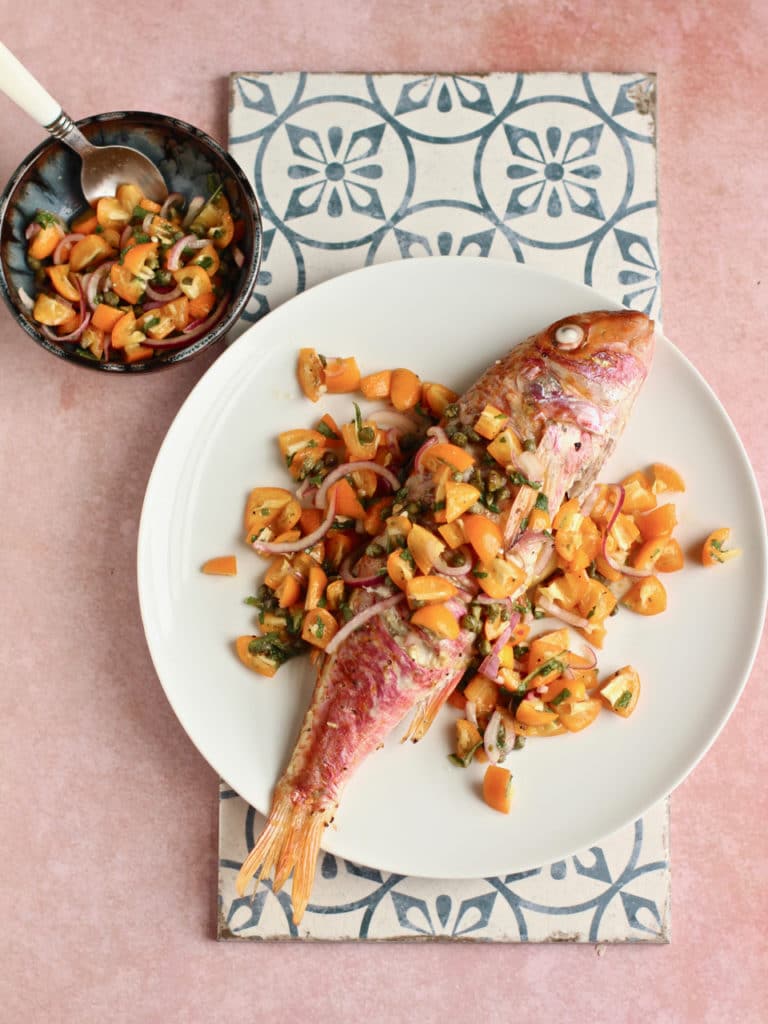 I've been incredibly lucky to spend much of the last month working in Portugal, a country that until last September I'd never had the chance to visit. I've been cooking for a mixture of yoga, fitness and wellbeing retreats in a beautiful venue called Casa Fuzetta in the fishing port of Olhão, in the Eastern Algarve. 
It's always an adventure the first time I visit a new country or area for retreat chef work (or even an old country but at a different time of year), as I don't always know what produce I'll be able to get hold of. For a veg-focused chef, it does make menu planning from my London kitchen a bit of a challenge!
Cooking in Portugal has proved to be an utter joy. A combination of Olhão's fabulous waterfront Municipal market selling the best local fish, seafood, fruit and veg, along with the 300 days of sunshine each year which result in the wide variety of sun-drenched fresh fruit and vegetables always being available. Tomatoes, aubergines, broad beans and fresh peas were in abundance on my last visit a few weeks ago (mid March). We'll have to wait many months for this kind of produce to grow at home.
Today's recipe is however based on something even more local than Olhão's market; the inspiration being the kumquat tree growing on one of Casa Fuzetta's terraces.
Kumquats and I have a history, which goes right back to my final exams at chef college, 5 years ago in March 2014. They were new to me back then, and I hadn't thought about them again until the sight of the tree at Casa Fuzetta happily jogged my memories. For our showcase dinner we used dehydrated kumquats as a garnish for our dessert, or rather we intended to use dehydrated kumquats as a garnish. In the excitement of the evening we forgot to adorn our chocolate torte with them before it went out for service – how frustrating!
I shared this little story (kumquatgate) along with the photos of the tree on my Instagram during my first of two retreats at Casa Fuzetta this month, and in response my chef peer Brooke, shared a pic of them from a Berkeley market along with a recipe idea for a kumquat salsa. The recipe took the form of a simple list of ingredients; kumquats quartered, mint, lime, honey and salt. The salsa sounded incredible, and in order to get over kumquatgate I decided that during my second retreat (this time for The Reset), I'd try it out. I thought it would be perfect served with whole baked fish, a dish I am often a bit nervous of cooking for a new crowd because some people are funny about a) fish with heads on and b) bones. I decided to go for it anyway, and along with Red Snapper from the Olhão fish market, roasted potatoes and a leafy salad it made the perfect first night dinner.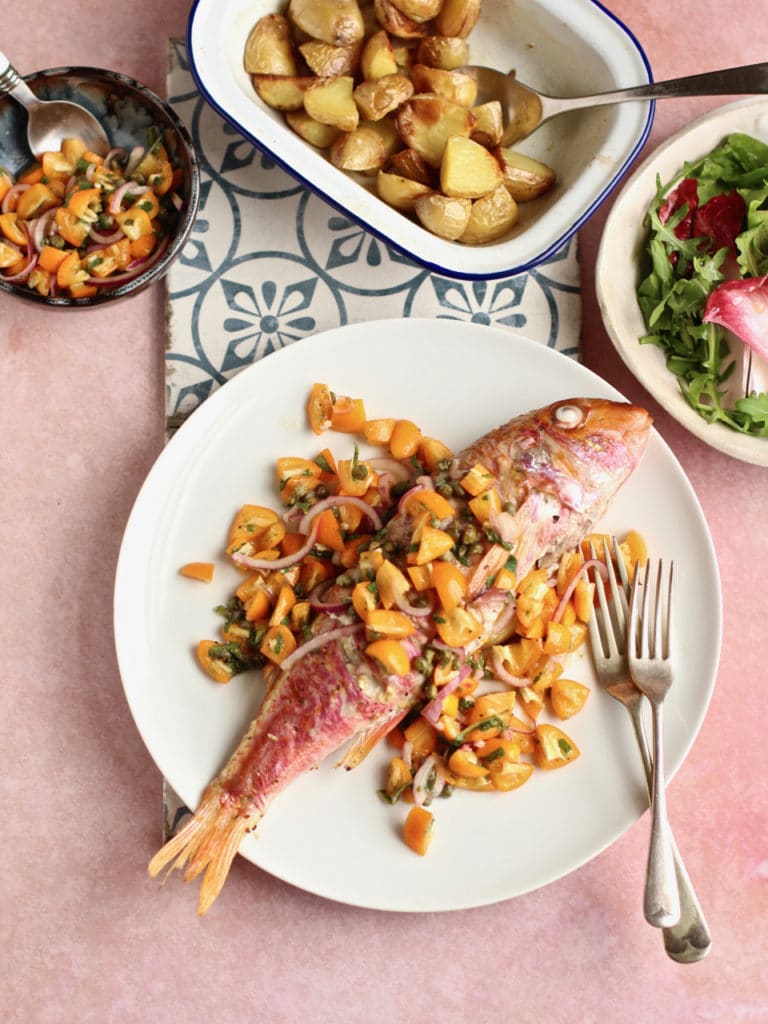 With only a list of ingredients to go on, I took the liberty of playing around with the recipe a little. I marinated the red onions in lime juice and salt before adding in the rest of the ingredients to tame down the raw onion taste, and also added some capers – can't have fish without capers. I made a note of what I did as I went along, which is just as well as the guests asked me for the recipe, which I'm now happy to be sharing with you all too.
I've since learned that the original version of the salsa was posted on the Bauman website some time ago, but with the inclusion of jalapeno and coriander. Wonderful.
So, what are kumquats, and where can you find them?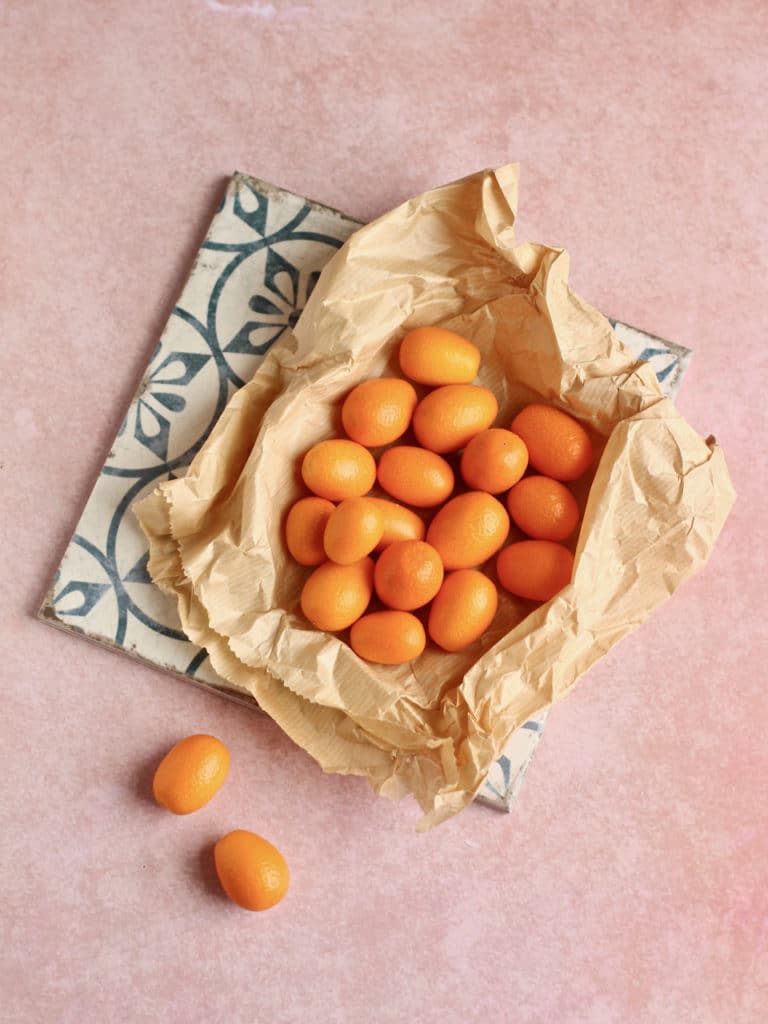 They're part of the citrus family, and around the same size as a cherry tomato. They're in season through the winter till just about the end of March and you eat them whole. The skin has a sweet taste, and the juice inside (there isn't much of it) is a little sour. I've kept them raw in this salsa, but you can also cook them down for dishes like marmalade or compotes to go with ice cream. The kumquats are easy to prepare, they need a good rinse, and then just chopping into quarters, and removing the one or two pips. You can slice into rounds, but I think the quarters give that deeper burst of orange to the plate.
Kumquats can be a little tricky to track down, especially now we're closer to the end of the season. Some supermarkets do stock them (perhaps they might be easier to order from an on-line shop), or any good grocer should be able to source them for you. I kept my fingers crossed that one of the many veg stalls at London's Borough Market would stock them, and luckily found some at Elsey & Bent this morning.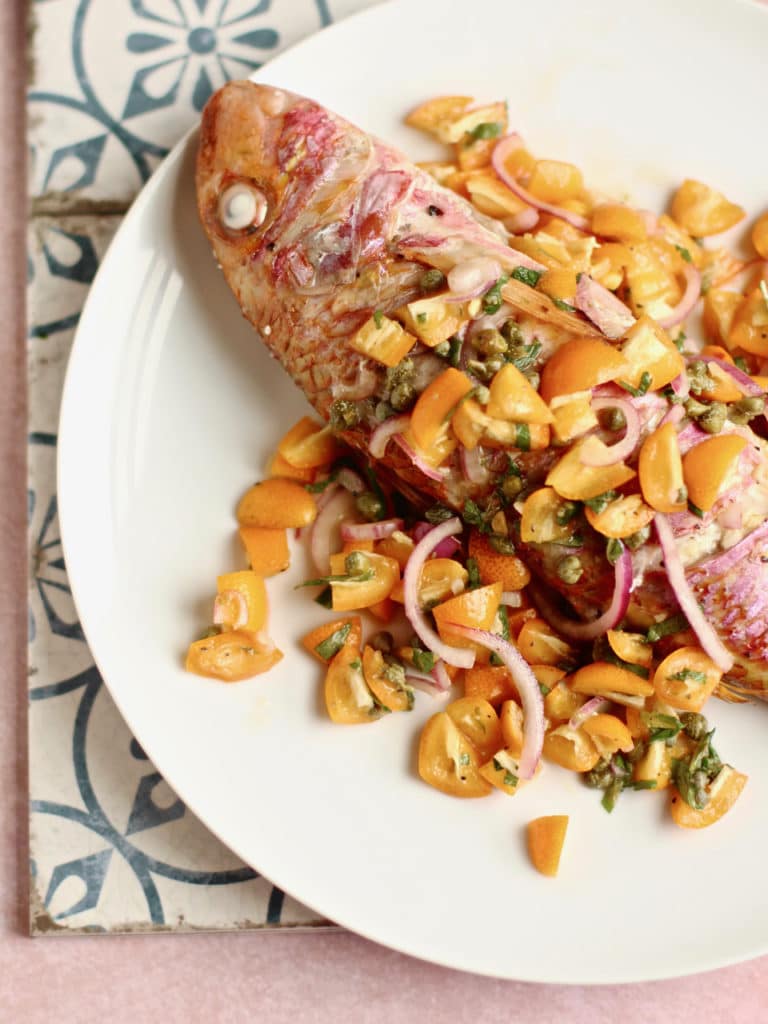 Just a quick note on the fish. In Portugal I served Red Snapper, but this is more of a Mediterranean fish so just go with whatever white fish your fish monger recommends. Red Mullet as I have done (on the advice of the fishmonger I spoke to at Borough this morning) or Sea Bream should also be a winner. Many people are scared of cooking fish, and I used to be one of them. When you bake it whole on the bone like this, you can't go wrong, it will always end up moist. Just make sure your fishmonger de-scales and guts the fish for you and there should be no problems at all.
Have you ever tried kumquats before? Do you have a serving suggestion for the leftover salsa?
—
Kumquat Salsa with Baked Whole Red Mullet
Kumquat Salsa with Baked Whole Red Mullet
Inspired by one my recent retreat chef trips to Southern Portugal I've recreated one of my favourite recent recipes; Kumquat Salsa with Baked Whole Red Mullet.
Ingredients
Kumquat salsa
1 small or half a large red onion, very thinly sliced with a knife or mandolin
1 lime, juiced
A large handful (around 20) of Kumquats, quartered, any pips removed
2 tablespoons capers
2 tablespoons of shredded mint
1 teaspoon, or more of honey
1 teaspoon, or more of extra virgin olive oil
sea salt & cracked black pepper, to taste
Red mullet
1 large red mullet, approx 400-500g (or other similar fish), descaled and gutted (by fishmonger)
Lemon slices
1 clove garlic, minced
Olive oil
Sea salt and cracked black pepper
To serve
Roasted potatoes and a leafy side salad
Instructions
Pre-heat oven to 220ºC (fan) ready for your fish.
First make the salsa. Put the onion in small bowl, squeeze over the lime juice and add a pinch of salt, mix well and leave the onions to marinade in the lime for at least 10 minutes. Then add the chopped kumquats, capers, honey, olive oil, mint along with some salt and pepper. Taste and add more lime or salt if it needs a boost. Set aside.
Next prep your fish. Slash the fish skin 3 or 4 times, then rub the skin with olive oil, garlic (going into the slashes) and season with salt and pepper. Leave sit for 10 minutes.
Place some lemon slices in the fish cavity, and a few on the bottom of your parchment lined or ceramic baking dish. Add the fish on top and then bake for 12-14 minutes, turning over half way. The fish skin should flake easily when done. If your fish is smaller, cook for less time or particularly large, a bit longer.
Serve with the kumquat salsa scattered over the top, and roasted potatoes and green salad for a simple accompaniment.
Notes
There may be some salsa left over. Enjoy!
Pin me for later