A Hopeful Taste of Summer…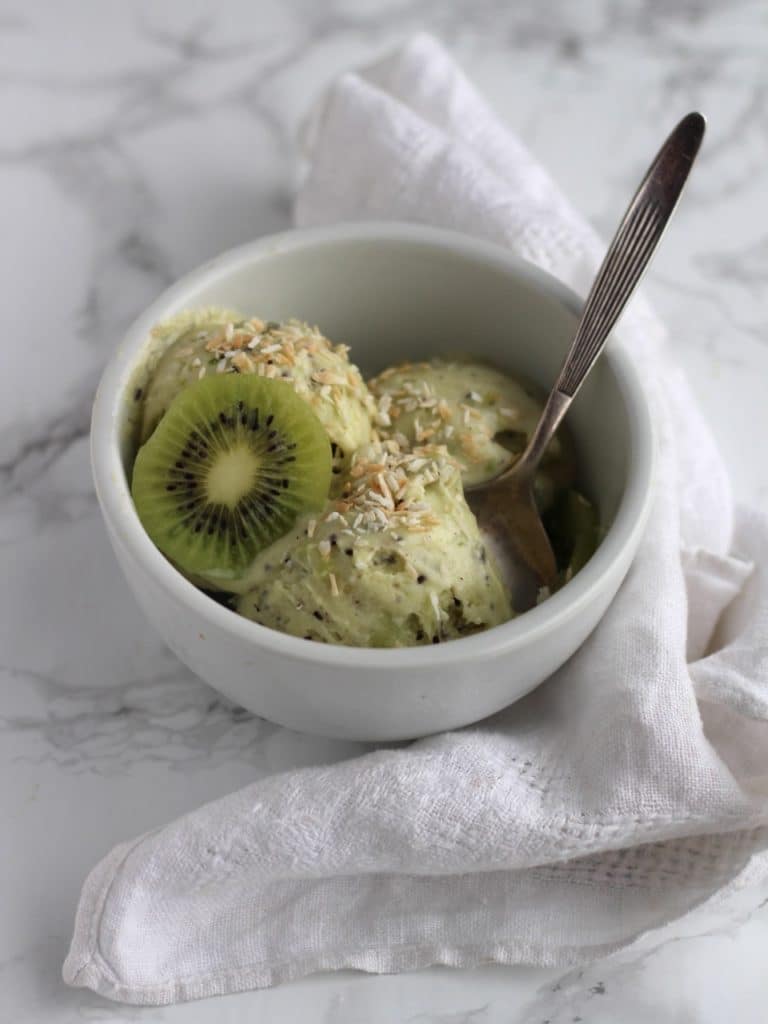 Some 4 years ago now I tasted an amazing coconut sorbet during my week training at Ashburton Cookery school. I generally have a preference for chocolate desserts, so the fact the flavour blew me away was quite something to note. I have always wanted to recreate the dish at home, but with an intention to try something other than a very white sugar syrup for the sorbet base, because it's obviously not my way. However, like many of my cooking ambitions, they take a long time to realise!
I recently won a fruit and veg box delivery from Abel and Cole (thanks to the blog Eats Amazing) and for a few weeks now I have been inundated with more bananas and kiwis than I know what to do with. Rather than watching them rot in my fruit bowl as I struggle to keep up, I have been regularly freezing them ready prepped for use. There is a simple way to do this, first you must peel and chop them before placing on a lined baking tray. This tray then goes into the freezer until they are solid, and then they get stashed away in a tub all ready to be throw into smoothies (or to snack on, I love frozen banana chunks!). I'm sure many of you will be aware of the craze that is nana ice-cream? You know, you throw frozen banana chunks into a blender or processor with some liquid, give them a a whizz and a good poke with the tamper stick and hey presto, the ice-crystals from the creamy banana have transformed into a frozen dessert (its not ice-cream really is it??). As I peeled and froze my kiwi's for the freezer I wondered whether they could also be used in the same way. Obviously they are lots more watery, so maybe I could use along with banana for a similar effect?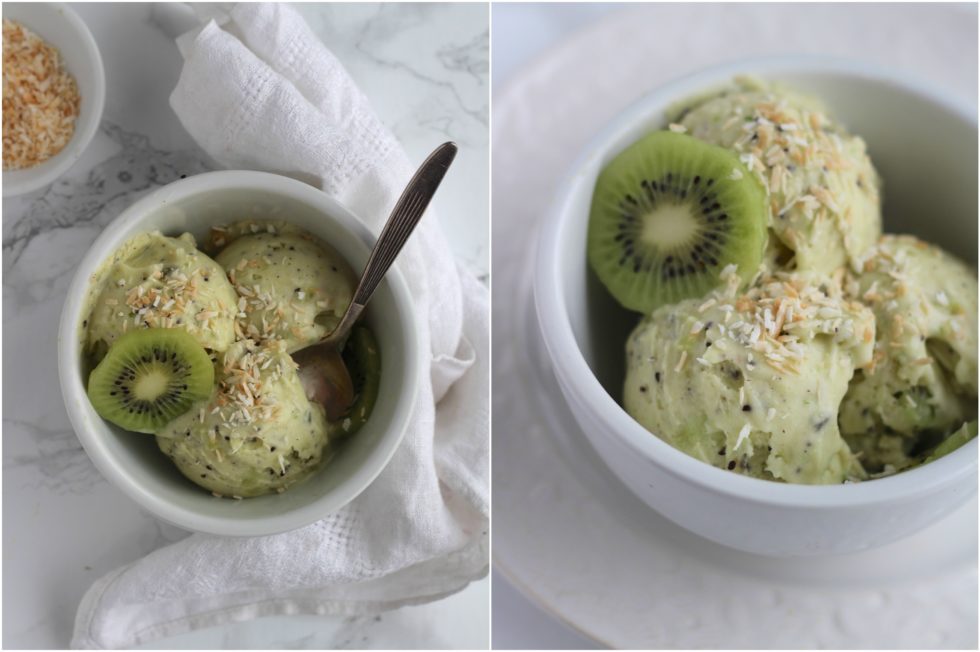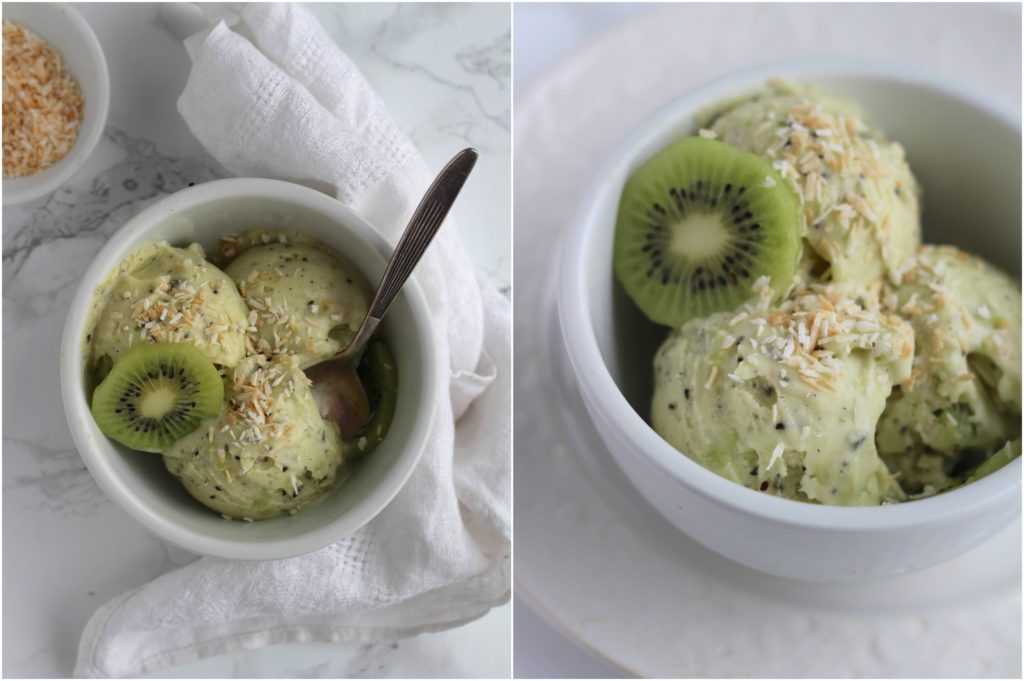 So you see where I'm going with this? Let's tie the top two paragraphs together! I used the idea from the sorbet to create a coconut milk liquid infused with kaffir lime leaves and lemongrass, added a tiny bit of sugar (as kiwis aren't overly sweet), added lime juice then used this infused liquid to blend alongside the frozen kiwis and bananas. The kaffir lime and lemongrass add such an interesting flavour, and this is the real selling point of this recipe (along with the fact its healthier, dairy free and therefore also vegan). This is nana ice cream for grown ups.
Kiwi's nor bananas are native to the UK, though I have seen in my local farm shop UK grown kiwi's so I know it is possible (they were very small and a bit shrivelled but I was impressed at the attempt), and most of the kiwis we have in the UK are imported from Italy. Nutritionally speaking they are a good source of Vitamin C, and each fruit has more more than an orange in fact.
Top with toasted coconut for the crunch factor.
I recommend a Froothie Blender* for this recipe. I have one and I couldn't live without it, providing professional blending results in a home kitchen. The model I have is no longer available so I've been advised by Froothie to recommend the 9200 2nd generation which best priced model now. If you buy via this link, you will be rewarded with an extra 2 years warranty, and you will be able to use a 0% interest free deal to spread the cost.
Instant Kiwi Coconut Sorbet infused with Lime & Lemongrass
Instant kiwi coconut sorbet made by blending frozen kiwi and bananas with a lemongrass and kaffir lime infused coconut milk. Vegan and dairy free
Author: Ceri Jones
Recipe type: Dessert
Serves: 3-4
Ingredients
200mls coconut milk (from a can)
1 stick lemongrass, bashed and chopped to fit in pan
2 kaffir lime leaves, torn
1 tbs unrefined granulated sugar (I use coconut palm)
1 lime, zest and juice
2 tbs desiccated coconut
1 frozen banana, peeled and chopped into chunks (do this before freezing)
4-5 frozen kiwis, peeled and chopped into chunks (do this before freezing)
Instructions
First make your coconut milk infusion. Place the coconut milk, lemongrass, lime leaves and sugar in a small saucepan. Bring to a boil, then turn to a simmer for 10 minutes. Remove the pan from the heat, transfer to a cold bowl, then leave to infuse for 1 hour. Strain through a sieve , discard the lemongrass and lime leaves then add the lime zest and juice. Stir well.
Meanwhile toast your coconut flakes in a dry frying pan over a medium heat till toasty and brown
Place the frozen kiwis and banana chunks in a blender, then pour over the coconut milk infusion, and blitz. If you are using a tall blender you will need to use the tamper stick to help move the ingredients around the blender (I use my froothie), the process will be a little different in a food processor, and which ever you use you will need to stop and scrape down the sides. When all incorporated (don't overblend as the frozen fruit will melt and you will end up with a smothie), stop the blender and serve immediately with the toasted coconut on top.
Have you made nana ice-cream before? What did you think?
Here are some other instant blender frozen desserts;
*Disclosure: I am an ambassador for Froothie and some links in this article may be affiliate links. The above product reviews is, as always based on my honest opinion. If you'd like to know more about Froothie products please visit the Froothie Website for more details. Any purchases made through this/these link(s) are at no extra cost to you but give me a small commission.