Jerusalem artichoke spaghetti with hazelnut parsley pesto drizzle and a giveaway from Deiss Kitchenware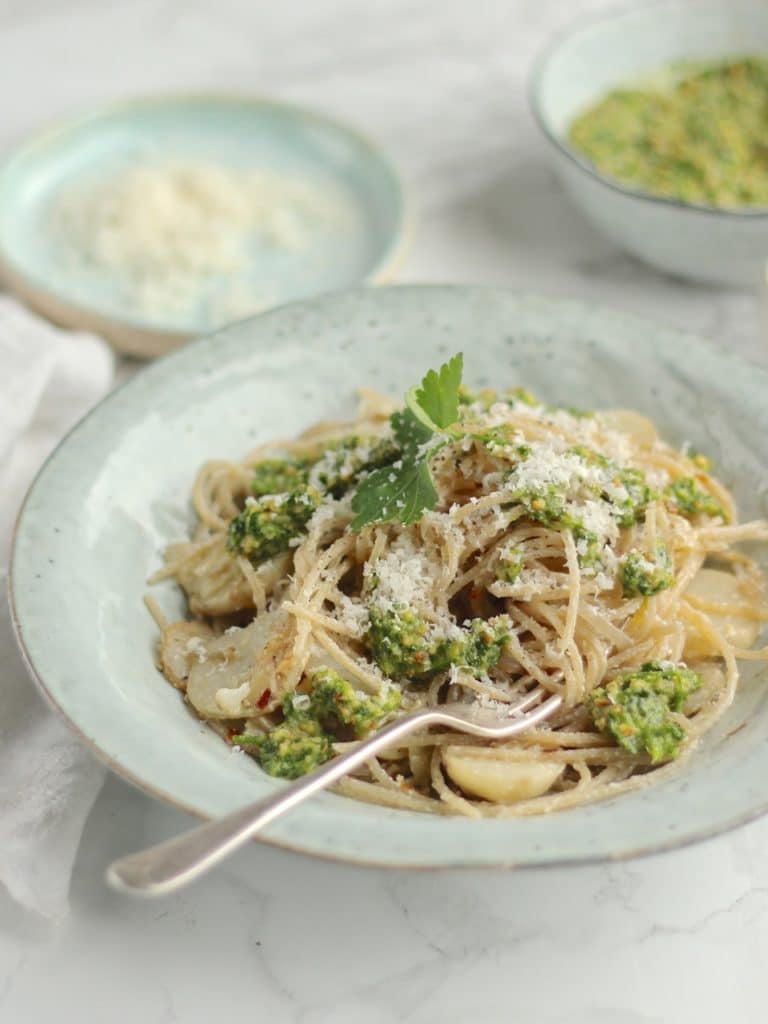 First we'll deal with the how's and why's of this Jerusalem artichoke spaghetti recipe, but if you're also interested in winning a superb grater from Deiss, which I used to finely grate the Parmesan and lemon zest for this recipe, then make sure you scroll on down to the bottom of the post!
I've not had an incredible amount of experience of cooking with Jerusalem Artichokes, really.   They're only available around this time of year, and not always available in supermarkets.  I do however recall an amazing creamy soup from my chef training days (trivia: they actually call them sunchokes in the USA), and an almighty wind inducing whole tray of them roasted in harissa pasta a few winters ago. To be honest, that final experience made me a little cautious of trying them again!  I've since read up a bit on how to reduce their, err side affects, and nutritionist Amelia Freer recommends starting with a smaller portions size, or cooking them with a bay leaf.   The reason these little blighters are so windy is because of the fibre called inulin that's in them. A prebiotic that actually makes them rather good for you.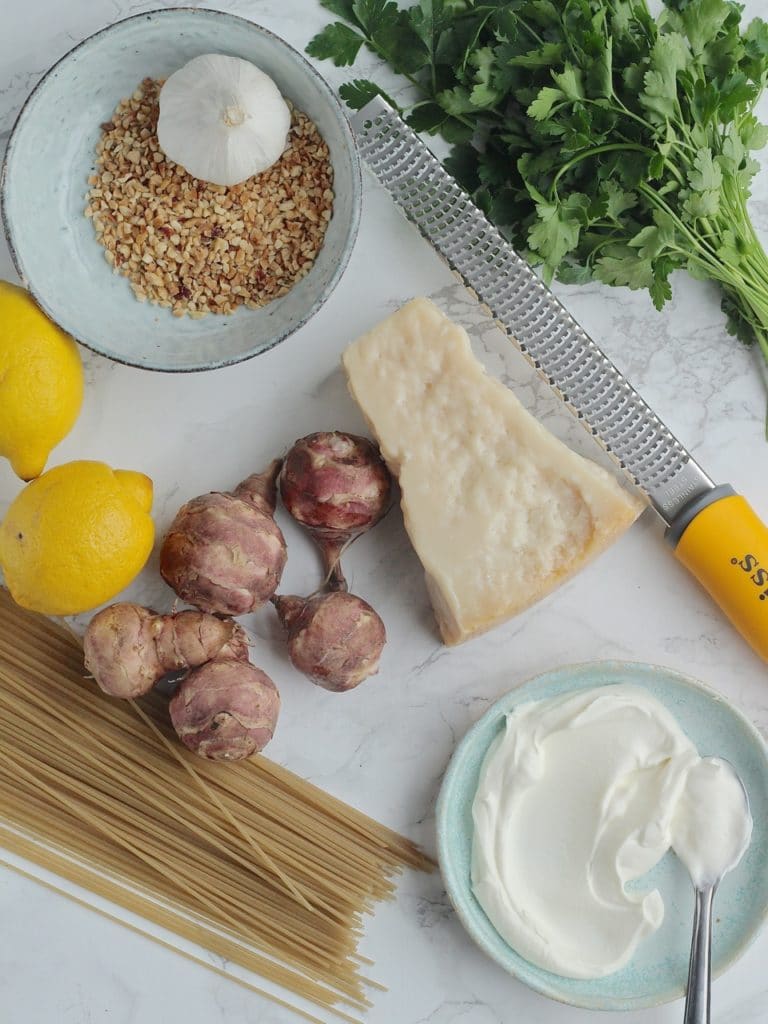 I made a Jerusalem artichoke spaghetti dish similar to this over the Christmas holidays inspired by a need to use up some Jerusalem artichokes which had been languishing in my fridge since the last veg drop off before Christmas.  Sautéing them in a little oil and butter with some added Parmesan and serving over pasta felt like the best thing to do (inspired by this recipe).  I've been patiently waiting for them to return to my weekly veg bag ever since, so I could recreate this recipe for me, and of course share it for you too.
I've upgraded my Christmas dish today, by adding a hazelnut parsley pesto on top.  My go to book The Flavour Bible suggests that both hazelnut and parsley are good flavour partners for Jerusalem artichokes. I also happen to know they make a great pesto.  Is there anything not bettered by pesto?
Special thanks goes out to my Auntie and Uncle for bringing me the huge block of Italian Parmesan from Italy for a Christmas present this year.  It really did make the dish!
Jerusalem Artichoke Spaghetti with Hazelnut Parsley Pesto
A simple vegetarian pasta dish from sautéed Jerusalem artichoke served with spaghetti, hazelnut parsley pesto, and lots of grated Parmesan cheese.
Ingredients
Pasta
400g Jerusalem artichokes, scrubbed clean, peeled and thinly sliced
1 tbsp olive oil and a knob of butter
2 Shallots (or 1 large onion), finely sliced
1-2 clove garlic, minced
4 tbsps crème fraiche
40g Parmesan cheese, finely grated
160-180g brown rice spaghetti (or use wholemeal or spelt for non gluten free)
salt and pepper
Pesto
50g roasted hazelnuts, skins removed and roughly chopped
1 plump clove garlic
handful fresh parsley ~ 30g
90mls Extra-virgin Olive oil
1 Lemon, juice and zest
pinch salt
Instructions
First make your pesto, you may not have enough time while the rest of the dish is cooking, and it keeps the cooking process simpler! Put all of the ingredients into a food processor then blitz until well combined. Taste and adjust seasoning or lemon juice / oil as necessary. I prefer quite a chunky texture, personally. Set aside.
Next prepare your Jerusalem artichokes, by steaming them in a steam basket for 5 mins. Drain well.
Meanwhile warm the oil and butter in a large frying pan, then saute the shallots with a pinch of salt for a few minutes until they begin to soften. Add the garlic, then tip in the steamed artichokes and cook for another 8 minutes.
While the artichokes are cooking bring a large pot of salted water to a boil ready to cook your pasta. Add the pasta and cook until al dente. Brown rice pasta usually only takes around 6 minutes.
When the pasta is done its time to assemble your dish. Add the crème fraiche and half of the parmesan to the artichokes, being careful to stir the creme fraiche in gently so it doesn't split. Add a ladle of the pasta cooking water to the sauce, then drain the pasta and add to the pan. Make sure all the pasta is coated in the sauce, then plate up, adding the pesto, extra black pepper and the rest of the parmesan at the table.
Deiss is kindly offering five Natural Kitchen Adventures readers a super 
PRO Citrus Lemon Zester & Cheese Grater
, in order to grate Parmesan cheese and lemon zest to your heart's content!  To be in with a chance of winning, please fill in the widget below.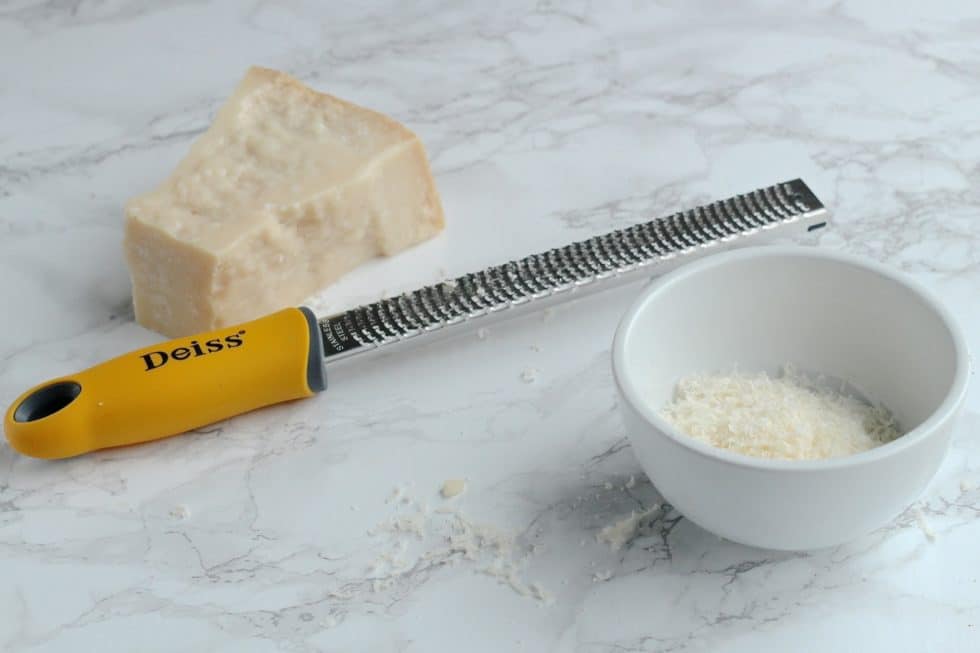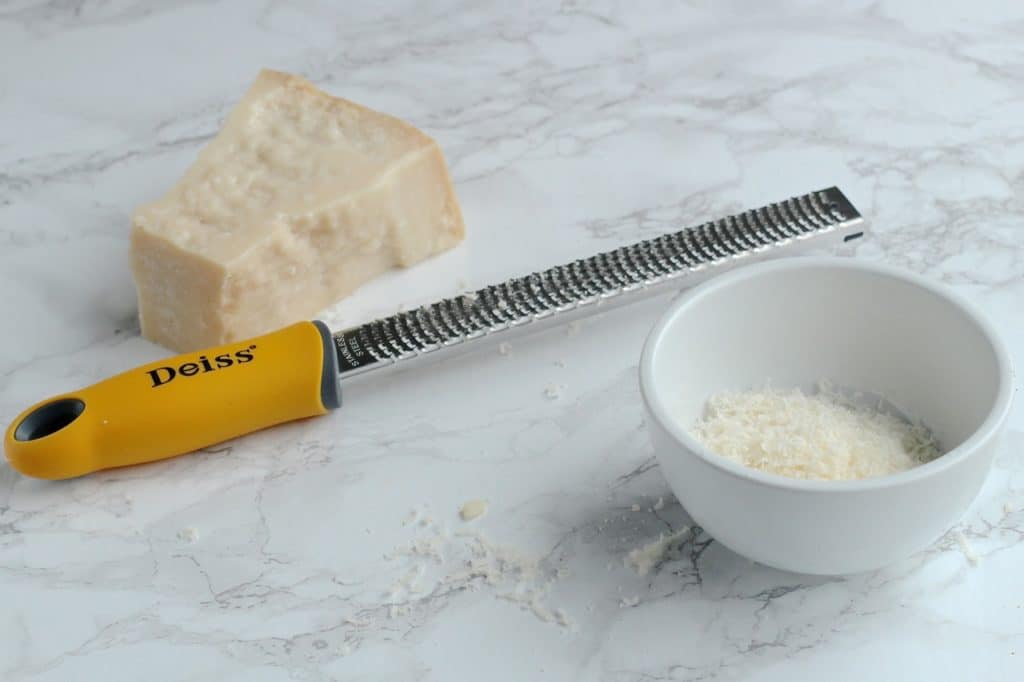 You will need to leave a comment on this post, answering the question, and then you have additional chances to enter if you so wish. Rafflecopter will pick a winner at random from the entries received who will then be contacted via e-mail. If you are commenting anonymously, please give me some way of identifying you as I will be verifying the validity of entries. Any automated entries will be disqualified. This giveaway is only open to those with a UK postal address. Winners will need to respond within 5 days of being contacted. Failure to do this may result in another winner being picked. There are no cash alternatives.  Giveaway ends on Monday 20th February.
*Disclaimer: This post was commissioned by Deiss, who also sent me a grater to play with to create this post. All opinions are my own.  This post includes affiliate links.