A seasonal fruit salad with ginger syrup. A simple dessert made from apricot and strawberry bought together by a tangy ginger syrup and fresh mint.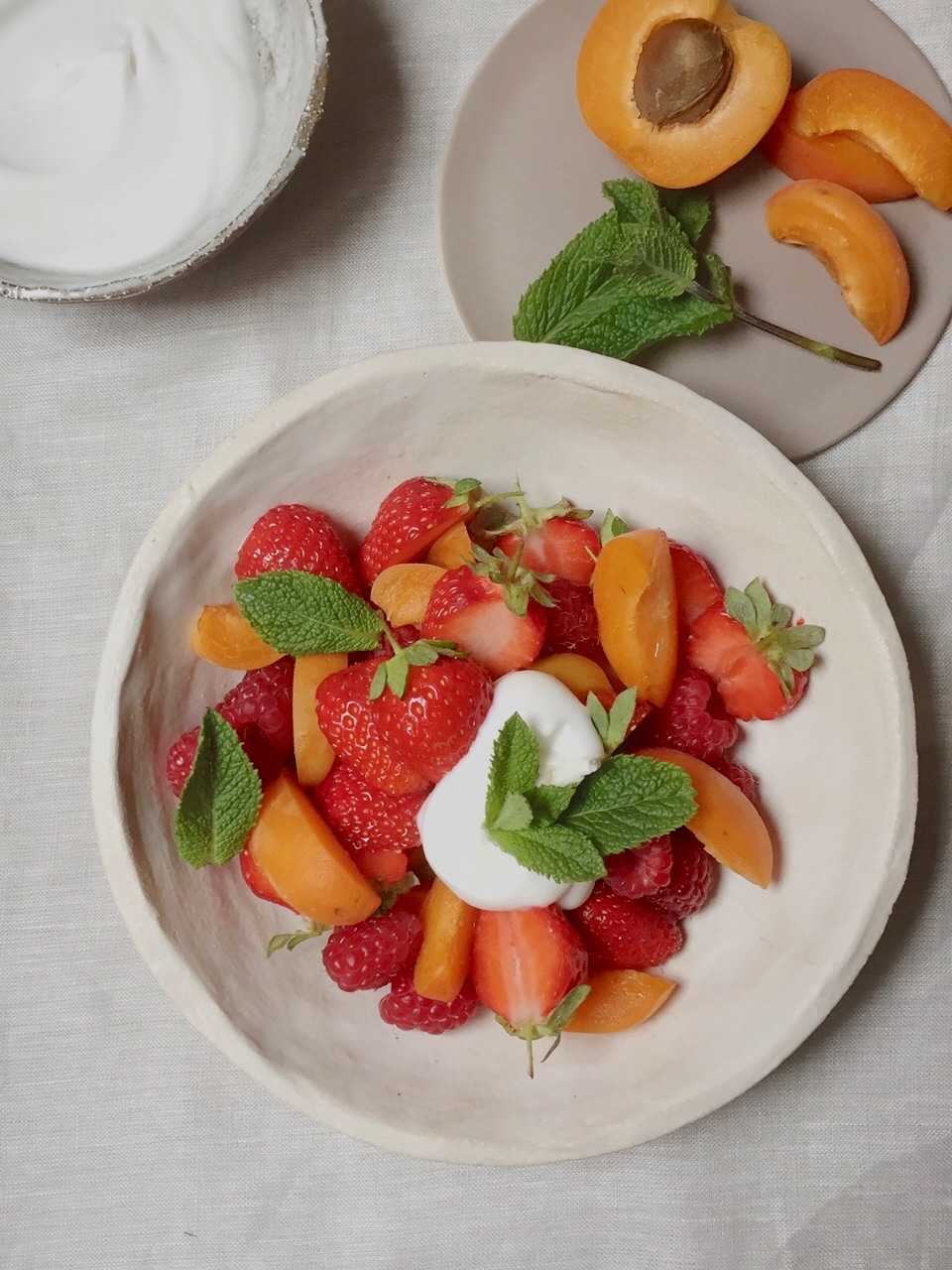 Earlier this week I shared with you a recipe post from a student who attended my food blogging masterclass held in June at Made in Hackney.
After all the talk of recipe writing, food writing, the how to's of blogging AND cooking our lunch it was time for some food styling artistry and iPhone photography tips from the fantastic food and lifestyle photographer, Jo Yee.
The subject for our artistry was an seasonal fruit salad made with gorgeous apricots, strawberries and raspberries doused in a tangy ginger syrup.
As I pointed out to the class, if I'd been making this salad at home, I'd have simply tossed all the ingredients together in a bowl, dolloped on the yoghurt and hoped for the best. But when you're styling for a photo, attention to detail changes a mere bowl of fruit into a feast for the eyes.
Here's what we did;
The table was placed by the window to catch the best side light from the left.
A gorgeous piece of  linen was laid out on the table with a subtly contrasting napkin to the side.
The fruits were delicately arranged in a stunning non-reflective ceramic bowl.
We made sure there was an even distribution of colour – oranges, reds, and a contrasting hue of greens from the mint.
A few pieces of apricot and mint were reserved to fill space in the back of the photo.
The coconut yoghurt was gently swirled in its bowl to create texture and movement.
Rather than dousing the fruits in the syrup, a light glaze was painted on with a pastry brush.
In Jo's styling (the top shot of this post) she let the fruit bowl hang over the apricot plate.  This layering helped give a dimension of height and stops the 3 round items from looking like Mickey mouse.
Who knew building a fruit salad could be so complex?
However you construct this salad – either with care and attention as above, or simply tossed together for a quick healthful summer dessert, one thing is for sure, it is totally delicious.

Seasonal Fruit Salad with Ginger Syrup & Fresh Mint
A simple dessert made from seasonal apricots, strawberries and raspberries and bought together by a tangy ginger syrup.
Ingredients
250 mls water
1 Tbs maple syrup or local honey
1 inch fresh ginger, peeled
12 apricots
400g strawberries
400g raspberries
handful fresh mint
coconut yoghurt to serve
Instructions
Warm a cup of water, the maple syrup or honey in a saucepan till lightly simmering. Grate an inch of fresh ginger and mix it in with the syrup. Bring to a boil, then lower the heat to a simmer and reduce until the mixture thickens into a light syrup. Strain off the ginger bits if you prefer.
Wash and chop the fruit into bitesized pieces.
Pour the ginger syrup over the fruit, and stir in a large handful of chopped mint.
Spoon into dishes to serve – add a dollop of coconut yoghurt if you like
All food shots taken with an I-phone only.
How would you style a fruit salad? With this much care?