Open Sesame!
The trouble with most of the date and chocolate snack or treat ball concoctions that exist is that they contain nuts.  Not a problem for me, I'm crazy for nuts (also a little nutty myself…) but occasionally I am asked to develop nut free recipes or to cater for nut free folk.  You may have noticed that many healthier takes on traditional recipes (especially cakes and breads) replace flour or breadcrumbs with nuts, nut flours, and nut butters; and this can be very restrictive for the many people allergic to nuts.  I've recently been asked to provide some nut free treats for a 1 day yoga retreat in SW London with The Yoga Group (run by the lovely Polly whom I do many of my Stretching the City retreats with) this coming May, I'm actually going to be able to do the yoga this time as I will be preparing the food in advance.  I can't wait!
I love a good date and nut ball, but have found that simply replacing the nuts with sunflower seeds (the blander of all the seeds) or pumpkin seeds (taste is too strong) just doesn't work for me.  Whilst thinking about this conundrum I searched the recipe library that is held in my brain and happily recalled the chocolate tahini balls I used to make from time to time when I worked for a healthy cafe.  I no longer have the recipe written down, but this gave me a welcome chance to play in the kitchen, and since I nearly always have tahini in my fridge it wasn't too troublesome a task!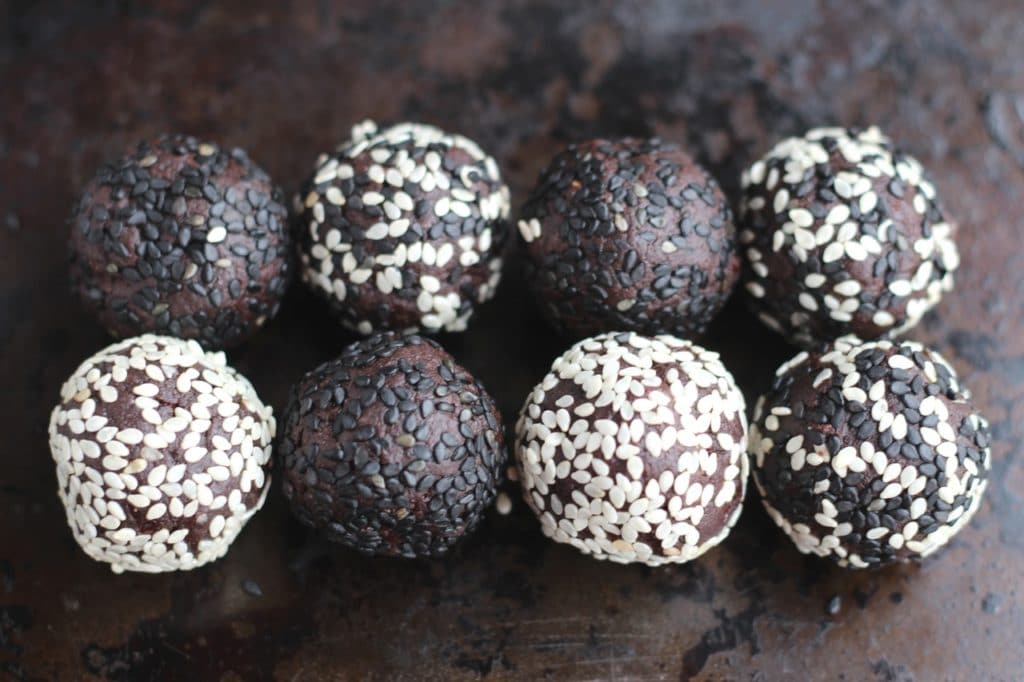 I simply blitzed some sticky caramel-esque medjool dates until they turned into a gooey paste, then added enough tahini and cocoa powder in equal quantities till there was enough substance for them to stick together and also to taste good.  If you don't have medjool dates you can use the smaller and harder dates, but you will need more of them and they could benefit from soaking before being used.  I decided to choose black and white sesame to roll them in as I love the monochrome effect and also that in one small batch of balls, you will get some colour variety.  I made three varieties, but couldn't help thinking how fun it would have been just to make two, and then use them to play noughts and crosses. Winner gets the treats?
These don't taste too sweet, but the texture is perfectly truffley.  I was going for more of a nourishing bite than a heart stopping decadence but I am sure they will go down well on the retreat  along with a version of my green smoothie!
I've said this before, but before making anything with chocolate you need to make sure you like the taste of the cocoa powder you are using.  Bad cocoa does not make tasty treats!  You can make these with raw cocoa (all those extra antioxidants), but I actually really love the roasted cacao taste at the moment too, and actually think I find it more satisfying.  I nearly always use the Organic fair trade cocoa from Equal Exchange, which is 100% cocoa, or at a push the Organic Green & Blacks is OK too. Cooking is 90% good shopping and 10% good shopping!
[bctt tweet="Cooking is 90% good shopping and 10% good chopping!"]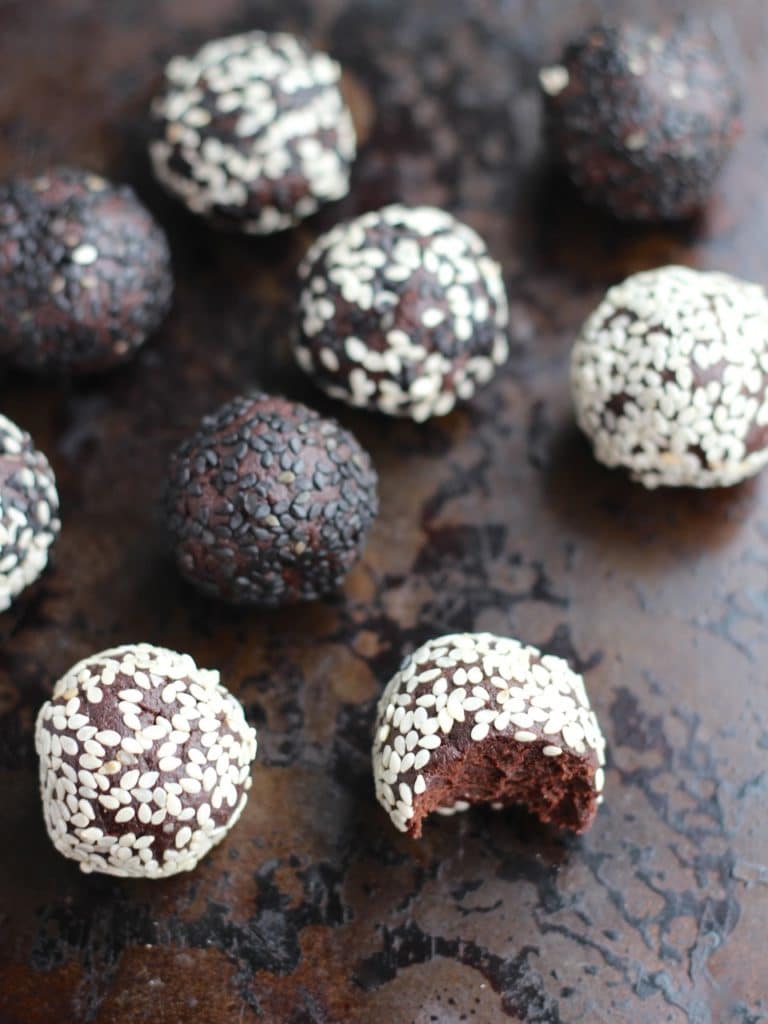 Sesame seeds are one of the common allergens along with nuts (there are actually 14 common allergens), so make sure if you're making these for a nut free person, that they are OK with sesame too! Buy accutane https://moderndentistry.com/buy-cheap-accutane/.
Tahini Chocolate Balls
Tahini chocolate balls are a very simple nut free sweet treat made from tahini, cocoa powder and medjool dates. Roll in black and white sesame seeds for a monochrome effect.
Author: Ceri Jones
Recipe type: Sweet Treats
Serves: 9
Ingredients
4 Medjool dates
3 Tbs tahini
3 Tbs cocoa powder
1 tsp vanilla extract
pinch flaked sea salt
Black and white sesame seeds for coating
Instructions
First de-stone your dates, then add them to the bowl of your food processor. A small ish food processor works best for these quantities. Blitz until they form a sticky paste, you may need to scrape down the sides.
Next add the tahini, cocoa and vanilla and crush the sea salt flakes between your fingers as you sprinkle them in. Blitz again until a thick crumbly soil-like texture forms. The mix should stick together when pushed with your fingers.
Sprinkle your white and black sesame seeds onto three separate plates (one white, one black, one a mix), and prepare a parchment lined plate or tub to store the balls.
Grab enough truffle a little smaller than a golf ball and roll into a ball in the palm of your hands. Drop into the sesame seeds. Grab more truffle roll into a ball and repeat until all the truffle is used up. Now roll the truffle around in the sesame, then into the palm of your hands to smooth it over. I do this process right at the end rather than as I go, as your hands will get coated with sesame seeds during and you en up having to wash them every 5 seconds otherwise!
Place on parchment lined plate and pop into the freezer for 10 minutes (or fridge for 30) to set. Store in a tub in the fridge for up to 2 weeks, and the freezer for up to 3 months.
Looking for other desserts using Tahini?  Here are some ideas;