A simple gluten and dairy free chocolate almond olive oil cake. Perfect with a range of creamy toppings and seasonal fruit. Plus a celebration of 5 years in blogging!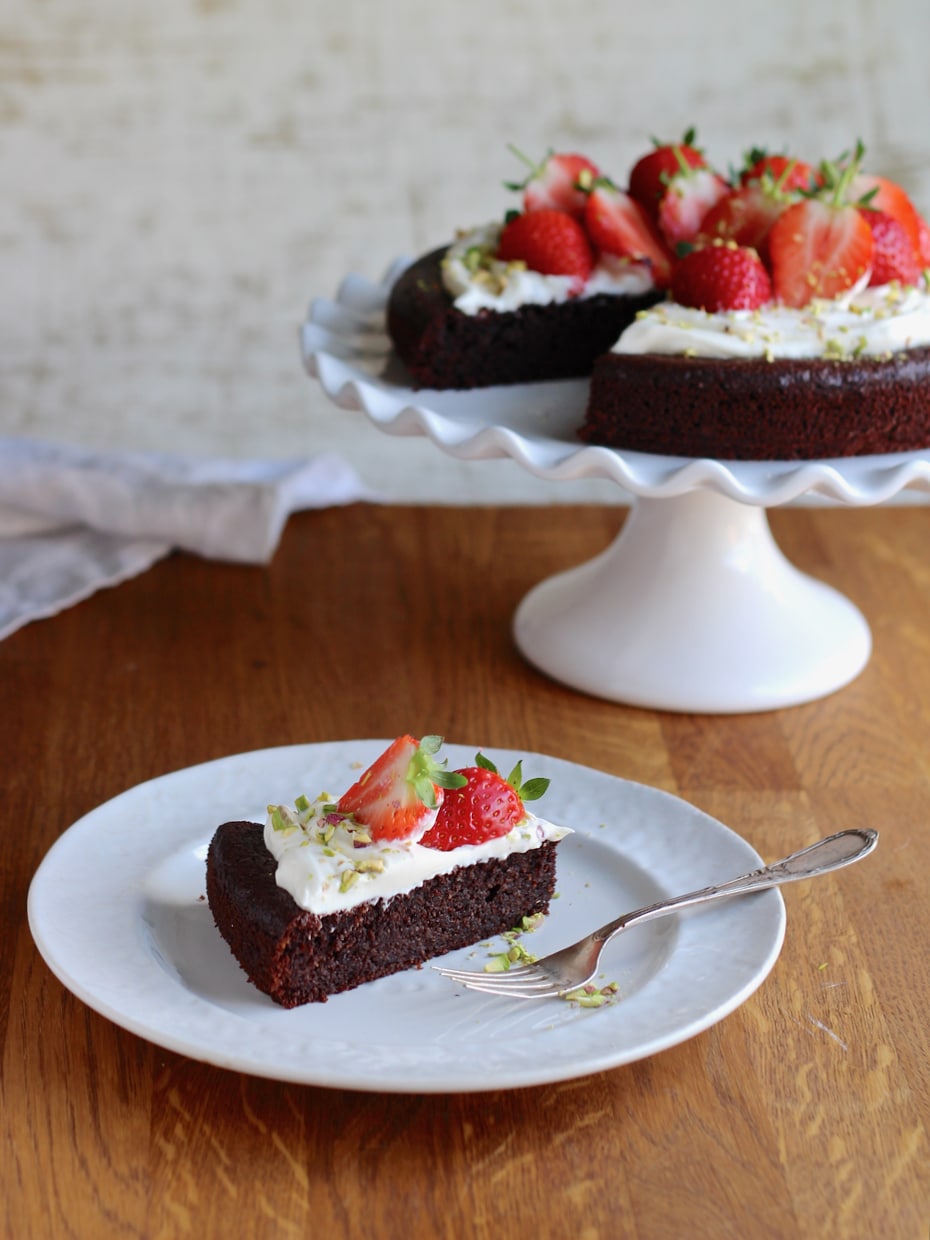 In last year's anniversary post I spent some time looking back on all that I had achieved in 4 years of blogging. In some ways it feels like not much has changed this last year, because the year before that was so dramatic, but there have of course been significant milestones to note; and oddly most have to do with my work outside of this blog. Catering yoga retreats, cooking for multiple yoga supper clubs, and all of my work as Course Director of the Natural Chef programme at the College of Naturopathic Medicine, is regular freelance work and now takes up most of my time. In comparison not much has changed with the blog, I have continued to develop a new recipe to share once a week to increase my knowledge of ingredients, expand my repertoire and to encourage you cook too. I do have to say I am dead chuffed with my photography and food styling which has come on in leaps and bounds this last year thanks to taking some courses and practicing hard. I actually really look forward to the creative photography process now (!).
So now I'm looking forward instead of looking back. Looking at the blogosphere as a whole there are mixed messages as to where this is all going, in just this last month a popular American blogger has had her site bought out by a corporation, and longtime bloggers like Gluten Free Girl are now questioning if blogging even matters anymore. Does it? It does to me so I think I'll just concentrate on me instead. I'd like to produce more recipes that people are likely to cook for their weekly suppers (erm how many of you have made the teff blinis with beetroot cashew cream yet??), back to where I started. Who knows maybe it would help me eat better too. Yes contrary to popular belief the more I have cooked professionally, the less I have been bothered to cook for myself at home (other than at breakfast, which I will always be bothered for!), choosing to throw random leftovers together, open a tin of sardines, or maybe fry an egg. I want to eat more fish, and continue my pledge to eat seasonally and explore interesting and exciting ways of eating vegetables.
Anyway, on to the celebrations.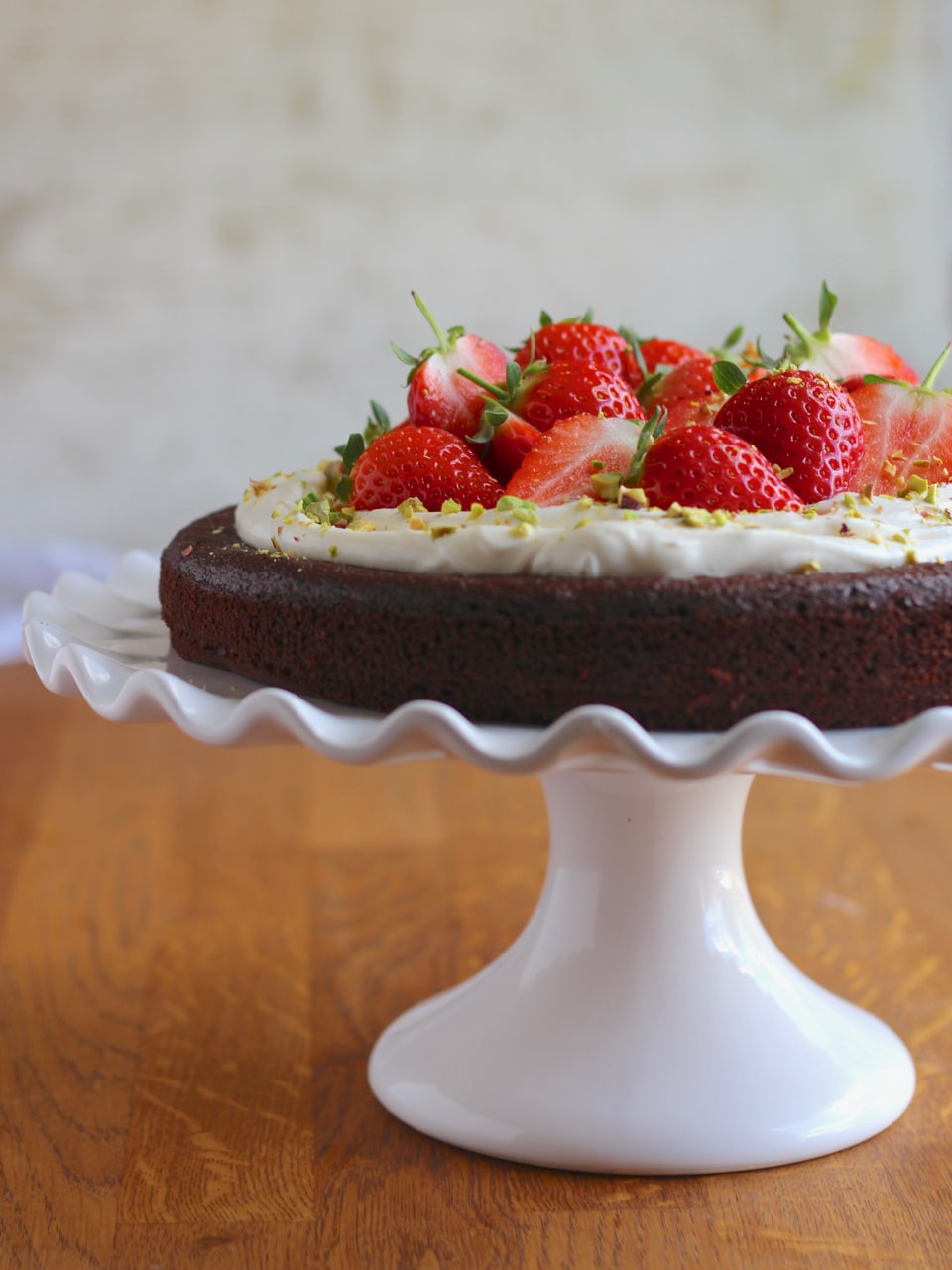 Cake, always the food we turn to when its time to celebrate. A birthday, a leaving do, a christening, a wedding? So as this week marks 5 years since this blog of mine got off the ground I am, true to tradition celebrating with cake. A chocolate almond olive oil cake – the best kind of cake.
I hardly ever cook the same dish twice, and in fact many of the recipes on this blog have only been cooked once or twice by my own fair hands. Yet this cake, I must have baked it at least 20 times over the years. I'm often asked for the recipe, and since it is actually adapted from a Nigella recipe I've often wondered if there was much point replicating it here, and usually just say "look up Nigella's recipe, sub the white sugar for something more wholesome and also reduce the quantities". I guess that's a bit of a mouthful, so now I can just refer you to this page instead.
The reason this chocolate cake recipe is so wonderful is that is naturally gluten and dairy free but without much fuss, and generally makes the most of store cupboard ingredients – ground almonds and olive oil. In fact it is actually both of these ingredients that make the cake so wonderful. A moistness you would never achieve using grainy gluten free flours, and a lightness that other dairy free butter substitutes such as coconut oil would just not deliver.
If you've been to a yoga retreat I have cooked on, an afternoon tea I have catered, a cooking lesson I have taught, or even a supper club you have experienced you've been one of the many people I have tried out this cake on! I always choose to serve it up differently, usually with a cream element and then usually some fruit. The cream and fruit can be piled on top which is perfect for serving on a table centre piece, or cake slices can be individually plated with a delicate quenelle of cream on top.
For my topping today I went with with a good dollop of creme fraiche because I love how the tart creme marries with the sweetness of the cake. Of course this no longer makes the cake dairy free, but fret not there are plenty of suitable dairy free toppings too. Then for the fruit the first of the British strawberries; not as juicy or as flavoursome as those that will follow, but enough to whet my appetite for now.
Here are some serving suggestions that are tried and tested by me, all of which suit different times of year. Failing that do consult the The Flavor Bible (every budding chef should own a copy) for more ideas on what pairs well with chocolate. The combinations are limitless.
Creme fraiche + raspberries or strawberries + pistachio
Coconut yoghurt + passion fruit + toasted coconut
Ginger cashew cream + blood orange + freeze dried raspberries (use my cashew cream* and add some fresh ginger juice)
Chocolate cashew cream + sliced figs (use my cashew cream and add cocoa powder)
White chocolate & vanilla cashew cream + poached rhubarb (use my cashew cream and sub coconut oil for cacao butter and add vanilla powder)
Coffee cashew cream + walnuts / cocoa beans (use my cashew cream and add coffee extract)
Chocolate avocado ganache + fruit
*for a simple cashew cream, soak 100g cashews for at least 4 hours, rinse well and blend with 2 Tbs melted coconut oil, 1 Tbs honey, juice 1/4 lemon, tsp vanilla extract and 30-60mls almond milk depending on texture you are after.

Rosewater Chocolate Almond Olive Oil Cake with Creme fraiche and Strawberries
A simple gluten and dairy free chocolate almond olive oil cake. Perfect with a range of creamy toppings and seasonal fruit.
Author:
Ceri Jones, adapted from Nigella Lawson
Ingredients
cake
150mls Extra virgin olive oil (or mild olive oil), plus extra for greasing
50g organic & fair trade cocoa powder
125mls boiling water
1 tsp rosewater extract (or 2 tps vanilla)
3 medium organic eggs
140g unrefined brown sugar; light muscovado, rapadura or coconut palm sugar
150g ground almonds
½ tsp bicarbonate of soda
pinch salt
Topping
200mls organic creme fraiche
225g British strawberries
A few pistachios, crushed
Instructions
Grease and line a 9 inch spring form cake tin. I usually grease with olive oil, then line the base and not the sides. If your can tin is old then lining the sides helps with smooth removal. Pre-heat your oven to 170°C.
Put the cocoa powder in a bowl, and whisk in the boiling water till it forms a smooth paste. Leave to cool for 5 mins, then stir in the vanilla extract.
In a separate bowl crack in the eggs, then add the sugar and olive oil. Using an electric whisk, whisk the ingredients together for 1-2 minutes, the mix will thicken slightly. You can whisk by hand by experience has shown that the cake won't rise as much.
Now pour the chocolate mix into the whisked eggs+sugar+oil and whisk again for around 10 seconds until incorporated.
In a separate bowl combine the almonds with the bicarb of soda and salt till the ingredients are well distributed. If you are using flaky salt crumble the flakes between your fingers as you pour them in. Now add this to the rest of the ingredients and stir with a spatula till combined. Pour into your cake tin and ease into the oven. Cook for 35 minutes until the cake wont' give under the pressure of your fingers. My oven is hot, so you may need a little longer to get it fully cooked. Know your oven!
Cool for 10 minutes before easing out of the tin, then leave cool fully before smothering with creme fraiche, British strawberries and a smattering of crushed pistachios.
Notes
Fills 1x 9inch tin. Easily scales up to a 11inch tin to serve 16 ( x4 and divide by 3 i.e 200ml oil, 65g cocoa powder etc)
What would your winning garnish for this chocolate cake be?
https://phenterminehealth.com has been shown effective in reducing weight by 10% from baseline in patients with obesity. Since its effectiveness has been proven in clinical studies, the FDA has approved its use.
*This post contains an affiliate link.