This flavourful chickpea, spinach and paneer chaat bowl, Inspired by Indian street food flavours, is quick and simple to make thanks to the addition of frozen Birds Eye* Chickpea and Spinach Mix with lentils and cauliflower. 
*sponsored by Birds Eye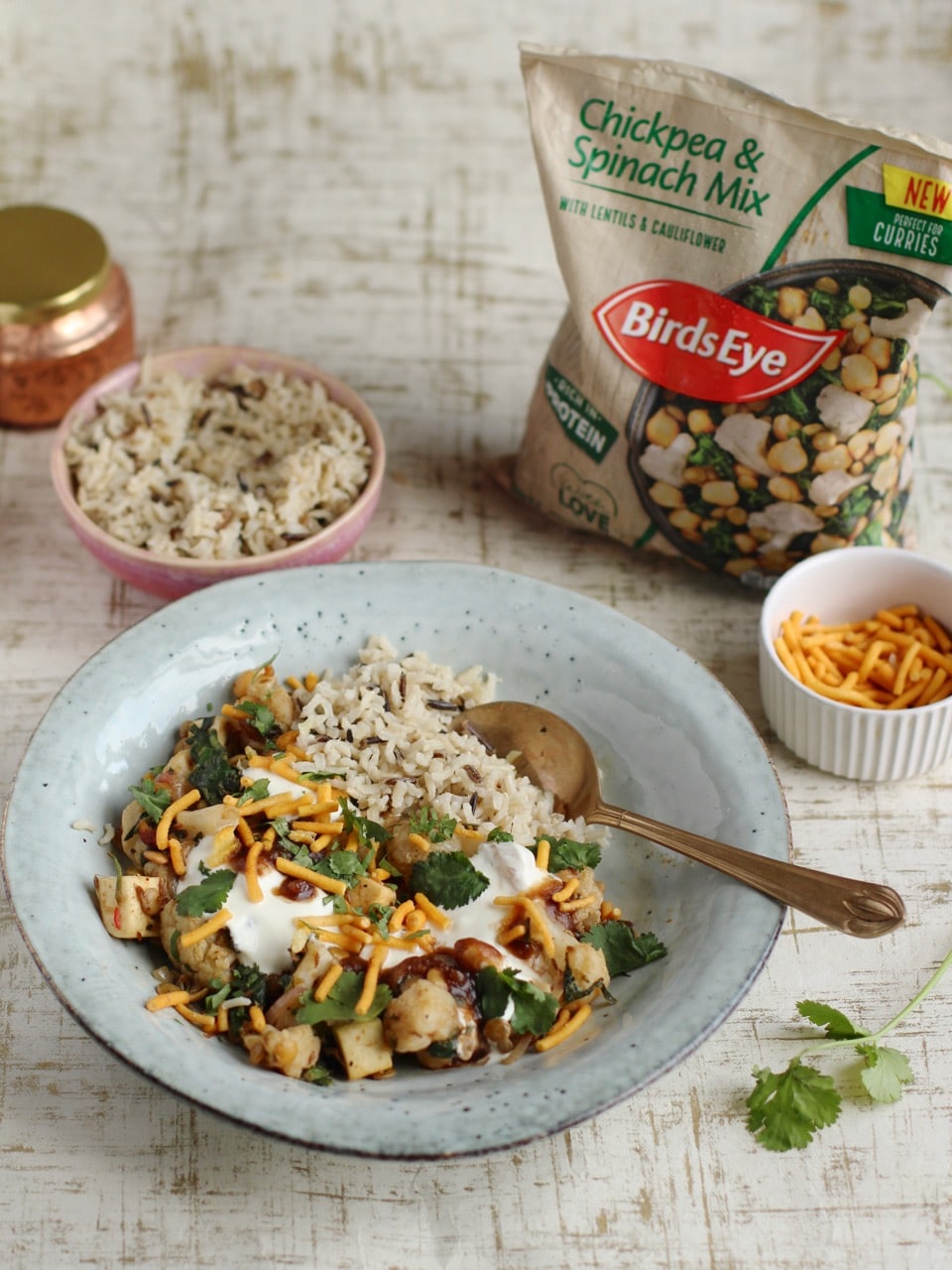 Crispy, crunchy, spicy, tangy. The four textures and tastes that a chaat should deliver.
Chaat refers to savoury snacks in India, usually eaten as street food. There are a number of different recipes and varieties of chaat, but I've stuck to something that just about resembles a dish I once sampled at one of London's street food markets; sadly I've yet to travel to India.
The combination of the sweet-sour tang of the date tamarind chutney with the fragrant coriander, cooling creamy yoghurt and crunchy sev all served above a nourishing bowl of veggies and chickpeas (and in my case paneer) is absolutely banging.  I know it's meant to be served as a snack, but I make the rules here, so why not serve a bigger a bowl, add a serving of rice and call it supper?
Everything in this recipe is fairly easy to get hold of but you might have to look a bit harder for the sev. Sev is fried gram flour noodles, which unless you want to make them yourself (I don't), come in a packet. If you can't get hold of sev, then just substitute for a good handful of Bombay mix sweetie (and yes, that's a nod to Jennifer Saunders' ridiculous character Edina Monsoon in the 1990s British sitcom Absolutely Fabulous!).
This is of course, not an authentic recipe and I'm not pretending it is (before anyone starts accusing me of cultural appropriation), but isn't it wonderful that we can be inspired by flavours of other cultures cuisines? My version is inspired by a recipe in Meera Sohda's wonderful 2016 book Fresh India.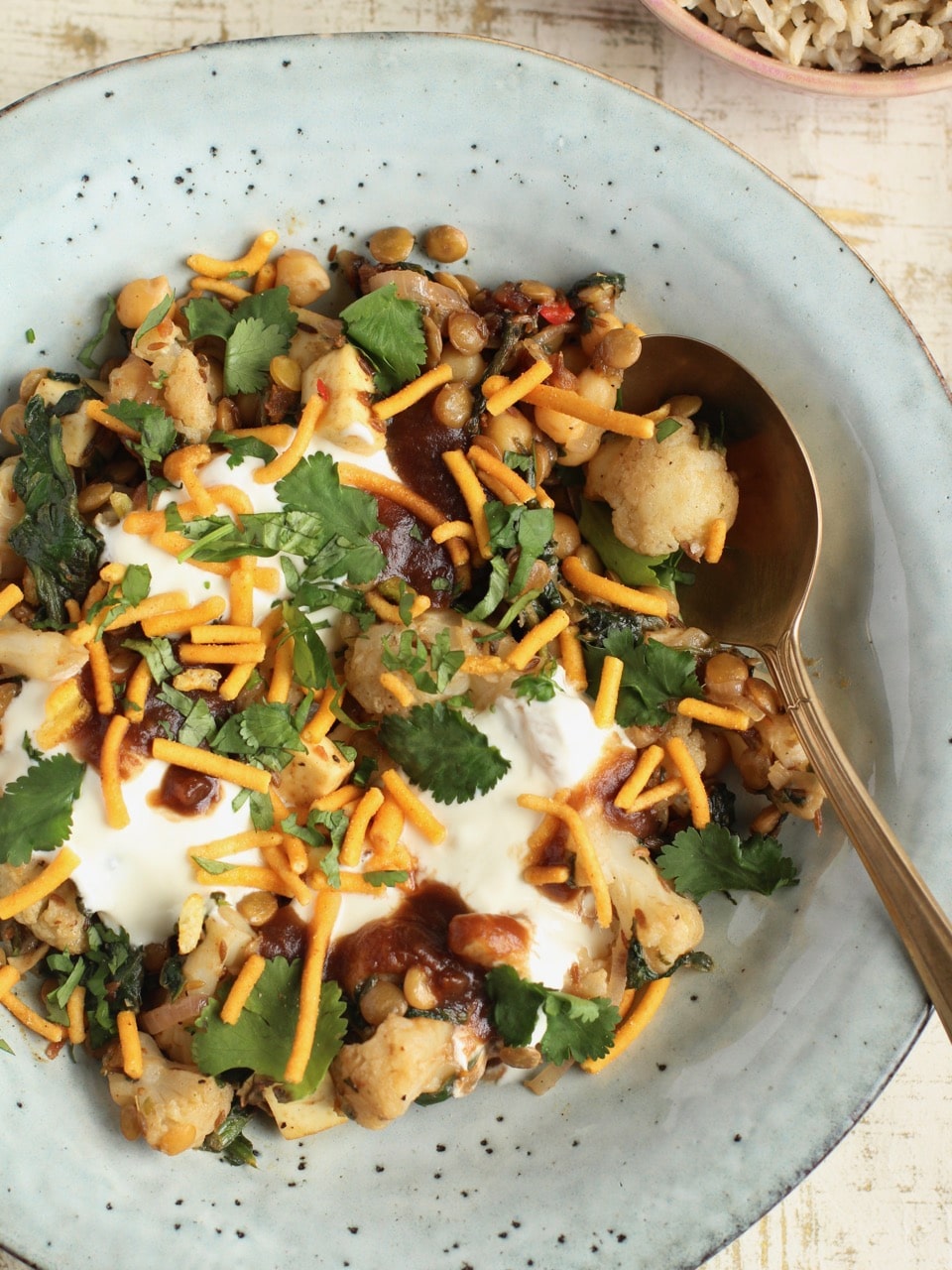 So what lead me to cooking chaat today?  Well it started with a bag of frozen chickpea and spinach, with lentils and cauliflower, a product that Birds Eye asked me to get creative with. Curry seemed like the most logical option and I could have just made a simple curry sauce, but since my prep time was cut down by using the pre-cut mix why not make something a bit more complex? I actually carry a list (excel spreadsheet!!) of recipes I want to develop, and chaat has sat there for around two years now. I actually had a stab at this a while ago with new potatoes. I took the photos and everything, but the flavour wasn't quite right, and so quite rightly I didn't share it.
Bags of frozen pulses are a good move from Birds Eye, and I think could compete quite easily with frozen peas and sweetcorn for their spot in the vegetable drawer of my freezer (usually the bottom, it's the smallest and an awkward shape). I always have them around for 'haven't been shopping, yet I need vegetable emergencies' and they're perfect for throwing into dishes straight from frozen. There's evidence that frozen vegetables contain just as many nutrients as fresh, which is always good to hear. Plus chickpeas are a source of protein, contain that all important fibre we all need more of, and also count to one of your veggie portions a day. I have of course been using dried or tinned chickpeas for years, but the dried ones take forever to soak and cook, and the tinned ones, well, only come in one sized tin which isn't always useful if you don't need exactly 1 tin!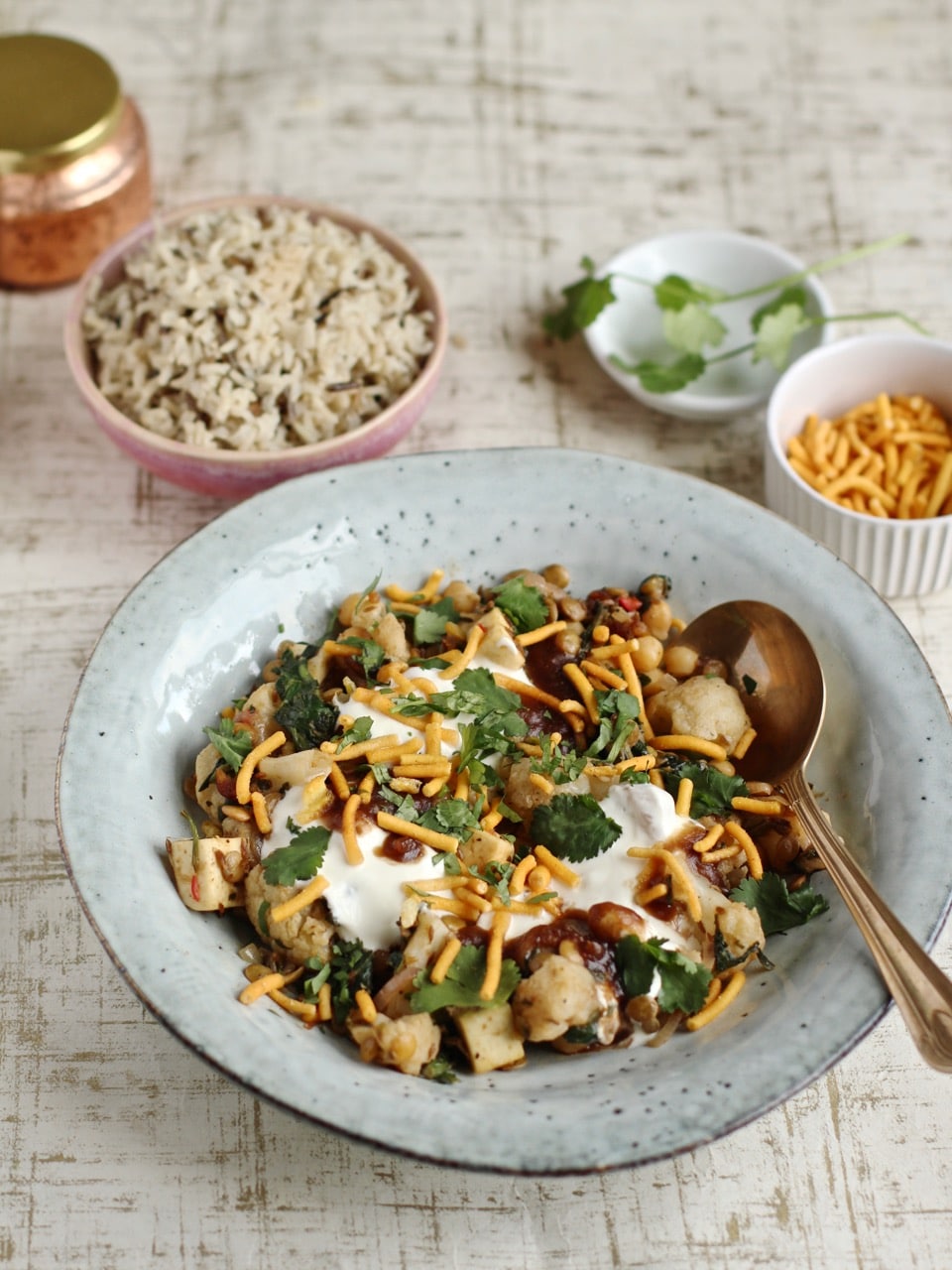 There are 2 other varieties in the new Birds Eye range including Italian 3 Bean Mix and Mexican Bean Mix. All of these would make the perfect base to a tagine, salad, homemade curry or stew. They're currently in larger branches of Tesco or Asda, or on-line from Ocado, and are £2 a bag.  Each bag will give you 4 servings, and I used the whole bag in my chaat for 2. This dish therefore gives you two portions of veg, which is not bad for a quick supper.
Let me know if you have a go at my chaat bowl dish!
—
Chickpea, Spinach & Paneer Chaat Bowl
Chickpea, Spinach and Paneer Chaat Bowl
This flavourful chickpea spinach and paneer chaat bowl, Inspired by Indian street food flavours, is quick and simple to make thanks to the addition of Birds Eye* frozen chickpea and spinach mix with lentils and cauliflower .
Ingredients
Tamarind date sauce
60g medjool dates, pitted (soak in warm water for 5 minutes if they are tough, then drain well)
2 teaspoons tamarind paste
Salt
Dish
450g Birds Eye spinach and chickpea mix
100g paneer, cut into small cubes
1 large banana shallot, thinly sliced
1 small red (or green) chilli, finely chopped
2 tsp cumin seeds
1 tsp ground ginger
pinch black pepper
Juice 1 lemon
olive oil + knob of butter OR ghee to cook
To serve
A couple of tablespoons of Greek yoghurt
Handful of coriander, leaves left whole/roughly chopped
Handful of sev or Bombay mix
Cooked Basmati rice
Instructions
First make your tamarind date sauce. Using a small stick blender, blitz up the dates with the tamarind paste and 60mls water, add a pinch of salt to taste and then set aside.
Heat up a tsp of oil (or ghee) in a medium frying pan and add the cubed paneer, cook for 5-6 minutes, until the edged begin to char, transfer the paneer to a plate, and set aside.
Meanwhile put the frozen vegetables into a heat proof bowl and pour over boiling water from the kettle. After a few minutes they should have defrosted, drain well until ready to use.
Add more oil to the pan - around 1 tablespoon and if you like also add a knob of butter (or just use ghee and don't bother with any oil).
Add the shallots and chilli with a pinch of salt and cook for 3-4 minutes until the shallot has soften, then add the spices and pepper, and allow them to toast in the heat. Then add the drained vegetables back in and cook for 5-6 minutes, before finally adding the paneer back to warm through.
Squeeze in the lemon juice, 2 tablespoons of the tamarind date paste and check the seasoning to taste.
Transfer to a serving bowl and top with the yoghurt, remaining chutney, fresh coriander and sev / Bombay mix.
Notes
Since there isn't a lot of sauce in this dish to wrap round the frozen veggies to help them cook, I decided to defrost the frozen mix briefly before adding to the pan to take on the spices and direct heat from the pan. No need to boil, just pour over boiling water and leave sit for a few minutes. I always do this with peas too!
Pin me for later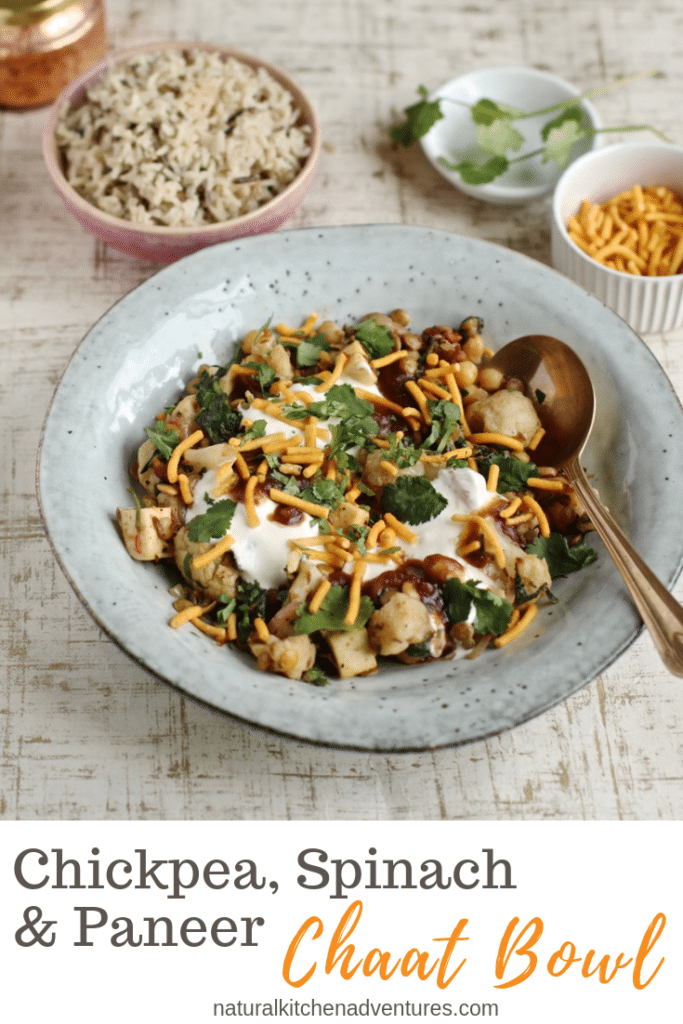 Disclaimer:  This post and recipe was commissioned by Birds Eye. Thank you for supporting the brands who help make it possible for me to continue developing and sharing recipes on Natural Kitchen Adventures.