This squash, fennel and sage chicken traybake, is full of the flavours of autumn.  Since apple is also an autumnal flavour It pairs well with a glass of apple flavoured sparkling drink, Appletiser*. 
This post is commissioned by *Appletiser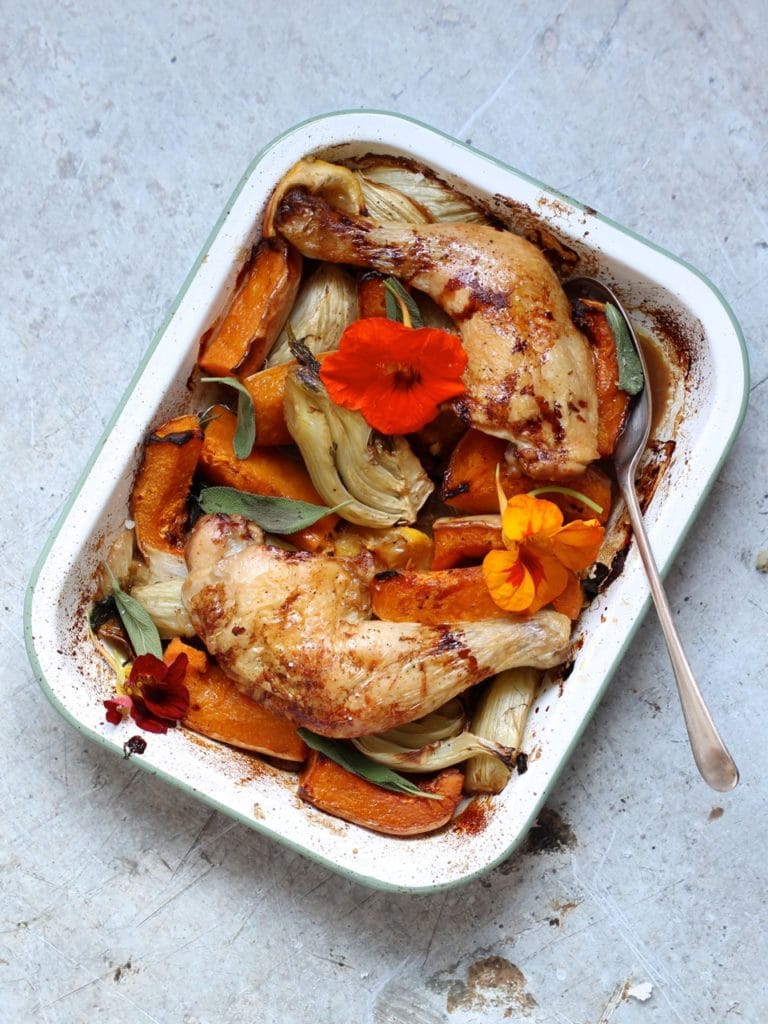 "Autumn days when the grass is jewelled, and the silk inside the chestnut shell, jet planes meeting in the air to be refuelled all these things I love so well,.."
An autumn song we used to sing at school, and everyone else of my generation it seems.  I've seen a few other people (like my friend Pip) mention this song over the last few weeks too. There was another song about leaves turning yellow, brown and red I also loved. Know it?
Autumn is such a beautiful time of year, for the colour of the leaves alone, but also because it's harvest time and with it the richest choice and abundance of vegetable produce.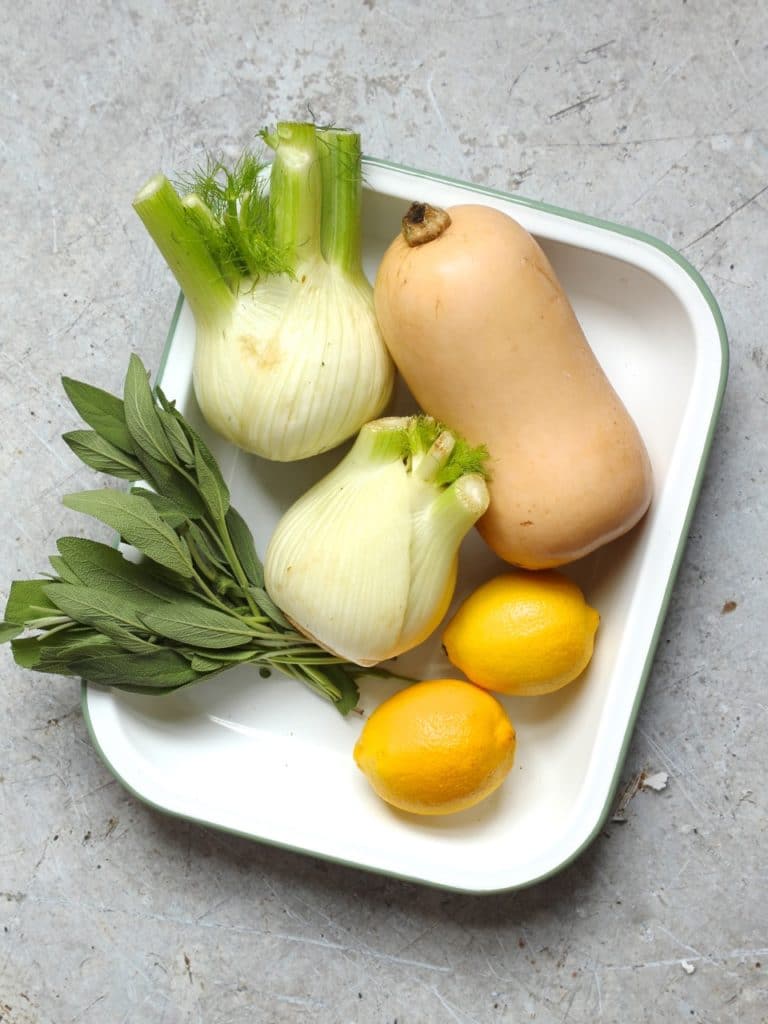 For my next post in my collaboration with sparkling apple drink brand Appletiser, I was challenged to come up with an autumn recipe flavour pairing for the drink.  Since apple is already an autumnal flavour, this was a challenge to be relished.  Apple pairs well with lots of things, but the one veg I always automatically associate with this time is squash.  So I let that be the base of this chicken traybake recipe.
I haven't shared a meat based dish for a long while on the blog.  This hasn't been an especially conscious decision for the blog, but mirrored one in real life that has seen me championing veg and reducing meat in my shopping basket to do my bit. However sometimes I crave meat, and when I do, I like to answer those cravings with what they ask for, there's no labels or rules here.
With two chicken legs, this traybake should serve 2 people very generously. In fact if we were looking at cutting down on meat consumption further, I reckon we could stretch this dish out to 4 people, maybe adding in a tin of chickpeas and another fennel or so to pad it out.  Consuming less meat doesn't always have to mean cutting it out, it can just mean stretching it out a bit further.
I'm practicing the art of simplicity yet again with this chicken traybake, all of the ingredients themselves carry so much flavour there really isn't much reason to do anything else.  From the sweet squash, to the aniseed-noted caramelised braised fennel, and the rich chicken gravy, all of which is cut by the acid of the lemon and sweet balsamic vinegar.
Many people tell me they don't much like fennel.  I usually manage to turn them around.  It's one of those vegetables you need to prepare correctly, especially if aniseed is not your favourite flavour.  I love slicing it thinly and marinating it before adding to salads (like I did here, when it was also paired with apple and chicken), but also, roasting or braising it.  Fennel caramelises just like onion and the flavour mellows completely.  I mean the aniseed notes are still there, but not as strong, and definitley not the dominating flavour of the dish.
On the other hand I'm not sure I've ever come across anyone that doesn't enjoy squash. Have you?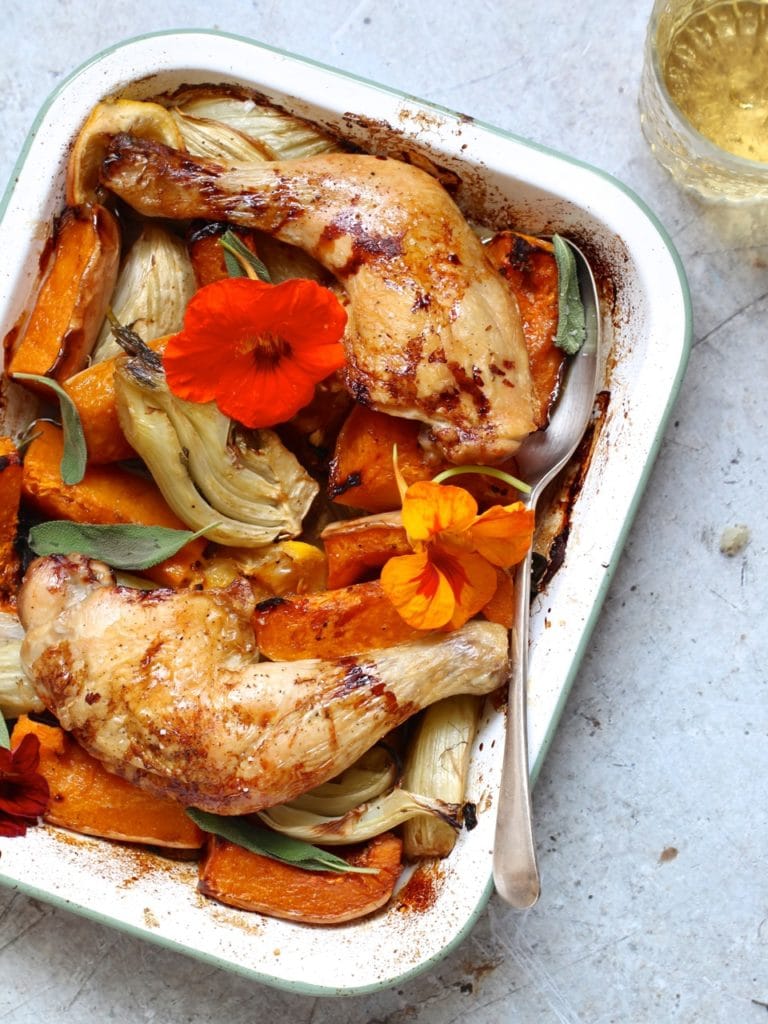 This chicken traybake requires minimal prep and is the perfect dish to stick in the oven leaving you more time to kick about in the autumn leaves; while leaving someone responsibly in the house to make sure the oven doesn't pose a fire safety hazard obviously.
Oh and the nasturtium flowers are not at all a requirement for this dish, but since a friend happened to give me some from her garden pot the day before I shot this, I absolutely had to use them before they dried out.  I think they make the most beautiful peppery garnish.  I'm hoping to plant some for myself next spring in a pot outside my house too.  Fingers crossed they'll thrive, apparently they are incredibly easy to grow.

Squash, Fennel and Sage Chicken Traybake
This squash, fennel and sage chicken traybake, is full of the flavours of autumn. It's a one pot, hands off no fuss dish.
Ingredients
1 small squash, approx 500g, cut in half and into wedges 5cm long
2 medium fennel, cut into wedges
1 lemon, cut into ¼
1 tablespoon olive oil
2 organic chicken legs (or a combination of 4 thighs and drumsticks)
1 handful sage + extra for garnish
3-3 garlic cloves, skin on, bashed,
2 tablespoons balsamic vinegar
Salt and pepper
Instructions
Pre-heat oven to 200ºC (fan)
Nestle the squash, fennel and lemon wedges in a roasting dish, and sprinkle over ½ teaspoon sea salt. Drizzle over the olive oil, then place the two chicken legs on top. Place the roasting dish in the oven and cook for 25 mins.
After 25 minutes remove the tray from the oven and reduce the oven temperature to 180ºC (fan). tuck the sage leaves and garlic in amongst the veg and drizzle over the balsamic vinegar.
Return to the oven to cook for another 15-20 minutes, until the chicken skin is crispy and the flesh is cooked through (juices will run clear, and skin will no longer be pink at the deepest part).
Take the pan to the table and serve with sourdough bread or toast smeared with garlic cloves and drizzled with olive oil.
Add fresh sage leaves and nasturtium flowers as a final flourish.
What's your favourite flavour of autumn?
Pin me for later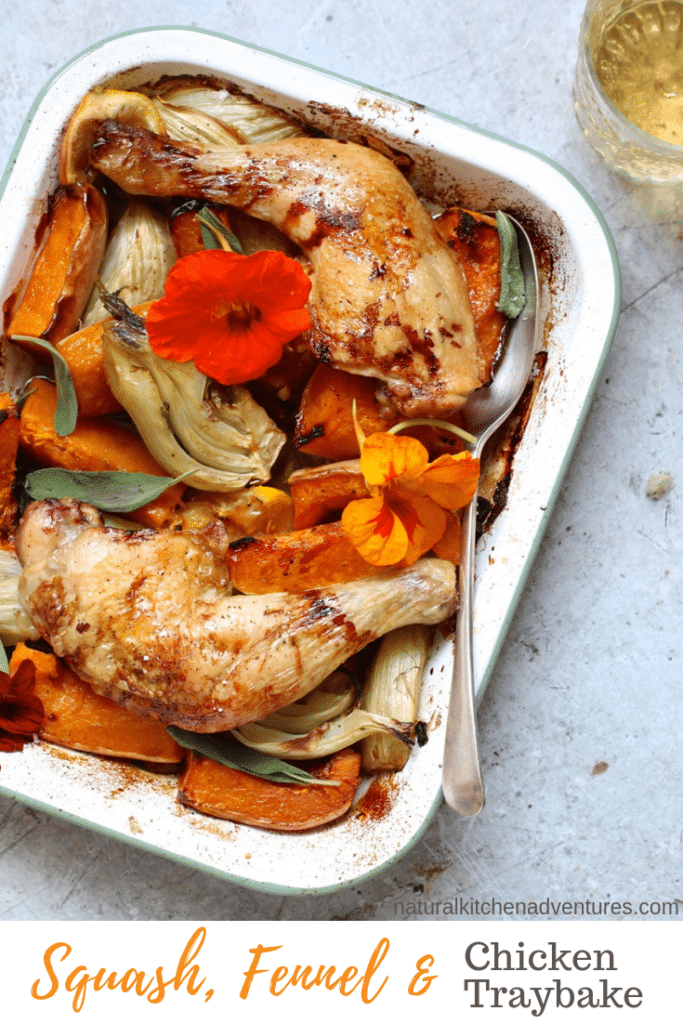 You can see other posts in my Appletiser series here.
*Disclaimer:  This post and recipe was commissioned by Appletiser. Thank you for supporting the brands who help make it possible for me to continue developing and sharing recipes on Natural Kitchen Adventures.