These butternut squash & feta filo rolls, are yet another cunning way to smuggle cooked butternut squash into a recipe.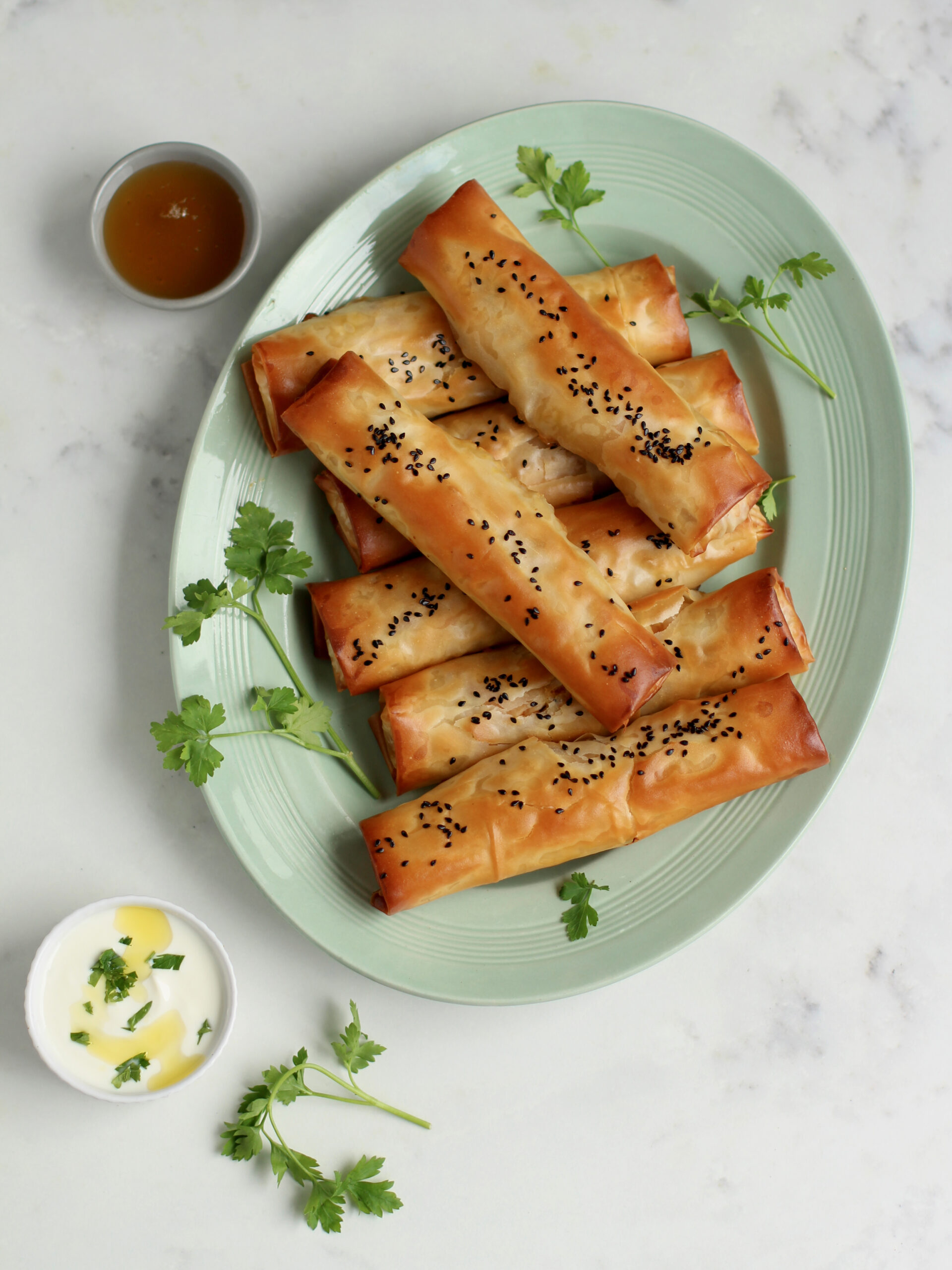 This is my second recipe in a row with the inclusion of warm feta. My trip to Greece in September must still be on my mind, where amongst many delicious appetizers over many days we had a slab of warm feta, wrapped in pastry, baked, and served warm with a drizzle of honey. Delicious. I didn't start out with the intention of recreating that dish, though, and frustratingly this recipe has taken me three attempts to get right.
I actually started with the idea of a börek inspired pastry rose with an Italian inspired filling of ricotta, squash, walnut and sage (classic flavour combo). I don't know if it's me or the filo pastry we have here in the UK, but I just couldn't manage to roll it up without exploding, and the flavours, whilst excellent together in a pasta just didn't work here – no one wants soggy walnuts.
I was about to give up and try something else with squash entirely, then had the idea to borrow the feta pastry idea, crumbling and mixing the feta up with the cooked squash, but rolling it into chunky rolls. Much, much easier and a flavourful triumph.
These pastries are meant to be quite big. I'd serve 2 for a main course, alongside a seasonal salad, or offer 1 each as a little appetizer. Don't forget the honey and Greek yoghurt or tzatziki for drizzling (or dunking).
Butternut Squash & Feta Filo Rolls
These butternut squash & feta filo rolls, are yet another cunning way to smuggle cooked butternut squash into a recipe.
Recipe type:
Main course / Appetizer
Ingredients
1 medium sized butternut squash, approx 1kg, peeled and chopped into medium-sized cubes
extra-virgin olive oil
200g feta cheese
1 tbsp finely chopped parsley
1 garlic clove, finely chopped
pinch chilli flakes
salt and pepper
1 x 270g pack filo pastry (usually 7 sheets) sheets, brought to room temp 20 mins before using
handful of black sesame seeds
to serve: runny honey and Greek yoghurt
Instructions
Pre-heat the oven to 180°C fan/200°C/400°F/gas mark 6
Toss the squash cubes onto a baking tray with 1 tbsp olive oil and season with salt. Roast in the oven for 30-35 minutes, until completely soft. Remove from the oven and leave to cool off till no longer steaming hot, then tip into a bowl and mash.
Into the mashed squash bowl crumble in the feta, add the chopped parsley, garlic, chilli and mix together till well combined. Season to taste.
Open out the filo pastry, and keep the stack of sheets covered with a tea towel while you work with one sheet at a time. Paint the top of your sheet of filo with one coat of olive oil then with the long end facing you, fold in half from left to right. Paint the new top with olive oil. With the now shortest edge facing you, pile up a sausage mound of filling a 2cm up from the bottom, leaving a 2cm gap at each side. Fold up the bottom of the pastry to cover the filling, then fold in the sides by around 2cm. Tightly roll up the pastry into a roll, and use olive oil to stick the pastry at the join. Transfer to a baking tray, brush olive oil over the top and sprinkle with the black sesame seeds. Repeat with the rest of the filling and filo sheets.
Bake in the oven for 20-22 minutes, or until until golden all over. Leave to cool a little before eating, to avoid molten feta burning the inside of your mouth. Serve with a drizzle of honey and Greek yoghurt (or tzatziki) for drizzling (or dunking).
Notes
There are usually 7 slices in a packet of shop bought filo pastry. I don't know why there aren't an even number, but this filling will be enough to stuff all 7.