This rich and creamy butternut squash dip is a wonderful way of making the most of autumn's squash. It's a bit like hummus, but without the chickpeas.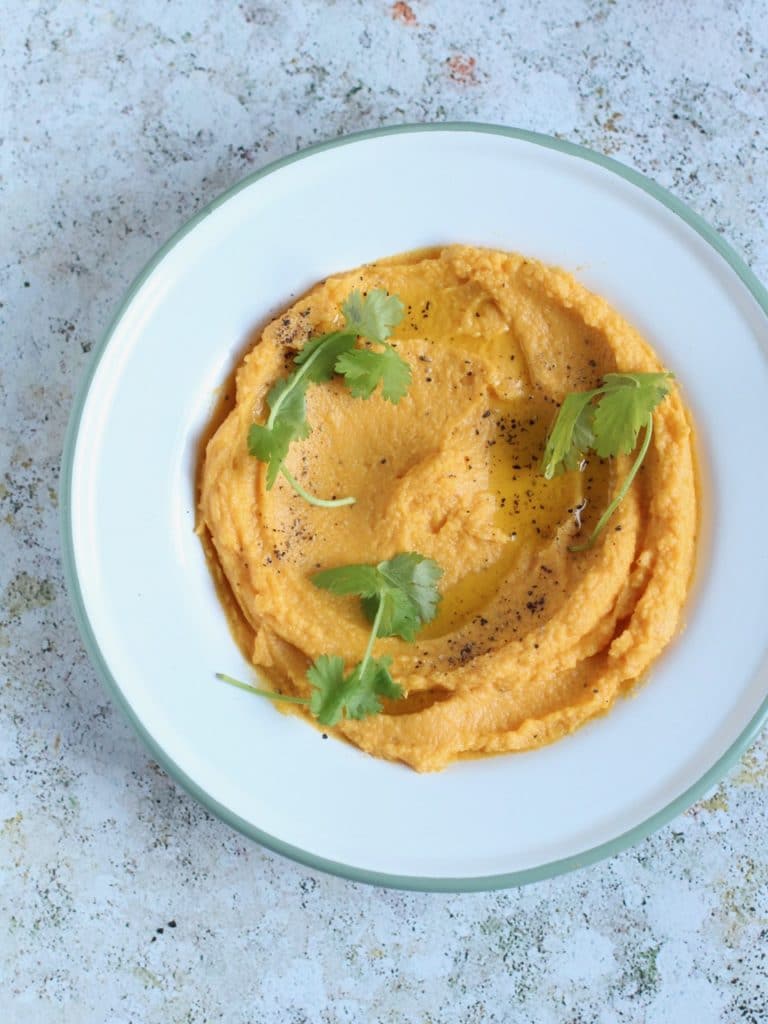 Autumn is a wonderful time for squash, and there are so many ways to make the most of its creamy texture. At my forthcoming London supper club I'll be whipping up a squash puree, which also makes the most of squash's ability to be whizzed into smooth oblivion. But today I'm re-sharing my butternut squash dip.
I first blogged this recipe in 2011, and as I made a batch for an event recently I thought I would update the photos and some of the text in the recipe (things have changed a lot around here in 7 years!).
You can actually use this recipe with a variety of squash.  They vary in water quantity so some will have a looser texture than others when blending, a firmer squash like butternut, kabocha, crown price or Red Kuri (also known as onion) is probably best.
You can go one step further and use other veggies too. My legendary carrot pate was actually based on this recipe. I'm still not sure whether I prefer the carrot or squash version, but both are welcome in my kitchen especially in autumn.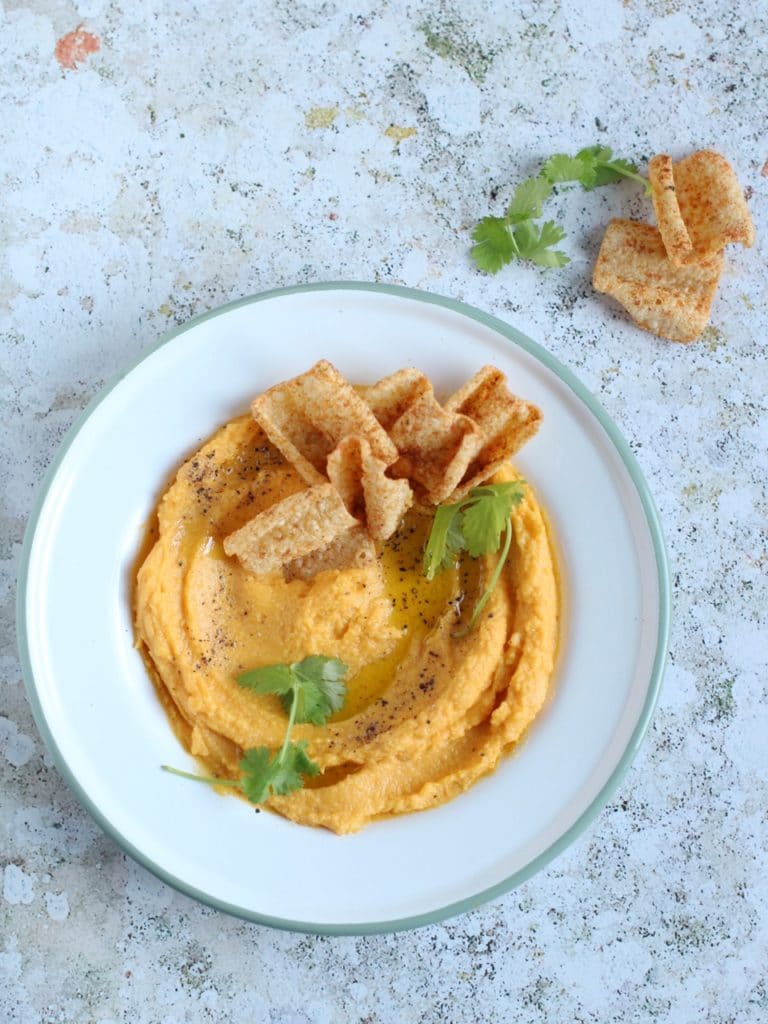 I like making my dip in my high powered Froothie Optimum 9400 blender, because it makes it super smooth and creamy, but you can of course do this with a hand blender or food processor.  Just be prepared to give it a bit of welly to get it all blended and smooth.
So what are you going to do with this dip once it's made? Well, of course I have plenty of ideas for you, all tried and tested in my kitchen of course:
Dip pitta, crudités or crisps (what a treat!) in it.
Spread it on toast, then add a crumble of feta and a handful of greens or sliced figs.
Dollop it in endive and top with olive tapenade and some herby garnish for a canapé.
Add a scoop of it on top of sweetcorn fritters and serve it with a soft boil egg and rocket for brunch (as I did last weekend).
Or anywhere where its appropriate to serve regular hummus, obvs.
What would you do with the dip?  Any flavour combos I should be trying. Let me know in the comments below.
—
Butternut squash dip
Butternut Squash Dip
This rich and creamy butternut squash dip is a wonderful way of making the most of autumn's squash. It's a bit like hummus, but without the chickpeas
Ingredients
1 medium sized organic butternut squash (around 1kg), split in half and seeds scooped out.
1 clove of garlic, minced
2 tablespoons tahini
½ lemon, juiced
extra virgin olive oil
salt and pepper
optional coriander for garnish
Instructions
Pre-heat oven to 180ºC (Fan)
Brush the cut side of the squash lightly with olive oil, add a pinch of salt to the cavity, then place cut-side down on a lined baking tray.
Roast in the oven for 50 mins to 1 hour, until the squash flesh is completely soft.
Remove from the oven and cool for at least 10 minutes, then scoop out the flesh and add to a blender with the garlic, tahini and lemon juice. Blitz until completely smooth and then taste. You may need to add an extra drizzle of oil to enhance the flavour (it depends how watery your squash was), and also some extra salt and pepper too.
Scoop into a bowl, cover and chill until ready to eat. Best served chilled
Garnish with coriander if you like.
Notes
You can follow this recipe with a variety of roasted squash flesh.
Pin me for later
Disclosure: I am now an ambassador for Froothie and some links in this article may be affiliate links. If you'd like to know more about Froothie health products, or this machine in particular, please visit the Froothie Website for more details. Any purchases made through this/these link(s) are at no extra cost to you but give Natural Kitchen Adventures a small commission. Thanks!