This vegan recipe for Blackberry Appletiser* Jelly & Granita, with Berries and Pistachio Cream, served with optional Beetroot Sorbet is a sophisticated and fun end of summer dessert.
*This post is sponsored by Appletiser
I was never one for Jelly really. Children's parties of the 80's and my Mamgu London's (my Welsh grandma who lived in London) signature dessert of jelly with tinned fruit suspended in the mixture saw to that.  I'm not sure whether it was the jelly flavour or texture I didn't like, or really just that I always preferred the accompanying ice cream.
Jelly has gotten a bit more sophisticated since then, and as an adult I've been seduced a few times by versions made with champagne or prosecco, but what about a sophisticated alcohol free one?   When Appletiser challenged me this month to come up with a recipe for celebrating with friends over the August bank holiday weekend, I thought that a jelly made from Appletiser would actually be a fun thing to create and share.  I've created a dessert to impress your friends I hope?  It's also prime blackberry season, and we know that blackberry and apple are bezzies!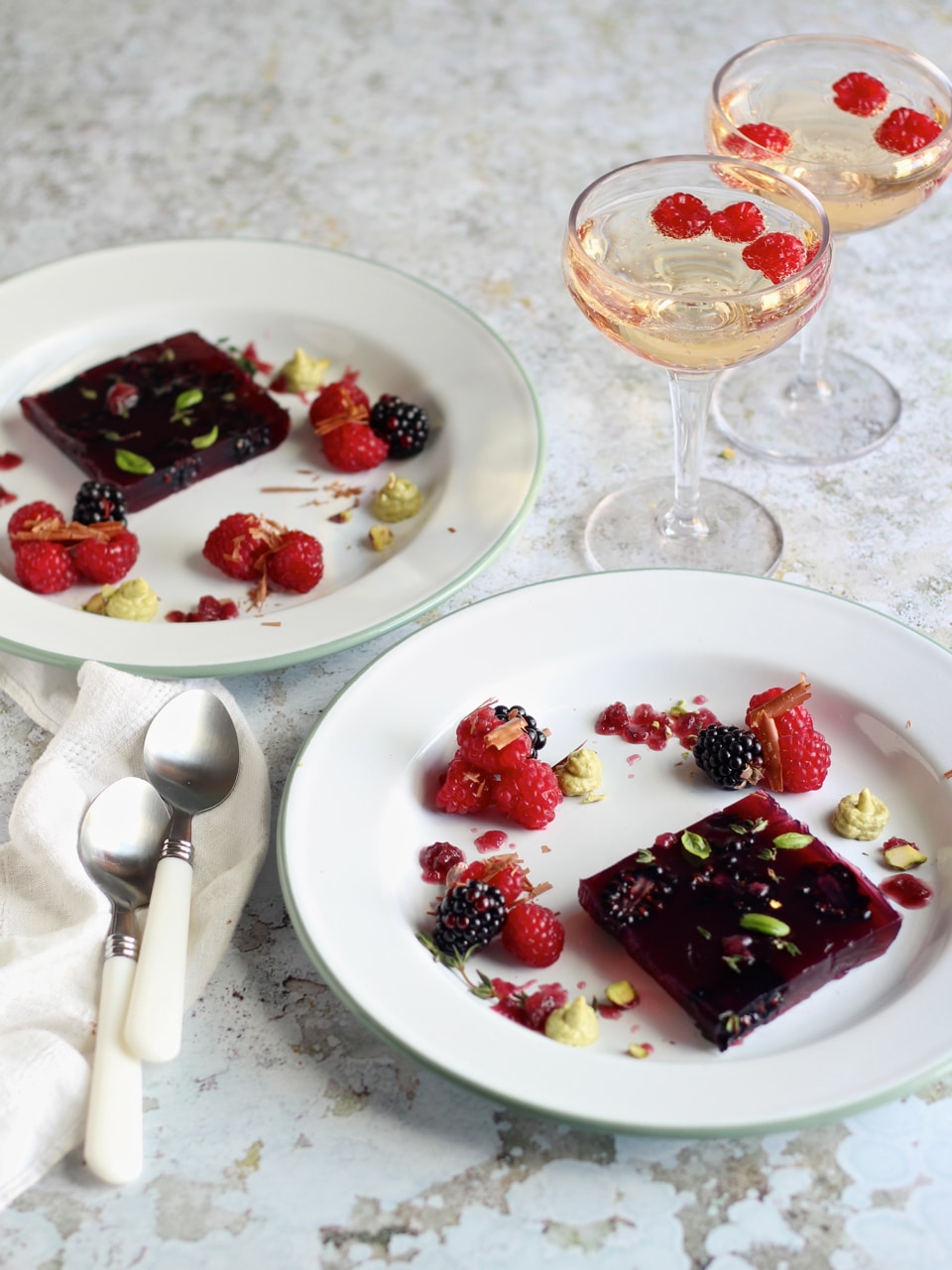 This recipe is inspired by a raspberry elderflower recipe I learnt on my recent week long Advanced Vegan Diploma at Demuths Cooking school in Bath. Rather than making the jelly the star of the dish, it's used as one element of a carefully constructed plateful.  To make the jelly we used agar flakes, a type of seaweed which has a gelatinous quality that can set most liquids.  
So after I'd decided on my blackberry apple and thyme jelly, I added granita like we'd done at Demuths, seasonal fruit on the side, and a good quenelle of pistachio cream.  At Demuths we also made a delicious pistachio semifreddo and vegan meringues, but that might have been a step too far for this blog post.  As I was plating up my dishes I remembered I still had some of Kate's Beetroot & Vanilla Sorbet from a few post's back in the freezer.  So on that went too.  It totally made the dish, and there I was with my jelly and ice cream combination back in 1988.  
Agar can be fiddly, and it has s taken me quite some time to work out how to work with it not against it.  I first used it during my natural chef training, but have mostly ignored it since.  A toe-dip into panna cotta at the start of this year, and my time at Demuths inspired me to try again.   The set is different to gelatine, it can be brittle and break, so it's all about getting the quantity right for the perfect wobble. Furthermore agar has trouble setting anything too acidic like pineapple, and since apples are acidic it took me a couple of attempts to get the quantities of agar to appletiser just right.   I suppose that gelatine would also work here, but different rules and quantities apply.
This is by far the most complex and pretentiously cheffy dessert recipe I've ever put on the blog.  Please forgive me!

Blackberry Appletiser Jelly & Granita, with Berries and Pistachio Cream
This vegan recipe for Blackberry Appletiser Jelly & Granita, with Berries and Pistachio Cream, served with optional Beetroot Sorbet is a sophisticated and fun end of summer dessert.
Ingredients
For the Jelly:
480mls Appletiser
3 tablespoon + 1 tsp agar flakes (I used Clearspring)
50g blackberries
A few sprigs of thyme
Small basil leaves or edible flowers such as purple pansies
For the pistachio cream (will keep need to make up 200g to effectively blitz it in a blender, you can freeze the leftovers)
200g pistachios, soaked for 4 hours (or 30 mins in warm water) and peeled
60-120mls coconut oil, depending on how firm you want it
120mls almond milk
1 tablespoon maple syrup or honey
tsp vanilla extract
Juice of half a lemon
For the dish
small punnet of blackberries
small punnet of raspberries
dark chocolate curls (scrape a sharp knife across the flat side of a chocolate bar to make these)
a few extra pistachio nuts, chopped
optional scoop of beetroot sorbet
Instructions
First make your jelly. Put the appletiser in a saucepan and sprinkle the agar flakes over the surface, do not stir. Bring to a simmer, do make sure it is simmering and you're not just seeing the bubbles from the carboated water, it will take about 5 minutes. Stir and make sure all the flakes have disssolved. Remove from the heat, squeeze in the blackberries and add the the thyme. Allow to infuse for 10 minutes, before sieving out the fruit and herbs.
Prepare a shallow tub (I used 2 x 1lb loaf tin) by lining it with clingfilm, and then pour in ¾ of the infusion. Wait 2-3 mins for it to start to set then drop in a few cut blackberries across the surface, then add some small thyme leaves or the flowers. Move to the fridge and chill until firm, around 30 minutes.
Taking the remaining ¼ of the infusion make a granita, by pouring it into a shallow tub and freezing it for 30 minutes. When it has set you can scrape it back with a fork to create a granita.
Make the pistachio cream by blending all the ingredients together in a high speed blender until smooth. Transfer to a squeezy bottle and chill.
When everything is set you are ready to plate up. You can do as I have or make up your own design, odd numbers and doing things off centre generally looks best! First cut a square or rectangle slab of jelly and gently ease it onto the plate. Decorate with fresh berries and a few squidges of pistachio cream, gently sprinkle over the granita, spoon on some sorbet, and decorate with chocolate curls and chopped pistachios.
Serve immediately, the sorbet and granita don't last long!
You can see other posts in my Appletiser series
here
.
*Disclaimer:  This post and recipe was commissioned by Appletiser. Thank you for supporting the brands who help make it possible for me to continue developing and sharing recipes on Natural Kitchen Adventures.