Leaves on the trees are turning…
Being a food blogger – and thus constantly having my social feeds flooded with food pics and articles – it was no surprise that when the calendar ticked over to October everyone, I mean everyone started sharing photos and recipes involving squash and pumpkin. So here's me joining right in with my apple & squash galette encased in a hazelnut pastry. I jumped right on that bandwagon didn't I?
Following on from my recent savoury beetroot galette I thought it would be good to complete the set and work on a sweet recipe too, but this time in individual mini portions. My last galette had butter and an egg to bind, so this one on the contrary is vegan made with coconut oil and a flax egg. Why? For no other reason than to show you how easy it is to adapt recipes for dietary requirements (in my case a vegan cooking lesson, and yoga guests).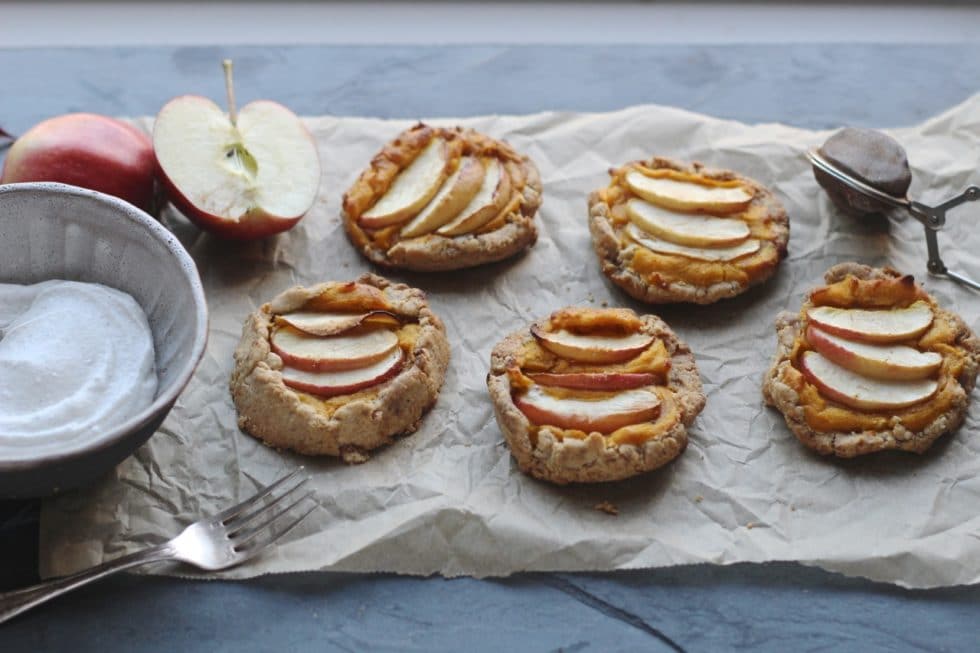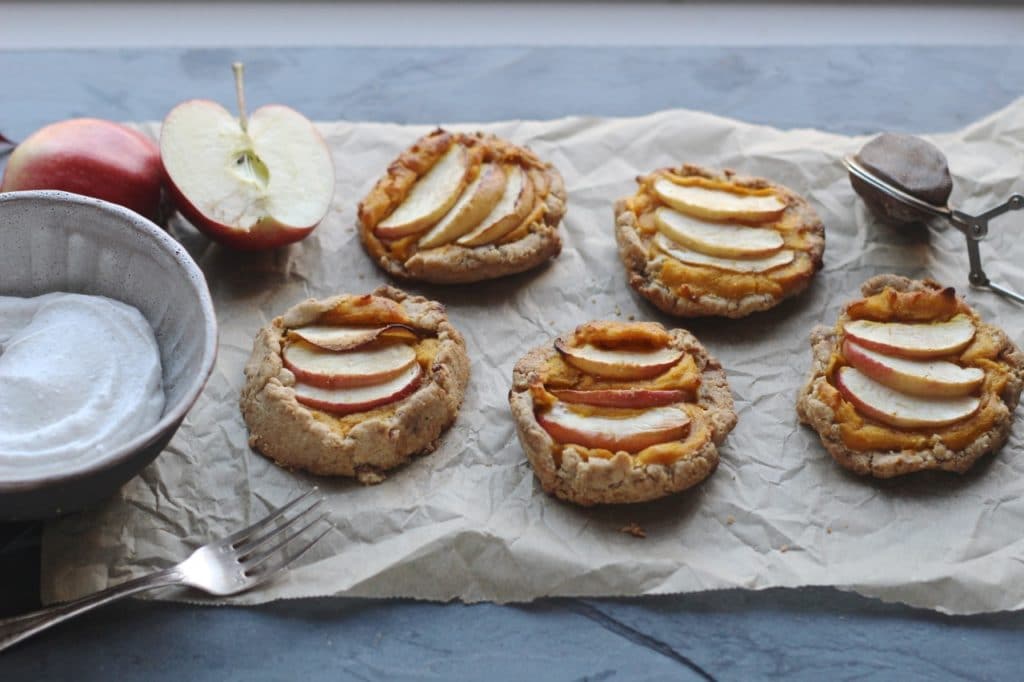 I haven't used actual pumpkin in my dessert for several reasons. 1, I find it too watery and lacking in flavour without tonnes of sugar added. 2, real pumpkins are time consuming to carve out and cook and 3, the pumpkin purée cans we have in London are imported from America which is rather sad given all the beautiful squashes we grow here. Although I recently discovered those cans aren't always 100% pumpkin anyway.
For my purée I used Crown Prince Squash since it was in my veg bag this week, but I know that other squashes such as kabocha which have a similar creamy texture would work well. I'll be trying it with butternut too I'm sure. Squash and apples are a great seasonal combo and they both also happen to pair well with hazelnut, so hazelnut pastry (instead of almond) had to be included for something a little bit different. See, its easy to create a completely new dish with just a few tweaks!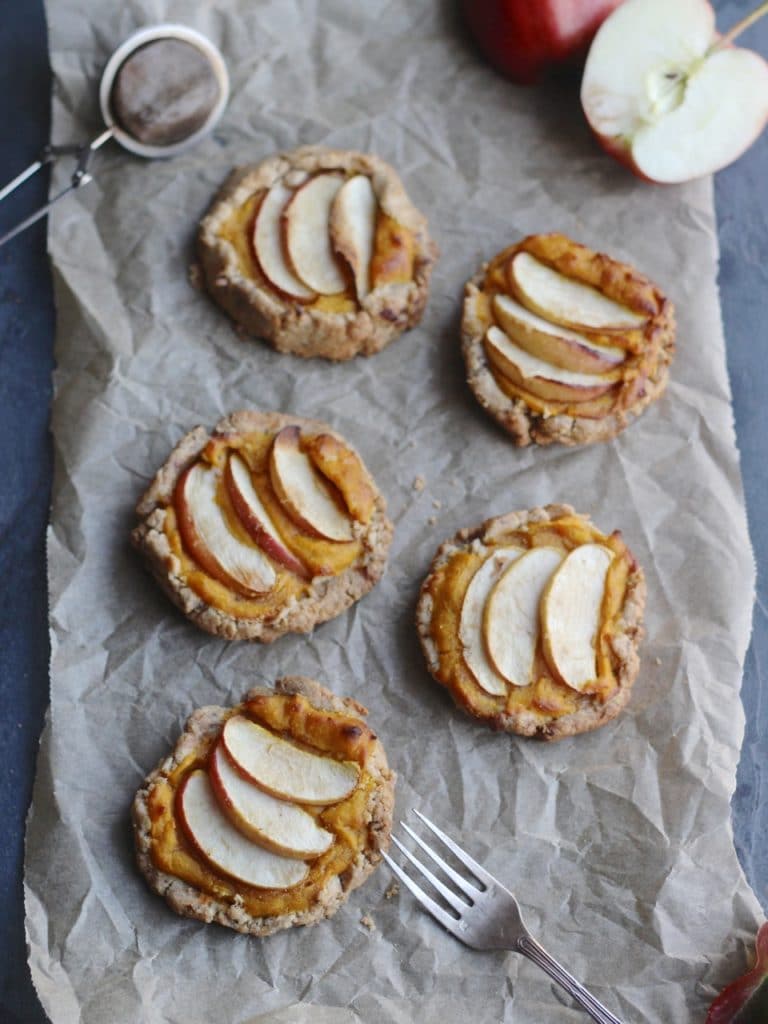 I ended up with a bit of leftover squash purée after making these and lobed a dollop of it in my porridge the next day along with some milk, a few seeds, an apple and topped with some cinnamon. It was pretty epic. I can't imagine anyone would get up an hour early to roast a squash before breakfast so you'll be happy to know the purée will keep in the fridge (or freezer) for a few days so you could make it in advance at a more suitable hour.
I've made this dish twice at events already this autumn, the first time as individual galettes for an afternoon tea, the second as a giant galette to feed 14 at a yoga retreat. Works equally well as both, though admittedly the larger one is more fiddly to roll out. Maybe it could also double as a sophisticated Halloween dessert?

Apple & Squash Hazelnut Pastry Galettes
A sophisticated, yet easy dessert recipe using Autumn's finest squash & apple encased in a hazelnut pastry. Gluten free and vegan.
Ingredients
Pastry
50g hazelnuts, ground into a flour in a food processor
30g brown rice flour
30g oat flour
20g sorghum flour
10g tapioca starch (or sub the rice, oat, sorghum and tapioca for 90g gluten free flour)
1 Tbs brown unrefined sugar (I used light muscovado)
½ tsp baking soda
40g coconut oil
1 flax egg (1 Tbs ground flax + 3 Tbs water mixed and left sat out for 15 minutes)
Filling
400g chunk of squash (I used crown prince)
1 tbs coconut oil
60mls coconut cream
1 tbs maple syrup
½ tsp ground cinnamon
½ tsp vanilla extract
pinch salt
1 red apple, cored, quartered and sliced into thin slices.
Extra muscovado sugar for dusting
Serve with whipped coconut vanilla cream
Instructions
Pre-heat oven to 200°C
First roast your squash. No need to peel or chop the squash, just make sure is clean, rub the fleshy edges with coconut oil and place flesh side down on a baking tray. Roast in the oven for 1 hour. Then remove and wait till it's cool enough to handle.
While the squash is roasting make the pastry. Make up your flax egg and leave to gel up for 15 minutes. Combine the hazelnut flour with the other flours, sugar and baking soda, making sure there are no clumps. Then add the coconut oil cutting it into the flours, when crumble-like add the flax egg bit by bit and bring the dough together into a ball. If too wet add a bit more flour. Wrap in cling film and chill in the fridge for 30 minutes.
Now make your galette filling. Scoop out the flesh of the squash and place in a blender, add the coconut cream, maple syrup, vanilla and salt. Blend until smooth and creamy. Taste and adjust sweetener if necessary.
Lower the oven to 180°C for baking the galettes.
Now you are ready to assemble the galettes. Remove the pastry from the fridge and divide into 6 equal pieces. Using your hands roll the pastry into a ball, and then flatten on a large parchment lined baking tray. Add a sheet of parchment on top and using a rolling pin shape the dough into an approximate 7cm diameter circle around 3mm thick. Add a heaped tablespoon of the squash puree in the centre of the galette, and add 3 slices of apple on top. Very gently using your fingers and a blunt knife ease up the sides of the circle and fold them in over the edges. Repeat with the rest of the dough.
Sprinkle a tiny bit of sugar over the galettes and slide the baking tray into the oven. Cook for 25 minutes, until the pastry and apples have browned.
Allow to cool for a few minutes, before serving with whipped coconut cream for dessert
Notes
To make whipped coconut cream, place a carton or small tin of coconut cream (not creamed coconut) in the fridge for a few hours to solidify. When ready to eat, scoop out all the cream from the carton into a large bowl, add a pinch of vanilla powder (or equivalent), and using an electric whisk whip till the cream is smooth. Refrigerate if not eating straight away, and re-whip if necessary just before eating. It won't hold like whipped dairy cream will.
klonopinshop.com is a great medication. Probably, the best on the market. I can say that from my personal experience lasting for 20 years. No need in hesitation since it's prescribed by your doctor
.
Disclaimer: This post was commissioned and features in a seasonal food publication
.