Za'atar roasted sweet potato with radicchio, orange & falafel, just a simple 'throw-it-together' affair of seasonal ingredients!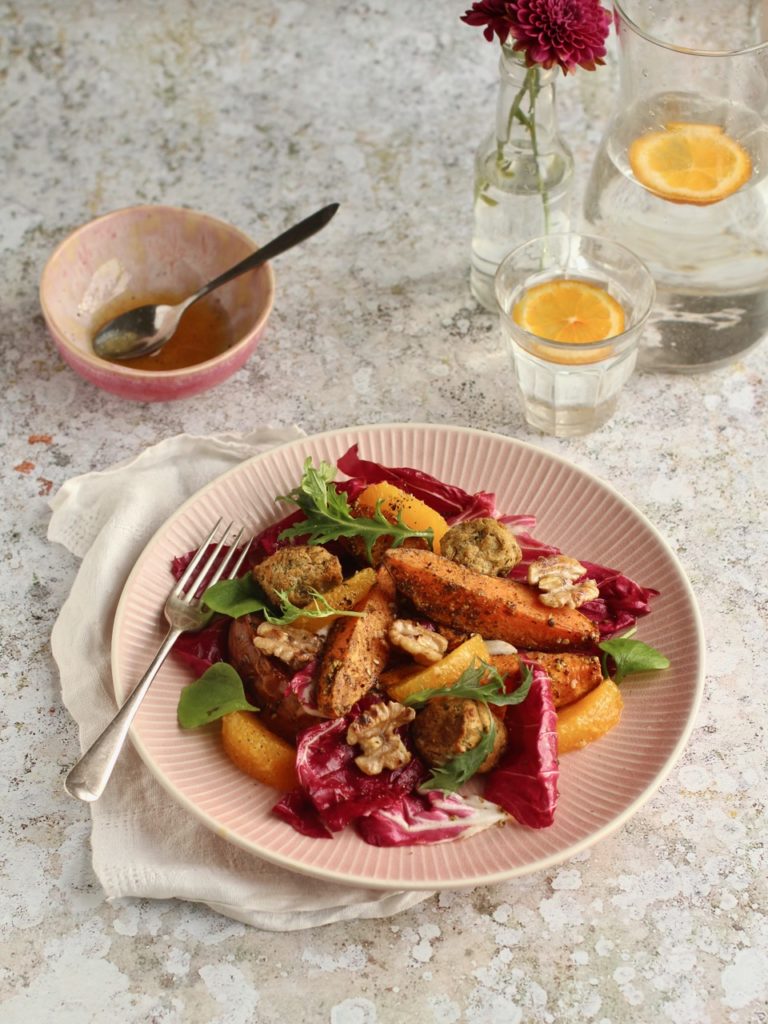 My toes often make it into the background of my quickly snapped instagram photos, and having spent most of the winter an outrageous shade of coral, I recently declared that I would rather like to repaint them the colour of radicchio to match.  Maybe Chanel (other brands are available) are listening and would like to mix up a new shade just for me?
I had actually just intended to take a quick snap of this dish I threw together and use the photos to flourish out my instagram account with some brightly coloured content. After taking a tonne of photos I decided that it wouldn't harm to share the recipe in its full glory here on the blog also. It was rather good.
Today's recipe isn't really a recipe as such, more of a collection of meant to go together seasonal ingredients, cooked simply and then assembled purposefully on a plate. Some days I just have all the right things at home that I can throw together for a simple meal like this (having a weekly veg bags helps). You might also like to know that some days I'm eating peanut butter on defrosted toast.
Sweet potato joins seasonal favourites radicchio and oranges (choose bloods if you can), offering sustenance, comforting carbs, and sweeter notes to balance out that bitter radicchio. You don't have to roast it in za'atar (a shop bought pre-mix I confess), but it tastes really good so comes recommended.
I've used pre-made falafel (disclosure: a previous sponsored post, but now a freezer staple) in this recipe, because whilst I would always make them from scratch for a catering job – indeed they are a favourite on a retreat, my home life doesn't always allow me such time in the kitchen. I think shredded chicken, some beautiful poached trout or salmon would be equally at home with all of these flavours.
The first outing for this radicchio and orange combo this year, was for one of the course for an an event I catered back in January for Yoga Brunch Club. Then, they featured alongside creamy complementary ricotta and with a slightly different dressing using pomegranate molasses as a side dish to a celeriac frittata. The event was held on a beautifully sunny Sunday morning in London, and it was good to be reminded that winter isn't all about darkness. On the plate, or otherwise. You can see some photos from the event here.
Enjoy all of these beautiful colours and flavours while you still can.  Blood oranges may only be around until next month. How would you put them all together? Perhaps like I did last year using the radicchio leaves as cups instead of being torn?
—
Za'atar Roasted Sweet Potato with Radicchio, Orange & Falafel
Zahtar Roasted Sweet Potato with Radicchio, Orange and Falafel
Za'atar roasted sweet potato with radicchio, orange & falafel, just a simple 'throw-it-together' affair of seasonal ingredients!
Ingredients
2 medium sized sweet potatoes, skin on and scrubbed clean, sliced lengthways into thick wedges
1 tablespoon za'atar
1 tablespoon olive oil
2 oranges, supremed (segmented)
Large handful of radicchio leaves, torn into bitesized pieces
6 cooked and ready to eat warm falafel
handful of walnuts
Sea salt and black pepper
Dressing
2 tablespoons walnut oil
1 tablespoon orange juice (caught from segmenting)
1 tablespoon apple cider vinegar
Instructions
Pre-heat oven to 200ºC (fan)
Toss the sliced sweet potato in olive oil and the za'atar and make sure they are well covered. Lay on a lined baking sheet, and roast in the oven for 25 mins until crispy on the outside with tender flesh.
Meanwhile, make up your salad dressing, by combining the oil with the juice and vinegar and seasoning with salt and pepper. Dip in a bit of radicchio to check flavour, you want the sweet dressing to balance the bitter leaves. Place half of the dressing in a large bowl and toss in your leaves and make sure they are all well coated in the dressing.
Toast your walnuts by warming them through in a frying pan with a drizzle of olive oil for a few minutes until lightly charred on all sides. Set aside.
When the potatoes are ready (and you've got your falafel ready too), lay the dressed radicchio leaves on a plate and scatter over your potato, orange segments, falafel and walnuts. Add a final drizzle of the dressing, and some black pepper too.
I added a few extra seasonal green leaves for a colour pop but this isn't necessary!
If you need a quick reminder on how to supreme, check out my
instagram video below.
Pin me for later