Wild Garlic, Rocket and Goat's Cheese Gözleme is a delicious recipe from Henrietta Inman's second cookbook, The Natural Baker.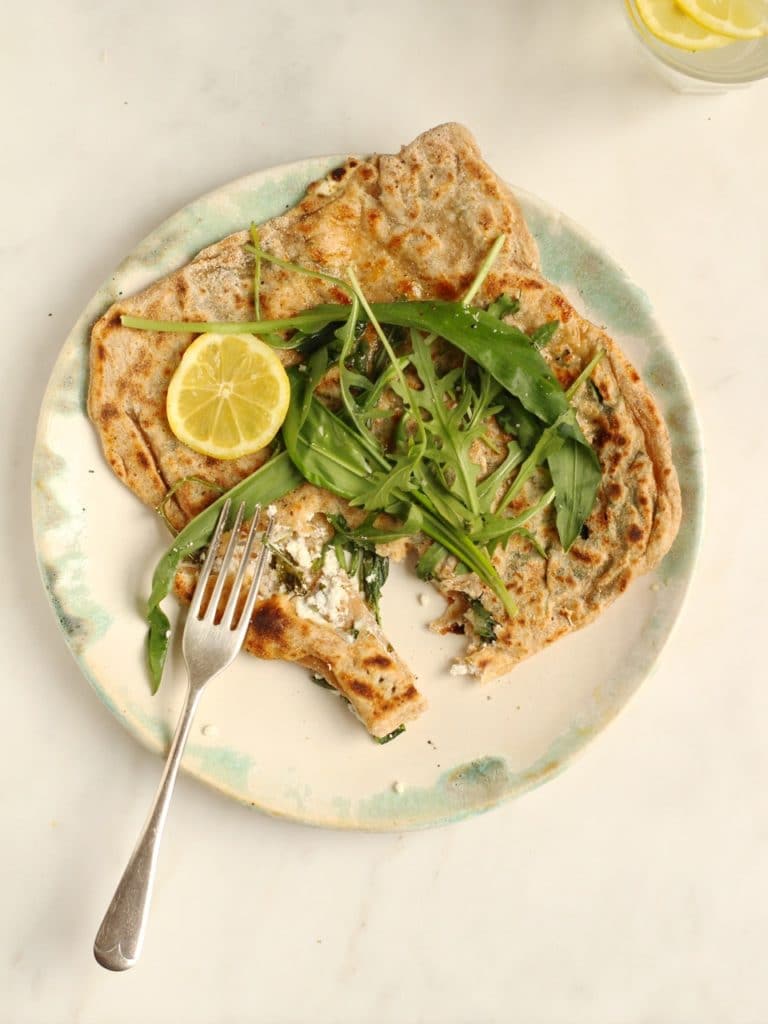 I am delighted to be sharing a recipe from Henrietta's new book The Natural Baker on my blog today.  With a background and training as a pastry chef Henrietta's work brings a certain finesse to the world of 'healthier' baking, I hugely admire her and the attention to detail in all of the recipes she creates.
I will admit that I know Henrietta personally, so of course I am a bit biased towards her recipes, and have had the opportunity to taste her food and work alongside her for classes at the Garden Museum where I work part time. But as you know, I only promote things I believe in.
When Henrietta asked me if I would share a recipe from her book around publication day, I naturally said yes, mostly because it would force me to try something new and learn in the process.  I had a wonderful time flicking through the book – there are chapters covering breakfasts, breads and crackers, cakes and biscuits, lunches and suppers, and finally desserts and puddings.  Refreshing for a baking book to contain lots of savoury dishes as well as the sweet.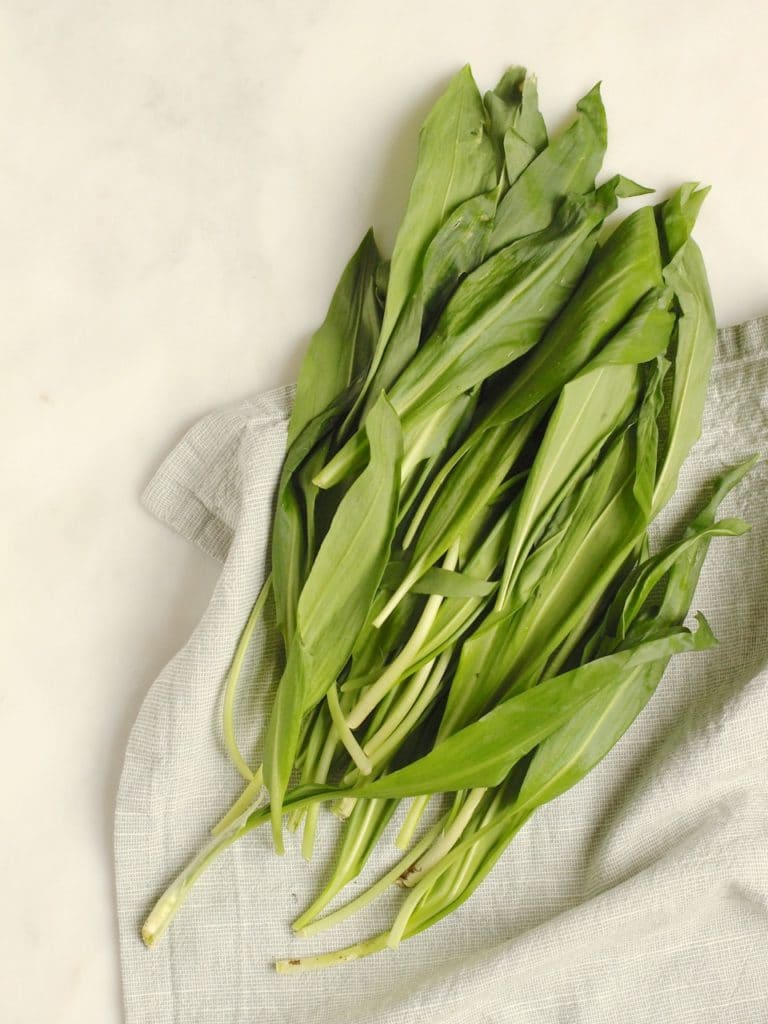 I eventually picked the wild garlic gözleme (lunches and supper section) to make and photograph, as we're in the middle of wild garlic season at the moment, and it would fit perfectly in this fortnight's blog slot.
I've written about wild garlic on Natural Kitchen Adventures before, back in 2013 when I was donated a huge bunch of foraged leaves and whizzed up a pesto. Five years later I still haven't found any to forage for in London where I live, but I remain hopeful that one day I'll have the time to nip out to somewhere a bit less urban and have my foraging dreams come true. Until that day I'll keep nipping to Borough Market for a less challenging (and more expensive) forage.  If you're not sure what to do with wild garlic, keep it simple and treat it like a herb.  Add to scrambled eggs, add to soup or stews, or of course pesto!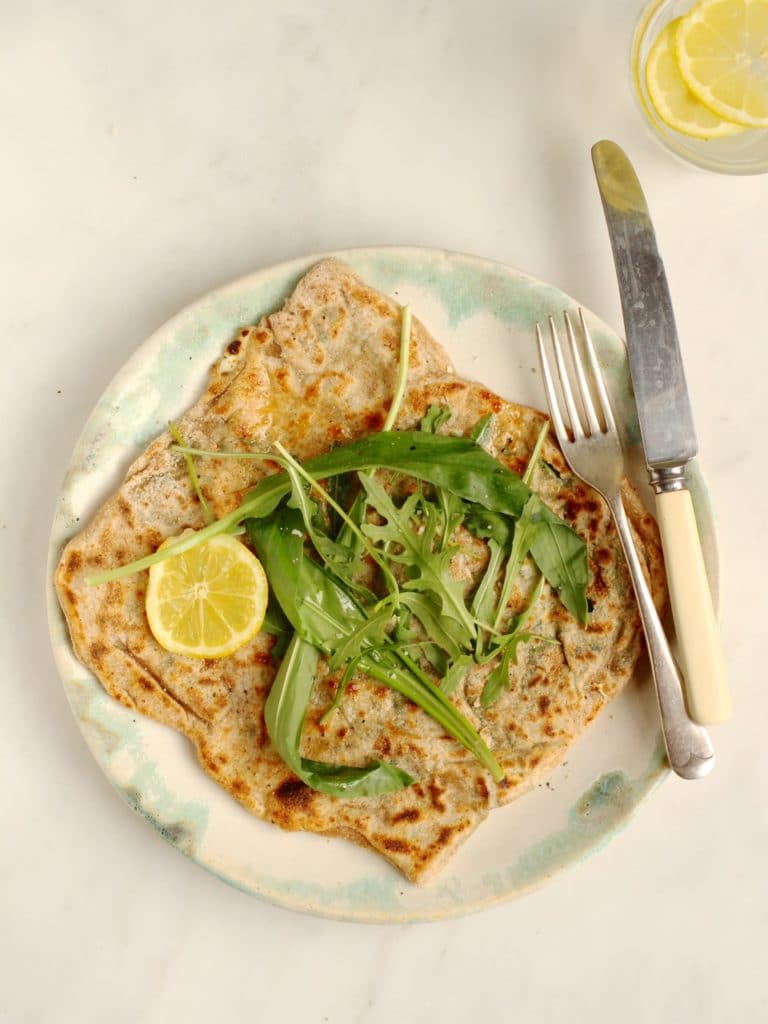 I'd never heard of gözleme before, and I'm thrilled they are now in my cooking repertoire.  Funnily enough the day after I made them I was catching up on Nigel Slater's tour of Turkish cuisine (BBC), and there they were right in front of me – Synchronicity?
The dough uses a mix of wholegrain and white strong bread flours (with yogurt and yeast) which are incredibly easy to work with. The inclusion of wholegrain flour means more fibre, but combining with one third white means the dough isn't so tough.  Strong bread flours have a higher amount of gluten (which means more elasticity and why they are easier to work with) than plain flours and are best for making breads of any kind. Henrietta really shows her knowledge in this area as all recipes will be tailored to the correct type of flour to create the best results in terms of texture, workability and flavour.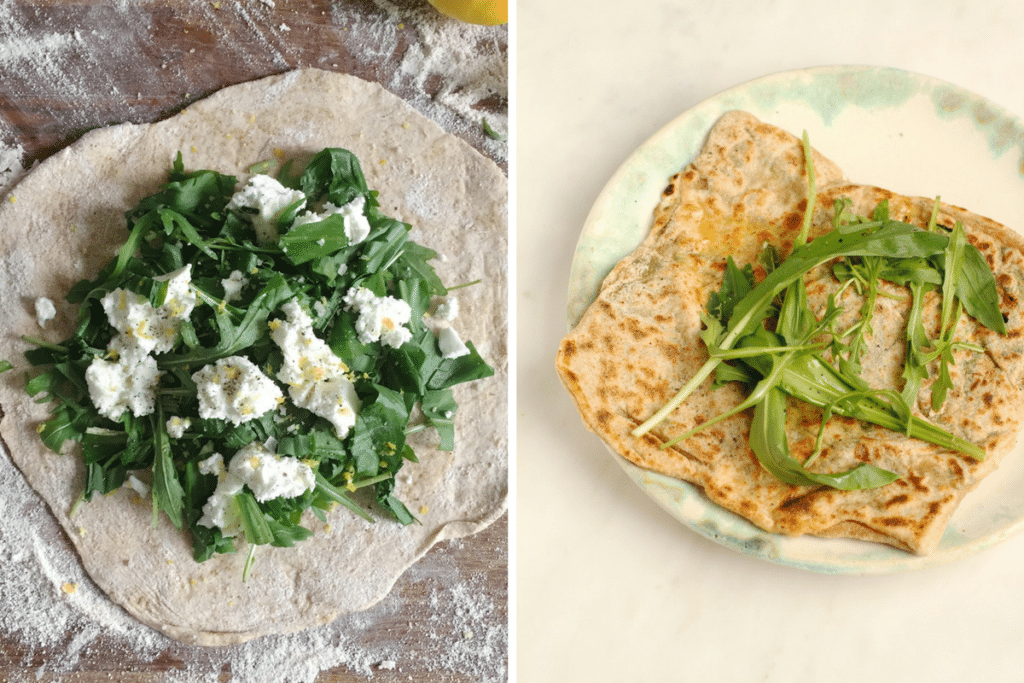 The filling of the gözleme is really is up to you.  Henrietta's original uses wild garlic and dandelion but her recipe notes give lots of suggestions for seasonal alternatives. Henrietta says
"When wild garlic is out of season, or not readily available, try using the same weight of other flavoursome greens and herbs. When I made these for the photo in late August, I used a mixture of chard and rocket (arugula), beetroot (beet) leaves, chives, basil and parsley, and sprinkled the greens with garlic chive flowers. There are many possible fillings as the seasons change, so try to find your favourite. Cooked peppers and onions are delicious, while meat such as cooked bacon, minced (ground) meat or chicken, will make a more filling gözleme"
I went down the rocket route, and it works well with the wild garlic.  I also divided the recipe into 2 and made 2.5 gözleme because I don't think I could have gotten through 5 on my own.  The recipe worked perfectly fine.  I also used it as a good opportunity to get my Welsh bakestone out of the cupboard.  Not just for Welsh cakes the cast iron is perfect for cooking flatbreads on too.
I am looking forward to getting to grips with my quiche technique soon…
You can buy the book from Amazon, and other leading retailers. Best of luck with the book Henrietta! x
—
Wild Garlic, Rocket and Goat's Cheese Gözleme
Wild Garlic, Rocket and Goat's Cheese Gözleme
Turkish filled flatbread 'gözleme' from Henrietta Inman's The Natural Baker, filled with wild garlic, rocket and goat's cheese.
Ingredients
For the dough
200g (7oz / scant 1½ cups) strong wholegrain wheat flour
100g (3½oz / ¾ cup) strong white wheat flour, plus more to dust
½ tsp dried yeast
1 tsp sea salt flakes
100g (3½oz / generous ⅓ cup) natural yogurt
200g (7oz / generous ¾ cup) lukewarm water
extra virgin olive oil
For the filling
130g (4¾oz) wild garlic leaves, washed and finely chopped
130g (4¾oz) rocket leaves, washed and finely chopped
300g (10½oz) soft goat's cheese, crumbled
8–10 tbsp extra virgin olive oil, plus more to cook
finely grated zest of 1 unwaxed lemon
sea salt flakes and freshly ground black pepper
Instructions
In a bowl, mix together the flours, yeast and salt using a whisk. Add the yogurt and water, mix with a wooden spoon. Cover with a tea towel and leave to stand for 15 minutes. Knead for 1 minute until smooth, adding more flour if necessary so the dough is not too sticky. Shape into a ball and place in an oiled bowl. Cover with a tea towel and leave for 1 hour in a warm place.
Divide into 5 balls, each should weigh 110–120g (3¼–4¼oz). Flour a work surface well, place a ball of dough on top, flour it, then roll it into a thin, 25cm (10in) diameter circle, making sure to keep lifting it from the work surface so it does not stick. If it is very sticky, just use more flour.
Mix together the chopped wild garlic and rocket leaves. For each gözleme, spread 50g (1¾oz) of the greens out on to the centre of the rolled out dough, leaving about 7.5cm (3in) of dough uncovered at the bottom and top and 5cm (2in) on each side. Top with 60g (2oz) goat's cheese, a scattering of wild garlic flowers, a good tbsp of olive oil and some lemon zest, and season with salt and pepper. Flip over the edges and then the top and bottom, sealing them together like an envelope. Lightly flour the filled dough and work surface and roll out the gözleme to flatten and seal it.
Heat an oiled frying pan (skillet) over a heavy-based, flat (not ridged) griddle pan over a high heat. Fry each gözleme for 2–3 minutes on each side until golden brown. Eat immediately, or keep on a plate in a warm oven while you quickly cook the rest. Enjoy with a salad, if you like.
Pin me for later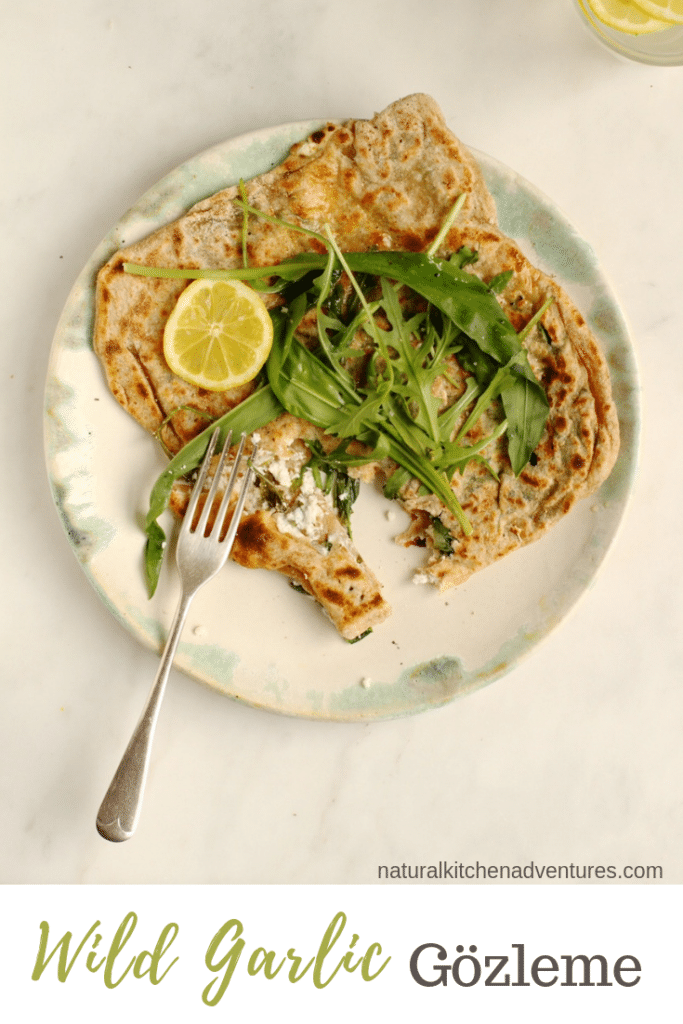 The Natural Baker by Henrietta Inman. Published by Jacqui Small, an imprint of The Quarto Group (£20). Out now.
*Many thanks to Henrietta and Jacqui Small publishers for the review copy of the book and kind reproduction of the recipe. All thoughts are my own.
Please note this post contains affiliate links.