Because peanut butter.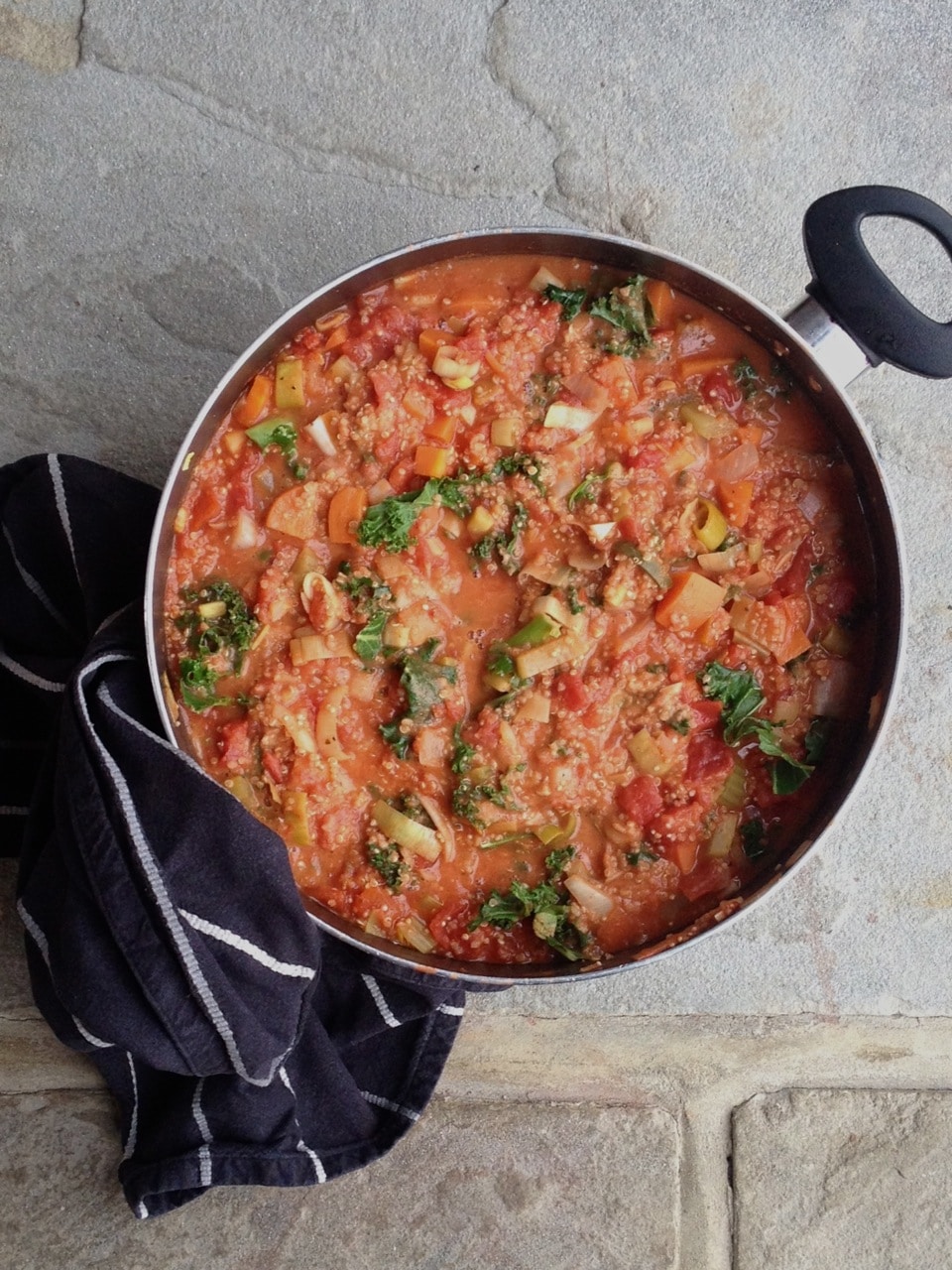 This week I wanted to write a riff on a quiche recipe with leeks and Caerphilly cheese to celebrate all things Welsh for David's day.  I've been planning the recipe in my head for ages but time as ever seems to have eluded me, even with that extra day in 2016 yesterday.   I'd even bought a fancy block of Gorwydd Caerphilly cheese ready for an adventure in the kitchen last week, but rest assured it didn't go to waste.  I absolutely enjoyed every last bit of its creamy tang washed down with some salad leaves and toast (!).
So tenuous link for all things Welsh to an African inspired peanut stew? Leeks, I'm looking at you!   Leeks make up the bulk of the mirepoix in this recipe along with onions, carrot and celery.
I first came across a version of this recipe in my Bauman college natural chef course cookbook (where I did my training).  I had written a star on it saying 'very tasty cook again' and so I have albeit with a few adaptations many many times for Stretching the City yoga retreat lunches.  I keep thinking I should get some new recipes but if it ain't broke?  This is a protein rich dish without meat for meat eaters who hate bloating pulses.
Also;
It's one pot which means less washing up
No vegetables to peel, just to chop
Tastes amazing
Smells amazing (always good)
Yogis love trendy quinoa (and whilst it is an expensive grain the amount in the stew is small compared to say using organic mince)
Easy to scale up or down for 11-17 people
Peanut butter
So my secrets are out. I'm a lazy chef who likes trendy quinoa!
No need to serve the stew with any accompaniments but my tried and tested formula of freshly baked spelt bread or toasted sourdough spread with homemade hummus (see am not actually that lazy) seems to work well.
Use best quality peanut butter if you can. I like Meridian brand and have recently been introduced to the organic range from Equal Exchange as part of fairtrade fortnight which is running from 29 Feb to 13th March. No gunk just 100% peanuts.

African Style Peanut Quinoa Stew
A one pot healthy peanut quinoa stew. An African inspired dish with a strong taste of peanuts and a dose of kale for good measure.
Ingredients
1 tablespoon olive oil
1 medium onion, diced
1 leek, sliced in half moons
2 cloves garlic, minced
1 small green chilli, minced
1 stalk celery, small dice
1 medium carrot, small dice
1 Tablespoon tomato puree
1 teaspoon ground cumin
1 teaspoon dried oregano
pinch cayenne pepper, or more to taste
salt and pepper to taste
1 400g tin chopped tomatoes
750mls vegetable stock
80g quinoa, rinsed and drained
50g organic peanut butter (smooth or chunky)
1 small bunch curly kale, approx. 150g
lemon juice to taste
salt, pepper
Instructions
Heat a large soup pot on a medium heat. Add the oil and then the onion, leek, garlic, chilli, celery and carrot. Sauté for a few minutes until the vegetables are softened. Stir in the spices and tomato puree, and season with some salt and pepper.
Add the chopped tomatoes, stock and the quinoa. Bring to a boil, reduce heat and cover. Simmer until quinoa is cooked and the vegetables are tender, about 15 minutes.
Add the peanut butter and stir till it melts into the sauce. Finally add the kale and add a lid back on the pot to help them steam in the warmth of the stew. When the kale is steamed, stir well and then taste and season with salt and pepper. Add lemon juice for brightness, I always love to add at least ½-1 juice of a lemon rather than adding heaps of extra salt.
Serve!
Notes
If you have time before cooking try soaking your quinoa for a couple of hours. It will cook faster and also make it easier to digest. Make sure you rinse and drain it well before adding to the stew.

Also, if you are going to cook this in advance don't put the greens in until just before serving, they will go a bit dull otherwise!

Stew is perfect batch cooking as it can be frozen, defrost fully before reheating to a hot temperature!
Looking for more veggie one pot stew inspiration?  Can't wait to get stuck into this lot instead and enjoy less washing up for a bit!
What's your favourite one-pot dish?