A simple healthy side dish for pan-fried chicory. Pan-frying transforms chicory from a bitter leaf to a sweet delicious vegetable.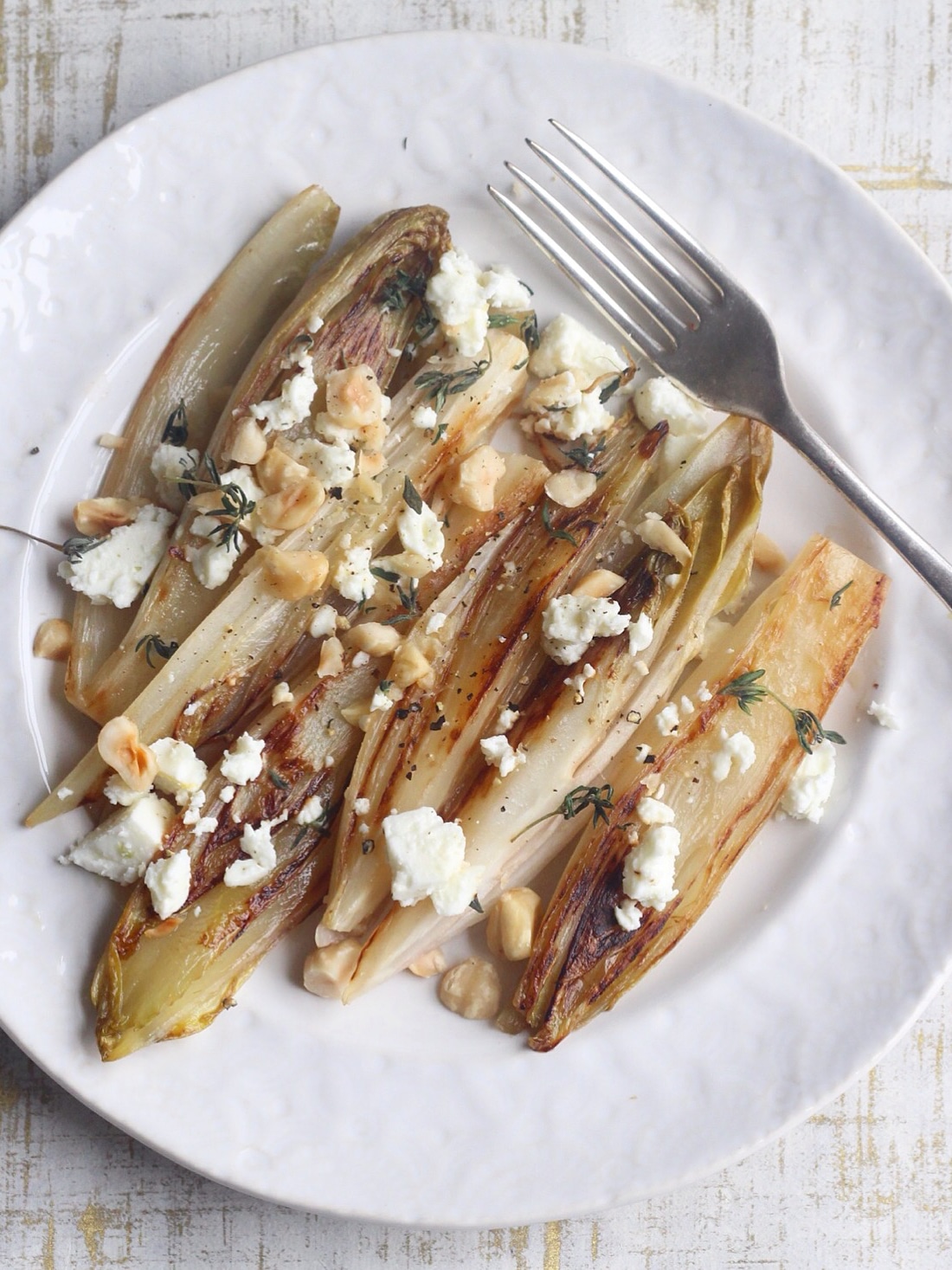 I don't believe that chicory gets enough love aside from its genius usefulness as a healthy canapé scoop. Perfect with crushed peas and dill, ricotta or an olive tapanade.
I can imagine why – on its own it tastes fairly bitter, so even in a salad paired with creamy avocado or goats cheese and a sweet honey dressing it's too strong a taste for many.
I can't recall where I first read that chicory is transformed when pan-fried, but having seen many chefs serve braised lettuce dishes to great affect I thought that chicory deserved the opportunity for a kitchen adventure.  As the leaves char in the faint heat of the olive oil they caramelize a treat, and the bitter taste is long gone.
This particular variety of chicory is often referred to as Belgian endive, and as it is 95% water is super low calorie.  I don't count calories but to find out that 1 leaf usually has around just 1 calorie was quite impressive. It isn't a nutritional powerhouse but is a good source of vitamin A and also fibre.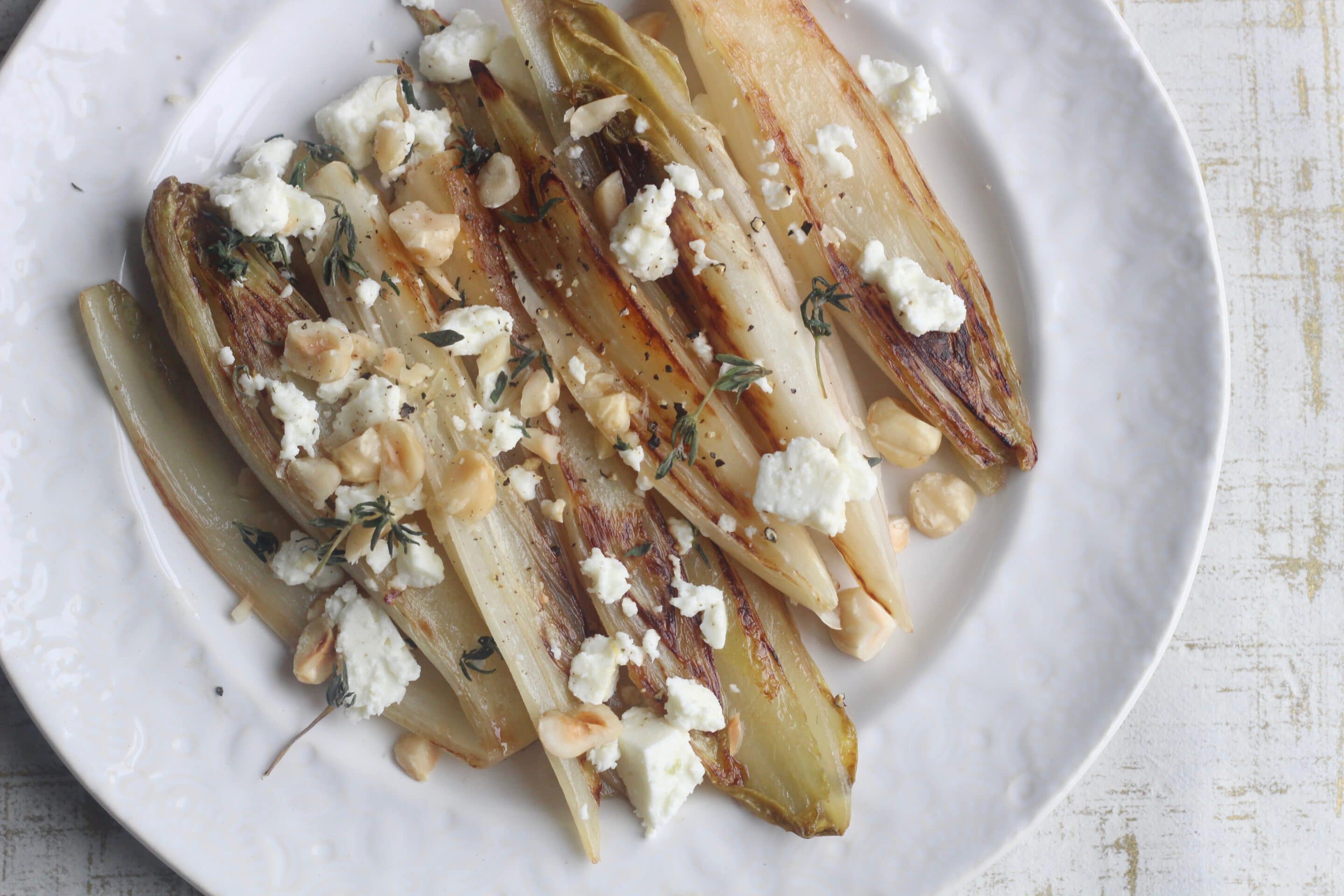 This is an incredibly simple dish that I first cooked simply because I had all the ingredients in the fridge to use up. I haven't dressed the salad as the juices from the cooked chicory make it moist enough. A balsamic glaze would be a great addition.
Pan-fried chicory is best served warm for these autumn days that can't decide which season they belong to. I'd serve this alongside pan fried or oven baked fish, or sprinkled crumbled hardboiled eggs mimosa style over the top which is how I enjoyed this for a simple light meal.

Grilled Chicory (Endive) with Feta and Hazelnuts
A simple healthy side dish for pan-fried chicory. Pan-frying transforms chicory from a bitter leaf to a sweet delicious vegetable and is a great base for a plethora of toppings.
Recipe type:
Salad / Side
Ingredients
4 chicory sliced into half or quarters
½ tablespoon olive oil
Pinch salt
20g toasted hazelnuts, crushed
40g feta cheese, crumbled
Thyme leaves
Freshly ground black pepper
Instructions
Warm the oil a large frying pan, then add the chicory cut side down, turning after 3-4 minutes, or when charred underneath. Throw in a pinch of salt, and cook for another 4 minutes.
When the chicory is browned and soft remove from the pan, draining on kitchen paper if there is too much oil.
Plate up and sprinkle with the feta, hazelnuts, a scattering of fresh thyme leaves and some black pepper. Simples
Notes
You can sub the feta for blue cheese if you prefer, drizzle with a touch of tahini yoghurt dressing and even include some capers. A versatile dish!
Have you ever tried cooking a vegetable in a different way and found you enjoyed it more? Do let me know by commenting below!