*Not a cheesecake at all*. This lime avocado cheesecake requires no cooking, just a blender, freezer and some ripe avocados! It's gluten free, dairy free, vegan and raw too.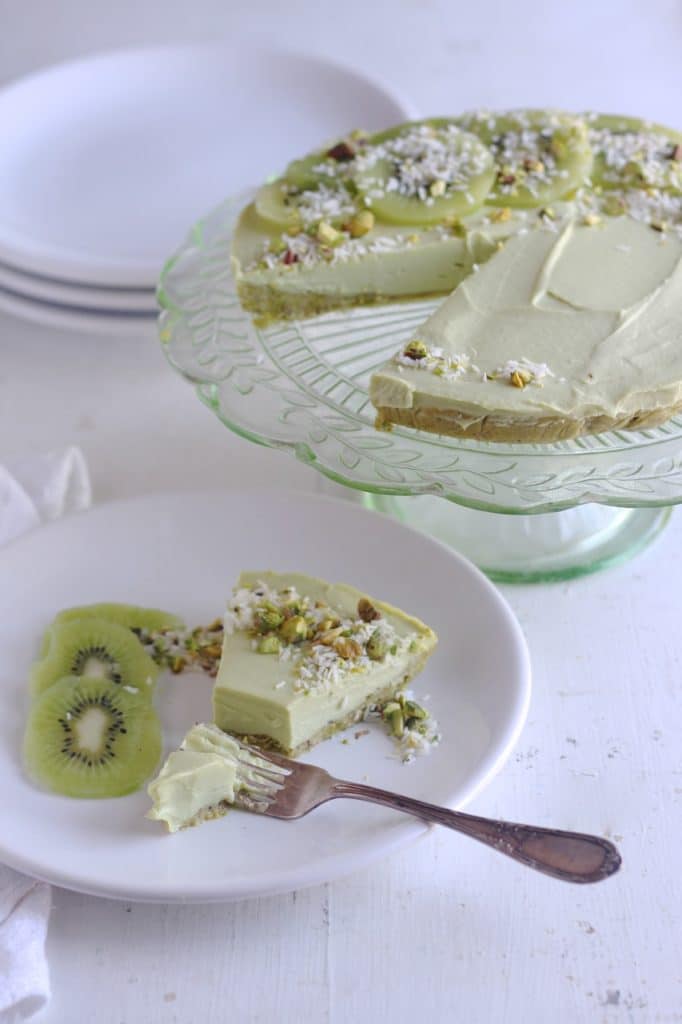 I've been making this avocado lime cheesecake for yonks, an elaboration of my matcha lime mousse, but I finally had my arm twisted to get it up on the blog after last weekend's Stretching the City retreat.   The dominant flavour is creamy lime, you honestly can't taste the avocado as it really is just a flavour carrier, and of course brings that fabulous green colour to the table.  Its not really a cheesecake at all, but not sure what else to call it.
I wanted to do the dessert justice by photographing as best as I could, rather than a quick shot grabbed whilst serving on retreat.  Typical that I choose the hottest day of the year so far to shoot a dessert that is best served chilled, so I had to be super quick for fear of the cheesecake melting as quickly as I was. Well, at least I didn't have to turn the oven on to make this – just the food processor and my blender.
I recommend a Froothie Blender* for this recipe. I have one and I couldn't live without it, providing professional blending results in a home kitchen. The model I have is no longer available so I've been advised by Froothie to recommend the 9200 2nd generation which best priced model now. If you buy via this link, you will be rewarded with an extra 2 years warranty, and you will be able to use a 0% interest free deal to spread the cost.
With no heating or cooking this 'cheesecake' (in the loosest sense of the word) is therefore a raw dessert, and I like it for its simplicity in making as well as the short ingredients list.  Many raw desserts rely on kilograms of raw cashews soaked for hours on end, which is not only expensive but I find personally a bit too dense.  This version is full of good fat from the avocado, coconut oil, and nuts and sweetened only by brown rice syrup and maple syrup – a little goes a long way!
I've served this dish a variety of ways, the most decadent with homemade pistachio brittle and the simplest with a lone slice of kiwi. I think somewhere in between the two combining crushed pistachio and coconut with the kiwi is best.
Despite making this around 10 times now, I've still had a few disasters along the way.  Once the avocado layer split in the blender when we added a touch of lime for extra tang.  I can only imagine that extra bit of acid broke the emulsification of the fats, we nursed it back to health by whipping in some almond milk, but I don't think I'll ever recover from that panic of potentially having wasted all those ingredients.  From now on I always add the lime at the start and tread carefully when adding more in!
Another disaster was not getting it out of the freezer in enough time, so we had to serve it partially frozen, no problem as the dessert takes on a fabulous 'ice cream cake' texture but the sound of teaspoons crashing into the plate as the guests ploughed their way into the dish will also haunt me forever!
Thankfully on both occasions my guests were very nice and barely even noticed.  Hope you're happy I'm making and sharing these mistakes so you don't have to?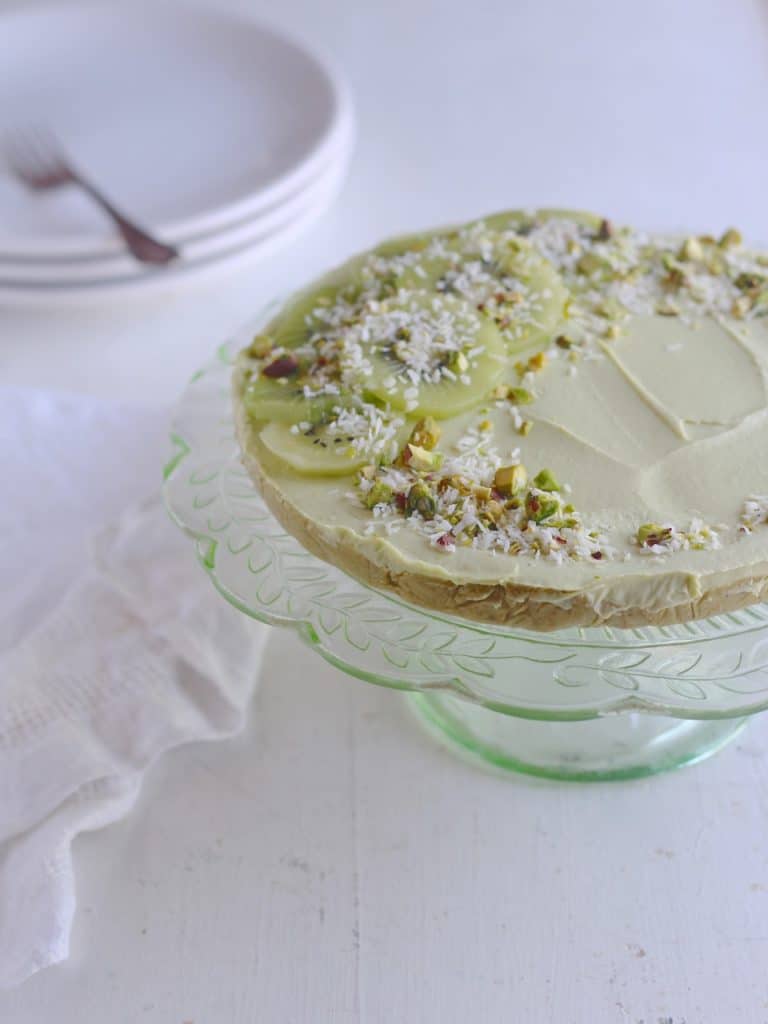 Lime Avocado Cheesecake
A raw dessert made from luscious avocado and coconut oil. This dessert requires no cooking, just a food processor, blender, freezer, and some ripe avocados! It's gluten free, dairy free and vegan too.
Ingredients
BASE:
90g ground almonds
60g pistachios
3 tbs coconut sugar or rapadura
60g coconut oil
Topping
100g coconut oil
75g brown rice syrup
2 Tbs maple syrup (to taste)
2-3 limes, juiced
2 large avocados (approx 300g avocado flesh)
Decoration
1 kiwi
Desiccated coconut
Pistachio nuts
Lime zest
Instructions
First prepare your 8 inch cake tin, by lining it with clingfilm. This will make it easier to remove once set.
Next make your base. Using your food processor grind your pistachios to the consistency of ground almonds, then combine the ground pistachios with the almonds in a bowl. Add the sugar and melted coconut oil to the bowl and stir well (don't be tempted to do this all in a food processor as the mixture will be too wet as the nuts release too much oil if ground for a long time - I know from experience!). Now press the mixture into the base of the tin, ensuring as even and level as possible. Place in the freezer to set for at least 20-30 minutes.
Next move to your topping (I use my froothie, to make this but you can use an immersion blender in a jug). Place your liquids in the bottom of your blender jug - coconut oil, syrup and lime juice, then drop in your avocado flesh. Blend on high speed until smooth and no traces of avocado chunks. You will need to prod around with your tamper stick and possibly scrape down the sides. Taste and adjust lime or sweetener as necessary. Be careful when adding too much lime the mixture doesn't split. Add a little at a time and then re-blend.
Take the base out of the freezer and pour the avocado mix over the base, smoothing over with a spatula or back of your spoon. Return to the freezer to set for at least 2 hours. If you freeze for much longer then you will need to make sure you bring the cheesecake to room temperature before serving or it will be too firm.
Serve with sliced kiwi fruit, and a blend of chopped pistachio, desiccated coconut and lime zest.
Notes
You can sub the brown rice syrup for a 100% maple syrup dessert or alternatively use honey. Each sweetener tastes different so make sure to adjust quantities to your tastes.
Its not just me that likes avocado in dessert – you might also like to try;
Enjoy reading my recipes? Sign up to my newsletter for new recipes, seasonal veg ideas and much much more!
*Disclosure: I am an ambassador for Froothie and some links in this article may be affiliate links. The above product reviews is, as always based on my honest opinion. If you'd like to know more about Froothie products please visit the Froothie Website for more details. Any purchases made through this/these link(s) are at no extra cost to you but give me a small commission.